A Quick Guide to Help Background Screening Firms Select the Right Insurance Policy to Meet Their Needs
back to blog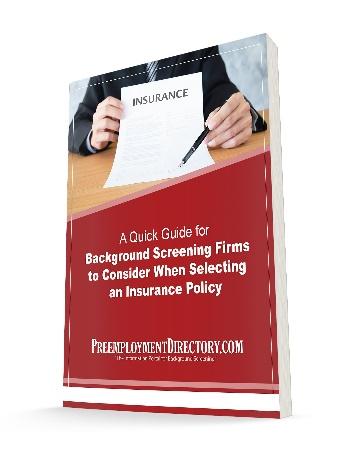 Background screening is a highly litigious area of business and having the right insurance coverage in place will not only help you sleep better at night, but also help protect your business. 
According to Good Jobs First, a 22-year-old non-profit based in Washington DC focusing on government and corporate accountability over the last decade, employers and background check companies have shelled out more than $325 million to settle related litigation.
The number of lawsuits brought under the Fair Credit Reporting Act (FCRA) was the highest on record at the close of 2019. FCRA litigation increased by 8.7 percent year-over-year, with 4,163 claims filed through October 2019, according to data-tracking firm WebRecon LLC.
A good insurance policy can mean the difference between continued existence or bankruptcy, or at least the difference between a profitable year and a highly unprofitable year.

The purpose of this Guide is to help you to select a better insurance policy.
What's Inside:
Content: Michael Burke, FCRA insurance expert, Rooney Insurance Agency, Inc. and Scott Paler, Chair of the Background Screening Practice Group, Attorney & Partner DeWitt LLP
Edited by: W. Barry Nixon, PreemploymentDirectory.com
Why is it important to have a good Errors & Omissions (E&O) insurance policy and how do you find a good policy?

What is the #1 policy item for screening companies to consider when evaluating the quality of an E&O Policy and how much coverage is sufficient?

Which common claim "exclusions" in an E&O insurance policy should concern a screening company the most and what other parts of the policy really matter?

Can you negotiate with insurance companies on the terms of an E & O policy?

If an insurance company is providing coverage for a CRA, can the CRA still use its regular attorney to defend it in a lawsuit?

In what situations have you seen an insurance company deny coverage for a background screening company?