A Quick Guide to Selecting a Drug Screening Provider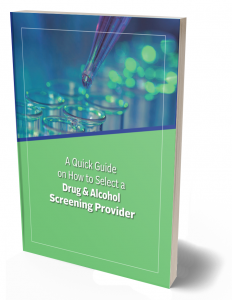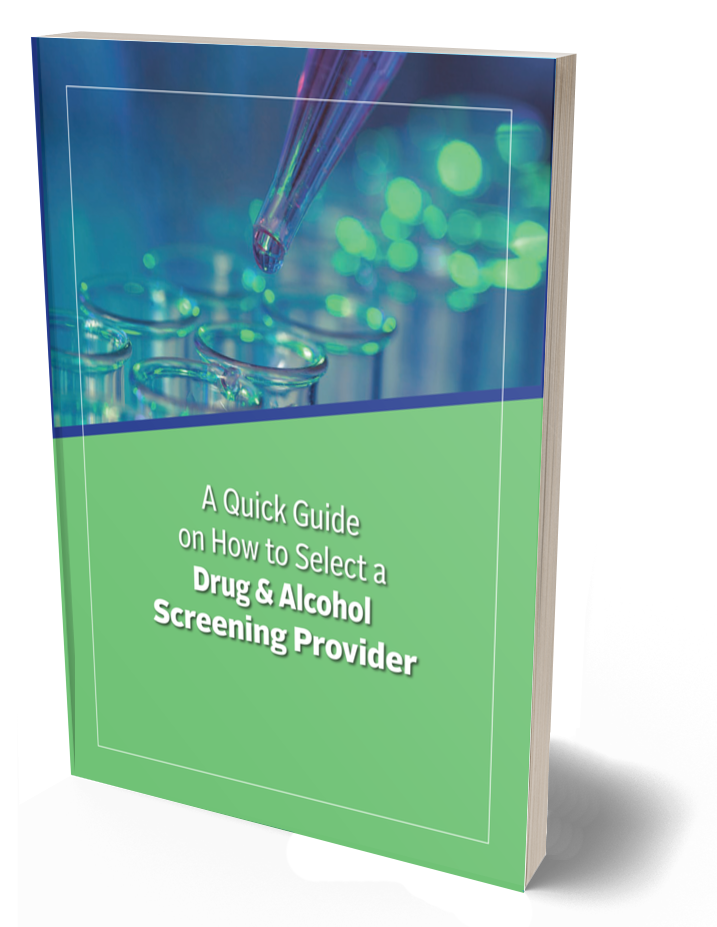 Overview of "A Quick Guide on How to Select a Drug & Alcohol Screening Provider"
This overview is a glimpse into the complete guide on How To Select A Drug & Alcohol Screening Provider.
Various stages are involved in drug testing, and each step requires a professional provider. Before choosing a drug testing provider who can meet your company's needs, it is crucial to clarify why your company tests for drugs and how it defines a successful program.
This may seem simple, but to work, all stakeholders should be involved in evaluating your program. Business owners, HR managers, safety coordinators, members of the medical department, and anyone responsible for health, safety, and employee performance can be typical stakeholders in an organization.
Ask Yourself Why Does the Company Require A Drug & Alcohol Screening
Consider why drug testing is essential. Despite the legalization of marijuana and the ongoing opioid crisis, drug abuse remains a severe problem in the United States. The employer is still responsible for ensuring a drug-free workplace.
Drug abuse and misuse are very high and the workplace is not immune. The truth is, drug testing is necessary. The need for drug testing is very real and if the internal expertise does not exist employers can get professional help to implement a comprehensive and legally defensible program from external experts.
The best-case scenario for employers is to identify drug users through pre-employment testing, and for their employees, companies should have comprehensive post-hire testing and education programs to discourage use.
What are your priorities versus the strengths of your providers?
Each provider has its strengths and, depending on your company's priorities, one provider may rise above the others. Employers looking to keep costs down will want a provider who can offer flexible ways to collect, test, and maintain results. Other companies prioritize speed, making on-the-spot hiring and disciplinary decisions as quickly as possible. Point-of-collection testing (POCT) will be necessary for these companies.
It is essential to identify the features, services, and benefits that are most important to you when evaluating a potential provider.
Ask them how they'll meet your top priorities. You can also contact a list of their clients with similar preferences and needs. Many providers will claim they can fulfill your needs, but customer references are the best proof.
Business Locations and Methods
Selecting a provider requires considering your location and business model.
Consider, for example, that you operate in distant locations without easy access to collection services. Since collection sites are typically more challenging to find and the costs prohibitive, an alternative testing method may be to use rapid urine or oral fluid analysis to eliminate the need for professional collection services.
Before finalizing an agreement with a provider, you should make sure they provide the services you require as well as the support you need daily. Most providers don't offer oral fluid testing or rapid results.
Furthermore, state laws vary throughout the country, so providers need to keep up with the regulations in each state.
Third-Party Administrators (TPAs)
Despite providing the same services, TPAs differ. There may be a difference in how a TPA works with that laboratory from another, but they might be able to offer you a different type of price.
TPA selection can be complex; therefore, all critical stakeholders in your company must be involved in the selection process. Vendor selection begins with an evaluation of your needs, ranked by importance, and then evaluating providers against your list.
Smaller TPAs may offer excellent client service with customized support regardless of their size. Its downside may be that it cannot integrate with an HRIS and online scheduling system. Large background screening firms that offer traditional drug testing often lack the customer support of small TPAs but offer great technology.
TPAs who provide services outside the U.S. may not be able to meet your company's international drug testing needs. Among international matters are country-specific laws (and GDPR/EU regulations), cultures, collection services, the exportation of specimens, and privacy laws. If you are based in the U.S., it is essential to understand that drug screening outside the U.S. is not as common nor accepted. Legal and cultural barriers can be substantial.
Large TPAs can usually handle international needs. Many services will, in any case, be outsourced to local providers. To ensure compliance with applicable laws and regulations, you must know with whom you're doing business.
A laboratory may not be something your company deals with every day. You're paying a TPA partly to ensure that the laboratory meets your needs and complies with all regulations. Usually, the TPA will handle any problems with lab communication. However, you should be aware that not all laboratories are certified or licensed to test for workplace drugs. Several states have specific requirements regarding the types of laboratories employers can use.
Conclusion
In selecting a drug testing provider, there are many good and competent ones available nationwide. If your company operates in multiple states, a small, regional provider may be sufficient. While conversely, a large company with many locations will require a regional or nationwide provider.
Certain providers lack the capabilities and expertise to meet your specific needs and shouldn't be considered. You will find your choices to be abundant if you follow the guidelines in this guide, choose a provider with experience, a proven track record of servicing similar companies and make sure they meet all state and federal regulations.
We have presented in this overview only a peek of our comprehensive guide on How To Select A Drug & Alcohol Screening Provider.
Please click here to download the guide.
Email wbnixon@PreemploymentDirectory.com to request more information about A Quick Guide to Selecting a Drug Screening Provider