Background Screening Experts and Thought Leadership Insights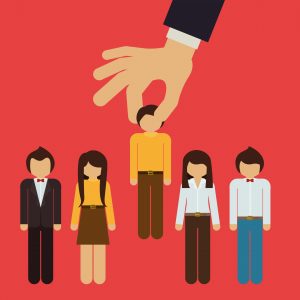 Employment Screening Advice for Employers
The New Frontier: Three Steps You Can Take to Improve Employment
By W. Barry Nixon, COO, PreemploymentDirectory.com
As the old saying says, 'Desperate times call for desperate measures.' Due to many factors like technology and unforeseen circumstances like the COVID-19 pandemic, the employment sector is changing rapidly. With the rising technology and many organizations preferring their employees to work remotely, it is clear that using old hiring techniques could harm a business. Your business needs to adapt fast to the changing environment to stay ahead and ensure it makes good hires with the skills required for the changing tasks and technology. Accordingly,  the three steps to take to immediately improve your employment processes and ensure better business operations.
Adopt To New Hiring Techniques
New hiring techniques and background checks can never be overlooked anymore if you want to tap new talents. Having the right candidates for the job is important and crucial for business growth and success. To do this, you need to adapt to new hiring methods that ensure you have appropriately assessed each candidate through different candidate screening processes and background checks. Thorough hiring processes help you to identify the best talent that will fit your organization's culture and perform at a high level.
New hiring techniques have emerged including aptitude and integrity tests, panel interviews, video interviews, use of artificial intelligence in screening resumes, online reference checks, remote onboarding, etc. These tools help you to more effectively screen applicants to find those jewels that will fit and excel in your organization.
Employee Engagement
It is not life as usual. The world of work has changed, and it is possible to find some employees trying to adapt to the new changes. Since working from home is new to many of your employees it is important for organizations to invest in training employees in time management to know how to manage distractions, ways to balance home and work duties, and key factors that will help them to stay productive while working from home.
You must also balance the need to 'check on their work' with the need to demonstrate you trust them to perform their jobs. In addition, a conscious effort must be made to continue to build relationships through effective communications with your employees that compensate for the lack of direct contact that people have grown accustomed to.
Counseling
The pandemic has brought tough times and depression to many. Families are losing loved ones, while others struggle with the infection, stigma, and staying in unpopular conditions under self-isolation. Your employees could be affected directly or indirectly during this period.
To help them cope up with such difficult times, it is important to organize counseling sessions. Create time and bring in a professional who can take them through counseling sessions to make them stay positive and healthy to perform their duties.
Keep checking on each one of them at a personal level. This makes employees feel special and cared for at such challenging times.
As the employment sector is shifting to a new normal, it is critical to change with the circumstances. Adopting new technologies, engaging more with employees, and providing counseling sessions could help them stay productive.
SUBSCRIBE TO OUR NEWSLETTERS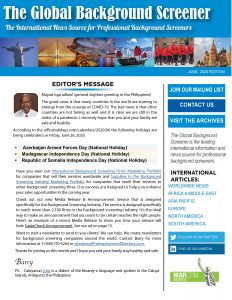 The Global Background Screener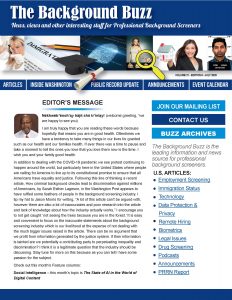 The Background Buzz!
(U.S. Background Screening
E-Magazine)