Background Screening Expert and Thought Leadership Insights

Background Screening Insights, a Blog by Barry Nixon
W. Barry Nixon

Co-Author, Background Screening Investigations: Managing Hiring Risk from an HR and Security Perspective; Creator of the leading background screening information portal – PreemploymentDirectory.com; Publisher, award-winning e-newsletter, The Background Buzz, and
e-magazine, The Global Background Screener, Annual Background Screening Industry Resource Guide; Author, Comprehensive Guide for Selecting a Background Screening Firm.

---
If you read the February edition of The Background Buzz (see  http://goo.gl/0iBHZ1) you likely saw the article, The Way Forward for Federal Background Investigations which discusses the U.S. Federal Government's announcement of a series of changes to modernize and strengthen the way that background investigations are conducted for Federal employees and contractors and protect sensitive data. The changes include the establishment of the National Background Investigations Bureau (NBIB), which will absorb the U.S. Office of Personnel Management's (OPM) existing Federal Investigative Services (FIS), and be headquartered in Washington, D.C. This new government-wide service provider for background investigations will be housed within the OPM. Its mission will be to provide effective, efficient, and secure background investigations for the Federal Government. Unlike the previous structure, the Department of Defense will assume the responsibility for the design, development, security, and operation of the background investigations IT systems for the NBIB. The article can be viewed at https://goo.gl/wIOe12
When I read about this the Criminal Records Bureau (CRB) which has morphed into the The Disclosure and Barring Service (DBS) in the United Kingdom instantly came to mind. In the UK the DBS is the governments entity that processes request for criminal records checks. While the announcement of the NBID is not the equivalent of the DBS, in my mind, it does not seem so far-fetched that based on the right (or wrong set of circumstances) occurring and unforeseen political events we could end up going down that road.  Remember the set of unforeseen events that led to the creation of the NBIB due to the demise of USIS, who dominated the government space, as a result of accusations of fake reports, significant backlogs, missing key information in the background check of the shooter at the U.S. Naval yard and "the straw that broke the camel's back" the humongous data breach at the OPM.  It was a perfect storm of unanticipated events that coalesced and culminated in the creation of the NBIB.
I am raising a 'What if?' question regarding the NBIB and applying one of the principles of systems thinking's 'law of unintended consequences.' The law of unintended consequences as defined by Businessdictionary.com is described as a set of results that was not intended [or anticipated] as an outcome or put another way as stated in an old saying "things do not always turn out as we expect."
When I posted this same issue to Linkedin one person asked "What exactly was the issue I see the NBIB posing?" and I reiterate that I do not see NBIB in its current format significantly impacting the background screening industry. In fact, it will pose little, if any threat at all. However, the point I am raising is that it could be the first step in the direction of the government moving towards setting up a central repository for criminal records. This is not the reason the NBID has been set up nor do I think there is some clandestine plot to move in this direction, however, I am simply raising the possibility that another 'political storm' of unforeseen events could make it politically expedient to make the leap to combining the NBIB with the FBI's NCIC and then you have the central repository. Its pure food for thought, but stranger things have happen.
Let me know what you think?
Data reported by background screening companies have consistently shown that 30 to 50percent of job applicants misrepresent themselves and/or outright lie on their resume.  While there is universal agreement that applicants falsifying their resume is problematic the fact is that it is not illegal. However, hiring a person based on what is presented in their resume can lead an employer down the path to some very hot legal waters.
Consider the following:
Professional Licensing Issues
Your organization business could end up in getting sued if you hire an unlicensed professional or someone's license that has expired to perform the professional duties in fields that require a license to practice and someone is harmed.  Classic examples would be someone serving a medical doctor that is not licensed or providing legal counsel with a law degree.
Liability Issues
Hiring someone who is unqualified to do a job is risky business, your customers or patients could sue you for negligence if they are harmed. Although you may be able to sue the person who lied, you will have to demonstrate that the lie caused your business harm and that you could not have known the person was lying (if you did not perform a background check 'good luck' with proving that)
Termination Issues
Did you know that once you have discovered an employee lied on her resume, you might not be able to immediately fire her.If the employee has an employment contract or your state requires termination for cause, you may have to prove the lie or show that the employee is otherwise unqualified. Before you move to terminate the employee be sure to keep detailed and specific documentation of the employee's performance short comings, mishaps and incidents. Also talk to the employee about the purported lie on their resume to provide them an opportunity to offer an explanation. If you falsely accuse someone of lying on her resume, you could be vulnerable to a wrongful termination suit and furthermore, if you end up in front of a jury it will look good that you gave them a chance to explain and who knows it might be your luck day and she actually admits it was a lie.
Featured Guest Articles:

Pam Devata Shares Her Views on Issues of Concern and likely Future Issues
Pam Devata, is a partner in the Labor and Employment Practice Group of Seyfarth Shaw LLP. She specializes in all aspects of employment defense including counseling, training, litigation, and has a special emphasis on the Fair Credit Reporting Act (FCRA) and the state laws affecting background screening.
SUBSCRIBE TO OUR NEWSLETTERS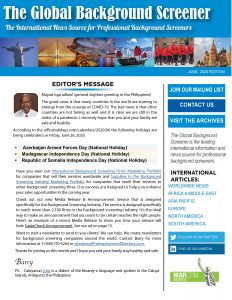 The Global Background Sreener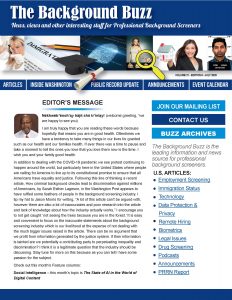 The Background Buzz!
(U.S. Background Screening
E-Magazine)