Continuous Employee Monitoring Is a Powerful Tool to Protect Your Company
back to blog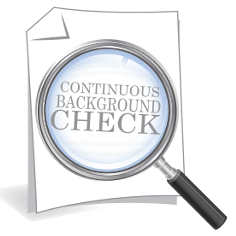 Tracy Vrchota Vice President of Compliance, Accurate Background
While pre-employment background checks are vital, what they capture is the current information about job applicants. As a result, once an individual is hired (absent some highly visible arrest or similar public incident), the employer may never know about an employee's questionable behavior outside of work — behavior that could pose a real threat to their business. The solution? Continuous, real-time monitoring of criminal records to maintain awareness of employees' activities that could cause concern. When coupling both current and ongoing monitoring technology, businesses are armed with the insight needed to effectively offer a safe and secure work environment.
Continuous monitoring services, offered by third-party background check companies and also known as Consumer Reporting Agencies (CRA), allow employers to monitor changes in employee criminal activity in real or close to real-time. The technology will notify employers via real-time alerts if an employee is arrested, booked or charged by a court. This allows the employer to assess the information and determine whether it is actionable from a job perspective or may pose a risk to the organization or its workforce.
Seek Third-party Expertise
Third-party expert help in this area is critically important, as there are a host of questions and legal considerations to take into account. For instance, who should be monitored? Everyone? Certainly, employees who drive as part of their job should have their driving records monitored. A school or hospital might use continuous monitoring technology for employees with direct access to patients or children to track arrests or convictions for violent or sex crimes.
When a CRA provides criminal record information, even post-employment, the employer must provide Fair Credit Reporting Act (FCRA)-compliant disclosures, obtain employee consent for the use of monitoring technology, and follow the pre-adverse and adverse action processes if they act based on whole or in part on the information reported — just like it would have to for pre-employment screening.
Timing Is Key
It is this compliance context that makes timely use of expert counsel so important. For instance, an employer cannot immediately terminate an employee if potentially disqualifying information is reported. Rather, the employer must first provide the pre-adverse action notice, which includes a copy of the report and the FCRA Summary of Rights, give the employee a reasonable period to consider the information in the report, and then provide a final adverse action notice that advises of the decision. There are also potential state and local requirements to consider regarding permissible action against a current employee.
Innocent Until Proven Guilty
It is important to note that incumbent employee arrests must be handled differently from convictions. It is not uncommon for continuous criminal monitoring technology services to reveal that an employee has been arrested for a crime or that charges currently are pending against the employee. These types of reports pose their own unique set of challenges.
For instance, an employer might learn of an employee's arrest, but charges might never be filed. If charges are never filed, the employer is best advised to trust the wisdom of the authorities and take no action. Even in a case where charges are filed, an employer should consider whether to defer making any final decision regarding the employee until the case resolves. Plainly stated, an arrested person is innocent until proven guilty. An employee or a potential employee with a conviction, an adjudication of guilt, is another matter altogether.
Overall, when working closely with regulatory considerations, continuous employee criminal monitoring technology can be a powerful tool that enables forward-thinking employers to protect themselves better and mitigate risk. Programs developed with the aid of firms' expert in this field, and the active involvement of in-house counsel, can protect a company from real threats and help you drive your business in a safe and effective manner, instilling confidence in your employees and customers alike.
https://www.spiceworks.com/hr/hr-strategy/guest-article/continuous-employee-monitoring-is-a-powerful-tool-to-protect-your-company/