Is Asking Job Applicants About Their Salary History Okay in Your State?
back to blog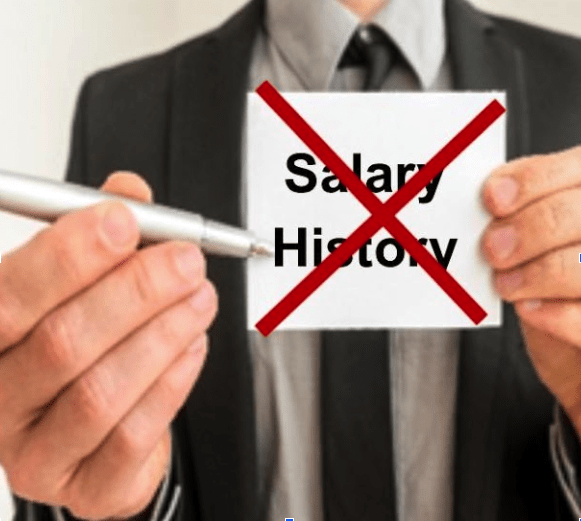 By W. Barry Nixon, COO, PreemploymentDirectory.com
Historically, one of the questions a prospective employee typically would get asked in a job interview is regarding their current or past salary. This question has been asked by businesses as a primary factor in determining the potential salary for the new hire. 
Providing a salary quote could lead to you being paid a lower rate than you deserve. On the other hand, refusing to provide one could adversely affect your interview. 
So, how do you address this question without putting your career at risk? Well, the good news is that in many states you don't have to. Many states in the US have banned asking applicants about their salary history to protect you from such exploitation. 
What Is a Salary History Ban?
A salary history ban is essentially a state level restriction that prohibits employers from inquiring about any details regarding your current salary or benefits. Additionally, it prevents employers from hiring you based on your response, or refusal to respond. 
The implementation of these bans often varies by state and location. The way these laws are followed is also dependent on the state in which the ban is implemented. 
How Does This Salary History Ban Help You?
The implementation of a salary history ban in your state normally prevents employers from doing some or all, of the following:
Asking potential employees about their previous earnings, 

Asking potential employees about their current earnings, 

Inquire about the potential employee's earnings through other means,

Make job offer decisions based on a potential employee's earnings. 
By disallowing the above, a salary history ban prevents bias and potential exploitation that accompanies inquiries related to your earnings. It prevents employers from making offers that perpetuate historical patterns of discrimination of paying woman lower earnings. 
This is especially useful in situations where pay discrimination is an institutional issue, such as the gender pay gap. Women have been known to earn 80% of what the average man earns, and inquiries regarding salary history have historically helped make this gap worse. 
How Do You Know If You Should Answer Questions About Your Salary?
If you live in a state with a salary history ban in place, you can refuse to answer any questions relating to your earnings. So far, the following state-wide salary history bans have been employed. However, each state has different requirements and implementation policies. 
To know if your state has employed a salary history ban, check the list below:
Alabama
The law disallowing salary history inquiries was passed in Alabama in September 2019. This law states that employers are not allowed to make job offer decisions based on an applicant's refusal to talk regarding their salary history. 
California
Passed in January 2018, the California ban prevents employers from both the private and public sector from inquiring about an applicant's salary history or making use of this information if they already have it. 
Some additional rulings passed in the city of San Francisco prevent employers from setting current pay scales based on it. They also prevent employers from utilizing or sharing salary information of an employee without direct consent. 
Colorado
Passed in 2021, the Colorado state ban prevents employers from inquiring about salary history or utilizing any such information to determine current pay scales. It also prohibits any sort of discriminatory practices against people who are unwilling to provide such information. 
Connecticut
This ban was effective in 2019 and only allows for salary history to be shared if it is willingly provided by the applicant. 
Delaware
Passed in 2017, this state law only allows for such information to be shared after a job offer has been made already. 
District of Columbia
In this law, it is illegal for district government agencies to inquire about an applicant's salary history until after a job offer has been made. 
Atlanta, Georgia 
No questions regarding salary history are allowed in any job interviews.
Hawaii 
This law applies to external applicants only and states that any questions regarding salary histories is prohibited. 
Illinois
Businesses or employers are prohibited from seeking information on a potential employee's salary history. 
Kentucky 
Passed in 2018, this law refers specifically to city agencies. 
New Orleans, Louisiana
This law focuses on the city of New Orleans and is specific to city departments. In accordance with this law, city departments may not inquire about or rely on any sort of salary history. 
Maine 
The ban in Maine prohibits any discussion about salary history until there is some confirmation about a job offer. 
Maryland
The state-wide policy for Maryland only allows for salary history to be shared if it is done voluntarily. A policy specific to Montgomery County extends upon this and prohibits employers from retaliation on refusal to comply. 
Massachusetts 
This law only requires salary information d voluntarily provided by the applicant in question. 
Mississippi 
Government level jobs are not allowed to inquire about salary history. 
Missouri 
Employers are not allowed to ask questions about salary history or rely on it in any decision matters. 
Nevada 
This law applies to all employers and prohibits any decisions based on information regarding salary history. 
New Jersey 
Any investigation regarding pay history and benefits is prohibited. 
New York 
Employers are prohibited from asking about salary history. If they already have access to this information, they are prohibited from making use of it or relying on it for hiring purposes. 
North Carolina 
This law applies specifically to state agencies. 
Ohio 
Not only are employees prohibited from asking about salary history, but are also required to share information on pay scale if needed by the applicant.
Oregon 
The law prohibiting inquiries regarding salary history is applicable to all businesses with one or more employees and is inclusive of all sorts of businesses.
Pennsylvania
State agencies are prohibited from asking aout current or past pay history and are required to provide a pay scale before extending a job offer. 
Puerto Rico
This law makes some allowances for employees who want to voluntarily disclose their salary history information after a job offer has been extended. 
Rhode Island
Employers can only rely on pay history after a job offer has been sent and only for the purpose of supporting a higher pay rate than the amount initially put forward. 
South Carolina
While Columbia prohibits any inquiries on salary history and encourages any partners and vendors of the city to follow suit, Richland County outrightly eradicated any questions of salary history from applications and interviews. 
Utah
This law is specific to people who take part in a city-based hiring process. 
Vermont
Employers are not allowed to utilize any information on salary history until the employee's job contract has been secured. 
Virginia 
This law is specific to state agencies for now and aims to eliminate the field of salary history in job application processes. 
Washington
Employers cannot ask about salary history, and businesses employing more than 15 people are also required to provide pay scale information to all prospective applicants. 
Summary
The above list gives you an idea on which states give you the right to refuse to provide any information on salary history. So, if you interview for a position in one of the above states, make sure you know your rights as a potential employee before answering salary related questions. 
If you need more information on employee screening, your rights, and advice on how you can manage issues related to them visit the Employment Screening Advice Center blog.
Disclaimer: The information provided in this article is strictly for educational purposes and is not intended to provide legal advice. We accept no responsibility for any actions you take based on the information provided in this article. Before implementing any actions on job applicants, you should consult a competent attorney with specialized knowledge of background screening.