Helpful Articles on Public Record Searching
The articles on this page will assist you in how to search for public records. Besides the many searching tips herein, this resource is also helpful for finding where certain types of government records can be accessed, accurately and inexpensively. Regardless of what camp you fall into – the legal professional or casual requester – to some degree the articles below should help the way you search for public records.
The copyrighted articles below may not be re-produced or distributed without specific consent from BRB Publications.
BRB Publications, Inc. is the most comprehensive and accurate resource of government and vendor sources and websites used for locating public records in the U.S.
BRB Publications, Inc. is the nation's premier publisher of references and websites used for locating public records. BRB's books and electronic products point the way to over 28,000 government agencies, and 3,500 public record vendors who maintain, search, or retrieve public records.
♦ ♦ ♦
Public Record Searching Techniques (New Article)
This 9-page primer covers a variety of topics including how to evaluate sources, perform name searches, use of identifiers, access methods, record fees, online subscription accounts, and watching for disclaimers.
Searching At State Agency Criminal Record Repositories
Many employers and state licensing boards depend on state criminal record repositories as a primary resource when performing a criminal record background check. What these entities do not realize is that a search of the state criminal record database may not be as accurate as assumed.
Six Tips for Searching Court Records
A series of tips that should be kept in mind as you perform your record searching at the courts.
Searching Recorded Documents Judgments, and Liens
Recorded documents, judgments and liens are among the most popular types of public records sought. This six-page guide examines the basics when performing these searches at the local level.
A Guide to Motor Vehicle Records
Sometimes motor vehicle records are public, sometime not. This six-page article (taken from the 2015/2016 MVR Access and Decoder Digest) examines driving records, license status checks, monitoring systems, vehicle title and registration records, vessel title and registration records, accident reports, and liens.
Federal Agency Sanctions and Watch Lists
This article examines public record databases of individuals and companies that have sanctions, violations, enforcement actions, or warnings initiated against them by one of nine different federal government departments that have sanctioning ability.
Access these articles at https://www.brbpublications.com/freeresources/FreeArticles.aspx
♦ ♦ ♦

The mission at Arrests.us is to make it easier for the public to find arrest records and view mugshots in their area. We strive to provide the most up to date directory of arrests in the United States. We continue to improve our database and reference tools to make it easier for the public at large to access public arrest records.

SUBSCRIBE TO OUR NEWSLETTERS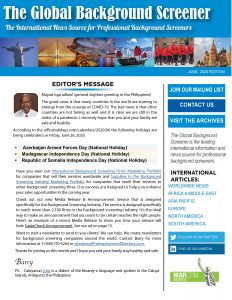 The Global Background Sreener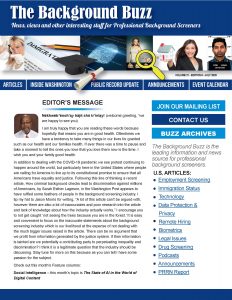 The Background Buzz!
(U.S. Background Screening
E-Magazine)