Showing Posts In "
Background Screening Insights

" Category

If you read the February edition of The Background Buzz (see http://goo.gl/0iBHZ1) you likely saw the article, The Way Forward for Federal Background Investigations which discusses the U.S. Federal Government's announcement of a series of changes to modernize and strengthen the way that background investigations are conducted for Federal employees and contractors and protect sensitive data.
---
Data reported by background screening companies have consistently shown that 30 to 50percent of job applicants misrepresent themselves and/or outright lie on their resume. While there is universal agreement that applicants falsifying their resume is problematic the fact is that it is not illegal. However, hiring a person based on what is presented in their resume can lead an employer down the path to some very hot legal waters.
---
SUBSCRIBE TO OUR NEWSLETTERS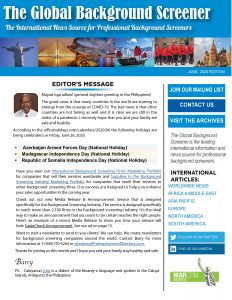 The Global Background Sreener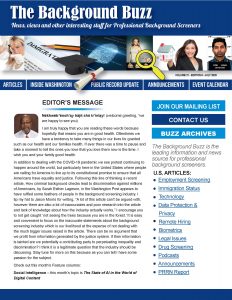 The Background Buzz!
(U.S. Background Screening
E-Magazine)