Vivek Khanna, Chief Client Partner, Neeyamo Enterprise Solutions Ltd.
Grab a latte, pull up a chair and join us for a great interview with Vivek Khanna, Chief Client Partner, Neeyamo Enterprise Solutions  Ltd.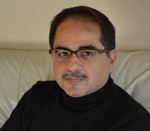 Vivek shared that he has over two decades of experience in the outsourcing field. He started with IT outsourcing, migrated to general purpose BPO and then to focused HRO. As a co-founder of Neeyamo, a focused HRO Provider, he noticed that their clients were not getting the best service value from the providers they were using and he sensed a business opportunity. Neeyamo added Background Verifications to their service offerings as it is an integral HR function which ensures that right person is hired for the job and ensures workplace safety.
Vivek noted that the background screening industry is a small community of motivated professionals and he enjoys the camaraderie and the ability to help his clients.
He has also discovered that with their network increasing to cover 200 countries he has been provided a unique opportunity to interact with partners from different cultures which he finds extremely enjoyable.
Turning our discussion to Neeyamo he shared the company's Vision: To be a trend setter in the HR Outsourcing space by providing best in class services through integration of Technology, Consulting & Operations
A new offering by Neeyamo is an alternative to written criminal verification in India, which was in limelight due to the wrong reasons. Our solution is faster, better and extremely cost effective.
He also noted that the company will be launching a Social Media Investigation for all English speaking countries and will add in Non English speaking countries based on client needs.
A key point Vivek emphasized is that Neeyamo helps companies build strong integrated solutions not only in terms of technology, but also the processes as well. For instance, they have helped fix the coordination problems that the recruitment, on-boarding and Background verification teams face. They have integrated solutions to cover talent acquisition, onboarding and background verification. Their solutions have best practices with optimally designed processes integration with client ERP's with our discreet applications to drive better efficiencies, clarity and cost saving.
Vivek leaned forward and emphatically stated that "We are more than Background Verifications. We are a complete HR solutions company with an industry leading HRO powered by SaaS offering."
He smiled as he responded to my favorite question, asking him to look into a crystal ball to foretell the future of the background screening industry: He pondered for a moment and then shared that he thinks "the Background screening industry is going through the same cycle that any other matured industry has gone through e.g. manufacturing, IT etc. A lot of players will emerge in the market, but very few will sustain themselves. These will be the companies that adapt to new processes, technology and changing customer needs. There will be more consolidation and a few big players will set the norms of the industry, however the nimbler newer startups will create offerings which will innovation.
Back on a personal note, Vivek shared he had recently read, 'Think Like a Freak,' by Stephen D Levitt and Steven J Dubner.
He indicated the person he would most like to meet is the economist, Paul Krugman.
Thanks to Vivek for a very informative and interesting interview.
For more information about Neeyamo please contact Vivek at vivek.khanna@neeyamo.com or +1.408.431.6441.