Todd Anstey, Co-founder and CEO, TRITON
Grab a latte and pull up a chair and join us for a great interview with Todd Anstey, Co-founder and CEO, TRITON.
Prior to getting in the background screening industry Todd spent 20 years working for General Electric, Coca Cola and Pfizer in sales and marketing.
Todd, shared that along with his business partners he founded TRITON in 2010. All three of the founder had experience working for Fortune 500 companies like WAL-MART, General Electric and Coca Cola. All of them had experienced hiring people and the frustrating part around the criminal background check, so they decided to raise some capital and start a pre-employment screening business.
Todd noted that having worked at several different companies and even industries he has been struck by the comradery in the background screening industry and has made a bunch of new friends!
Turning the conversation to the business Todd shared Tritons Vision and Mission:
Vision:
To be recognized as the North American – leader in fast, easy and cost-effective background checks for individuals and a wide range of businesses and audiences by building excellent relationships and providing a superior customer experience.
Mission:
We bring service excellence everyday through fostering healthy relationships, offering advanced technology expertise, fostering continuous product innovation all to meet and exceed our customers expect at ions. Todd added that TRITON prides itself in providing best in class technology and customer service. As an example he share that are currently integrating with Workday, iCIMS and SAP Success Factors and many more ATS integrations. He said, TRITON, commits itself to finding ways to be the lowest cost provider, with quality results, customer service and broad ATS integrations.
Moving on to my favorite question about what he sees coming in the future for the industry, he paused, thought and then said, I can see it becoming more and more integrated with ATS providers to the point where we will all be doing most of our business in their marketplaces.
Turning the conversation back to him, he shared he is currently reading "Seven Lessons on Physics" by Carlo Rove/Ii. It ' s a great laymen's read on the history of Physics.
He also shared that the person he would most like to meet is Winston Churchill.
His favorite quote comes from his Dad, "Son always take the time you need to make a decision…but don't take any more time than that. Now we know where all his wisdom comes from.
Thanks to Todd for a great interview and sharing his insights with us.
Todd can be reached at todd@tritonverify.com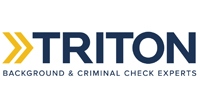 Visit:http://preemploymentdirectory.com/pubs/the-background-buzz/2018-02/index.php
Copyright Workplace Violence 911