Nathaniel T. Borsh Senior Account Executive, SJV & Associates, LLC.
Grab a latte, pull up a chair and join us for a great interview with:
Nathaniel T. Borsh Senior Account Executive, SJV & Associates, LLC.
Prior to coming into the background screening industry Nate was an Insurance Claim Representative for a global insurance firm. Let's just say, you were in good hands if you talk to him. Nate noted that this was challenging work dealing with catastrophes all the time. Unfortunately, whenever he spoke to a client, it was about the worst day of their life. They had just had an accident, a fire, a theft. He reflected with a sigh, that he burned out pretty quickly.
With this experience and his desire to advance his career he pursued an opportunity available in the background screening industry that would utilize his substantial experience in client facing roles.
When asked about one thing he particularly likes about the background industry he paused, smiled and said "Just one thing? That's tough." He then added, "I believe that I have truly come to appreciate what a pivotal role our industry plays in the economy overall. Through our efforts to help guide legislation on the federal and state level to the bare-bones fact that employers look to us for expertise and direction in recruiting, screening, hiring, and maintaining their workforces; the background screening industry is the backbone of safety, compliance, and fair employment practices. That is really something that I am proud to be a part of at this time."
Turning the discussion to SJV & Associates, Nate shared that "their mission is to be the premier global Research Provider to the Pre-Employment and Tenant Screening industries. By combining innovative technology with human expertise, we aim to deliver timely, high-quality, and complete background screening solutions, helping our clients make the best hiring decisions and tenant placements possible with the goal of ensuring a safer home and work environment."
Nate added as a part of SJV commitment to stay on the cutting edge to expand their position as a single source solution provider he is very happy to announce that coming in May of 2014, SJV & Associates will launch a new 'MedEx' product. This product line will focus primarily on the needs of Healthcare Vertical compliance needs and will provide OIG, SAM.Gov, State Board Actions reports to assist in maintaining conformity with the requirements of the Affordable Care Act.
In response to my probing to see if there were any additional information he wanted to share about the company he said, "there is a lot more." He noted that SJV & Associates is one of the longest tenured providers in the industry. He said some people may think that we are still just a regional provider of criminal records in Georgia, however, while this is a great part of our business, it is only a fraction of what we do. Nate beamed as he shared that SJV's Global Reach provides county, state, civil, and federal level services nationwide as well as in 185+ nations around the world. He added that they offer a suite of education and verifications services on the international side of the business. In addition, he note that their Web-Extraction Automation is second-to-none and that they have more than 5 years of experience in the industry compared to some of the newer, off the shelf solutions that are available.
Smiling, as if to say, want some more, Nate extended the following offer to our readers: If you have not had a chance to meet us at one of the NAPBS conferences shows, SJV is just a great group of people who take our business very seriously; but enjoy sharing in an enjoyable and customer-centric work environment where our clients are King! Be sure to visit with us at the next show.
Moving to my favorite question about the future, Nate pondered and then said: "I believe that we will see more and more digitalization of information. It has taken nearly 30 years with electronic filing systems to get us to the point we are currently. Another 10 years will see some great progress, but information is still going to require a human element to find, investigate, and disseminate to be in compliance with our federal and state laws. I firmly believe that fingerprinting and even retinal scanning are going to become more and more common place as gateways to storing, filing, and retrieving information. He chuckled and said, "Hey, I can't even open my iPhone now without a fingerprint scan. Technology will dictate the movement of our business in the next decade."
As I moved to close the interview Nate shared that he had just finished reading, "The Improbability Principal: Why Coincidences, Miracles, and Rare Events Happen Every Day."
He shared that the person he would really like to meet was Ralph Waldo Emerson. He believes that his endeavors to explore and define the inherent goodness within the human experience would be enlightening.
And, finally, his favorite quote is ""Sometimes you have to run before you can walk." -Tony Stark a.k.a. Ironman.(Now we know what kind of movies he likes too)
Thanks Nate for a very informative interview. To contact Nate you can email him at .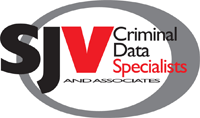 Click here to learn more about sjvassoc.com
nathaniel@sjvassoc.com or call him at (800) 203-0582 ext 293