The Global Background Screener
MarCom International Awards Competition selected The Global Background Screener as one of their top ranked e-newsletters in the world in the 2015 awards competition. MarCom's International Awards Competition has become one of the largest competitions for marketing and communications professionals in the world.
The Global Background Screener was selected as a Gold winner. The e-magazine was launched in March 2015 to provide the worldwide human resources and background screening community with a top quality news source to keep them informed about what is happening all around the world.
MarCom Awards announced winners for the 2015 international awards competition that recognizes outstanding creative achievement by marketing and communication professionals. There were over 6,500 entries from throughout the United States, Canada and 15 other countries in the 2015 competition. The MarCom competition MarCom entries come from corporate marketing and communication departments, advertising agencies, PR firms, design shops, production companies and freelancers. The competition has grown to perhaps the largest of its kind in the world. A look at the winners shows a range in size from individual communicators to media conglomerates and Fortune 500 companies. The competition is so well respected in the industry that national public relations organizations, local ad clubs, and local business communicator chapters are entrants.
Judges are industry professionals who look for companies and individuals whose talent exceeds a high standard of excellence and whose work serves as a benchmark for the industry. Winners were selected from over 200 categories in seven forms of media and communication efforts- marketing, publications, marketing/promotion, public service/pro bono, creativity and electronic/interactive. A complete list of Platinum and Gold Winners can be found on the MarCom Awards website at http://www.marcomawards.com.
The Global Background Screener is focused on keeping professional background screeners, HR professionals and hiring managers informed about international background screening issues. It is published every other month.
Each edition of The Global Background Screener highlights key global issues in countries around the world and showcase specific sources of information from PreemploymentDirectory.com's World Information Center. The World Information Center is designed specifically to provide information for professionals who conduct business internationally. It includes sections on: holidays celebrated in different countries, world time zones, a time zone converter tool, in-depth resources on most countries, guidelines on data protection laws, access to freedom-of-information around the world and much more.
"The goal of The Global Background Screener is to become the news source for professionals involved with background screening located anywhere in the world."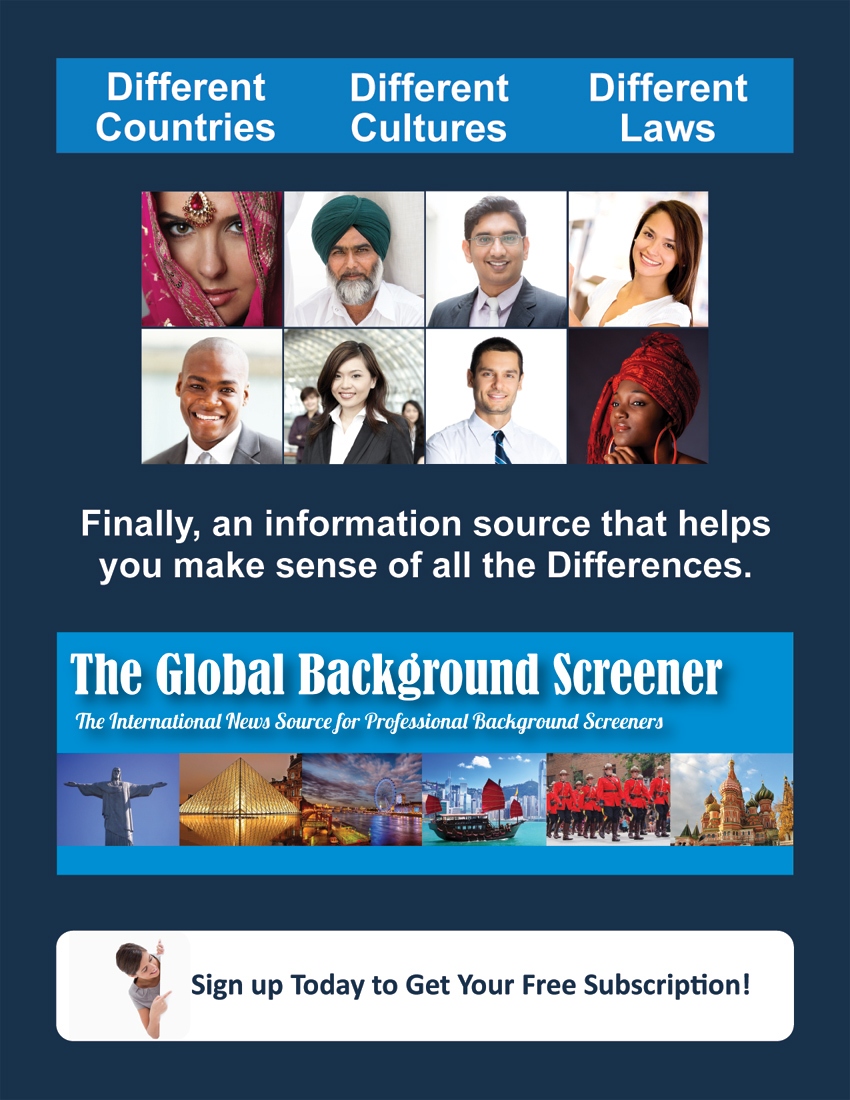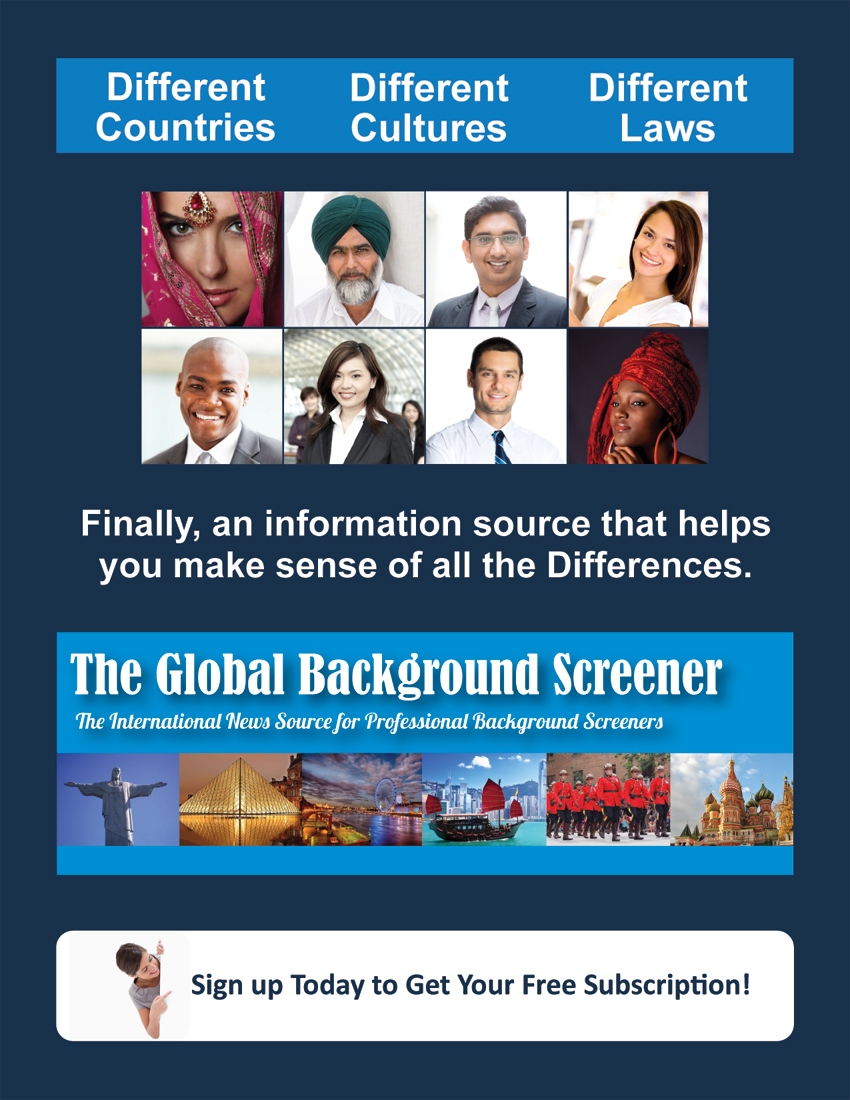 The Global Background Screener Archive 2023:
The Global Background Screener – Volume 63, October 2023
The Global Background Screener – Volume 62, August 2023
The Global Background Screener – Volume 61, June 2023
The Global Background Screener – Volume 60, April 2023
The Global Background Screener – Volume 59, February 2023
The Global Background Screener Archive 2022:
The Global Background Screener – Volume 58, December 2022
The Global Background Screener – Volume 57, October 2022
The Global Background Screener – Volume 56, August 2022
The Global Background Screener – Volume 55, June 2022
The Global Background Screener – Volume 54, April 2022
The Global Background Screener – Volume 53, February 2022
The Global Background Screener Archive 2021:
The Global Background Screener – Volume 52, December 2021
The Global Background Screener – Volume 51, October 2021
The Global Background Screener – Volume 50, August 2021
The Global Background Screener – Volume 49, June 2021
The Global Background Screener – Volume 48, April 2021
The Global Background Screener – Volume 47, February 2021
The Global Background Screener Archive 2020:
The Global Background Screener – Volume 46, December 2020
The Global Background Screener – Volume 45, October 2020
The Global Background Screener – Volume 44, August 2020
The Global Background Screener – Volume 43, June 2020
The Global Background Screener – Volume 42, March/April 2020
The Global Background Screener – Volume 41, January/February 2020
The Global Background Screener Archive 2019:
The Global Background Screener – Volume 40, December/January 2019/2020
The Global Background Screener – Volume 39, October/November 2019
The Global Background Screener – Volume 38, August/September 2019
The Global Background Screener – Volume 37, July 2019
The Global Background Screener – Volume 36, April 2019
The Global Background Screener – Volume 35, February 2019
The Global Background Screener – Volume 34, December/January 2019
The Global Background Screener Archive 2018:
The Global Background Screener – Volume 33, October/November 2018
The Global Background Screener – Volume 32, August 2018
The Global Background Screener – Volume 31, June 2018
The Global Background Screener – Volume 30, April 2018
The Global Background Screener – Volume 29, February 2018
The Global Background Screener Archive 2017:
The Global Background Screener – Volume 28, December 2017
The Global Background Screener – Volume 27, October 2017
The Global Background Screener – Volume 26, August 2017
The Global Background Screener – Volume 25, June 2017
The Global Background Screener – Volume 24, April 2017
The Global Background Screener – Volume 23, February 2017
The Global Background Screener Archive 2016:
The Global Background Screener – Volume 22, December 2016
The Global Background Screener – Volume 21, October 2016
The Global Background Screener – Volume 20, August 2016
The Global Background Screener – Volume 19, June 2016
The Global Background Screener – Volume 18, April 2016
The Global Background Screener – Volume 17, February 2016
The Global Background Screener Archive 2015:
The Global Background Screener – Volume 16, December 2015
The Global Background Screener – Volume 15, October 2015
The Global Background Screener – Volume 14, August 2015
The Global Background Screener – Volume 13, June 2015
The Global Background Screener – Volume 12, April 2015
The Global Background Screener – Volume 11, March 2015
The Global Background Screener Archive 2014:
The Background Buzz International Edition – Volume 10, November 2014
The Background Buzz International Edition – Volume 9, September 2014
The Background Buzz International Edition – Volume 8, July 2014
The Background Buzz International Edition – Volume 7, May 2014
The Background Buzz International Edition – Volume 6, March 2014
The Background Buzz International Edition – Volume 5, January 2014
The Global Background Screener Archive 2013:
The Background Buzz International Edition – Volume 4, November 2013
The Background Buzz International Edition – Volume 3, July 2013
The Background Buzz International Edition – Volume 2, April 2013