Find a Background Screening Company: U.S. Based


Employment Screening Resources (ESR)
www.ESRcheck.com
The firm that wrote the book on pre-employment background screening
7110 Redwood Blvd., Ste C
Novato, CA 94945
Phone: 415-898-0044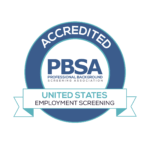 Employment Screening Resources (ESR) provides employment background screening nationwide and internationally, with an emphasis on legal compliance, instant Internet access, and professional HR assistance. The ESR website at www.ESRcheck.com contains numerous educational articles, reports, and resources on safe hiring.ESR was rated as the top-screening firm in the US in the first independent industry study by HR.com. See the article at www.ESRcheck.com


Shravan Manthena Client Partner
Neeyamo Inc.
14317 La Rinconda Drive,
Los Gatos California, 95032
USA
408.930.7495
Shravan.kumar@neeyamo.com
www.neeyamo.com
Neeyamo is a niche provider of global HR Outsourcing services. Our international Background Verification (iBGV) solution caters to conducting searches in 185+ countries. iBGV comprises a wide range of checks covering academic, employment history, criminal background, banned substances, professional references, residence, credit rating, global databases, identity, and other specialty checks as required by our clients.

Neeyamo is your one-stop-shop for all your International Background Verification needs. Our solution is a powerful blend of robust processes, proficient people, and technology.

Neeyamo is an International Member of NAPBS and ISO 9001:2015 and ISO 270001:2013 certified company.



Amy Barbieri
Co-Founder & Chief Revenue Officer
VITAL4™
1901 Mary Eliza Trace NW Suite 203
Marietta, GA 30064
Phone: 770-763-8931
abarbieri@vital4.net
www.vital4.net
The VITAL4™ cloud platform is defined by four fundamental concepts: compliance, accuracy, global insight, and price. Our background screening solution, VITAL4DATA™, offers best-in-breed FCRA-compliant data specifically designed for CRA's. It instantly searches over 10,000 global data sources including watch lists & sanctions, negative media, politically exposed persons, medical sanctions data, and more. We also offer over 3,000 wholesale global background screening products and services in over 240 countries and territories.
"We don't compete with background screening companies. We are their most powerful plug-in technology solution." Read More >


Bethany Baker
Sales Associate
NetForce Global LLC
18 Crow Canyon Court STE 310
San Ramon, CA
USA 94583
(877)-927-4111
contact@netforceglobal.com
www.netforceglobal.com
NetForce Global is a leading wholesaler of international pre-employment background screening data in the Americas, Canada, EMEA and the Asia/Pacific regions. Dedicated to providing wholesale-only international screening services, NetForce Global is focused on simplifying global complexities for retail background screening customers.

Our screening data is updated 24 hours a day by a best-in-class worldwide researcher network which provides faster turn-around times without compromising search quality. Compliance research and expertise are integrated into all services offered and each service has been evaluated to be compatible with established privacy laws and regulations.

Exceeding customer expectations is our top priority at NetForce Global.

Accurate Investigation Services
18521 East Queen Creek #105-618
Queen Creek, AZ 85142
Phone: 541-639-4093
Berean Employment Screening
3261 Old Washington Road, Ste. 2020
Waldorf, MD 20602
Phone: 301-453-6500
Ceiba Group
3509 Haworth Drive, Suite 304
Raleigh, NC 27609
Phone: 919-844-6348
Fax: 919-844-6349
ClearStar.net
418 Pirkle Ferry Road
Cumming, GA 30040
Phone: 1-888-302-5327
Fax: 1-240-248-0060
Cluso Investigation
4500 Mercantile Plaza Dr., Suite 106
Fort Worth, TX 76137 USA
Toll-Free: (866) 685-5177
Local: (817) 945-2289
Fax: (817) 945-2297
Corporate Screening
16530 Commerce Court
Cleveland, Ohio 44130
Phone: 800-229-8606
Fax: 440-243-4204
CSS
20 East Clementon Road
Suite 201-S
Gibbsboro, NJ 08026
Phone: 866.344.7000
DISA Global Solutions, Inc.
12600 Northborough Dr.,
Suite 300
Houston, TX 77067
281-673-2541
Global HR Research
27499 Riverview Center Blvd. Suite 210
Bonita Springs, FL 34134
Office: 239-274-0048
Toll-Free: 800-790-1205
Fax: 239-444-3138
Global Screening Solutions, Inc
1914 Westover Ln
Kennesaw, GA 30152
Office: 770-422-3167
Fax: 866-641-2522
HireRight
2100 Main Street
Irvine, CA 92614
800-400-2761
i2Brain inc.
US Headquarters
3580 Wilshire Blvd., Suite 1705D
Los Angeles, CA 90010
Phone: 213-387-6507
Fax: 213-387-7397
International Security Network 
P.O. Box 130482
Carlsbad, CA 92013
USA
Phone: 760-942-1088
Investigative Resources International
P.O. Box 30333,
Long Beach, California 90853.
Phone: (800) 252-5853
(562) 437-7709
Integrated Screening Partners, Inc.
A ProMesa Enterprises, Inc. Affiliate
5316 Hwy. 290 West, Suite 500
Austin, TX, USA 78735
Phone: 512.891.6060
Fax: 512-891-6161
Liberty Alliance
22707 Lapalma Ave
Yorba Linda, California 92887
Phone: 800 630 2880
Fax: 800 630 2808
Merchants Credit Bureau
955 Greene St.
Augusta, GA 30901
Phone: 706.823.6233
Fax: 706.823.6253
Netforce Global LLC
18 Crow Canyon Court – Suite 310
San Ramon, CA 94583, USA
Phone: 888-326-5286
Fax: 888-326-5286
Owens OnLine LLC
3632 Land O' Lakes Boulevard
Suite 105-6
Land O' Lakes, FL 34639
United States
Phone: +1 800 745 4656, option 2
+1 813 877 2008, option 2
Pangeodata
Atlanta, GA
Phone: +1 888 885 5099
Fax: +1 844 441 0817
Pinkerton Consulting & Investigations
11019 McCormick Rd. Suite 120
Hunt Valley, MD 21031
(410) 229-5470
(800) 635-1649
Scherzer International
Los Angeles, CA/Headquarters
6351 Owensmouth Ave
Suite 213
Woodland Hills, CA 91367
Phone: 818.227.2770
Phone: 866.SC.FACTS
Fax: 818.227.2750
Sentinel Background Checks
710 Oakfield Drive, Suite 254
Brandon, FL 33511
Phone: 888-248-4739
Straightline International
PMB 1007 Box 10001
Saipan, MP 96950
Phone: 1-866-909-6678
Fax: 1866-909-6679
From Outside the USA Call: +44-207-900-2849
The W Group
2977 Ygnacio Valley Road
Box 440
Walnut Creek, CA 94598
Phone: 925-939-5180
Fax: 925-939-5199
ISS | WorldWatch Plus
Phone: 678-784-7640
VITAL4DATA, Inc.
1901 Mary Eliza Trace NW, Ste. 202
Marietta, GA 30064
Phone: 404-771-9813