Find a Background Screening Company: NORTHERN CALIFORNIA


< Back to U.S. Map

Finding a background screening firm is only half of the battle. Selecting the right background screening company to meet your unique business requirements is the other part of the decision that challenges employers. To help you with conducting your due diligence we have developed a comprehensive guide that will help you identify the critical components you should consider in selecting a background screening firm.  If you need additional assistance one of our expert background screening consultants will be happy to help you with the selection process.
| | |
| --- | --- |
| |   the Comprehensive Guide for Selecting a Background Screening Firm |


Dawn Standerwick
Vice President of Strategic Growth
Employment Screening Resources® (ESR)
7110 Redwood Boulevard
Novato, CA 94945
United States
Direct: (415) 761-9027
dstanderwick@esrcheck.com
www.esrcheck.com
Toll-Free: (888) 999-4474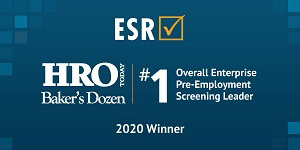 People Matter. Make Good Choices.
We believe employers deserve a background screening partner they can rely upon to consistently deliver fast, accurate, affordable, and compliant information through an innovative, time-saving solution that supports compliance with ever-changing laws. ESR is integrated with the most visible HR technology solutions to ensure a seamless user experience for our clients and their candidates.
ESR is accredited by the National Association of ProfessionalBackground Screeners (NAPBS) and our annual SOC2 (SSAE18) audit validates our high standards and commitment to privacy, security, and confidentiality.
ESR's Assured Compliance® Program was awarded the 2018 HRO Today Tektonic Award for disruptive and innovative background screening technology. Contact us to learn more about how we keep our clients compliant.

Abso
Roseville, CA: 800.943.2589
Denver, CO: 303.425.0304
Louisville, KY: 800.416.2769
Fax: 800.943.4572
AbsoluteBackgrounds.com
104 Church Street
Roseville, CA 95678
800-943-2589 ext.5120
Absolute Hire
3000 Lava Ridge Ct.
Roseville, CA 95661
Toll-Free: (800) 943-2589
Fax: (800) 943-4572
Accurate C&S Services, Inc.
8105 Edgewater Dr., Suite 225
Oakland, CA 94621
Phone: 510.777.0904
Accurate Screens
8105 Edgewater Dr., Suite 225
Oakland, CA 94621
Phone: 510.777.0904
Advanced WorkPlace Strategies Inc.
17821 E. 17th St. Ste. 260
Tustin, CA 92780
Phone: 714.731.3084
Fax: 714.731.5569
Agoodemployee.com
23801 Calabasas Rd.
Calabasas, CA 91302
Phone: 855-361-1667
Fax: (310) 893-1680
Alpha Omega USA Information Brokers, LLC
1055 West College Avenue, Suite 148
Santa Rosa, CA 94501
Toll-Free: (866) 63-OMEGA
Fax: (866)-326-6342
A Matter of Fact
P.O. Box 1113
Colfax, CA 95713-1113
Phone: (503) 346-6626
Toll-Free: (800) 957-3272
Fax: (530) 346-6620
Apollo Services, Inc.
921 Transport Way, Suite 24
Petaluma, CA 94954
Phone: 707.778.7088
Fax: 707.778.7099
Applicant Information
7600 Dublin Blvd, Ste 220
Dublin, Ca 94568
800-315-8606
Assessments.Biz
1506 Tiffany Park Circle, Suite 101
Santa Maria, CA 93455
Toll Free: (800) 808-6311
Ph: (805) 934-5956
Fax: (805) 937-8842
AssureHire
2206 Plaza Drive Suite 100
Rocklin, CA 95747
United States
1-855-906-HIRE
Backgrounds Online
1912 21st St.
Sacramento, CA 95811
Ph: (800) 838-4804
Fax: (800) 838-4654
Background Profiles Inc.
3478 Buskirk Ave. #102
Pleasant Hill, CA 94523
925.974.1820
BackIS International
San Carlos, California
Phone: 408.666.9193
Fax: 866.332.5420
Bay Area Background Checks
3270 Mendocino Ave, Ste 1B
Santa Rosa, CA 95403
Office: (707) 732-9625
Toll-Free: (888) 551-8360
Beartrack Investigations
CA P.I. Lic. #25836
P.O. Box 1381
Truckee, CA 96160
530-214-8004
925-435-4040
Career Edge
3377 Deer Valley Road, Box #210
Antioch, CA 94509
Phone: 925 757-9134
Fax: 925 757-8886
Coeus Global
P.O. Box 885
Cottonwood, CA 90622
866-765-0592
Creative Security Concepts, Inc.
5617 Cottle Rd.
San Jose, CA 95123
Phone: (408) 629-6770
Fax: (408) 629-6077
Creative Security Concepts, Inc.
5617 Cottle Rd.
San Jose, CA 95123
Phone: (408) 629-6770
Fax: (408) 629-6077
Creswell Associates
71 Stevenson St Suite 400
San Francisco, CA 94105
Phone: (415) 233-7372
Doctor Background Check (Specialty)
604 Mission Street
San Francisco, CA 94105
Employment Screening Resources
1620 Grant Avenue, Suite 7
Novato, CA 94920
Phone: 888-999-4474
Employers Investigative Services
724 Fourth Street
Orland, CA 95963
United States
(866) 350-5638
Espy Investigative Services
PO Box 968
Ripon, CA 95366
Phone: (209) 609-2676
ESR Check
1620 Grant Ave., Suite 7
Novato, CA 94945
Phone: (415) 898-0044
or (888) 999-4474
Fax: (800) 399-5423
East Bay Detective Agency
3542 Fruitvale Ave., #231
Oakland, CA 94602
Ph: (888) 226-6122
Fax: (510) 535-0331
FYI Services
2222 Francisco Dr., Suite 510A
El Dorado Hills, CA 95762
Phone: (916) 983-5380
Toll-Free: (877) 411-FYIS
Hilton Investigations
P.O. Box 1288
Morgan Hill, CA 95038
Toll-Free: (800) 475-2583
Direct: (408) 778-9528
Fax: (408) 273-6051
HIRE-SAFE employment background screening
300 Orchard City Drive, Suite 130
Campbell, CA 95008
888 792-4473
408 384-4402
HRmarketer.com
PO Box 10
Capitola, CA 95010
831-685-9700
Human Resource Advantage, LLC
PO Box 26103
Fresno, CA 93729
Voice 800-232-9214
FAX 559-440-9885
 InfoCheck, Inc.
3313 Vincent Rd. Ste 215
Pleasant Hill, CA 94523
800-798-1076
Information Access Network
8788 Elk Grove Blvd., #1, Suite N
Elk Grove, CA 95624
Phone: (916) 685-9545
Fax: (916) 686-1046
Infortal Worldwide
2350 Walsh Avenue
Santa Clara, CA 95051
Ph: (408) 298-9700
Toll-Free: (800) 736-4999
Fax: (408) 298-9701
Inquest Pre-employment Screening
PO Box 54063
San Jose, CA 95154
Phone: 1-866-549-1606
Fax: 1-866-540-5710
Investigative Services
9175 Kiefer Blvd. #190
Sacramento | CA | 95826 | US
iProspectChecks
160 Blue Ravine Road, Suite E
Folsom, CA 95630
United States
Phone: 888-808-9997
Jim Baca Investigations
180 Golf Club Road, #135
Pleasant Hill, CA 94523
Phone: 925-822-7948
Fax: 925-429-0951
KarmaCheck
595 Pacific Ave., 4th floor
San Francisco, CA 94113
Phone: +1 877-732-2129
Kredifi Inc.
830 Hill View Court, Suite 280
Milpitas, CA 95035  USA
Phone: +1 (650) 454-8954
McCoy Investigations
P.O. Box 174
Carmichael, CA 95609
Phone: (916) 481-3525
Fax: (916) 481-5293
Mid-State Background Investigations
P.O. Box 1267
Salinas, CA 93802-1267
Phone: 831.753.2977
Fax: 831.758.0668
National Business Investigations
21535 Palomar Street, Suite I
Wildomar, CA 92595
Phone: (951) 678-4408
Fax: (951) 678-7179
NetForce Global LLC
18 Crow Canyon Court STE 310
San Ramon, CA 94583
Phone: (877) 927-4111
Parkin Security Consultants, Inc.
7258 Bark Lane
San Jose, CA 95129
Phone: (408) 255-4564
Toll-Free: (888) 931-9900
PFC Information Services Inc.
6114 La Salle Avenue, #638
Oakland, CA 94611
Phone: (510) 653-5061
Fax: (510) 653-0842
Pre-employ.com
2301 Balls Ferry Rd.
Anderson, CA 96007
Phone: 800-300-1821
PreEmptify
422 Larkfield Center, Ste 242
Santa Rosa, CA 95403
Phone: (707) 732-9625
Toll-Free: (888) 551-8360
Presenting Solutions, Inc.
55 Santa Clara Ave.
Oakland CA 94610
Toll-Free: 800 547 7554
Fax: 510 763 7599
Private Eyes, Inc.
190 N. Wiget Lane Ste. 220
Walnut Creek, CA 94598
Phone: 925.927.3333
Fax: 925.927.3330
Protective Solutions & Investigations
1860 Woodland Ave
Santa Clara, CA 95050
Phone: 408/243-7838
Fax: 831/636-9784
Reference Pro
7110 Redwood Blvd., Ste C
Novato, CA. 94945
Phone: 415-493-2118
Risk Assessment Group
2100 S. Rural Rd.
Tempe, AZ 85281
Phone: 1 (866) 777-1114
The Steele Foundation
388 Market Street, Fifth Floor
San Francisco, CA 94111
Toll-Free: (800) 576-5423
Triad Consultants LTD.
314B Caledonia Street
Sausalito, CA 94965
Phone: 415.332.4400
TrustPoint Inc.
P.O. Box 2020
Santa Maria, CA 93457
Ph: (805) 346-6250
Fax: (805) 346-6483
USA Trace
8155 Watt Ave., #239, Antelope, Ca. 95843
Phone: 347-710-9002
Valley Track LLC
P.O. Box 5536
San Jose, CA 95150-5536
Ph: (408) 626-8772
Fax: (408) 371-3950
The Workthreat Group, LLC
Newport Beach & San Jose
Office (949) 951-1316 x 701
Fax: (949) 203-2803