Find a Background Screening Company – Alphabetical "E"


A
B
C
D
E
F
G
H
I
J
K
L
M
N
O
P
Q
R
S
T
U
V
W
X
Y
Z

Comprehensive Guide for Selecting a Background Screening Firm
Finding a background screening firm is only half of the battle. Selecting the right background screening company to meet your unique business requirements is the other part of the decision that challenges employers.
To help you with conducting your due diligence we have developed a comprehensive guide that will help you identify the critical components you should consider in selecting a background screening firm.
If you need additional assistance one of our expert background screening consultants will be happy to help you with the selection process.
| | |
| --- | --- |
| | the Comprehensive Guide for Selecting a Background Screening Firm |


Dawn Standerwick
Vice President of Strategic Growth
Employment Screening Resources® (ESR)
7110 Redwood Boulevard
Novato, CA 94945
United States
Direct: (415) 761-9027
dstanderwick@esrcheck.com
www.esrcheck.com
Toll-Free: (888) 999-4474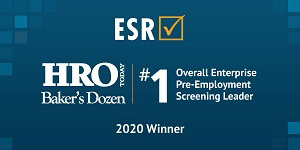 Employment Screening Resources (ESR) provides employment background screening nationwide and internationally, with emphasis on legal compliance, instant Internet access, and professional HR assistance. The ESR website at www.ESRcheck.com contains numerous educational articles, reports, and resources on safe hiring.ESR was rated as the top-screening firm in the US in the first independent industry study by HR.com. See the article at www.ESRcheck.com


Edge Information Management
1682 West Hibiscus Blvd.
Florida
32901
USA
800-725-3343
info@edgeinformation.com
www.EdgeInformation.com
Edge Information Management, Inc., established in 1991, is a privately held national provider of employment screening services dedicated to furnishing employers with accurate background screening, drug testing and electronic i9/e-Verify services at cost-effective rates.  Edge delivers services to each client via the Internet through its proprietary software (WebScreenSM), portal, or integration with a variety of industry-leading ATS Systems.  The ability to combine "big business" technology with "small business" customer service is the value most appreciated by its clients. The NAPBS Accreditation exemplifies Edge's dedicated focus on delivering accurate information quickly and in compliance with hiring federal and state regulations
Jason Allen
CEO
Eagle Eye Screening Solutions, Inc.
2621 Green River Road S#105
Corona, CA USA 92882
Phone: 1- 714-315-3739
Website: https://www.eagleeyescreening.com/
Email: sales@eagleeyescreening.com
Eagle Eye Screening Solutions, Inc. excels in domestic and international criminal and civil research.  As a nationwide wholesale research specialist, we guarantee fast integrated services, accurate, and trusted results.

In order to meet the needs of all our clients, we strive to provide:
Automated Services
Same-day customer service support
Integrated Solutions: Tazworks, Acciodata, Deverus, Digital Delve, any Proprietary Software System
Daily ETA reports
Superior turnaround times
Eagle Eye Screening Solutions, Inc. is constantly enhancing our research networks, strengthening client relationships, and developing our technology, in order to provide customers with the most exceptional service possible.

eClerx Markets
1880 John F Kennedy Blvd., Suite 400
Philadelphia, PA 19103
Phone: (267) 488-8750
E-Screening.com
7200 E. Hampden Ave., Suite 206
Denver, CO 80224
Phone: (888) 690-0077
Fax: (303) 948-0467
E-Verifile
900 Circle 75 Parkway Ste 1550
Atlanta, GA 30339
Phone: 1-855-383-7434
EagleCheck
Barcelona, Barcelona 08018, ES
Phone: +34 677 74 17 19
Eagle Investigative Services
P.O. Box 725267
Atlanta, GA 31139
Phone: 1 + 800-867-3930
Fax: 1 + 770-234-4246
Eagle Communications
45568 Mayfield Road, #213
Cleveland, Ohio 44121
Phone: 888-646-9179
Fax: 216-297-3203
Eagle Screen 
One Belmont Ave, Suite 612
Bala Cynwyd, PA 19004
Phone: 646-797-4838
East Bay Detective Agency
3542 Fruitvale Ave., #231
Oakland, CA 94602
Phone: (888) 226-6122
Fax: (510) 535-0331
easyBackgrounds
PO Box 952
Newfields, NH 03856
US Toll-Free: 800-538-6525
EBC Global
Kemp House, Suite 25
152-160 City Road
London EC1V 2NX
United Kingdom
Phone: 01234 604 601
EBS Inc. (a subsidiary of The Delphic Group)
1591 Reed Street
Lakewood, CO 80214
Phone: 303-374-1246
Fax: 303 374 1248
eCheck Employment Screening Solutions
15th Floor Joina City
Cnr. Jason Moyo Avenue & J. Nyerere Way
Harare, Zimbabwe
Phone: +263 4 779 449
eChinaCareers
4th Floor, HRSIP Building
Tianfu 3rd Street
Hi-Tech Zone
Chengdu, China
Phone: +86 (0)28 8113 5660
Edge Information Management, Inc.
100 Rialto Place, Suite 800
Melbourne, FL 800-725-3343
Toll-Free: (800) 725-3343
Fax: (800) 780-3299
EDIFY Background Screening
PO Box 35141
Greensboro, NC 27425
Phone: 888-503-3439
EDPM, Inc
Jason Dailey
505 20th St. North, Ste. 1200
Financial Center
Birmingham, AL 35203
Phone: 800.833.9412
Fax: 205.716.3044
eDucheck
1 Adekunle Owobiyi Close
Off Nob-Oluwa Street, Ogba-Ikeja
Lagos, Nigeria
Phone: (234) 3426267, 3426268
Edverify Inc.
2240 W. Woolbright Road, Suite 347
Boynton Beach, FL 33426
Phone: (561) 853-1100
Fax: (561) 853-1155
Toll-Free: (877) 338-3743
eeCheck Limited
Singapore Land Tower, 37th Floor
50 Raffles Place
Singapore 048623
Phone: (65) 3138 8940
Een Streepje Voor BV
Haansbergseweg 30
Rijen, State: Noord Brabant
The Netherlands
5121LJ
Phone: (0031) 161231837
Fax: (0031) 842206230
eeVoices Limited
Hong Kong (Asia Headquarters)
15/F, Nexxus Building
41 Connaught Road Central
Hong Kong
Phone:(852) 2262-2727
EFIC E-Solution Pvt. LTD. (OPC)
Plot-2325, Bharatpur, Near Kalinga Studio, Khanddagiri
Bhubaneswar
Odisha
India 751003
Phone: 9692218547
e-FindOutTheTruth.com
2637 E. Atlantic Blvd., # 107
Pompano Beach, Florida 33062
1-888-408-7490
Ekeholm and Associates, LLC
Post Office Box 4561
Breckenridge, CO 80424
Phone: (877) 219-0732
eKnowID
Jackie Ellison
KENTECH Consulting Inc.
520 W. Erie St., Suite 340
Chicago, IL 60654
Phone:312-544-0218
Phone: 888-SIX-CHEC x700
Fax: 312-276-8989
Elements Global Services Hennessy Road
200 Hennessy Road, Wan Chai Hong Kong
Phone: +852 2824 8531
Elite Force
Elite Tower, House #3 Road # 6/A
Block-J Baridhara
Dhaka-1212 Bangladesh
Phone: 02222285141
8835342, 8835354
eMed | Screen
990 Biscayne Blvd, Suite 1501
Miami, FL 33132
Phone: 904.654.8873
EmpInfo, LLC
5900 Silver Creek Valley Road
San Jose, CA 95138
Phone: (800) 274-9694
Employment Background Investigations, Inc. (EBI)
P.O. Box 629
Owings Mills, MD 21117
Toll-Free: (800) 324-7700
Phone: (410) 486-0730
Fax: (410) 486-0731
Empire Consulting, LLC
PO Box 578
Georgetown, CT 06829
Phone: 866-612-0701
Empire Consulting, LLC
23 Alton Road
Stamford, CT 06906
Phone: 203-249-1538
Fax: 203-323-2461
Empire Personnel Services, Inc.
1660 Chicago Ave., Suite M-11
Riverside, CA 92507
Phone: (909) 784-7142
Fax: (909) 784-4728
Empire Surveillance & Investigations
Mariners Drive
P.O. Box 15812
Newport Beach, CA 92660
Phone: 800-830-7030
Employee Assurance, Inc.
Phone: (888) 640-9847
Employee Background Check Services at PAMAC
A 21, Shriram Industrial Estate
13, G.D. Ambekar Road
Wadala, Mumbai 400031
Maharashtra, India
Phone: +91 22 2419 2200
Employee Crossings
A/203, Osia Classic, Amboli
Andheri (West), Mumbai – 400 058
Maharashtra
Phone: 022 49782379
Employee Facts
P.O. Box 2111
Renton, WA 98056
Phone: (425) 271-8065
Toll-Free: (800) 289-8065
Fax: (425) 228-3296 or (800) 289-9246
Employee Relations, Inc.
20720 Ventura Blvd.
Woodland Hills, CA
Phone: 818-593-5555
Toll-free: 800-716-7773
Employees Provident Fund Pulchowk
Lalitpur, Nepal
Phone: +977 – 01 – 5010165, 5010166
Employers Reference Source, Inc.
1587 Hamilton Ave
Waterbury, CT 06706
Phone: 203-755-7878 / 888-512-2525
Employment Screening Alliance (ESA)
600 Bypass Drive, Suite 217
Clearwater, FL 33764
Phone: 866-830-3724
EmploySecure.com
2 Dundee Park
Andover, MA 01810
Phone: 800-850-0019
Fax: 800-850-0661
Employers ChoiceOnline.com
5042 Wilshire Blvd., Ste.569
Los Angeles, CA 90036
Phone: 800-424-7011
Employers Choice Screening
9845 Painter Ave., Suite B, Whittier, CA 90605
Office: (562) 548-8540
Toll-Free: (888) 553-2971
Fax: (800) 491-9323
Employers Investigative Services
724 Fourth Street
Orland, CA 95963
United States
Phone: (866) 350-5638
Employers Unity, Inc.
7903 Allison Way
Arvada, CO 80005
Phone: 303-424-7004
Employers Reference Source Inc.
1587 Hamilton Ave,
Waterbury, CT 06706
Phone:(818) 512-2525
Employers Reference Source – NW
8002 NE Hwy 99, Ste B
Vancouver, WA 98665
Phone: (360) 737-2744
Fax: (503) 228-3039
Employment Background Investigations, Inc. (EBI)
P.O. Box 629
Owings Mills, MD 21117
Toll-Free: (800) 324-7700
Phone: (410) 486-0730
Fax: (410) 486-0731
Employment Investigative Services
37111 Euclid Avenue Unit F
Willoughby, Ohio 44094
Phone: 440-918-0140
Fax: 440-918-0148
Employment Record Service LLC
363 Hwy. 46 West
3rd Floor
Fairfield, NJ 07004
Phone: 800.775.2958
Fax: 888.508.7600
Employment Research Services (ERS)
P.O. Box 1206
Gretna, LA 70054
Toll-Free: (800) 948-0015
Fax: (800) 948-0016
Employment Screening Alliance (ESA)
800 Compton Rd., Bldg. #17
Cincinnati, OH 45231
Phone: (513) 521-1400
Toll-Free: (800) 706-8848
Fax: (513) 521-9900
Employment Screening Alliance (ESA)
600 Bypass Drive, Suite 217
Clearwater, FL 33764
Phone: 866-830-3724
Employment Screening Alliance Group
Phone: (727) 532-3005
Toll-Free: (866) 830-3724
Fax: (727) 532-3028
Employment Screening Associates
8010 Blue Ash Rd
Cincinnati, OH 45236
Phone: 800-706-8848
Fax: 513-521-9900
Employment Screening & Information Specialists
P.O. Box 1133
Largo, FL 33779
Toll-Free: (800) 275-2966
Phone: (727) 581-3603
Employment Screening Professionals
PO Box 1121,
Frederick, MD 21702
Phone: 301-305-3316
Employment Screening Resources
1620 Grant Avenue, Suite 7
Novato, CA 94920
Phone: 888-999-4474
Employment Screening Services
2500 Southlake Park
Birmingham, AL 35244
Phone: 866.859.0143
Employment Screening Services, Inc.
Phone: 800-826-4426
The Employment Source
1815 Grant St.
Bettendorf, IA 52722
Employment Verification Resources, Inc.
1005 Terminal Way, Ste. 294
Reno, NV 89502
Phone: 1-775-322-3558
EmploySecure.com
2 Dundee Park
Andover, MA 01810
Phone: 800-850-0019
Fax: 800-850-0661
EMPS PTY LTD
269 Pendoring Road
Northcliff (Entrance Northcliff Drive)
PO Box 73557
Fairland
2030
Phone: 011 678 0807 or 27116780807
Fax: 011 678 0842 Alt: 086 568 1650
EMP Trust Solutions
101 Lakeforest Blvd., #230
Gaithersburg, MD 20877
Phone: (855) 288-7493
EnCompass Screening Solutions
1390 Flemingsburg Rd., #133
Morehead, KY 40351
Toll-Free: (888) 210-4859
Epic Concepts, LLC
P.O. Box 436054
Louisville, KY 40253
Phone: (502) 379-4621 Ext.301
Toll-Free: (877) 760-5215
Equare Group
3/5 Railway Colony 1 St. Aminijikarai Chennai 29
Tamil Nadu, Chennai, India 600029
Phone: 044-4255177710
Equifax Insurance Services
P.O. Box 740241
Atlanta, GA 30374
1-404-885-8000
Epic Concepts
PO Box 436054
Louisville, KY 40253
Phone: (502) 379-4621
Toll-Free: (877) 760-5214
Fax: (502) 454-4481
E-Renter USA Ltd
435 Martin Street #3140
Blaine WA 98230
Tel: 1.360.332.0078
Fax: 1.360.933.8928
ERC Dataplus Inc.
50 Washington St., Suite 510
Norwalk, CT 06854
800-700-2562
Ergometrics and Applied Personnel Research, Inc.
115 Skyline Drive
Edmonds, WA 98020
(425) 774-0829
ERS Hire LLC
114 Essex Street
Rochelle Park, NJ 07662
1-800-775-2985
Espy Investigative Services
PO Box 968
Ripon, CA 95366
(209) 609-2676
E-Square Services Pvt
704, Park Avenue, Shahrah-e-Faisal
Karachi, Pakistan
Phone: +92-213-4558145 / 48
eSpear
15 Grumman Road West, Suite 1100
Bethpage, NY 11714
Phone: (855) 437-7327
ESR Check
1620 Grant Ave., Suite 7
Novato, CA 94945
Phone: (415) 898-0044
or (888) 999-4474
Fax: (800) 399-5423
ESS
P: 205-879-0143
Toll-free: 866-859-0143
Essential Screens
3415 W. State St., Suite B
Grand Island, NE, 68803
Phone: 888-494-9188
Eurocom C.I. Ltd.
S4 Stonebridge House
28-32 Bridge Street
Leatherhead
Surrey, KT22 8BZ
United Kingdom
Phone: +44 (0)1372 886 920
Eurofins Worldwide
Phone: +44 (0) 844 2641 999
EuropeanBackground.com
Benhams House
West Meon
Hampshire, UK
GU32 1LG
Phone: (44) 1730 829202
EvalRight
3831 McCoy Dr., Unit 101 B
Aurora, IL 60504
Phone: +1 331-269-2234
Evance Business Services, Inc.
507 Weston Ridge Drive
Naperville, IL 60563
Phone: 630-528-6411
EverCompliant
85 Broad St
New York, NY 10004
Phone: (646) 665-4331
Everon Professional Services Pvt Ltd.
No.186, 2nd Cross, Kirloskar Layout
Bangalore – 560073
Phone: +919513177377
EveryCheck
22 rue de l'Alma – 35000 Rennes
11 rue Erard – 75012 Paris
France
Phone: 02 23 61 32 59
EvidentID
3405 Piedmont Rd NE, Suite 100
Atlanta, GA 30305
Phone: +1.877.832.5298
Evolution Consulting, LLC
502 Court Street
Binghamton, NY
Phone: 607-773-2266
EWI & Associates
1119 South Main St., Ste. 119
Chelsea, MI 48118
Phone: 734-433-2670
Exact Background Checks
4261 E. University Dr.
Suite 30-352
Prosper, TX 75078
Phone: 844.97CHECK (844.972.4325)
Examination Management Services Inc.
5100 East La Palma, Suite 209
Anaheim Hills, CA, 928072061
Phone: 1-800-522-3674
Exera -"Securing Myanmar"
No 17-18, Junction Square, Pyay Road
Kamayut Township, Yangon
Exiger
1095 Avenue of the Americas
New York, NY 10036
Phone: (212) 455-9400
Exoticbs
No.9-1, Jalan Putra Mahkota 7/4A
Putra Heights, 47650 Subang Jaya
Selangor Malaysia
Phone: +603 56144988
Experian
475 Anton Blvd.
Costa Mesa, CA 92626
Phone: (714) 830-7000
Fax: (714) 830-2444
Experian Candidate Verifier
United Kingdom
Phone: 0115 901 6004
Experian Verify
P.O. Box 1971
Woodstock, GA 30188
Phone: (404) 382-5400
Exro Asia (Pvt) Limited
#7 Maurice Place
Colombo 00500, Sri Lanka
Eye Level Background Screening
3 Wreay Lane
Bella Vista, AR 72714
Phone: 877-398-3113
–>