Drug & Alcohol Screening Consultants



Company Listings:


Jessica Polk
Communications Director

The Current Consulting Group
4613 N. University Dr., #242 
Coral Springs, FL 33067
215.240.8204 x107
info@currentconsultinggroup.com
www.currentconsultinggroup.com
The Current Consulting Group's (CCG's) team of consultants are among the drug testing industry's most respected experts in compliance, business development, and operations consulting. CCG offers an extensive suite of services to help providers increase revenue and improve profitability and to help employers stay compliant with state laws and federal regulations. CCG runs Current Compliance, the industry's only comprehensive state drug testing law database, and CurrenCy, home to online supervisor training and employee education courses.

Ross Ose
President / CEO
BTB Acquisitions
3455 Robertson Gin Road
Hernando, MS 38632
(901) 619-8519
info@btbacquisitions.com
BTBAcquisitions.com
info@btbacquisitions.com
Are You Thinking About Selling Your Business?
BTB Acquisitions is a thematic financial consulting firm specializing in mergers and acquisitions in the drug and alcohol testing space as well as the background screening space. We work with both sellers and buyers to find and facilitate transactions that meets their needs.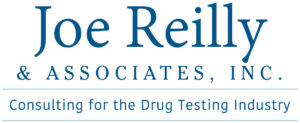 Joe Reilly
President
Joe Reilly & Associates, Inc.
129 W Hibiscus Blvd.
Melbourne, FL 32190
Telephone: 321-622-2020
Web Site: http://www.joereilly.com
Email: joe@joereilly.com
Joe Reilly & Associates, Inc. has specialized in training and consulting for the drug and alcohol testing industry since 1993 and offers a wide variety of consulting packages and training programs to grow your business. Joe Reilly entered the world of drug testing in 1993, he is well-known throughout the industry and considered an expert on workplace drug testing issues. Joe regularly provides training, consulting, and educational presentations for employers, labs, collectors, TPAs, CRAs, and others involved in workplace drug testing. Joe can customize training, consulting, or presentations for the needs of an organization.

Feature companies