Dan Fallows, Executive Director, GARDA Background Screening Solutions
Grab a latte and pull up a chair and join us for a great interview with Dan Fallows, Executive Director, GARDA Background Screening Solutions.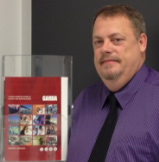 After graduating from Conestoga College where he studied Law and Security Administration Dan went to work as a Junior Investigator with Equifax Canada. He smiled as he reminisce for a moment, but noted that he learned all facets of investigative work from some of the very best investigators in Canada. By the time Equifax split our division off as Keyfacts Canada in 1995 he had already progressed to senior Supervisor in charge of background and financial investigations. After other acquisitions and transformations Keyfacts became part of Garda in 2006 and Dan was soon Executive Director in charge of all operations.
One of the things that he specially enjoys about the industry is the fact that his company is helping to build a stronger economic environment by assisting clients to place the right candidates in the right positions – ensuring a safer; more productive environment.
Focusing on the company, Dan shared that Garda's strives to be the preeminent background screening provider in Canada. He note that their unique blend of skills, controls, flexibility and technical expertise allow them to create solutions that fit their clients' needs. "Quality Through Consistency" that truly is the Garda difference.
He indicated that the company had some exciting announcements coming later this year, however, said it would be premature to release them at this point. I tried to persuade him to at least give us a hint, but he would not budge.
He added that "As a leading national provider of background screening services, Garda understands the importance of providing quality information clients can trust. By understanding the need to manage risk and avoid losses, their clients have come to expect unique, value-added background screening services. This level of custom-ized service and operating in accordance with the highest standards of legal and ethical behaviour has afforded us a 98% client retention rate."
Dan beamed as he said "We are a proud Canadian, wholly owned and fully bilingual company that knows the mechanics behind background screening in Canada better than anyone else in this industry. We believe Garda's background screening solutions will provide you with the peace of mind knowing that; established processes/procedures, secure data storage policies, advanced information security, and applicable legislation are always adhered to in the course of our day to day business."
He added, "Knowledge truly is power, however only when it is accurate. By putting Garda's expertise and experience to work for their organizations, our clients see the true difference. We work as an extension of their organization by establishing a true partnership model. As a partner with Garda, our clients receive the most innovative
and comprehensive solutions in the industry with an exceptional level of service and quality at all times."
Dan emphatically noted that "There is no other organization within our market that can provide the flexibility, customization, dedicated customer support and cost efficiency that Garda offers.
I turned his attention to my favourite question about 'what he sees coming down the road' for the background screening industry: He said, "The move towards technology and automation will continue and the need for information will increase. In 10 years I see the industry being even more integrated into our client's systems and the demand for quicker response times continuing. Fast, quality information will be the key to the future."
Turning the conversation back to him he shared that he was "a bit of a science fiction "geek" and really enjoy the works of Robert Heinlein. "
He also shared that the person(s) he would most like to meet were his Grandfathers because he never had the pleasure of meeting either of them since they had both passed by the time he was born.
Finally, in drawing the interview to a close he shared his favourite quote, " Our greatest weakness lies in giving up. The most certain way to succeed is always to try just one more time."
— Thomas Edison
Thanks to Dan for a great interview.
Dan can be contacted at dfallows@gardape.com.

Visit Site: http://preemploymentdirectory.com/newsletters/the-background-buzz/june-2015-backgroundbuzzb.htm#ixzz3j5RsaL1l
Copyright © Workplace Violence 911