EMPLOYMENT SCREENING NEWS
2014 Baker's Dozen Customer Satisfaction Surveys: Screening
HRO Today's Baker's Dozen rankings are based solely on feedback from buyers of the rated services. Once collected, response data are loaded into the HRO Today database for analysis to score each provider that has a statistically significant sample. In order to determine an overall ranking, HRO Today analyzes results across three subcategories: service breadth, deal sizes, and quality using a predetermined algorithm that weighs questions and categories based on importance. Their rankings are based on those scores.

Read more
The FCRA is the new FLSA
Recent multi-million dollar settlements highlight the importance for employers of complying with the Fair Credit Reporting Act (FCRA) and highlight that, when it comes to class action lawsuits in the employment-law context, the FCRA is the new FLSA!
The FCRA has very specific requirements employers must comply with if they engage a background check service providers to compile background reports on job applicants. These types of reports include credit reports, criminal background reports, and other reports that have any bearing on someone's moral character or reputation. Even employers who do comply with these four broad requirements tend to miss some of the more intricate, lesser-known requirements that each step further requires.
The FCRA is not an easy statute to comply with. In addition. It is advisable that employers conducting background checks of any kind on applicants or employees consult with competent counsel to review their forms and their processes to ensure they are FCRA compliant in all respects - even if the background screening company assures them their forms are compliant.


The Bruce Berg Report on the NAPBS 2014 Annual Conference, Denver, CO
While the attendance didn't match the last couple of years, this conference was even better than the last one (see the full report for attendance breakdowns.) The mood of the attendees was definitely upbeat. There is nothing like a good economy to boost sales, profits and moods.
The committees and NAPBS have accomplished a ton of work this past year. If you think people are not working hard (volunteering) to accomplish things for the industry, read their meeting minutes at http://www.napbs.com/about/index.cfm
If you are not a member of NAPBS, call me and let me explain why there is no reason for not helping our association that does so much for the industry in which you are involved. The annual NAPBS budget is about $1,500,000. Contribute, join, learn, be active, benefit. Governments (federal, state and local), continue to make decisions that impact your business. As a member, your dues contribute to our legal costs to defend you before all these uninformed, misinformed and biased legislators (I just logged on and paid my 2015 dues).
Conference Presentations included some great topics and suffice to say the conference is a non-stop learning experience.
Sunday night was excellent. From 5-6pm was a new member meet-and-greet and about 100 people attended. Then 6-7pm for the opening ceremony and 7-10pm on the exhibit floor with food, open bar, exhibitors, networking, information exchange, old and new friends, hugs and handshakes. We really do have a good bunch of people in our industry.
Fraud Experts Offer Advice on Preventing Fraud When Hiring Seasonal Staff!
With seasonal hiring in the U.S. expected to be at its highest level in years, fraud experts warn that companies that loosen their usual processes in order to add staff quickly put themselves at increased risk to fraud. According to the Association of Certified Fraud Examiners (ACFE), the world's largest anti-fraud organization, employee background screening, proper training and following an ethical code of conduct are among crucial measures for reducing fraud. By skipping these controls, a company increases its risk - and may even unwittingly add a serial fraudster to its ranks for the holidays.
Two experts who regularly provide training to anti-fraud professionals shared their tips for organizations that are hiring seasonal employees..
How Do Global Businesses Know When EU Data Protection Law Applies to Them?
At the heart of EU data protection law is the passionate belief in the right to privacy. Indeed, the Treaty of Lisbon has now recognised both privacy and data protection as fundamental rights under EU law.
Yet, like any other law, it must be clear when and where EU data protection rules apply and the applicable law provision in the current Data Protection Directive (Directive) has caused some headaches.
Following the Google Spain decision, all global businesses should take note of how they may be brought within the scope of EU data protection law even if it appears that a non-EU based part of their business is involved in different services from EU operations. Certainly a global business without a clearly identified EU-based controller should consider establishing an entity in one Member State in order to conduct all data processing subject to EU rules through that entity and the law of that Member State.
Going forward, the new Regulation's likely direction of travel will include applying EU data protection law to online services and behaviours that target EU individuals. Therefore, global businesses should think through how their online offerings are positioned and the likelihood that their customers are or will be EU individuals. In particular, global businesses operating online tracking or profiling technologies are far more likely to be caught by the scope of the new Regulation and would do well to prepare for it.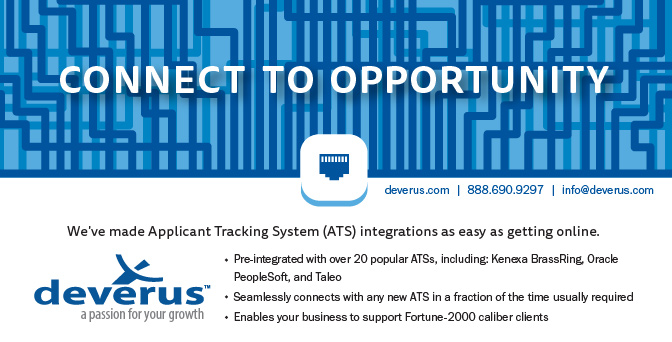 Federal District Court Vacates HUD Disparate Impact Rule
In a Fair Housing Act (FHA) case we have been watching for some time, the federal district court in Washington, D.C., recently issued an opinion vacating the U.S. Department of Housing and Urban Development's (HUD's) disparate impact rule on the ground that "the FHA prohibits disparate treatment only, and that the defendants, therefore, exceeded their authority" under the Administrative Procedure Act (APA). The court's concluding admonition- "This is yet another example of an Administrative Agency trying desperately to write into law that which Congress never intended to sanction."- could just as easily have been directed to the Consumer Financial Protection Bureau's assertion in Bulletin 2013-02 that disparate impact claims are cognizable under the Equal Credit Opportunity Act (ECOA).
The case, American Insurance Association v. U.S. Department of Housing and Urban Development, was brought by two industry trade associations whose members sell homeowners' insurance.
VerticalRent Announces No Cost Tenant Screening for Landlords and Property Managers
VerticalRent has collaborated with Experian to offer an estimated 40 million independent landlords in the U.S. a no-cost tenant screening service complete with an online rental application and full credit report with VantageScore® credit score. The applicant simply has to log into VerticalRent, verify his identity and affirmatively consent to have his credit report shared with the landlord. The applicant pays a $50.00 application fee, which provides the landlord with access to the applicant's online rental application, Experian credit report, criminal, and eviction report. Taking it a step further, the landlord can convert the rental app into a state-specific lease agreement, manage cash flow and collect rent online - all with VerticalRent.
Publix to Pay $6.8 Million in Class Action Settlement
Publix Super Markets Inc. is scheduled to pay nearly $6.8 million in a class-action lawsuit settlement over background checks. The lawsuit, being handled in Tennessee federal court, alleges that Publix violated the Fair Credit Reporting Act (FCRA) by not making legally required disclosures about background checks to job applicants. Publix has denied any wrongdoing and was not found liable in court, but agreed to the settlement "because of the substantial expense of litigation ... and the disruption to its business operations," according to legal documents filed in July.
The settlement includes people who applied for work at Publix stores and were subjected to background checks during the period March 12, 2012, to May 13, 2014.
Terminating an Employee for Not Fully Disclosing His Criminal History in an Application for Employment Did Not Violate the Pennsylvania Criminal History Record Information Act

In McCorkle v. Schenker Logistics, Inc., 2014 WL 5020598 (M.D. Pa. October 8, 2014), the court held that terminating an employee for not fully disclosing his criminal history, as requested in an employment application, did not violate the Pennsylvania Criminal History Record Information Act (CHRIA), 18 Pa. Con. Stat. §9125, because the termination was based on the applicant's misrepresentation, rather than the criminal convictions.

Read more
NH Legislature Restricts Employer Access to Employee's Personal Social Media
The New Hampshire Legislature passed HB 1407 which will prohibit employers from obtaining an employee's personal social media account user name and password. The bill passed both the House and the Senate. The governor is expected to sign it into law.
This bill applies to both employees and prospective employees for employment. HB 1407 does not prevent an employer from monitoring company equipment and email, adopting workplace policies on the use of employer property (including Internet use, social networking site use or electronic mail use), or requesting disclosure of login information where the social media account is paid for by the employer or provided to employee as part of employment relationship.
Welcome to the U.S. Legal Challenge Question!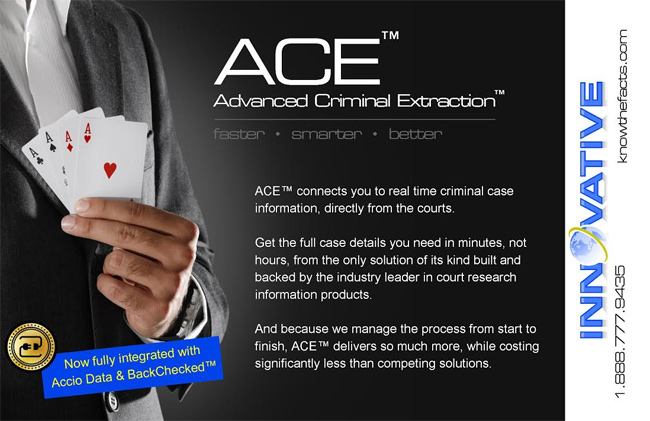 As the background screening industry continues to get more competitive the firms that will ultimately succeed will be those that create competitive advantage through their people by offering continuous learning opportunities to heightened their knowledge and capabilities. We believe that having employees that are very knowledgeable about the legal landscape of background screening is essential to continued success.
We are grateful to Larry D. Henry who began his law career with the Army JAGC where he tried over 2,000 cases. After the Army he relocated to Tulsa. In 1981, the founder of DAC Services contacted Mr. Henry's firm for assistance in creating a background screening company. Since Mr. Henry's practice was employment law, the firm believed this fell within his area and as they say: "the rest is history". His practice has kept him in continual contact with the background screening industry, and he is a nationally recognized expert in the area of background screening.
Mr. Henry's practice is concentrated on employment law and in specific, background screening of employees. He represents consumer reporting agencies throughout the United States and two national trade associations. He is the author of the Criminal Records Manual and the on line reference site:CRAHelpDesk.com, and he is a frequent presenter across the country on various topics dealing with background screening.
Please choose your answer by clicking on it:

Fair Credit Reporting Act (FCRA) Preempts Tortious Interference Claim, Says NJ Court
The Fair Credit Reporting Act specifically contains a provision that bars state law claims against employers who "furnish information" to CRAs. In a recent decision-Saget v. Wells Fargo Bank, N.A., No. 2:13-03544(WJM), 2014 WL 4494801 (D.N.J. Sept. 10, 2014)-the District of New Jersey had occasion to invoke this provision.
The plaintiff filed suit against the defendant for tortious interference with prospective economic advantage, alleging that the report prevented him from obtaining employment in the banking and finance industry. The Court held, however, that FCRA preempted the plaintiff's state law claim. This decision suggests that employers in the banking and finance industry may be able to avoid state law claims for tortious interference or defamation when reporting the misconduct or poor performance of former employees to CRAs.
Admissions of Drug Use By Employees Are Not The Same As Positive Test Results in Minnesota
A common occurrence when employees are confronted with a requirement to take a drug test: they often confess. Sometimes they suggest that the employer need not bother with the test because they know they will test positive. Under the Minnesota Drug and Alcohol Testing in the Workplace Act ("DATWA"), admissions of drug use and a positive drug test have very different legal ramifications. In Minnesota, "an employer may not discharge an employee for whom a positive drug test result . . . was the first such result for the employee on a drug or alcohol test requested by the employer" unless the employee has been given the opportunity to participate in and complete a drug counseling or rehabilitation program.

ALCOHOL & DRUG SCREENING - (continued)
What Does Alaska's and Oregon's Legalization of Marijuana Change for Employers?
On November 4, Oregon, Alaska, and the District of Columbia became the latest jurisdictions to pass referendums decriminalizing the recreational possession and use of small amounts of marijuana. Oregon's law becomes effective in July 2015; Alaska's probably in February 2015.
Each of these laws is slightly different (read the full text here of the measures in Oregon, Alaska, and D.C..). Employers in all these jurisdictions are likely wondering about how does this affect my company's anti-drug policy or drug testing program? The short answer is that none of these laws will change much for employers. The laws primarily simply decriminalize the personal and private possession and recreational use of small amounts of marijuana. They do not impose any new limits or obligations on employers, or create any new rights for employees when they are at work.

Read more
Montgomery County Maryland Passes Bill to Ban the Box
A Plan to Cut Costs and Crime: End Hurdle to Job After Prison

Prince George's bill would bar questions about criminal convictions on job applications
City officials remove important question from application process
South Bend councilwoman wants to make it easier for ex-cons to get jobs

From criminal record to clean slate in Philly's Promise Zone
New 'Ban the Box' law tripping up Minnesota employers

'Ban the box' More complicated than we thought

Tampa considers extending 'ban the box' policy to city vendors

Harrisburg explores removing questions about criminal history from city job applications
'Ban the Box' Campaign Discussed In Mobile
Chattanooga-Hamilton County NAACP seeks to strike criminal record questions from job applications
Jackson, Mississippi Council Push to Ban the Box for Convictions
Felon check box to be removed from Wyandotte County UG applications
Chicago Proposes "Banning The Box"
U.S. Services Sector Slows; Private Payrolls Increase
U.S. services industry activity slowed for a second straight month in October, the latest indication the economy has lost some momentum. Still, the economy remains on solid footing as other data on Wednesday showed a pick-up in private sector hiring last month. Nevertheless, the key services sector, which accounts for roughly two-thirds of the economy, remained solidly in growth mode.
Separately, the ADP National Employment Report showed private payrolls increased by 230,000 in October, for a record seven straight months of job gains exceeding 200,000. Private hiring had risen 225,000 in September. Job gains last month were broad-based, with mid-sized businesses adding the most workers in more than seven years
When it Comes To Fraud, What is The Cost of Complacency?
The ACFE invites you to publish and/or post for your audience our new infographic, "The Cost of Complacency."
When it comes to fraud, what is the cost of complacency? Research conducted by the Association of Certified Fraud Examiners (ACFE), the world's largest anti-fraud organization, indicates that the longer a fraud lasts before it is detected, the more the victim organization stands to lose.
A new infographic illustrating the relationship between anti-fraud controls and the duration and cost of fraud has been made available by the ACFE for download online at FraudWeek.com. The data was compiled by the ACFE for its 2014 Report to the Nations on Occupational Fraud and Abuse.
The full Report is available for download (in PDF format) online at: http://www.acfe.com/rttn/docs/2014-report-to-nations.pdf.
Sponsored by:
Public Record Update
By Mike Sankey, PRRN
BRB PUBLICATIONS LAUNCHES CriminalRecordSources
CriminalRecordSources.com (CRS) is your authoritative reference about criminal records. CRS tells you the pros
and cons of searching different record repositories. CRS is your information source for:
Where: The locations of criminal records - from both government agencies
and vendors;
How: The ways criminal records may be directly accessed;
Accuracy: The accuracy and value of a criminal record will vary by location.
CRS will help anyone involved with the use of criminal records including private investigators, attorney firms and
law libraries, background screening firms, HR, journalists and the news media, risk management and corporate
compliance divisions, trade associations, legislative staff, and government agencies to name a few.
For more information visit http://www.criminalrecordsources.com/
THE PUBLIC RECORD RETRIEVAL NETWORK (PRRN)
The Public Record Retrieval Network (PRRN) is one of the largest U.S. trade organizations representing professionals in the public record industry. With more than 500 members in 45+ states who retrieve documents from local government agencies in over 2,000 counties nationwide, PRRN Members are recognized as the nation's leaders in local public record searching and document retrieval.
What Do PRRN Members Do?

Simply put, PRRN Members are professionals who visit government agencies on-site-such as local, federal, and state courts or recorder's offices-to do name searches and/or obtain copies of file documents. Retrievers are often hired in conjunction with the pre-employment screening, investigations, lending, litigation, or for legal compliance (e.g., incorporations).

As recognized leaders in local public record searching and document retrieval, PRRN Members agree to follow standards of professional conduct for local searching and document retrieval procedures and to follow the highest standards of ethics and conduct in all their dealings with other members and with clients.

For more information click here.
Public Record Retriever Network - www.PRRN.us
The CRA Help Desk - www.CRAHelpDesk.com
Motor Vehicle Record Decoder - www.MVRDecoder.com
BRB's Public Record Blog - www.publicrecordsblog.net
BRB's Bookstore - www.brbpublications.com/books/

Relationship Between Job Applicants' Criminal Histories and Hiring Practices Examined in Nationwide Survey by First Advantage

First Advantage announced the findings of a recent survey focused on its current United States customer base's tendencies related to criminal background checks. Of note were findings regarding applicants' criminal histories and hiring trends toward those applicants.

According to this nationwide study of First Advantage customers:
· 37 percent of companies report being unsure about when to order a federal criminal search versus a county search.
· 38 percent of companies don't understand the difference between a database search and county courthouse search.
· 45 percent of companies report they have candidates that require criminal background checks in multiple countries.
· 43 percent of companies report the major risks of not screening are potential legal action and damage to their brand reputation.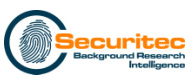 Securitec Focus on Compliance and Technology Improves Results for CRA's
Securitec Screening Solutions, a 100% wholesale background research intelligence firm, announced new offerings designed specifically for CRAs for Compliance Support and Real-Time Compliance-Filtered Results.
"CRAs need support which not only meet the complex demands of FCRA compliance and conflicting State laws but also specific industry screening requirements," states Jessica James, CEO of Securitec. "With lawsuits on the rise, CRAs know they cannot rely exclusively on database-only providers or "data dumper-only" solutions. Database only sources are stale and out of favor. The data dumper solutions return false positives, miss records, and have no FCRA filtering. They simply do not offer all jurisdictions, especially the thousands of sources that are not on-line and require a physical visit to the court house to get real-time results. There is another layer of service, technology, and compliance control required today."
Securitec now offers this layer of real-time compliance-focused results for CRAs in a simple price per search model. There is also a new service available to augment the Compliance team for our CRA clients.

SJV & TazWorks Announce Enhancement to XML Interface with MedEx, SJV's Medical Exclusion, Medical Board Actions, and Licensing Solutions
SJV & Associates, a leading provider of public records research to the Pre-Employment and Background Screening Industries, announced that its system-to-system integration with TazWorks, the front-runner in background screening software, has been expanded to support SJV's new Medical Provider Data Products: MedEx. MedEx allows clients of SJV to check Medical Exclusions (Medicare/Medicaid), both at the Federal and State Level, Medical Board Actions, and License Checks for all provider types, while providing ongoing Monitoring.
For more information visit http://www.prweb.com/releases/2014/11/prweb12307792.htm

TazWorks Integrates With 100 Applicant Tracking Systems
TazWorks LLC, the front-runner in background screening software, reached a milestone by completing 100 integrations with Applicant Tracking Systems (ATS). These integrations enable background screening agencies to combine the power of TazWorks InstaScreen™ with the convenient and streamlined hiring process that tracking systems offer to employers and landlords. Integration improves turnaround, lowers costs, increases data security, and reduces human error, allowing for a healthier bottom line.
Welcome to the eVerify Challenge Question!
Sponsored By: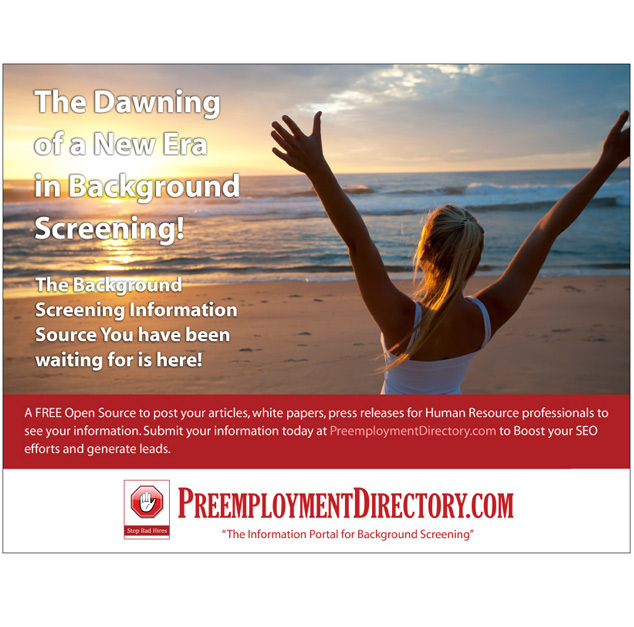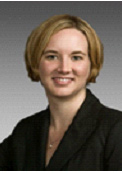 Nicole A. Kersey
Managing Director, Kersey Immigration Compliance, LLC
nkersey@kerseyimmigration.com
Nicole A. ("Nici") Kersey is an attorney whose practice is dedicated to employment-based immigration, with a focus on the Form I-9, E-Verify, and related immigration compliance issues. Nici represents employers before, during, and after Form I-9 inspections by Immigration and Customs Enforcement (ICE), providing practical advice to and serving as an advocate for employers during negotiations and litigation relating to fines for I-9 violations. She is a frequent trainer and speaker on I-9 and E-Verify issues. Nici is a graduate of the University of Virginia School of Law and provides pro bono representation to the spouses of U.S. soldiers and to arts organizations.
The Challenge Question:
What Should An Employer Do On The Form I-9 When An Employee's Name Changes?
I have an employee who just got married, and she changed her name. What do I do on the I-9 to reflect this change?
C. Input the employee's new name in Section 3. Make and keep a copy of the employee's new Social Security card, and retain it with the Form I-9. Sign, print your name, and date Section 3.
D. Input the employee's new name in Section 3. Sign, print your name, and date Section 3.
E. The employer can choose between A and D.
F. The employer can choose between B and C.
EVERIFY & IMMIGRATION ISSUES
Sag Harbor 7-Eleven Owners Plead Guilty to Federal Charges
According to court records, the former operators of Sag Harbor's 7-Eleven who also controlled 14 7-Elevens stores in Long Island and Virginia provided their employees with more than 20 identities stolen from United States citizens, housed those employees at houses they owned and skimmed large portions of their employees' wages.
"Using the 7-Eleven brand, the defendants dispensed wire fraud and identity theft, along with Big Gulps and candy bars," U.S. Attorney for Eastern New York Loretta Lynch said in a release. "In our backyards, the defendants not only systematically employed illegal aliens, but concealed their employment by stealing the identities of children and even the dead."
One Site! Many Suppliers!
2013-2014 SUPPLIERS TO THE BACKGROUND SCREENING
INDUSTRY BUYERS GUIDE NOW AVAILABLE!
Looking for the Top Suppliers in the Industry? Need to find a new Supplier?
Visit our VENDOR SHOWCASE which features suppliers to the Background Screening Industry.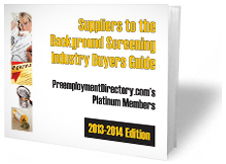 Click here or on image to get a copy
THE 2015-2016 GUIDE IS COMING!
RESERVE YOUR SPACE TODAY!

Kevin Coy is a Partner in the Washington DC office of Arnall Golden Gregory LLP. Kevin
advises background screening companies and other clients on a wide range of privacy and consumer regulatory issues, including Fair Credit Reporting Act, Gramm Leach Bliley Act,
Drivers' Privacy Protection Act, and Dodd Frank Act compliance issues, as well as data breach matters. Kevin also represents clients with matters before the Federal Trade Commission, the Consumer Financial Protection Bureau, and other consumer protection agencies.
Kevin can be contacted at Kevin.Coy@agg.com or 202-677-4034.
THE WASHINGTON REPORT
November 2014
On Capitol Hill
The congressional elections kicked off the month, and the outgoing Congress has since returned to Washington for a final "Lame Duck" session expected to stretch into early December in order to finish its work before the new Congress takes office in January.
At the Supreme Court
Plaintiffs in a class action suit against Sam's Club, Steven E. Hammer et al. v. Sam's East Inc., have asked the Supreme Court revive their Fair Credit Reporting Act (FCRA) suit against the Company over its credit card receipt truncation practices.
At the CFPB
The Consumer Financial Protection Bureau (CFPB) finally has published a user-friendly version of its "Summary of Your Rights Under the Fair Credit Reporting Act" (FCRA). The summary is required under §609(c)(1) of the FCRA, and must be provided to job applicants during the pre-adverse action process.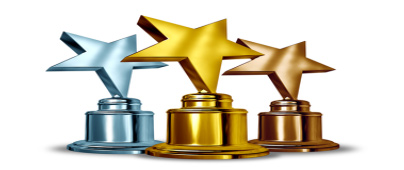 2013 Best Advertisers of the Year Awards
Suppliers to the Background Screening Industry

The Winning Teams!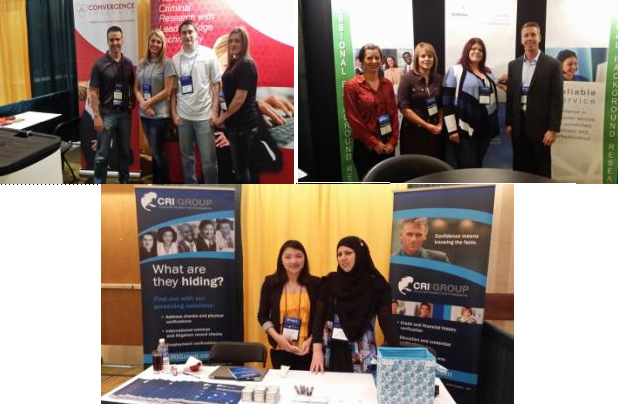 | | |
| --- | --- |
| Best Headline - CRI Group | Best Brand Awareness - Convergence Research |
| Most Appealing -Omni Data Retrieval | Most Effective Message - CRI Group |
Click here to see slide show of winners
STOP STRUGGLING WITH WRITING AND PUBLISHING YOUR NEWSLETTER:
We can help you have a high quality e-newsletter to help nurture your relationship with your clients and attract new clients. Our customized newsletter service will take over your newsletter task or create a new one for you. We can manage the creation of your newsletter for you.
We are constantly researching information to use for The Background Buzz and you can put our research to use for you. Using the information rich content from The Background Buzz (minus the ads and competitors information) we will create a custom newsletter for you.
Use your staff's time to do more valuable work and save all the hassle of researching or writing articles, formatting and managing all the other ezine tasks with our customized ezine process.
Contact Barry Nixon at 949-770-5264 or at wbnixon@aol.com for more information.
Drug and Alcohol Testing at the Workplace - Emerging Trends
Drug and alcohol policies have been in the spotlight in 2014.
There have been a number of key developments and trends that are worth noting:
· There is a growing consensus that urine based testing for drugs is not the Fair Work Commission's ( FWC) preferred method for testing for impairment.
· However, there has been a small shift towards recognising the reasonableness of policies that allow businesses, in some cases, to test for, and take disciplinary action in respect of, evidence of drug use generally - regardless of whether the use has caused any impairment at work.
· Increasingly, governments are seeking to regulate in this space. The most notable example of this is the Victorian Construction Code which includes specific requirements for employers working on government-funded construction projects to have and implement drug and alcohol policies.

Anecdotally, many employers have deferred the introduction of testing regimes because of union and privacy concerns. However, the combination of government and regulator interest coupled with the potential consequences of inaction, means that for many employers, doing nothing is no longer an option.
EU Mulls Conferring Binding Powers on Body of Data Privacy Regulators
A new body of European data protection authorities could have the power to adopt legally binding decisions in cross-border disputes over a company's misuse of personal data, according to a draft document seen by Reuters. Under a mechanism originally proposed in reforms of Europe's data protection laws, businesses operating across the 28-nation European Union would have to deal only with the data protection authority in the country where they are headquartered - even if alleged mishandling of data affects citizens in another country.
A new proposal by Italy, which holds the rotating European presidency, gives all concerned authorities the chance to intervene in all stages of the decision-making process. A failure to reach an agreement between the authorities concerned, or even conflicts over which regulator should take the lead, would then be arbitrated by the European data protection Board, with legally binding powers.
EU Data Protection Regulation: A Tipping Point Has Been Reached
The proposed EU General Data Protection Regulation will be finalized in 2015. That was the conclusion of leading lights of the EU data protection scene at a standing-room-only event in Brussels on Wednesday.
It appears that a tipping point in the negotiations has been reached. The Council of the European Union (the 28 EU member states) needs to finalize its version of the draft regulation before negotiations can enter their final stage, but it has made incremental progress in the last 12 months. Enrico Costa, Italy's deputy minister for justice, has now confirmed that the Italian Presidency, which runs until the end of this year, intends to present agreed proposals on the public sector and the regulatory one-stop shop (OSS) at the meeting of the Justice and Home Affairs Council (Council of Ministers) on 5 December. If agreement can be reached on these two areas it will represent a remarkable achievement, as these have been seen as insurmountable obstacles to progress.
Adverse Media Screening and the Right to be Forgotten
Screening for adverse media can be a challenge. However, with the E.U. commission ruling that many items can be removed from Google, this challenge has become harder. As such, there is greater benefit for proprietary databases that are not subject to such regulation.
To illustrate the point consider that recently, according to several news sources, details of a case reporting that Mohamed Alie Barrie, 38, of Pinewood Close, Dartford, being charged with conspiracy to defraud, conspiracy to money launder and money laundering were removed from Google's searches - meaning that such search results are no longer discoverable within Google.
Guam Legalizes Medical Marijuana
Voters in Guam approved a ballot initiative that would legalize marijuana for "debilitating medical conditions" such as epilepsy, HIV, cancer and glaucoma. The bill, which passed by more than 56 percent , makes Guam the first U.S. territory to legalize medical pot.
The decision marks the first victory in a flurry of marijuana-related ballot measures this Election Day.
Tom Angell, chairman of the advocacy group Marijuana Majority, told HuffPost, "People all across the world are ready to move beyond failed prohibition laws, especially when seriously ill patients are criminalized just for following their doctors' recommendations."

Criminal Police Verification Checks: A Tale of Blatant Loopholes
In India, criminal police verification reports are often the main, if not the only, component of a criminal background check. Ideally, they should help verify if an individual has been involved in any criminal activity and has pending criminal cases in jurisdictional police offices records.
These reports involve checking records at the commissioner of police office/superintendent of police office and the local police station, as applicable, based on a candidate's address and local or state regulations. However, there are specific challenges with these reports that render them less effective, often inaccurate, and potentially non-compliant with a variety of local, regional, and international regulations and guidelines. The various challenges in conducting a police verification check include:
An individual with a criminal background in one part of city, state or country could relocate to within India and appear to have no criminal record on a local police verification. Pair this stark coverage gap with all of the issues above and this verification method is highly ineffective and potentially futile if not performed through a formal process.
Background Checks Yet To Begin In Most Schools

A majority of the schools in the city say the police are yet to begin the verification process for their staff members, despite being given all the details. After the sexual assault of a girl student in a Bangalore East school, police had made background verification mandatory.

The school managements were told to provide details of staff members along with their addresses to the police. This would be scrutinised and the files sent to the jurisdictional police station, from where the police would visit their homes. However, schools say that the process is yet to be completed.

When contacted, Additional Commissioner of police (law and order) Alok Kumar said, "We have already started the process of background verification. If any school feels that the verification is not done in their schools, they are free to approach us again."
Optional DPO proposal 'advantageous to larger entities'
The Polish Parliament ('the Parliament') adopted, on 7 November 2014, an act on facilitation of performance of business activity ('the Amendment') to the Personal Data Protection Act of 1997 ('the Act'), which, among others, would make the appointment of a Data Protection Officer (DPO) optional while strengthening the role, as businesses would have to ensure that DPOs perform their tasks independently and report directly to the CEO.
In particular, companies which appoint a DPO and notify them to the Polish Data Protection Authority (GIODO), would be released from the notification obligation. However, companies that do not appoint a DPO will still need to perform the DPO's tasks.

Read more
Insights from the Russian Data Protection Authority's conference on personal data protection
On 5 November 2014, the Russian Data Protection Authority, Roskomnadzor, held its fifth annual conference on "Personal Data Protection." The conference provided insight into the motivations prompting the enactment of Russia's data localization law - which requires the personal data of Russian citizens to be stored within the territory of the Russian Federation. The conference was well-attended.
Roskomnadzor officials stated that the purpose of the law is to ensure the storage of personal data of Russian citizens within Russia in order to better protect the data. He pointed out that the law contains no express prohibition on cross-border data transfers, but cautioned that in each case, such transfers should be conditioned on and connected with a legitimate purpose under Russian data protection law beyond mere storage.
Singapore Sees Increase in Foreign Workers Using False Credentials to Get Work Passes
Singapore's Ministry of Manpower (MOM) prosecuted an estimated 150 foreign workers between 2012 and the first half of this year for providing false credentials, according to Manpower Minister Tan Chuan-Jin, reports The Straits Times . All were jailed, had their work passes revoked, and were barred from working in Singapore in future, Mr Tan advised. He added that his Ministry had tightened requirements and also supplements its checks with third-party overseas screening agencies and verifies the authenticity of certificates directly with issuing educational institutions.
Update on South Africa's Data Protection Regime
Data protection in South Africa is regulated under the broad constitutional right to privacy, the common law, and a few pieces of legislation that contained interim provisions relating to data protection. Until very recently, South Africa did not have data protection‑specific legislation. With the increase in electronic commerce globally, large industries managing computerised databases of millions of individuals' records and the surveillance potential of computer systems, prompt demands for specific rules governing the collection and handling of personal information arose.
The South African Law Commission finalised an investigation into privacy and data protection in South Africa, and recommended the creation of the Protection of Personal Information Act (the "Act"). Although signed into law in November 2013, April 2014 marked the partial commencement of the Act with only several sections coming into force, including those related to the establishment of the information regulator, the issuance of regulations to the Act and the definitions clause which, in the latter instance, codified concepts crucial to data protection including "processing" and "personal information."
'Unique' draft bill applies to both controllers and processors
The Government of Uganda opened a public consultation, on 15 November 2014, regarding the country's draft Data Protection and Privacy Bill 2014 (the Bill'). If passed by the Ugandan Parliament, the Bill would become Uganda's first piece of legislation which focuses exclusively on privacy and data protection.
"A unique aspect of the Bill is that it makes both the data controller and data processor responsible to data subjects and the privacy authority, for non-compliance with the data protection law, compared to most jurisdictions where responsibility falls solely on the data controller," commented Nerushka Deosaran, Associate at Norton Rose Fullbright South Africa.
Members of the public have until 12 December 2014 to submit their views on the Bill
Two-Thirds of New Staff Starting Work Without Reference Checks
Research compiled by due diligence company HireRight finds that two thirds of new employees begin working before reference checks have been conducted. Furthermore, 39 per cent of survey respondees believe this to be "normal practice" in their industries.
However, references are found to be an "administrative burden" for HR departments, with 31 per cent weighed down by queries regarding references and 27 per cent complaining to management about how long is spent on the process.
Steve Girdler, managing director for EMEA at HireRight, states that "By failing to carry out due diligence before people start work, companies risk hiring someone who is unable to fulfil the duties of the role, commits fraud or theft, or damages customer relationships," Girdler said.
Enforced Subject Access Requests To Be A Criminal Offence From 1 December 2014
It is being reported that, with effect from 1 December 2014, section 56 of the Data Protection Act 1998 (DPA) will be brought into force, which will make it a criminal offence to request an enforced subject access request.
Currently, such requests can be used to reveal details of any criminal convictions that the individual has, which includes information to which employers would not otherwise have access. For example, a subject access request made to the Police for information about an individual's criminal convictions would reveal more details than the individual would otherwise have to declare to his employer. For example, that information might include spent convictions under the Rehabilitation of Offenders Act 1974.
Both the Information Commissioner and the Disclosure and Barring Service have expressed concern that enforced subject access requests not only represent an abuse of an individual's rights but also potentially undermine important public policies.
Section 56 will prohibit a person from requiring an individual to produce certain records as a condition of employment or for providing a service, other than where the relevant record is required by law or where it is justified in the public interest.

| | | | |
| --- | --- | --- | --- |
| | | | Background Screening Jobs |
Visit the Job Board for the Employment and Tenant Screening Industry. Here you will find resumes of people with industry experience and employers seeking applicants with experience in Employment and Tenant Screening and related businesses.
www.backgroundscreeningjobs.com

UPCOMING CONFERENCES, COURSES & EVENTS
Feature Education:
FCRA Basic Certification Webinar Series Update

The FCRA Basic Certification program series is now available for purchase.
2014 Events ( Click Here to View full list of Events ) - Updated Monthly
SHRM State Conferences, visit http://www.shrm.org/Conferences/StateAffilliateConferences/Pages/default.aspx
Drug and Alcohol Testing Industry Association (DATIA), 2013 Training Course Schedule, visit
http://datia.org
SAPAA Training Institute Learning Events, http://www.sapaa.com/
CUPA-HR Conferences: http://www.cupahr.org/
World Federation of People Management Associations, Events, http://www.wfpma.com/events/by-region#quicktabs-tab-view__events__page_3-4