Time Warner Cable Has Been Named in a Fair Credit Reporting Act (FCRA) Class Action Lawsuit

Time Warner Cable has been named in a Fair Credit Reporting Act (FCRA) class action lawsuit filed on February 6, 2015 week in the Eastern District of Wisconsin. The class action complaint alleges that the company violated portions of the Fair Credit Reporting Act in its employment background screening process. The Plaintiff is the same guy who was named in another FCRA class action lawsuit. Same law firm, same plaintiff, same allegations. Once again, the case focuses on the portion of the FCRA that requires a "clear and conspicuous disclosure" about the background check that is made in writing "in a document that consists solely of the disclosure."
Case Name: Cory Groshek v. Time Warner Cable Inc, Case No. 2:15CV00157, U.S. District Ct. for the Eastern District of Wisconsin.
Source: http://www.employeescreen.com/

Class Action Trends in Virginia: Employment Background Reports
Forty percent of the consumer class actions filed in Virginia in 2014 alleging violations of the Fair Credit Reporting Act ("FCRA") relate to background reports for employment purposes. With one exception, all of the cases are against consumer reporting agencies. The exception is a lawsuit against an employer. Every one of the employment-related cases seeks certification of one or more nationwide classes that could include thousands of consumers.
These allegations accuse consumer reporting agencies of either failing to have, or not following, the correct procedures under the FCRA in the following three areas:
1. what to disclose to consumers when a consumer report is furnished to an employer;
2. scrubbing outdated information from the consumer reports; and
3. providing the entire consumer file in response to a consumer's request.
FCRA Class Actions focus on technical violations and seek to recover statutory and punitive damages for the class members.
All but one of these cases filed in 2014 were filed by the same law firm.
Source: http://www.jdsupra.com/

Another FCRA Class Action Lawsuit Crafted Against Michaels
A second class action lawsuit alleging improper background checks on job applicants was filed in federal court in Texas against the retail craft supply chain Michaels Stores Inc. The plaintiff argues that Michaels violated the federal Fair Credit Reporting Act (FCRA) by burying notice that the company would obtain a credit report in the job application. "Defendant's FCRA disclosure and authorization are embedded within an online employment application which appears as one long continuous Web page that applicants fill out, and which contains a liability release, among reams of other extraneous information," the Michaels class action lawsuit alleges.
The Texas Michaels Background Check Class Action Lawsuit is Castro v. Michaels Stores Inc., Case No. 3:15-cv-00276, in the U.S. District Court for the Northern District of Texas.

Source: http://topclassactions.com/

FCRA Class Action Lawsuit Filed Against Pizza Hut
In a complaint filed January 15, 2015 in the Southern District of New York the Plaintiff - Alberto Rivera, a job applicant at a Bronx, NY location - alleges Pizza Hut violated the federal Fair Credit Reporting Act (FCRA) requirement that a "clear and conspicuous disclosure" about a background check for employment purposes be made in writing" in a document that consists solely of the disclosure." The class action lawsuit is Alberto Rivera v. Pizza Hut of America, Case No. 15CV00308, U.S. District Court for the Southern District of New York.
Source: http://www.strasburger.com/

Tallahassee Votes to "Ban the Box" on Criminal Histories for City Positions
Macon- Bibb County, GA Commissoners Approve "Ban the Box" Plan
As the background screening industry continues to get more competitive the firms that will ultimately succeed will be those that create competitive advantage through their people by offering continuous learning opportunities to heightened their knowledge and capabilities. We believe that having employees that are very knowledgeable about the legal landscape of background screening is essential to continued success.





We are grateful to Larry D. Henry who began his law career with the Army JAGC where he tried over 2,000 cases. After the Army he relocated to Tulsa. In 1981, the founder of DAC Services contacted Mr. Henry's firm for assistance in creating a background screening company. Since Mr. Henry's practice was employment law, the firm believed this fell within his area and as they say: "the rest is history". His practice has kept him in continual contact with the background screening industry, and he is a nationally recognized expert in the area of background screening.

Mr. Henry's practice is concentrated on employment law and in specific, background screening of employees. He represents consumer reporting agencies throughout the United States and two national trade associations. He is the author of the Criminal Records Manual and the on line reference site:CRAHelpDesk.com, and he is a frequent presenter across the country on various topics dealing with background screening.
Dot Every "i" in Iowa to Comply with Drug Testing Law

Iowa Code § 730.5, which relates to private sector drug and alcohol testing, is a strict liability statute and many consider it complicated and difficult to administer.
Even if an employee tests positive for illegal drugs the employer is required, among other things, to provide privacy for the collection of samples, a reasonable sample collection process and very clear notice and direction regarding testing. Urine samples have to be split into two components with the second portion of the sample sufficient to "permit a second independent confirmatory test." The statute does allow for the collection of oral fluids, but generally the collection of blood, which would be considered to be an invasion of the body, is prohibited.
In the event that there is a disability present, which may result in a skewing of the sample or inability to give a sample employers must attempt to offer an alternative means of testing or have other accommodation processes in place.
Source: http://www.jdsupra.com

Medical Marijuana Update
Dr. Carolyn Clancy, the VA's interim under secretary for health, told the House Committee on Veterans' Affairs "there are active discussions going on now" about how to deal with the growing number of vets seeking to use medical marijuana for their ailments. She said "there's an incredible opportunity for us to learn from some of those experiences, but I think that we have to be careful given the variation in legal issues."
California Assemblyman Ken Cooley filed Assembly Bill 266 with the backing of the California League of Cities and the California Police Chiefs Association. The bill seeks to impose state-wide regulation on the Golden State's medical marijuana scene.
Florida Rep. Greg Steube (R-Sarasota) has filed House Bill 683, which would only allow people with eight specified medical conditions to use it and which bars the use of smoked marijuana. Sen. Jeff Brandes (R-St. Petersburg) earlier filed another, less restrictive medical marijuana bill.
In Virginia, the Senate approved Senate Bill 1235, which would allow for the use of high-CBD cannabis oil and the House of Delegates approved House Bill 1445. The bills would allow for the use of cannabis oil for children suffering medical conditions that bring on life-threatening seizures.
In Washington a statewide medical marijuana regulation bill was introduced.
Source: http://stopthedrugwar.org/


Data Breach Notification Bills Introduced in House and Senate
The Data Accountability and Trust Act (DATA Act), (H.R. 580), has been introduced in the House of Representatives. The bill would provide a nationwide data security standard, backed by FTC enforcement and civil penalties, as well as provisions requiring notification to affected individuals in the event of a data breach. Meanwhile, a similar bill, the Data Security and Breach Notification Act (S. 177) was introduced in the Senate.
According to the release, Commercial entities that own or process personal information would be required to implement effective information security procedures and policies to safeguard that information. Following a breach, entities would have to notify the affected individuals, in addition to the FTC. The FTC and state attorney generals would enforce the provisions of the bill, which would allow for civil penalties of up to $5 million for violations.
Source: http://www.insideprivacy.com/

OTA Releases Guidelines on Privacy Assessment, Best Practices
More than 90% of the 500 data breaches that occurred from January to June 2014 could have easily been prevented, per a report released Wednesday from The Online Trust Alliance (OTA).
The OTA's 2015 Data Protection Best Practices and Risk Assessment Guides reveals 40% of the more than a thousand breaches analyzed resulted from external intrusions; 29%, by employees, accidentally or maliciously, due to a lack of internal controls; 18% attributed to lost or stolen devices or documents; and 11% to social engineering, forged email and fraud. The data breaches involved the loss of personally identifiable information (PII), as reported by the Open Security Foundation (OSF).
Source: www.mediapost.com

Global Privacy Research Report 2014
This research report identifies the most viewed privacy stories of 2014 and demonstrates the depth and breadth of issues facing the privacy office today. From the challenges of data localization laws to mobile app best practice guidance, this report highlights the research analysis that gained the attention of privacy professionals around the world and will help connect the dots between privacy research and future planning.
Source: Nymity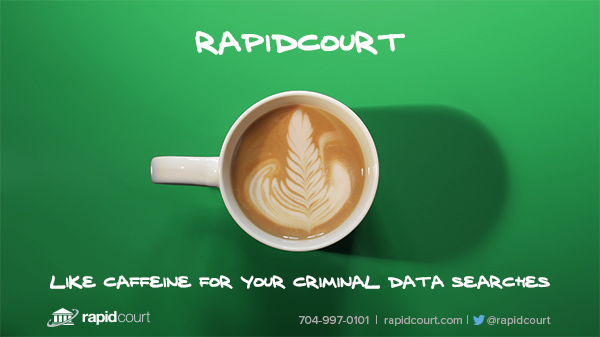 Public Record Update
By Mike Sankey, PRRN
THE KEY PUBLIC RECORD SOURCES FOR LEGAL AND INVESTIGATIVE PROFESSIONALS
When it comes to knowledge of public records access, BRB has the most comprehensive databases in the U.S. BRB Publications believes the value of data subscription products is measured by the depth of the content, the accuracy, and the currency.
BRB Data is Essential For:
Pre-employment Screening and Compliance
Background Investigations
Locating People and Assets
Competitive Intelligence
Understanding Motor Vehicle Records
Online Research
With a few simple keystrokes, you can navigate thru the river of data and find the right answers to enhance your productivity. BRB Subscriptions provide invaluable details that go well beyond a Google search.
The Public Record Research System - PRRS
PRRS is the ultimate public record resource! Subscribers have in seconds all the essential information about how to access public records directly from 26,000+ government agencies and institutions at the county, state and federal levels. Subscriber know all access methods (including if online), indexing and search requirements, restrictions, and fees. The Courts Section informs you when online searching is or is not equivalent to onsite research for most courts. PRRS consists of 7 individual BRB databases. Subscriptions are also offered on an ala carte basis.
Public Record Retriever Network - www.PRRN.us
The CRA Help Desk - www.CRAHelpDesk.com
Motor Vehicle Record Decoder - www.MVRDecoder.com
BRB's Public Record Blog - www.publicrecordsblog.net
BRB's Bookstore - www.brbpublications.com/books/

The Tech Trends You Can't Ignore in 2015

Is your company poised to build the next Uber? Have you started imagining how cryptocurrencies could be used to shore up your company's digital security? Have you considered that the algorithms your company uses might inadvertently be lying to you?

Our 2015 trends offer great opportunity - along with some unusual new challenges - for managers in all industries. Here are six of note.

Deep learning: Artificially intelligent computers are now capable of deep learning using neural networks, which you can think of as brain-inspired systems capable of translating pixels into English. Google researchers have unveiled a new project that uses neural networks and deep learning to identify multiple elements of a scene without human assistance. Its software "learned" how to think by processing vast quantities of data.

Smart virtual personal assistants: The original SVPAs used semantic and natural language processing; data mined from our calendars, email, and contact lists; and the last few minutes of our behavior to anticipate the next 10 seconds of our thinking. Most of those original apps have now been acquired. Emu was acquired by Google, Donna was acquired by Yahoo, Cue was acquired by Apple…and the list goes on. In 2015, consumers will begin to see SVPA technology baked into their mobile phones

"It's like Uber for ____": In spite of harsh criticism about its business practices, 2014 was a banner year for Uber. With a $40 billion paper valuation . Uber's fast growth is due to lightning-fast consumer adoption, and that's because Uber does two things very well. First, it monetizes downtime. Second, Uber provides a seamless payment interface. Uber's success has inspired hundreds of other entrepreneurs who want to emulate the best features of the company. In 2015, expect to see lots of new, Uber-ish delivery and intermediary businesses.

Oversight for algorithms: In its essence, an algorithm is simply a set of rules or processes that must be followed in order to solve a problem. In the coming year, we will also begin questioning the ethics of how algorithms can be used, and we'll scrutinize the tendency of some algorithms to go awry. Programmers are adding in subjective judgments to algorithms and allowing them to deliver answers. As a result, those in the big data space are increasingly misclassifying objects, data, and even people.

Data privacy: Whether it's fear of a third party monitoring our mobile phone activity or a breach of personal information people are increasingly concerned about their privacy, and they're pointing the finger at business, not maleficent hackers. In 2015, businesses must not only work to meaningfully encrypt their data, but they must make a public showing of the measures they're taking to safeguard our personal information.

Block chain technology: The block chain is the transaction database that's shared by everyone participating in bitcoin's digital system. It's how the cryptocurrency promises complete anonymity while using a crowd-regulated public ledger system. Think of the block chain as a sort of distributed consensus system, where no one person controls all the data. Block chain technology has enormous promise.

In some way, each of these tech trends will affect your business in the coming year. The best way to prepare for coming disruption is to learn as much as you can, discuss implications with others in your company, and then commit to launching small experiments internally to help you see the trends in motion.


Peopletrail Celebrates 10-Year Anniversary
10 years ago the executive team of Peopletrail brought together their collective experience in the background and screening industry and believed that there was a better way to support the growing number of clients interested in improving their hiring processes. As part of it's 10-year anniversary celebration, Peopletrail is providing a free gift to all potential customers that receive a customized, complimentary consultation through the end of March 2015. Each potential customer will also be entered into the grand prize drawing to win a Kindle Fire.
See the milestones Peopletrail is celebrating for the 10-year anniversary, including the company's NAPBS accreditation and Oracle validated integration with Oracle Taleo Enterprise Cloud service.

Jeanette Spofford Honored as Winner of 2015 Business Women First Awards
Justifacts President, Jeanette Spofford, has been named as one of the winners of the 2015 BusinessWomen First Awards by the Pittsburgh Business Times. The BusinessWomen First awards honors women working in Western Pennsylvania for their workplace contributions at for-profits, non-profits and government agencies.
"I am honored to be named a winner of the 2015 Business Women First Awards ," Said Spofford. "This wouldn't have been possible without the support and hard work of all of the people who make up the Justifacts team. It's incredible how far we've come - starting the company in my living room 32 years ago to providing background screenings to more than 2,400 companies worldwide. It has been an incredible journey."



First Advantage Announces Webinar Series on Pre-Employment Best Practices
Free webinar series kicks off February 26 with "Back to Basics on Background Checks" event occurring on February 26 and ending with a look towards future trends in late May, each free webinar builds on the previous to offer a comprehensive education that can seamlessly become a practice.

Welcome to the eVerify Challenge Question!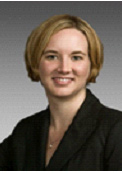 Nicole A. Kersey
Managing Director, Kersey Immigration Compliance, LLC

nkersey@kerseyimmigration.com
Nicole A. ("Nici") Kersey is an attorney whose practice is dedicated to employment-based immigration, with a focus on the Form I-9, E-Verify, and related immigration compliance issues. Nici represents employers before, during, and after Form I-9 inspections by Immigration and Customs Enforcement (ICE), providing practical advice to and serving as an advocate for employers during negotiations and litigation relating to fines for I-9 violations. She is a frequent trainer and speaker on I-9 and E-Verify issues. Nici is a graduate of the University of Virginia School of Law and provides pro bono representation to the spouses of U.S. soldiers and to arts organizations.
The Challenge Question:
Why is there an e-mail address field on the I-9? I'm looking at the new Form I-9 that we started using in May (2013), and it has a place for my employees to list their e-mail addresses. Why is this field on the I-9?
a. To help you get in touch with the employee if corrections to the I-9 are needed.
b. So that E-Verify can contact the employee in the event of a Tentative Nonconfirmation.
c. So that the government can send the employee updates about the E-Verify program.
E-Verify Begins Checking Nebraska Driver's License and ID Cards
The United States Citizenship and Immigration Services (USCIS) announced that as of February 1, 2015, the E-Verify system now checks driver's licenses and ID cards from the state of Nebraska when presented by a new hire for the Form I-9. Nebraska is the fifth state to join the Records and Information from DMVs for E-Verify (RIDE) Program, which was launched in June of 2011 to address issues of identity theft and document fraud in the hiring process. Other participating states include Mississippi, Florida, Idaho, and Iowa.
Source: http://www.lawlogix.com/blog/

What Happens When An Employee Admits I-9 Documents Were Fraudulent

On January 8, 2015, the U.S. Department of Justice (DOJ) Office of Special Counsel for Immigration Related Unfair Employment Practices (OSC) issued a technical assistance letter (TAL) in response to an employer's request for guidance. The employer sought guidance on how to address the instance where an employee admitted after the fact that the documents presented during the Form I-9 process were not genuine and whether the employer would face any liability for discrimination if it chose to terminate the employee.

Not surprisingly, OSC refused to issue an advisory opinion. But it did provide general guidelines regarding compliance with the anti-discrimination provision of the Immigration & Nationality Act (INA), 8 U.S.C. § 1324b . The TAL stated, in instances where an employer has properly completed these steps, and subsequently an employee comes forward with authentic work and identify documents once he/she has legalized his/her immigration status, the USCIS Handbook for Employers advises the employer to complete a new Form I-9 with the original hire date and new documentation, and attach it to the old Form I-9 with an explanation. The employer is not required to terminate the employee.

Yet, if the employer rejected valid work-authorization or terminated the employee, such actions could result in a violation of the anti-discrimination provision of the INA on the grounds of citizenship and/or national origin discrimination and document abuse (employers cannot reject valid Form I-9 documentation). OSC opined that the employer would then be tasked with providing a legitimate non-discriminatory reason for termination.

Source: http://theimmigrationbulletin.com/



ONE SITE! MANY SUPPLIERS!
NOW IS YOUR CHANCE TO GET INTO THE
2015-16 SUPPLIERS TO THE BACKGROUND
SCREENING INDUSTRY BUYERS GUIDE!
The Buyers Guide will be distributed to approximately 2,000 background screening firms.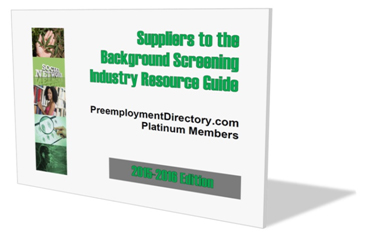 THE 2015-2016 GUIDE IS COMING!
RESERVE YOUR SPACE TODAY!
Stronger U.S. Growth Seen in 2015
The U.S. economy is set to record its best performance in a decade this year as a rapidly strengthening labor market buoys domestic demand, giving the Federal Reserve the confidence to start tightening monetary policy, a Reuters poll showed. The poll of 82 economists forecast gross domestic product (GDP) growing an average 3.2 percent this year, which would be the fastest since 2005.
"There may be a few ups and downs this year, but the economy's fundamentals are very strong and they are going to outweigh the issues from abroad. Three percent GDP (growth) is achievable," said Ryan Sweet, a senior economist at Moody's Analytics in West Chester, Pennsylvania.
Source: http://www.reuters.com/


Kevin Coy is a Partner in the Washington DC office of Arnall Golden Gregory LLP. Kevin
advises background screening companies and other clients on a wide range of privacy and consumer regulatory issues, including Fair Credit Reporting Act, Gramm Leach Bliley Act,
Drivers' Privacy Protection Act, and Dodd Frank Act compliance issues, as well as data breach matters. Kevin also represents clients with matters before the Federal Trade Commission, the Consumer Financial Protection Bureau, and other consumer protection agencies.
Kevin can be contacted at Kevin.Coy@agg.com or 202-677-4034.
THE WASHINGTON REPORT
February 2015
On the Hill
On February 12th, Senator Pat Toomey (R-PA) and Senator Joe Manchin (D-WV) introduced S. 474, a bill to require schools receiving federal funds to perform background checks on all personnel who have unsupervised access to children.
On February 11th, The Senate Committee on Commerce, Science, and Transportation held a hearing, entitled The Connected World: Examining the Internet of Things. Among the items discussed was the FTC's role in privacy and data security and the scope of the FTC's authority under Section 5 of the FTC.
On January 27th, the House Energy and Commerce Subcommittee on Commerce, Manufacturing and Trade held a hearing on data breach legislation titled "What are the Elements of Sound Data Breach Legislation?"
On January 22nd, Representative Stephen Lynch (D-MA) introduced H.R. 490, "To provide for a strategic plan to reform and improve the security clearance and background investigation processes of the Federal Government, and for other purposes." Lynch said in a press release …My legislation will ensure that federal employees, rather than outside contractors, perform critical investigative functions, including Top Secret Clearance level investigations."
At the Supreme Court
On January 21st, the Supreme Court heard oral arguments in Texas Department of Housing and Community Affairs v. The Inclusive Communities Project, Inc. over whether Fair Housing Act discrimination cases can be brought on the basis of the disparate impact theory, which argues that discrimination can occur if an action has a disparate impact on protected classes even if that impact is not intended by the party taking the action.
At the FTC
On January 21st, the Eleventh Circuit dismissed LabMD, Inc.'s latest action against the FTC alleging that the agency lacks authority to regulate companies' data security practices.
On January 27th, the FTC released a report on the "Internet of Things," which recommended best practices for companies to use in the development and deployment of smart devices.
At the Federal Aviation Administration
On February 15th, the FAA and the Department of Transportation issued proposed rules to govern the use of small drones domestically for commercial purposes. One of the proposed requirements for drone operators is a background check to be conducted by the Transportation Security Administration.

Grab a latte and pull up a chair and join us for a great interview with Rachid Zahidi, CEO, Sentinel Screening.

Prior to starting Sentinel Screening, Rachid worked and managed people in the hospitality and banking industries and one of his last roles was leading a team of anti-money laundering investigators at Citigroup. Given the focus of his role in dealing with anti-money laundering investigations, research and investigations were not completely foreign to him and the background check industry made sense to him.
Rachid added that he enjoys enlightening customers about the need and importance of background checks as well as the importance of going about them in a proper, legal and ethical manner. He also enjoys solving problems and simplifying processes that can otherwise become easily complicated.
The company's vision is: "To have a positive and transformational impact on the lives of our customers, employees, vendors and community" and their mission is "To provide our customers with professional background screening results that are obtained through consistently reliable, accurate and timely court research and due diligence while maintaining the highest of ethical and legal standards."
In addition, Rachid emphasized that "Sentinel believes in cooperation within our industry and that competition is a zero sum game; collaboration enlarges the pie for all involved!" He noted that Sentinel is committed to supplying other responsible background check companies with reliable and affordable court research and sharing the benefits of having built a very good research network.
He is very proud of what the Sentinel team has accomplished and shared that the company was named among the Tampa Bay Business Journals Fast 50 companies in 2012 and a Finalist in the GrowFL Companies to watch awards for 2014.
Rachid announced a forthcoming book - The Business Immunity System: The Pitfalls & Side Effects of Data Handling, Privacy Issues, & Background Checks. The book helps to alert employers to importance of not only screening out bad hires, but also to make sure the right tools are used to screen in the good and productive ones.
Moving the discussion to my favorite question about what the future has in store for the background screening industry Rachid pondered and then said he expects "Further consolidation as the economy gets better, more digitization and faster access to records and a more leveling of the playing field."
In closing, he offered on the personal side that he had recently read 'The Advantage-Why Organizational Health Trumps Everything Else In Business' and the person he would most like to meet is Bono from U2. He said "While most of his peers just enjoy the riches and the spoils, he chooses to work hard for humanitarian causes plus he rocks of course!"
He shared his favorite quote: "We must all suffer from one of two pains: the pain of discipline or the pain of regret. The difference is discipline weighs ounces while regret weighs tons." Jim Rohn
You can contact Rachid at rachid.zahidi@sentinelscreening.com.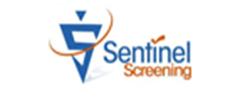 STOP STRUGGLING WITH WRITING AND PUBLISHING YOUR NEWSLETTER:
We can help you have a high quality e-newsletter to help nurture your relationship with your clients and attract new clients. Our customized newsletter service will take over your newsletter task or create a new one for you. We can manage the creation of your newsletter for you.
We are constantly researching information to use for The Background Buzz and you can put our research to use for you. Using the information rich content from The Background Buzz (minus the ads and competitors information) we will create a custom newsletter for you.
Use your staff's time to do more valuable work and save all the hassle of researching or writing articles, formatting and managing all the other ezine tasks with our customized ezine process.
Contact Barry Nixon at 949-770-5264 or at wbnixon@PreemploymentDirectory.com for more information.
Hogan Lovells Global Bribery and Corruption Review
Eight years ago, Hogan Lovells published their first year-end summary of Foreign Corrupt Practices Act (FCPA) developments as a short client alert, recapping key FCPA decisions of the prior year. The summary was global because, even as recently as eight years ago, the enforcement of anti-corruption laws was seen as a distinctly American issue.
Yes, a few other countries had started talking about fighting corruption, but for the most part this was still just a theoretical discussion. Clearly, times have changed. While the United States still plays a key role in the global fight against corruption and bribery, it shares the stage with a host of other countries eager to flex their muscles in this critical regulatory space.
This year's Review bring you up to date on the most important developments around the world.
Source: http://viewer.zmags.com/publication/a9d7de2a#/a9d7de2a/1

2015: The Turning Point for Data Privacy Regulation in Asia?
2014 was a very eventful year for data privacy regulation in Asia and a number of significant regulatory developments, in particular the implementation of new, comprehensive "European-style" privacy laws in Singapore and Malaysia, the amendment of China's consumer protection law to include data privacy principles and increased financial penalties in South Korea.
Equally importantly, there were significant data security and data privacy breaches and enforcement actions across the region in 2014, with privacy mishaps consistently featuring in Asian headlines. These developments have meant immediate consequences in the form of regulatory action, sanctions and adverse publicity for those investigated or found to be on the wrong side of the law. These high profile incidents are also proving to have a broader impact by raising public awareness of privacy issues to levels never before seen and emboldening regulatory authorities to take action.
Source Note: This article was first published in Data Protection Law & Policy in January 2015.
http://www.hldataprotection.com/


Brazil issues Data Protection Bill
The Brazilian government issued a Draft Bill for the Protection of Personal Data (Anteprojeto de Lei para a Proteção de Dados Pessoais) on 28 January 2015.
Information about Brazil's Bill http://participacao.mj.gov.br/dadospessoais/ (in Portuguese)

The text of the Bill is at http://participacao.mj.gov.br/dadospessoais/texto-em-debate/anteprojeto-de-lei-para-a-protecao-de-dados-pessoais/ (in Portuguese)

China Clarifies Requirements for Companies Regarding Consumers' Personal Information
A new law in China taking affect in March of this year will provide businesses with a clearer understanding of what types of information are protected as consumer personal information in China. This new definition will clarify companies' obligations with respect to the use and processing of that information under other Chinese laws and regulations. A failure by businesses to recognise these new requirements can lead to onerous penalties including fines.
Source: http://www.hldataprotection.com/

German Government Adopts Draft Law Regarding the Enforcement of Data Protection Law by Consumer Protection Associations
On February 4, 2015, the German government adopted a draft law to improve the enforcement of data protection provisions that are focused on consumer protection. The draft law enables consumer protection organizations, trade associations and certain other associations to enforce cease-and desist letters and file interim injunctions in cases where companies violate the newly defined protective data protection provisions for consumers.
The draft law must be approved by the Federal Parliament before taking effect.
Source: https://www.huntonprivacyblog.com


The Netherlands DPA Gets Power to Fine Controllers And Processors
On Monday, 24 November, a bill was sent to Parliament giving the Dutch Data Protection Authority (CBP) the power to fine controllers and processors for violation of the Dutch Personal Data Protection Act and any other laws containing data protection rules. In, addition, the Dutch CBP (College Bescherming Persoonsgegevens) will change its name to the Personal Data Authority (Autoriteit Persoonsgegevens).
The fine, which may be as high as 810,000 euro, adjusted periodically, may be issued for a number of specified articles in the Personal Data Protection Act.
Interestingly, the bill also allows the CBP to fine individual employees for failure to meet their confidentiality obligations (Art. 12 PDPA). This may be the case where employees intentionally disclose personal data to unauthorized persons, an act also punishable under criminal law, but also where employees have been grossly negligent causing a data breach. The bill is expected to be enacted by July 1, 2015.
Source: https://privacyassociation.org/

Changes to the Polish Data Protection Act May Affect Your Compliance Status
As of 1 January, amendments to the Polish Data Protection Act of 29 August 1997 entered into force, following the passing, on 7 November 2014, of the act on the facilitation of conditions regarding the conduct of business activity, which may impact the data compliance status of many companies.
The law generally aims to facilitate data controllers' duties and it will amend or supplement existing provisions by providing additional options to fulfill data protection requirements.
Some may find it surprising that Poland changed its data protection law now, since the new, relevant EU General Data Protection Regulation is on the way, but the amendment process has been in progress since 2012.
Source: https://privacyassociation.org/

Scotland Calls for Regular Checks After Agency Worker Lorry Driver Falls Asleep at the Wheel
Union and opposition leaders in Edinburgh have called for regular checks to be introduced to ensure bin lorry drivers are fit to be on the road after an agency worker twice fell asleep at the wheel, reports the Scotsman . The Edinburgh incident -which is understood not to have been caused by an underlying health issue - happened only weeks after six ­pedestrians in Glasgow were killed by a runaway bin lorry.
Critics said that temporary drivers drafted in by the city council were too often left "to get on with the job" and should be subject to the same stringent vetting procedures as in-house staff. They also backed the introduction of tougher procedures to maintain performance and safety standards, including regular health checks.
Source: http://www.staffingindustry.com/

ADVERTISERS IN THIS EDITION

| | | | |
| --- | --- | --- | --- |
| | | | Background Screening Jobs |
Visit the Job Board for the Employment and Tenant Screening Industry. Here you will find resumes of people with industry experience and employers seeking applicants with experience in Employment and Tenant Screening and related businesses.
www.backgroundscreeningjobs.com

Feature Education:
FCRA Basic Certification Webinar Series Update

The FCRA Basic Certification program series is now available for purchase.
2015 Events ( Click Here to View full list of Events ) - Updated Monthly
SHRM State Conferences, visit http://www.shrm.org/Conferences/StateAffilliateConferences/Pages/default.aspx
Drug and Alcohol Testing Industry Association (DATIA), 2013 Training Course Schedule, visit
http://datia.org
SAPAA Training Institute Learning Events, http://www.sapaa.com/
CUPA-HR Conferences: http://www.cupahr.org/
World Federation of People Management Associations, Events, http://www.wfpma.com/events/by-region#quicktabs-tab-view__events__page_3-4