BACKGROUND SCREENING NEWS
Special Report: A Check on Background Checks
"Background checks have increased over the past 12 months, according to responses by screening companies surveyed for this month's Workforce Magazine's Hot List. All but one participant in last year's Workforce Hot List reported increases in 2013 in either the number of individuals screened or corporate clients using employment-related screening services. Nine out of 15 Hot List participants reported increases in both categories."
"It's an industry that carries significance for most human resources departments: 69 percent of all employers conduct background checks on their job applicants, according to the Society for Human Resource Management's 2012 background checking survey. "
Interesting enough, the increases in background checks were preceded by new guidance from the U.S. Equal Employment Opportunity Commission in April 2012 which many saw as the beginning of the demise of background screening. The new guidelines have posed a challenge to employers, however, despite the challenge employers do not appear to be backing off and continue to increase their focus on background screening.
Read the Special Report: A Check on Background Checks and view the Hot List
Mergers & Acquisitions Defines the Landscape of the Background Screening Industry
The Human Resource Outsourcing (HRO) industry is one that has been shaped by M&A and the background screening industry demonstrates how M&A can define the landscape of the industry.
Given its tie to employment, the background screening industry is impacted by the overall health of the economy and job growth as well as regulation and technological advancements. That said, the landscape of the industry today has been defined by the historical M&A activity.
The background screening industry is dominated by providers that generate less than $100 million in annual revenue from commercial screening services. There are only three providers that generate over $200 million in annual screening revenue and each of these providers became market leaders by pursuing an acquisition strategy. First Advantage, previously public and now backed by Symphony Technology Group, is a consolidation of over 40 screening companies. The commercial screening business of Altegrity is a conglomeration of 10 screening companies, including the two substantial acquisitions of HireRight and the background screening business of Kroll (note that HireRight is currently on the market with a $1 billion price tag). Finally, Sterling Infosystems, backed by Calera Capital, has made 8 acquisitions to complement its significant organic growth.
As the three leaders continue to search for growth opportunities and middle tier firms look to gain market share to take advantage of economies of scale, conditions are particularly ripe for sellers in the background screening industry. Said simply, there are many interested buyers. Moreover, private equity firms have demonstrated interested in the industry, creating more options for firms considering strategic alternatives such as a recapitalization or raising growth capital.
Source: HighBank Advisors, for more information contact Cherie Homa, Managing Director,
choma@highbank.com
First Advantage Acquires Verifications, Inc. Building on Vision to Transform the Industry
First Advantage , a Symphony Technology Group (STG) company and the leading global provider of screening analytics and identity solutions, today announced that it has entered into a definitive agreement to acquire competitor, Verifications, Inc., a Minneapolis-based background checking and drug testing company. As a result of the acquisition, First Advantage will add over 4,000 new clients to its over 41,000 current client relationships that process more than 15 million applicants annually. Having made significant progress on the integration of the LexisNexis screening business that was acquired earlier this year, First Advantage can now leverage a solid technology and process foundation to focus on growth initiatives, customer driven innovation and global expansion efforts.
The addition of the Verifications, Inc. screening business will quickly broaden First Advantage's position in the growing small and mid-sized market place and strengthen the Company's presence in key industries including staffing, healthcare and manufacturing. The Verifications, Inc. top client base boasts an average 12 year tenure including notable Fortune 100 companies. This acquisition will enable Verifications, Inc. clients to now have access to advanced solutions through the largest global footprint in the industry.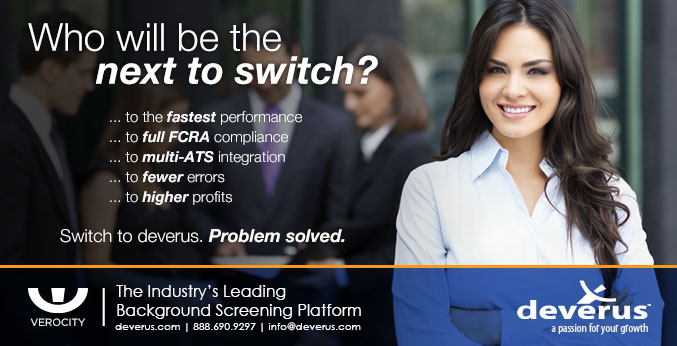 BACKGROUND SCREENING NEWS - continued
The Navy Yard Massacre: How Employment Screening Failed
On Sept. 16, military information technology subcontractor Aaron Alexis took a shotgun into the Washington Navy Yard and killed 12 people. Alexis' employer, The Experts, hired Alexis after conducting an allegedly complete background investigation. While many companies screen their own employees, few conduct due diligence on their contractors' employee screening processes. Subcontractor employees often have the same work site access and even wear the same company badges as regular employees - though the company's human resources personnel and managers don't directly screen or manage subcontractor personnel. Many employers seek out the cheapest, fastest background check firms; these firms may perform cursory screens that provide only the illusion of security. For example, the background checking firm turned up Alexis' traffic violations but not his more serious gun-related arrests. As in so many workplace violence debriefs, after the tragedy individuals in Alexis' company reported earlier suspicious conduct that worried them. These concerns were never raised to a level where they could be dealt with. When contracting for services, companies can insist that contractors' employees undergo thorough background screening and can review their subcontractors' background screening processes. Employers using a third-party background screener can also screen the screeners.

Read more
Sixth Circuit Upholds Big Fee Award Against EEOC For Continuing to Pursue Lawsuit Based on a "Companywide Policy That Did Not Exist"
The U.S. Court of Appeals for the Sixth Circuit upheld a district court's award of $751,942.48 against the EEOC. This decision marks yet another significant win for employers faced with the EEOC's "shoot-first, aim later" litigation tactics as well as yet another defeat for the EEOC in a high profile case based on an unfounded disparate impact theory of liability stemming from an employer's use of background checks. The EEOC incorrectly alleged that Peoplemark's policy of not hiring individuals with a criminal record had a disparate impact on African-Americans resulting in a blanket no-hire policy. The district court found that even after the EEOC knew that wasn't the case, it proceeded with the litigation anyway. Peoplemark argued that the EEOC had deliberately caused the company to incur attorneys' fees and expert fees when it should have known that the company did not have the blanket no-hire policy. Both a magistrate judge and district court judge agreed, finding that if the EEOC had done a reasonable investigation, it should have known that Peoplemark had, in fact, hired a number of the allegedly injured individuals. Agreeing with the district court, the Sixth Circuit held that the EEOC should be held liable for Peoplemark's fees from October 1, 2009 through the end of the litigation.
2013 NAPBS Annual Conference, September, 2013
NAPBS membership is up to 790. Almost 800! Strength through numbers! Did you know that 13% are non-USA based members?

This conference was the best yet, celebrating ten years. Dean Carras and his committee of volunteers along with our association management group (IMI) were on top of everything and they classed it up, especially in giving special recognition to the ten past chairs of NAPBS, without whom there would be no association representing you.
Governments (federal, state and local), continue to make decisions that impact your business.
The mood of the attendees was upbeat. There is nothing like a good economy to boost sales, profits and moods.
International continues to grow their screening and NAPBS is in the process of forming a direction to create international standards for integrity and compliance.
PeopleG2's First Annual Human Resources Compliance Survey Reveals Widespread Confusion Among Executives Regarding Handling of Job Applicant Criminal History
According to the first annual Human Resources Compliance Survey conducted by leading human capital due diligence firm PeopleG2, the vast majority of American executives believe their companies are compliant with EEOC guidelines (94%). however 72% of those surveyed ask job applicants about criminal history in applications despite 2012 EEOC guidelines designed to reverse the procedure. "EEOC compliance is the number one issue we hear about from our clients, and the findings of this survey don't surprise me," said Chris Dyer, PeopleG2's founder and CEO. "Most companies are still unaware that questions about criminal history on job applications can be discriminatory and that communication about criminal history should arise as an open dialog much later in the decision-making stage of hiring." In addition, more than 14% of respondents fail to offer any opportunity to discuss the existence of criminal history in the application process. However, the EEOC issued the new guidelines to ensure that hiring entities consider whether the nature of a crime is relevant to the job, whether skills necessary for the job could be compromised based on the criminal history and whether time has elapsed to allow for correction before a candidate is rejected.
ApplyConnect Offers Complete Credit Checks on Renters at no Cost to Anyone Offering Real Estate Rentals
Contemporary Information Corporation (CIC), a nationwide tenant screening company with 28 years of real estate rental industry experience, has launched a new, consumer initiated tenant screening service. ApplyConnect helps landlords, real estate agents, and property managers find the best renters to fill their vacancies. CIC has contracted with Experian, the leading global information services company, to provide consumer credit reports with a VantageScore 3.0 credit score as part of the ApplyConnect system. The VantageScore 3.0 is a post-recession, consumer credit scoring model that uses a more familiar scale, more granular data and can score 30-35 million more consumers who are typically unscoreable. In addition to this credit report and score, users have access to a national search of criminal records. The search accesses court records across the country, including the sex offender registry, and the Office of Foreign Assets Control for known drug traffickers and terrorists. It is free for those offering real estate rentals, with no physical inspection fees or monthly fees and it's available 24/7. Rental applicants will love that as a consumer initiated inquiry, their credit score will not be impacted. The renter simply initiates the report, pays for it upfront and grants permission to the landlord to view it.
Welcome to the U.S. Legal Challenge Question!
As the background screening industry continues to get more competitive the firms that will ultimately succeed will be those that create competitive advantage through their people by offering continuous learning opportunities to heightened their knowledge and capabilities. We believe that having employees that are very knowledgeable about the legal landscape of background screening is essential to continued success.
We are grateful to Larry D. Henry who began his law career with the Army JAGC where he tried over 2,000 cases. After the Army he relocated to Tulsa. In 1981, the founder of DAC Services contacted Mr. Henry's firm for assistance in creating a background screening company. Since Mr. Henry's practice was employment law, the firm believed this fell within his area and as they say: "the rest is history". His practice has kept him in continual contact with the background screening industry, and he is a nationally recognized expert in the area of background screening.
Mr. Henry's practice is concentrated on employment law and in specific, background screening of employees. He represents consumer reporting agencies throughout the United States and two national trade associations. He is the author of the Criminal Records Manual and the on line reference site:CRAHelpDesk.com, and he is a frequent presenter across the country on various topics dealing with background screening.
Please choose your answer by clicking on it:

New Expunged Record Law Limits Background Checks
North Carolina's new Expunged Criminal Record bill will affect what questions employers may ask on job applications and during the hiring process. The law prevents most employers from asking about crimes and criminal charges that have been ex­­punged from job applicants' records. The law doesn't bar employers from asking about arrests and convictions that have not been expunged. However, the EEOC has spearheaded a "ban the box" movement that would effectively remove all criminal background questions from job applications. Under that model, employers could ask about convictions (not arrests or charges), but only after they have made a conditional job offer. Employers would also have to show that the criminal background information was "job-related and of business necessity." By comparison, the Expunged Criminal Record law simply shields applicants and employees from having to reveal any expunged arrests, charges or convictions. They cannot be held liable for refusing to reveal them. First violations of the law will earn a warning; subsequent infractions carry a $500 fine. The law doesn't apply to those seeking law enforcement jobs. Those applicants must reveal all arrests, charges, and convictions, whether or not they have been expunged. It is important to establish a policy for requesting criminal background information and stick with it. Using different procedures for different applicants could lead to discrimination charges.

Read more

New California Laws Restrict the Discretion Employers Have to Inquire Into and Use Criminal Record Information
On October 10, 2013, California joined the growing list of states with expanded protections for individuals with prior criminal records when Governor Jerry Brown approved a bill (SB 530) amending the California Labor Code.Effective January 1, 2014, SB 530 amends Labor Code section 432.7 to include an additional prohibition for public and private employers related to pre-employment inquiries, and adds section 4852.22 to the Penal Code shortening the waiting period to receive a Certificate of Rehabilitation. Governor Brown also signed AB 218, which, effective July 1, 2014, will bar public sector employers from asking about criminal records on employment applications (a so-called "ban the box" law). The number of state and local laws affording employment-related protections to ex-offenders has grown and, in all likelihood, will continue to do so. Now is an excellent time for local employers and multi-state employers that use a nationwide form of job application to assess thoroughly whether their job application, including questions about prior criminal records, complies with state and local laws where the employer operates and hires. Employers should be mindful of the various laws that relate to the background check process and when using a third-party screening firm to obtain background information on applicants or existing employees, employers must follow the requirements of the FCRA.


J.B. Hunt Drops Ban on Hiring Those with Criminal Records
Transportation giant J.B. Hunt has agreed to revise its hiring policy that the EEOC claimed prohibited hiring anyone with a criminal record. The case began with a single black applicant who was denied a truck driving position because he had been convicted of a crime. The EEOC claimed the conviction was unrelated to the man's potential job duties. There­­fore, refusing to hire the applicant violated EEOC guidance on hiring those with a criminal record. J.B. Hunt agreed to a five-year monitoring program and also settled with the applicant. Before deciding whether to hire or turn down an applicant who has a criminal record, the EEOC recommends conducting an evaluation of the: 1. Nature and gravity of the offense or conduct; 2. Time that has passed since conviction and completion of the sentence; and 3. Nature of the job.

Read more
Do Employers Need to Accommodate the Smoking of Medical Marijuana in the Workplace?
As many employers already know, smoking tobacco in the workplace is prohibited in Ontario, however, the legislation does not make reference to the smoking of any other substance, such as marijuana. Medical marijuana is currently a controlled substance under the Marihuana Medical Access Regulation (MMAR) pursuant to the Controlled Drugs and Substances Act, and its use has been legalized for medical purposes since 2001. Even a new regulation, Marihuana for Medical Purposes Regulation, which amends the above-noted legislation, fails to mention marijuana use in the workplace. What, then, is an employer to do when an employee has a medical marijuana license and states that s/he must smoke their marijuana in the workplace? What if the employee holds a safety sensitive position? Fundamentally, these questions invite the same analysis as an employee's request to use and/or be under the influence of any prescription drug with intoxicating effects. Accordingly, the answers are dictated by the employer's obligations under both the Ontario Human Rights Code and the Ontario Occupational Health and Safety Act. It is anticipated that employers will be faced with increased requests for accommodation related to medical marijuana use, given that the new Marihuana for Medical Purposes Regulation aims to treat marijuana as much as possible like the narcotic drugs that have more historically been used for medical purposes.

Read more


Employee Using Prescription Medications Could Not Refuse Drug Test Under Theory That Employer "Knew" He Would Refuse
An Iowa appellate court reversed an award of damages to an employee under the ADA after the employee was discharged for refusing to submit to a post-accident drug test. The employee had taken a number of prescription painkillers throughout his employment and due to safety issues associated with his job as a maintenance laborer, the employer prohibited the employee from using power tools or driving vehicles. At a subsequent time, the employee took a medical leave of absence while using the prescription painkillers, and upon his return to work, cut his finger. The Company's drug and alcohol policy required a post-accident test because the employee suffered an injury at work. The employee refused to submit to the drug test, even after he was advised that the test was for illegal drugs, not for prescription medications, and was subsequently fired. The employee filed suit under the ADA, arguing that he was terminated based on his disability. The case proceeded to a jury trial and the jury entered a verdict in the employee's favor. The appellate court reversed and dismissed the case, finding that the employer had the right to subject the employee to a post-accident drug test under its policy, and noted that the employee testified that he was aware that refusing to test could be grounds for termination. Employers should always include a provision in their substance abuse policies advising employees that refusing to test will lead to termination, and defining the types of conduct that constitute a "refusal to test."

Read more
ALCOHOL & DRUG TESTING - continued
Assessing the Effectiveness of Hair Testing
The latest project for the Drug Testing Advisory Board (DTAB) is the evaluation of hair specimens for possible use in the Federal Workplace Drug Testing Program. Since 1988, organizations that are required to perform federal workplace drug testing have been limited to the use of urine specimens. However, concerns and data have emerged that point up some of the limitations of traditional urine-based testing. This past July, the DTAB opened
a meeting to the public to present information on the supportability of the hair specimen for federal workplace drug testing. Entities such as the Federal Motor Carrier Safety Administration and trucking companies pointed out that
it is important for them to be able to look at longer windows of detection (which hair testing provides) when it comes to pre-employment testing. Research has found that hair testing is very difficult to adulterate, but one presentation showed that bleaching or using a flat iron may affect the results of a hair specimen drug test. Another benefit is the elimination of collection issues associated with urine. According to a press release from Omega Laboratories, "hair testing has consistently identified over three times as many illegal substance users as urine testing in regulated industry pre-employment trial programs." DTAB will give a recommendation to the administrator of SAMHSA, that it would or would not suggest that hair testing be included.

Read more
Report Indicates Insider Threats Leading Cause of Data Breaches in Last 12 Months

While threats to data security and privacy are often perceived to come from the outside, all signs point to internal threats being just as dangerous, intentional or not. Forrester Research recently released its Understand the State of Data Security and Privacy Report, which draws on a survey of small and medium businesses and other enterprises in the United States, Canada, Britain, France, and Germany. The survey found that inadvertent misuses of data ranked as the top source of data breaches in 2012, accounting for 36% of all breaches. Nearly a quarter of respondents said breaches were most commonly the result of malicious insiders. Only 42% of small and medium businesses said their workforces received training on how to secure data, and only 57% of workers said they were aware of their organizations' current security policies. Forrester analyst Heidi Shey says these numbers show that organizations need to make data security more of a priority. The report suggests organizations utilize a framework for data security built on three steps: inventorying all the organization's data, analyzing the data, and structuring data security around protecting the most valuable data. Shey also says separating privacy efforts from security efforts can undermine data security, and that privacy and security should addressed together. "People don't know what they don't know," said Shey. "You've got to give them some kind of guidance and guard rails to work with."

Read more
Hack of Data Brokers Highlights Weakness of Knowledge-Based Authentication
Security blogger/researcher Brian Krebs broke a story recently about a cyber underground identity theft service in the business of selling Social Security numbers, birth records, credit and and background reports, and other pertinent, sensitive details of millions of Americans. The potential impact of having those details compromised is massive--which is why that information shouldn't play such a crucial role in establishing or authenticating our online identities.
Krebs explains how most credit-granting organizations employ knowledge-based authentication (KBA) as a means of determining whether or not an application for credit might be fraudulent. That determination is based largely on how accurately the applicant can answer questions about their own financial and consumer history. Christopher Bailey, NuData Security, said,"Knowledge of personal details as a means to authenticate customers has been questioned by security experts and analysts for some time. When data-breaches occur, 'private knowledge' reaches the free-market, weakening the authentication method--identity theft and fraud becomes more likely as knowledge based authentication becomes easier to bypass."
If criminals can acquire your credit report, which includes your complete credit history, or a background report on you, then they're armed with virtually everything they could possibly need to open accounts in your name and destroy your credit reputation.
"Simply replacing knowledge based authentication is not a solution. Firms must adopt a multi-layered approach to identification and fraud detection," says Bailey. The best approach is to require two-factor authentication--possibly combining knowledge and biometrics--so that it's not so easy to steal an identity.
American University of London Sells Study-free MBA

A so-called university, The American University of London (AUOL), sold an MBA degree £4,500 to a fictitious person with no academic work required, a BBC Newsnight investigation has revealed. AUOL has insisted it is "not a bogus university" and defended the robustness of the qualifications it offers. AUOL styles itself as a pioneer of distance learning, offering degrees and post-graduate qualifications in business, IT, law, education and liberal arts, humanities, and English to more than 100,000 students worldwide. While seemingly based in London, AUOL is actually incorporated in the Caribbean. Newsnight found hundreds of senior executives listing AUOL qualifications. When the programme contacted some of them, they all insisted that they had to study for their degrees. On its website, AUOL boasts some well qualified supervisors and says that "the university's academic staff are highly qualified and experienced". But when five Western academics on its list were contacted, all said they had never worked there and never agreed for their name to be used. "They are not degrees," said George Gollin, an American academic with expertise in unaccredited education. "They are pieces of paper and I'm guessing they are not able to sell very many degrees into countries where English is the first language." The university has been listed as "bogus" by the agency that values degrees for the Italian government and it has been blacklisted in five U.S. states.

Read more
Sponsored by:
Public Record Update
By Mike Sankey, PRRN



Compliance with the myriad of state laws is a complex subject affecting CRAs and their clients. The State Rules Register provides an uncomplicated explanation in plain English of state laws for what is reportable to the client, usable by the client, and the necessary steps to take to be in compliance with state laws. Also included are best practices, practical tips, and ongoing notification when state and federal laws change. Create your own matrix reports. Use the special Resource Tabs of Guidelines and Special Instructions.
For more information contact Michael Sankey at mike@brbpublications.com or visit www.brbpublications.com/updates.aspx
BRB's FREE RESOURCE CENTER
For the MOST COMPREHENSIVE RESOURCE describing all access methods, restrictions, fees, and search procedures on over 26,000 government and private agencies visit the Public Record Research System (PRRS-Web) . We provide the extensive details and in-depth data you will not find doing a Google search!
For more information contact Michael Sankey at mike@brbpublications.com or visit www.brbpublications.com/updates.aspx
Congratulations to Platinum Members of PreemploymentDirectory.com that made
Workforce Magazine's 2013 Hot List:
| | | |
| --- | --- | --- |
| - Accurate Background Checks | - Global HR Research | - Orange Tree |
| - EmployeeScreenIQ | - HireRight | - Sterling Inforsystems |
| - Employment Background Investigations | - Infomart | - Universal Background Checks |
| - First Advantage | | |
The Conference Board Employment Trends Index™ (ETI) Increased in September
The Conference Board Employment Trends Index™ (ETI) increased in September. The index now stands at 114.78, up from 113.98 (an upward revision) in August. The ETI figure for September is 6.3 percent higher than a year ago.
"The Employment Trends Index accelerated in August and September, with improvements across all eight components during these two months," said Gad Levanon, Director of Macroeconomic Research at The Conference Board. "In contrast to the gloomy headlines from Tuesday's jobs report, the ETI signals upward momentum in labor market conditions in the months ahead."
September's improvement in the ETI was driven by positive contributions from seven of its eight components. The increasing indicators - from the largest positive contributor to the smallest - were Initial Claims for Unemployment Insurance, Number of Temporary Employees, Percentage of Firms With Positions Not Able to Fill Right Now, Industrial Production, Consumer Confidence Survey® Percentage of Respondents Who Say They Find "Jobs Hard to Get," Real Manufacturing and Trade Sales, and Job Openings.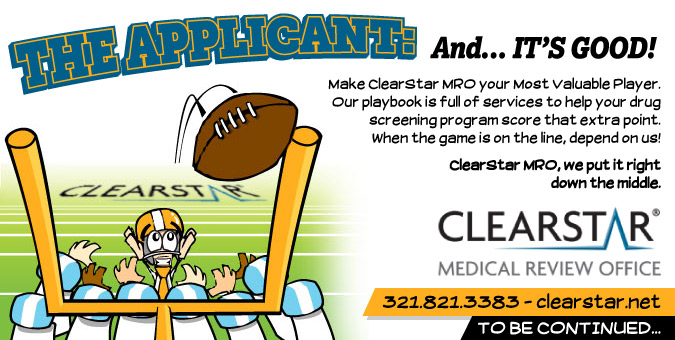 Targeted Marketing Support Services for the Background Screening Industry
Online background screening directory featuring background screening firms and suppliers to the background screening industry. Basic, Gold, Platinum and Diamond levels of advertising are available. Target audience is the Human Resources, Talent Acquisition and Recruiting community.
Annual Background Screening Industry Buyers Guide
An annual print and electronic publication featuring U.S. and international background screening firms, and timely informative articles. The Guide is launched annually in June at the SHRM Annual Conference and distributed to 20,000 plus human resources professionals.
Annual Suppliers to the Background Screening Industry Buyers Guide
An annual print and electronic publication featuring suppliers to the background screening industry. The Suppliers guide is distributed to our database of more than 1,600 background screening firms and at relevant professional trade shows.
A monthly e-newsletter distributed to the worldwide background screening industry that offers comprehensive coverage of information and news relevant to the screening industry. The e-newsletter is distributed to more than 1,600 firms in the background screening industry and accordingly, is an exceptional advertising venue to reach background screening firms.
The Special International Edition of The Background Buzz
A supplement to the regular edition of The Background Buzz that is published on a bi- monthly basis featuring global information and news on background screening around the world.
On demand e-blast service sent to our database of more than 1,600 firms in the background screening industry. Each e-blast includes your advertisement and one relevant article.
Media Releases and Announcements
On demand releases and announcements to targeted media outlets in the background screening and recruiting industry.
Private Label Newsletter Service
Custom designed e-newsletter service. We create a custom designed e-newsletter including recommending the name, designing the header, template and providing the content. Distribution frequency options include monthly, bi-monthly and quarterly.
See the Marketing Portfolio that matches your market segment :
1. U.S. Background Screening Industry Marketing Portfolio
2. International Background Screening Industry Marketing Portfolio
3. Suppliers to the Background Screening Industry Marketing Portfolio
STOP STRUGGLING WITH WRITING AND PUBLISHING YOUR NEWSLETTER:
We can help you have a high quality e-newsletter to help nurture your relationship with your clients and attract new clients. Our customized newsletter service will take over your newsletter task or create a new one for you. We can manage the creation of your newsletter for you.
We are constantly researching information to use for The Background Buzz and you can put our research to use for you. Using the information rich content from The Background Buzz (minus the ads and competitors information) we will create a custom newsletter for you.
Use your staff's time to do more valuable work and save all the hassle of researching or writing articles, formatting and managing all the other ezine tasks with our customized ezine process.
Contact Barry Nixon at 949-770-5264 or at wbnixon@aol.com for more information.

Kevin Coy is a Partner in the Washington DC office of Arnall Golden Gregory LLP. Kevin advises background screening companies and other clients on a wide range of privacy and consumer regulatory issues, including Fair Credit Reporting Act, Gramm Leach Bliley Act, Drivers' Privacy Protection Act, and Dodd Frank Act compliance issues, as well as data breach matters. Kevin also represents clients with matters before the Federal Trade Commission, the Consumer Financial Protection Bureau, and other consumer protection agencies.
Kevin can be contacted at Kevin.Coy@agg.com or 202-677-4034.
THE WASHINGTON REPORT
October 2013
On Capitol Hill
Since the last edition of The Washington Report, the government shutdown has come and gone. The shutdown-which closed the Federal Trade Commission (FTC) and the Equal Employment Opportunity Commission, but not the Consumer Financial Protection Bureau (CFPB)-dominated the conversation in the Congress and postponed congressional hearings addressing background check issues.
The primary driver for the congressional interest in background checks was the tragic shooting incident that left 12 people dead at the Washington Navy Yard in mid-September, just as our last edition of The Washington Report went to press.
In the aftermath of the Navy Yard shootings, many questioned the background checks conducted on the perpetrator and, the Secretary of the Navy announced a full review of Navy screening processes. Other hearings will include the Senate Homeland Security Committee and other Senators including Kelly Ayotte (R-NH) and Claire McCaskill (D-MO) have urged additional inquiries by the Committee as well as the Navy. In addition, the House Oversight and Government Reform Committee is conducting an investigation.
At the CFPB and the FTC
On October 4th, the CFPB filed an amicus brief on behalf of the agency and the FTC in, Moran v. The Screening Pros LLC, a case pending before the 9th Circuit Court of Appeals. The brief supports the Plaintiff's view that in the event a criminal charge is dismissed, the seven-year limitation on the reporting of "adverse information" in Fair Credit Reporting Act (FCRA) § 605(a) runs from the date of charge rather than from the date of dismissal because the dismissal is not itself an adverse pieces of information for FCRA § 605(a).
The crux of the dispute is the interpretation of the 1998 FCRA amendments which permitted the reporting of convictions without limitation. The amendments removed language from the original FCRA which established the reporting period for arrests, indictments, and convictions as seven years "from the date of disposition, release or parole."
One Site! Many Suppliers!
VISIT THE NEW SUPPLIER/PROVIDER SECTION ON
Looking for the Top Suppliers in the Industry? Need to find a new Supplier?
Visit our VENDOR SHOWCASE which features suppliers to the Background Screening Industry.
Suppliers to the Background Screening industry Guide Now Available!

Click here or on image to get a copy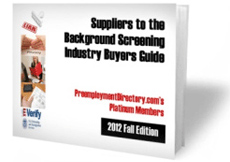 2013 Suppliers to the Background Screening industry Guide Coming Soon!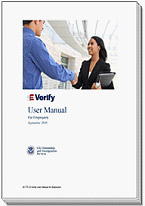 News: USCIS Updates E-Verify User Manual for Employers
Welcome to the 'E-Verify User Manual for Employers.' This manual provides guidance on E-Verify processes and outlines the rules and responsibilities for employers enrolled in E-Verify. All users must follow the guidelines set forth in the 'E-Verify Memorandum of Understanding for Employers (MOU)' and the rules and responsibilities outlined in this manual.


Grab a latte and pull of a chair and join us for a great interview with Jen Hoots, Business Development.

Prior to coming into the background screening industry, Jen earned her Bachelor of Science degree in Criminal Justice. After graduation from UNC-Charlotte, her intentions were to begin a career in law enforcement. Her focus changed direction when she began working for an insurance company in their Fraud Division. She worked closely with private investigators and adjusters nationwide to review investigative reports and surveillance videos in order to uncover insurance claim fraud. As a result, she started working on obtaining her PI License. She found her work stimulating and interesting and realized she was enjoying Criminal Justice in a different light. She soon began working as a Criminal Researcher and Adjudicator for a large Consumer Reporting Agency.
Fast forward to the present and she has been in the industry for almost 10 years with the last seven of those with RapidCourt. Starting as a researcher in this field has helped her tremendously with her achievements in wholesale sales. Having adjudicated thousands of records in their raw form, I can contribute insight regarding what our clients and their research teams need the end result to include, as well as how it should appear. She has a clear understanding of what the CRA partners require to provide their clients with quality reports.
She note that having a child that is surrounded daily by teachers, volunteers, bus drivers, store clerks, etc. amplifies her attentiveness to a quality background check. In this field you come across some terrible reports that hit too close to home. She reflected and with a smile indicated "It feels good knowing the work I perform on a daily basis does help make a difference."
Speaking of the work you do, she mentioned that "RapidCourt's mission is to connect CRAs to the information they need so they can effectively compete in the ever evolving background screening industry." She added proudly, "RapidCourt is constantly evolving its technologies and service offerings. We recently released two new versions of our CCS Guardian Service. Our Guardian Service monitors your client's employee populations and alerts you when one of their employees is associated with new criminal activity. Built to easily serve CRAs that wish to transition existing client accounts or new client start up, RapidCourt's Guardian Service delivers unrivaled monitoring solutions."
Jen added that "Controlled criminal data is a key ingredient to a reliable background check. It allows the Data Aggregator, RapidCourt, to initiate updates in a timely manner, and maintain data integrity - by going direct and closely monitoring Source changes. Whether it is changes to the data format or the Source's Terms of Use verbiage, RapidCourt has programs in place to quickly make the necessary adjustments, while remaining legally compliant."

She went on to say that "Not only does RapidCourt have the most sophisticated data acquisition tools and expertise in our industry, we are the largest procurer of real-time North Carolina data in the world - and we are very proud of that!" She explained that the company conducts over 600 thousand NCAOC screens each month for our clients so that we can provide the data our clients need exactly when they need it. A key point she emphasized is that "the entire RapidCourt team is "partnership" oriented" Jen added that " We believe in building our relationships by working alongside our partners to serve them with the tools they need and give them the service they deserve."

I then posed my favorite question, "If you could look into a crystal ball, let's say 10 years down the road, what do you see happening in the background screening industry?" She thought about it for a moment, and shared that she thinks the redacting of identifiers is scary. She noted that she is wondering if other ways of correlating applicants to criminal records are on the horizon and that she wouldn't be surprised if we begin seeing technology at a whole new level over the next few years to minimize false positives. Perhaps that a hint of what RapidCourt may be bringing to the market in the future!

As we turn the dialogue to focus on her she indicated the most recent book she has read was "If You Give a Pig a Pancake" by Laura Numeroff. She grinned saying "It is my 3 year old daughter's favorite book."

She said the person she would most like to meet is NHRA top Fuel Champion -Shirley Muldowney. In 1965, she was the first woman licensed by NHRA to go speeds over 150MPH. Against all odds, she continued to fight and soon proved she could keep up with men by winning three Top Fuel Championships. She note that "Growing up at race tracks with my dad and now with my husband, I have a huge appreciation for what Shirley Muldowney has accomplished both on and off the track. I am sure she has some pretty unbelievable stories to tell, and I would love to hear just a few…..maybe get a few pointers, too."
In closing, she said her favorite quote is "You have enemies? Good. That means you've stood up for something, sometime in your life." - Winston Churchill
Jennifer may be contacted at jhoots@rapidcourt.com or 704-997-0101 x 145
How Awareness and Communication Improve Workforce Protection
Kelly Services, a global staffing provider with 560,000 employees worldwide, has a senior manager in their Global Security group who is focused on preventing workplace violence. Paul N. Whelan is working to empower Kelly Services managers, and those responsible for security concerns around the globe, to address the workforce protection needs of their employees in their domestic and foreign branch offices. Whelan says, violence in the workplace is more prevalent of an issue in the United States, but abroad, there are other issues to focus on.
In the U.S. "The key is to understand what can lead to violence and mitigating the risk from there," Whelan says. To account for the variety of risks that managers face worldwide, Kelly Services offers a teleconference class tailored to each unique audience on "Promoting a Safe Workplace." For U.S. managers, the course is targeted towards regional vice presidents and staffing supervisors, instructing them in the basics of mitigating workplace violence risks, how to partner with local law enforcement and how to discuss potential issues with employees. Overseas, it focuses on getting employees to work safely during a protest or ensuring staff (and their family's) safety after a natural disaster.
Whelan recommends building a workforce protection policy with a top-down approach: "Leadership must understand then empower and support your security initiatives," he says. "When you have a senior sponsor, people stand up and take notice."
INTERNET MARKETING TIPS FROM INTERNET MARKETING GURU 'SANTA' ED TAYLOR
How Does a Hummingbird Think? According to Google- "Quickly And Precisely".
Google's latest update, the most comprehensive in 12 years; called Hummingbird, is totally changing SEO. Keywords are now obsolete. And small business owners have a very unique opportunity to gain a competitive advantage in the search rankings.
In many ways small business owners and Google are diametrically opposed.
You, as a small business owner, want your website to rank at the top of Google's search rankings. You want their users to come to your website and then you want to sell these Google users your products or services. Sound about right?
Google on the other hand simply wants to help their users get their questions answered. Google wants their users to appreciate the sites they have prioritized for them. They want their users to feel good about the sites, have a good user experience and most importantly- quickly and easily find the answers to their questions. Sound about right? Just to be clear, Google has no interest in subjecting their users to your sales pitch.
Let's say I'm looking for a chiropractor while I'm here in Irvine, California. What do I do? I take my iPhone, go to Google and SAY, "Who is the best chiropractors in Irvine California". What if I'm looking for a printer? I SAY, "Where is the best affordable quick print service in Orange County California".
In the old days I would have typed in a series of keywords "Chiropractor Irvine" and "Orange County printer." Now Google, with its "hummingbird brain" is smart enough to quickly and precisely evaluate ALL of the content, of all of the websites, and produce search results that are not based on keywords but based on the entire content of the site. Google then factors in a number of other things, like the "authority" of the site, it's load time, age, etc., etc., etc.
If you have any questions about this post, getting help with your Internet marketing or anything at IMGmembers.com please send Ed Taylor an e-mail or call us at 541-482-4840.
You can also access his free Internet marketing course at- http://imgmembers.com/free-e-course/
HRinfodesk Poll Result and Commentary: Do You Conduct Criminal Record Checks? Should You?
Criminal record checks are often in the news, and the Canadian federal government was part of that news with recent changes to pardons (now called "record suspensions") and a program that encourages employers to hire offenders. So we thought it would be a good time to ask our readers:
"Does your organization conduct criminal record checks on potential candidates?" Of the 315 people who responded:
· 36.5 percent (115) said they use criminal background checks,
· 42 percent (133) said they don't.
· Another 21.2 percent weren't sure.
Employers are increasingly looking to police record checks to inform their hiring decisions. Not surprisingly, at the same time, individuals are increasingly complaining about information the police and other sources disclose in record checks, as well as discrimination based on criminal records. No doubt a criminal record check can provide a valuable look at a job candidate's past. Indeed, checks are required for certain jobs, particularly working with vulnerable persons. Even so, improper use of the information can easily lead to violations of human rights and privacy legislation.
Manitoba Passes Private Sector Privacy Legislation
On September 12, 2013, Bill 211 The Personal Information Protection and Identity Theft Prevention Act , a Private Member's Bill, passed Third Reading in the Manitoba Legislature. It received Royal Assent on September 13, 2013. Subject to specified exemptions, Bill 211 will apply to all organizations in the province (including private sector organizations) and will govern the collection, use, disclosure and care of personal information by those organizations. Like other Canadian privacy statutes, Bill 211 is based on "fair information practice principles."
Bill 211 will come into effect upon proclamation. For more information on Bill 211, see our FTR Now of Septermber 30, 2013, " New Privacy Legislation in Manitoba ."
EU LIBE Committee Adopts EU Data Protection Compromises; Reform Package Set for Parliamentary Vote
The EU Parliament's Committee on Civil Liberties, Justice and Home Affairs ("LIBE") voted to adopt its report on the draft General Data Protection Regulation and the separate Directive for the law enforcement sector. This vote sets out the Parliament's position for its negotiations with the Council and Commission (known as the "trialogue" stage). The Committee aims to have a plenary Parliamentary vote in March before the Parliamentary elections.
The report contains significant amendments compared with the original draft prepared by the European Commission in January 2012. The vote now permits the Parliament to proceed to the trialogue negotiation with the Council and Commission once the Council has reached an agreed position. Previously the high number of amendments (approximately 4,000) proposed by the Parliament to the legislation had given rise to concerns that the Regulation would not be passed before the next European elections. Now that the European Parliament has made its position known, pressure will shift to the Member State governments to reach agreement on a position within the European Council. Once a common position is reached, negotiations can begin with the European Parliament and Commission.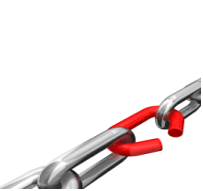 Don't Let Employment Investigations in APAC be the Weakest Link in Your Background Screening Services.

The best designed background screening program is only as good as its weakest link. With more than 11 countries represented in the APAC Chapter of NAPBS our trusted members can help you meet your employment screening needs in the APAC region. Click here to see the countries represented.

To tap into some of the best employment screening firms in APAC advertise in the APAC Background Screening Report. It's your source to access the APAC region to find a trusted employment screening partner.

Click here to see the APAC Background Screening Report Media Kit to strengthen your employment screening services today.
How To Work With Your European Data Protection Authority
At the IAPP Privacy Academy in Seattle, Washington, Harriet Pearson, Partner in the Hogan Lovells Privacy and Information Management Practice, hosted a breakout session entitled How to Work with Your European Data Protection Authority. The Session featured Billy Hawkes, Data Protection Commissioner of Ireland, and focused on providing privacy practitioners with practical advice on how to approach a Data Protection Authority (DPA) and earn their trust. The session also addressed practical compliance questions for European markets, gave advice on making successful regulatory filings, and gave tips for handling complaints and other challenging situations.
BITC and Boots Urge UK Businesses to 'Ban the Box' for Criminal Records
Business-led charity Business in the Community (BITC) is launching a campaign spearheaded with Boots calling on UK firms to 'Ban the Box' and remove the tick box from application forms that asks jobseekers about criminal convictions. With 9.2m people in the UK holding a criminal record, Edwina Hughes, the campaign manager for reducing re-offending at BITC, said: "Using the blunt instrument of a tick box, employers reject passionate, skilled employees." It also costs the taxpayer more, as unemployed ex-offenders are far more likely to re-offend. This can range from someone who has received a £300 fine for a driving offence and has to tick the box for five years, to someone with a prison sentence of more than two and a half years who has to tick the box for the rest of their life. Boots will seek to have removed all tick boxes by early next year, although he adds that "in the interim no candidate will be eliminated on the basis of their conviction alone". Companies are also asked to publically highlight their commitment and share best practice, and individuals are asked to contact their HR departments and urge them to join the campaign. "It's simply unfair to apply a 'tick box' system to 'offenders' as there are so many different factors in-play around each case," said Rick Mower, the chief executive officer of Aspire Oxfordshire, a former Recruiter charity of choice. "Removing the 'tick box' is a great step forward."

Read more
How To Work With Your European Data Protection Authority
At the IAPP Privacy Academy in Seattle, Washington, Harriet Pearson, Partner in the Hogan Lovells Privacy and Information Management Practice, hosted a breakout session entitled: How to Work with Your European Data Protection Authority. The Session featured Billy Hawkes, Data Protection Commissioner of Ireland, and focused on providing privacy practitioners with practical advice on how to approach a Data Protection Authority (DPA) and earn their trust. The session also addressed practical compliance questions for European markets, gave advice on making successful regulatory filings, and gave tips for handling complaints and other challenging situations. Lovells has published Working with your European DPA, a quick-reference resource guide on how to build a productive relationship with your DPA and featuring contact information of all national European Data Protection Authorities and the European Data Protection Supervisor. Steps to a productive relationship with your DPA include: In the jurisdictions important to your organization, identify the DPAs and their key staff; Understand the DPA's current priorities and prior statements and positions; and Identify the filing and registration requirements in the DPA's jurisdiction, and make sure your organization takes steps to comply.

Read more
ADVERTISERS IN THIS EDITION

| | | | |
| --- | --- | --- | --- |
| | | | Background Screening Jobs |
Visit the Job Board for the Employment and Tenant Screening Industry. Here you will find resumes of people with industry experience and employers seeking applicants with experience in Employment and Tenant Screening and related businesses.
www.backgroundscreeningjobs.com

UPCOMING CONFERENCES, COURSES & EVENTS
Feature Education:
FCRA Basic Certification Webinar Series Update

The FCRA Basic Certification program series is now available for purchase.

2013 Events ( Click Here to View full list of Events ) - Updated Monthly
SHRM State Conferences, visit http://www.shrm.org/Conferences/StateAffilliateConferences/Pages/default.aspx
Drug and Alcohol Testing Industry Association (DATIA), 2013 Training Course Schedule, visit
http://datia.org
SAPAA Training Institute Learning Events, http://www.sapaa.com/
CUPA-HR Conferences: http://www.cupahr.org/
World Federation of People Management Associations, Events, http://www.wfpma.com/events/by-region#quicktabs-tab-view__events__page_3-4