BACKGROUND SCREENING NEWS
Is "Safe Harbor" No Longer Safe? EU to Review Regime for Personal Data Transfers to the U.S.

In a dramatic announcement, EU Commissioner Viviane Reding stated that the European Commission will be reviewing its Safe Harbor Agreement with the U.S. This review will be keenly awaited by many companies and other organisations who currently rely on the Safe Harbor Agreement to transfer personal data lawfully between the EU and the U.S. Reding stated that the recent PRISM controversy was a "wake-up call" which Europe would answer with "data protection reform". In that context, Reding said the "Safe Harbor agreement may not be so safe after all" as it could be used as a "loophole" for data transfers from the EU to the U.S. despite "U.S. data protection standards [being] lower than our European ones". As a result, she stated that she will be working on "a solid assessment of the Safe Harbor Agreement." If the Safe Harbor Agreement were to be suspended or even revoked by the EU, then personal data would no longer be able to be lawfully transferred from the EU to the U.S. unless some other lawful method were in place. A more likely outcome is for the EU to seek to negotiate the Safe Harbor Agreement following the European Commission's review. However, the criticism surrounding Safe Harbor may lead many companies and other organisations increasingly to consider binding corporate rules as the key legal compliance method to underpin their international personal data transfers.

Read more
Background Checks as the New Racism
The Obama administration has a schizophrenic attitude toward requiring people to go through criminal-background checks. Senator John Cornyn recently grilled Kathleen Sebelius, the Health and Human Services secretary, about why the 45,000 "navigators" who assist people in signing up for Obamacare aren't required to undergo a criminal-background check, even though they handle sensitive personal information. However, the risk that unscrupulous or untrustworthy people could hold federally funded jobs certainly concerns the Obama administration in other contexts. In 2009, Robert Groves, President Obama's handpicked director of the U.S. Census Bureau, announced that every one of the 1.4 million people he would hire for the next year's national head count would be investigated and fingerprinted and felons wouldn't be hired. Most Americans would be angry to learn that the kind of vigorous background checks census workers underwent just three years ago have been abandoned in the case of Obamacare navigators. After all, the personal data the navigators will handle is even more sensitive than what census workers were tabulating. Today, all too often, skin color trumps all: Race is often used as the basis for preferring one job applicant or college student to another. But under the EEOC's guidance, employers who try to factor in the content of one's character, at least as revealed by one's criminal record, risk costly litigation and stigma.

Read more
Target Hits the Bulls Eye

When Target says, "Expect More, Pay Less," who knew the "more" would include an effort to uphold Title VII of the Civil Rights Act of 1964? Yet, that's exactly what the Minneapolis-based company did when it decided to remove questions about criminal history from its job applications throughout the country. Today, more than 90% of employers conduct criminal background checks on some or all job applicants (up from 51% in 1996), according to a 2010 SHRM survey. This ramped-up use of background checks adds yet another major hurdle to the job prospects of a vast-and unfortunately- growing segment of U.S. workers. An estimated 65 million people in the U.S.-or one in four adults-have an arrest or conviction record that can show up on a routine criminal background check for employment. The problem is especially severe for African Americans and Latinos, who are disproportionately impacted by the criminal justice system and have historically higher rates of unemployment. Each year, millions of people with criminal records, a newly manufactured underclass of citizenship in the U.S., face a maze of policies and regulations that keep them from rebuilding their lives and becoming functioning members of society. By tackling one of the most important Civil Rights issues of our time, Target is giving formerly incarcerated job seekers an opportunity to fairly compete for employment.

Read more


Stranger at the Door; Be Careful Who You Let Inside for Service Work

While most service workers are not a threat, there have been reports across the country of companies sending dangerous criminals into people's homes. In most cases these companies don't do background checks on their employees. For nearly ten years Lucia Bone has been on a relentless campaign, pushing for federal legislation that would require thorough background checks to be done on all in-home service workers. Her inspiration is a personal tragedy that occurred when her sister was raped and beaten to death in her home when an air duct cleaner returned to her house 6 months later. The department store who hired the killer had not done a background check. Bone has since formed a non-profit organization that urges businesses to get the Cause Certification, which means they conduct annual high-standard background checks on all in-home service workers voluntarily. However, she says most business owners don't want to foot the bill for proper background checks. Bone says there are four questions you should always ask: 1. Do you perform criminal background checks on your employees and subcontractors? 2. When are the background checks performed? 3. Which background screening company do you use to perform background checks? 4. How can I be assured that the person being sent into my home has had a criminal background check performed?

Read more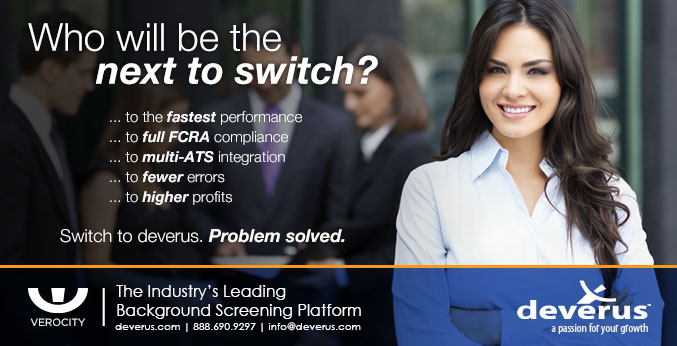 BACKGROUND SCREENING NEWS - continued
Bosses May Use Social Media to Discriminate Against Job Seekers
A new study suggests that many companies regularly look up job applicants online as part of the hiring process and may also use what they find to discriminate. The study, a Carnegie Mellon University experiment involving dummy résumés and social-media profiles, found that between 10% and a third of U.S. firms searched social networks for job applicants' information early in the hiring process. In those cases, candidates whose public Facebook profiles indicated they were Muslim were less likely to be called for interviews than Christian applicants. The difference was particularly pronounced in parts of the country where more people identify themselves as conservative. In those places, Christian applicants got callbacks 17% of the time, compared with about 2% for Muslims.
The same experiment, conducted from February to July of this year, found that online disclosures about job candidates' sexuality had no detectable impact on employers' early interest.
The research is the latest example of how people's digital trails can have far-reaching and unintended effects, particularly in the job market. Employment experts said the results show that businesses should be more careful about allowing people who make hiring decisions to look up candidates online. " James McDonald, a partner at Fisher & Phillips LLP said, "You need to control the information you receive so you're only getting information that is legal for you to take into account."
First Advantage Enhances Resident Screening Through Integration With Experian RentBureau®
First Advantage, a Symphony Technology Group (STG) company and the leading global provider of screening analytics and identity solutions, today announced details of its collaboration with Experian RentBureau ®, the
largest rental payment database in the multifamily industry. Through this strategic collaboration, data from Experian RentBureau is linked to First Advantage's resident screening solution to help housing providers identify residents who may pose the greatest risk of skipping or making late payments.
As the largest and most widely used credit reporting agency for the multifamily housing industry, Experian RentBureau receives rental payment data daily from a national network of more than 400 property management companies. By integrating this Experian data with First Advantage's resident screening solutions, property managers will have a thorough, streamlined process to view their applicants' background information including their positive or negative rental history. As a result of this enhanced offering, First Advantage clients benefit from receiving rental payment history at the same time as their existing tenant screening data, delivering instant insight into the factors that shape their applicant selection processes.
Welcome to the U.S. Legal Challenge Question!
As the background screening industry continues to get more competitive the firms that will ultimately succeed will be those that create competitive advantage through their people by offering continuous learning opportunities to heightened their knowledge and capabilities. We believe that having employees that are very knowledgeable about the legal landscape of background screening is essential to continued success.
We are grateful to Larry D. Henry who began his law career with the Army JAGC where he tried over 2,000 cases. After the Army he relocated to Tulsa. In 1981, the founder of DAC Services contacted Mr. Henry's firm for assistance in creating a background screening company. Since Mr. Henry's practice was employment law, the firm believed this fell within his area and as they say: "the rest is history". His practice has kept him in continual contact with the background screening industry, and he is a nationally recognized expert in the area of background screening.
Mr. Henry's practice is concentrated on employment law and in specific, background screening of employees. He represents consumer reporting agencies throughout the United States and two national trade associations. He is the author of the Criminal Records Manual and the on line reference site:CRAHelpDesk.com, and he is a frequent presenter across the country on various topics dealing with background screening.
Please choose your answer by clicking on it:

Is Mickey in Trouble? Disney Defends its Background Screening Policies

The company known for their signature character, Mickey Mouse, is defending a class action claim based on questions about its background screening policies. A lawsuit was filed against the Walt Disney Co. and the complaint alleges that Disney's policy for notifying applicants about background checks has violated the FCRA. The plaintiff is alleging that Disney failed to provide notice of adverse action, a process required by the FCRA when an adverse employment decision is based on any portion of a background check pursuant to 15 USC 1681b(b)(3) and 15 USC 1681m(a). The plaintiff's background check showed a criminal conviction that had later been expunged. The plaintiff's argument is that Disney did not give him the opportunity to clear up the inaccuracy of the report. Instead, the company took action and made the decision not to hire based on inaccurate information that the Plaintiff never had the opportunity to cure. Employers should make sure to have a policy for adverse action procedures that includes both pre-adverse and adverse action notifications, and that all hiring managers under-stand the need to follow those policies with a uniform process. The best practice is to reasonably evaluate each decision, and when you can, give the job applicant the benefit of notice. By doing so, you might avoid being the next class action defendant.

Read more


Walt Disney Company and First Choice Background Screening are Subjects of FCRA Class Action Claims
Two class action complaints were filed recently in the Superior Court of California County of Los Angeles court alleging violations of the FCRA. The cases are Culberson v. The Walt Disney Company and Ruffing v. First
Choice Background Screening . The claim against Disney is that they knowingly violated the FCRA by failing to provide job applicants and employees with pre-adverse and adverse action notices and a copy of their back-ground check report. First Choice Background Screening is charged with multiple FCRA violations, including not using reasonable procedures to assure maximum possibly accuracy of the reports as well as strict procedures regarding the reporting of public record information. Both cases involve employment screening and should serve as a reminder to employers and consumer reporting agencies (CRA) to be mindful of their obligations under the FCRA. For CRAs it is important to consider the disclosure and authorization template you provide your end-users to ensure that it does not contain additional verbiage that could be challenged by plaintiff's counsel as a notice which is not a "clear and conspicuous disclosure". For employers, whether it is handled by your CRA or internally, when using background check reports for employment screening purposes you must conduct the pre-adverse and adverse action steps, as applicable, when using information from such a report prior to taking any adverse action against the job applicant.


The Background Backlash Continues - Texas Sues the EEOC Over its Criminal Background Guidance
For the second time in less than six months, the EEOC finds itself on the wrong side of a lawsuit. The State of Texas has sued the EEOC in the Northern District of Texas seeking declaratory and injunctive relief against the EEOC for issuing its 2012 arrest and conviction guidance (the 2012 Guidance). In short, the Texas complaint argues that the EEOC did not have the authority to issue this rule. The lawsuit also claims that the EEOC's
position that Title VII trumps conflicting state laws violates its state sovereignty. As it stands, Texas state law allows for blanket, no-felons policies at certain state agencies. Through this lawsuit, Texas, in its role as an employer, attempts to preemptively force the EEOC to defend its 2012 Guidance. The 2012 Guidance fails to specifically inform employers what they can do when considering felons for employment, but rather merely
outlines what the Commission believes that employers cannot do. Importantly, this lawsuit follows a pointed
letter from nine Attorneys General stating that the 2012 Guidance is "misguided and a quintessential example
of gross federal overreach" and attempts in Congress to prohibit the EEOC from spending funds enforcing the 2012 Guidance. The implications of cases like these will likely clarify the bounds of how courts will view the EEOC's interpretation of Title VII in this area.
Reefer Madness: Employees May Use Medical Marijuana Yet Be Fired For Doing So
Despite twenty states allowing the use of medicinal marijuana and two more - Colorado and Washington - allowing recreational marijuana use, employers remain unaffected. Courts consistently find that employers may terminate employees who test positive for marijuana, regardless of whether employees are using marijuana to
treat a disability; whether they were not under the influence on company time; or whether they used or possessed marijuana on company premises. In fact, state courts in Colorado, Michigan, Washington, Oregon, Montana, and California as well as the 6th and 9th Circuits agree on two key points that allow employers the option of continuing zero-tolerance approaches to drugs. First, employees may be disciplined or terminated for marijuana use, despite state statutes prohibiting discipline for engaging in lawful activity outside of work. Second, employers need not accommodate medical marijuana use as a disability-related condition. Marijuana remains illegal under federal law; thus, it does not have the same status as other prescription drugs. Until marijuana becomes legal under federal law or until state statutes allowing medical marijuana explicitly address marijuana in the workplace, employers have the option to continue to ban users of that drug. Employers should update their Drug-Free Workplace Policy and review their drug testing protocols to ensure that it complies procedurally with applicable statutory law and that it is conducted both accurately and with appropriate measures to avoid tort claims for invasion of privacy.


Lesson for Workplace Drug Tests in Convicted Probationer's Suit against Lab for Positive Result
The New York Court of Appeals' 4-3 decision allowing subjects of drug tests to sue laboratories for "negligent testing" may hold a lesson for employers who desire to test their employees, particularly when conducting on-site testing using specimens other than urine. It illustrates risks that attend employment-related drug testing, although the issue in the case was whether a laboratory that contracted with a county probation department to analyze drug tests performed on probationers may be liable to a test subject for a negligent drug test. New York's highest court established a new negligence cause of action against a drug testing laboratory, allowing a test subject to sue the laboratory despite the absence of any contractual relationship, but rendered no opinion on whether the laboratory was negligent. Accepting the plaintiff's allegations as true for purposes of deciding whether a suit could be brought at all, a majority of the court said a negligence claim could be advanced where a laboratory did not exercise reasonable care in the testing of the plaintiff's biological sample by failing to adhere to professionally accepted testing standards and consequently releasing a report finding that the plaintiff had tested positive for THC. Without addressing the merits of the complaint, the likelihood that any particular employment drug test result may be questioned can be reduced by adopting a conservative approach to testing.

Read more


Last Chance Drug and Alcohol Use Policy Did Not Violate ADA
Some employers believe in giving employees a second chance. When the reason for taking action is related to drug or alcohol use, employers frequently require employees to agree to certain terms as a condition of returning to work. Often, these conditions are memorialized in a "last chance" or other agreement whereby the employee foreswears use of drugs or alcohol, agrees to increased testing, counseling or other conditions. The Third Circuit Court of Appeals recently upheld the use of such agreements in the face of a claim of disability discrimination under the ADA. The case involved an alcoholic driver who was never caught intoxicated or drinking at work, but requested FMLA leave for treatment. He was required to sign the last chance agreement as a condition for returning to work. When he again requested FMLA leave after a relapse, he was terminated for drinking alcohol in violation of the agreement's terms. He sued under the ADA and FMLA, contending that the last chance agreement impermissibly screened out disabled persons and interfered with his right to take FMLA leave. The Third Circuit rejected these claims, noting that the return to work agreement was reasonable. The Court was influenced by DOT rules regarding driver alcohol use. For jobs without this clear safety component, last chance agreements should be tailored to focus on the effects of drug or alcohol use on job performance.

Read more
Beyond Breach Prevention: The Need for Adequate Response

If there's been any lesson learned in the past decade, it's that despite tens of billions having been spent on anti-malware, firewalls, intrusion-detection and prevention systems, and other defensive technologies, it's just not realistic for enterprise security teams to expect to be able to stop every attack. Yet, surprisingly, enterprises focus their efforts and their budgets as if they can do precisely that. Sourcefire (recently acquired by Cisco) founder and CTO Martin Roesch, says a recent analysis by the IT security firm found that enterprises currently often only spend as little as 10% on incident response and about 30% on detection: the rest is on prevention. While preventing successful attack attempts from becoming breaches is the ideal, there needs to be more of a focus on an organization's ability to identify breaches -- especially advanced malware -- as an attack is underway. The ability to spot malware in-progress is a crucial part of maintaining the operational integrity of one's environment, says Roesch. To quickly identify breaches in-progress, more enterprises are turning to breach detection systems, which purport to pick up where intrusion detection systems and anti-malware software often fail and spot malicious files and malware as a successful attack is underway. That ability to detect changes in the environment is crucial if organizations are going to get better at combating advanced threats, added Roesch.

Read more
DATA PROTECTION - continued
Government Report Calls For Comprehensive Privacy Law
A new report on consumer privacy from the Government Accountability Office concludes that there ought to be a comprehensive federal law governing the collection, use and sale of personal information by companies since there currently is none. The just-released report on "information resellers" was requested in June 2011 by Sen. Jay Rockefeller (D-W.Va.), who last year launched an investigation into the privacy practices of data brokers. Earlier this year, Rockefeller, chairman of the commerce committee, reintroduced his Do Not Track Act. The report focuses primarily on the privacy issues related to consumer information used for marketing. Between August and September, the GAO reviewed the current laws, regulations and enforcement actions and talked to representatives from government, consumer and privacy groups, trade associations and data broker companies. "Congress should consider strengthening the current consumer privacy framework to reflect the effects of changes in technology and the marketplace, particularly in relation to consumer data used for marketing purposes," the report said. Specifically, the GAO recommended lawmakers consider giving consumers more information about what information is held about them, who holds it, and the ability to access, correct and control that information. A more comprehensive privacy law should also address privacy controls for new technologies, including online tracking and mobile.

Read more
Getting Rid of Consumer Report Information with the Disposal Rule
Businesses commonly use consumer reports when deciding whether to make a job offer or extend a line of credit. In the wrong hands, consumer reports may also be used to commit fraud and identity theft. This is why the Federal Trade Commission (FTC) enacted the Disposal Rule. As required by the Fair and Accurate Credit Transactions Act (FACTA), the FTC's Disposal Rule requires the use of reasonable disposal measures to protect against unauthorized access to or use of consumer information. Individuals and businesses of any size that use consumer reports for business purposes must comply with this rule. The Disposal Rule, which simply requires reasonable disposal measures to prevent unauthorized access to or use of consumer information, is designed to be flexible. The rule allows organizations and individuals to determine what measures are reasonable by considering the sensitivity of the information, the costs and benefits of different disposal methods and changes in technology. The Disposal Rule is but one aspect of protecting against a data security breach. Organizational protective measures should cover everything from the wireless network to the copy machine, and should also include insurance. Various cyber liability products are available to protect against privacy injuries, such as identity theft, and to cover the cost of complying with various data breach notice laws. Given their complexity, an experienced insurance agent should be consulted to ensure that adequate coverage is obtained.

Read more
Sponsored by:
Public Record Update
By Mike Sankey, PRRN
Larry Henry and BRB Publications Launch New HR Version of the State Rules Register
Mr. Larry Henry and BRB Publications launch a new product The HR Version of the State Rules Register at
the NAPBS 2013 Annual Conference. It is designed very similar to a private label product. Access is unlimited
from the CRA's site - no log-in is needed.
A CRA can now provide their clients with an easy-to-use and up-to-date tool showing individual state restrictions placed on HR, hiring managers, and landlords.
See www.CRAHelpdesk.com for details!
BRB's FREE RESOURCE CENTER
For the MOST COMPREHENSIVE RESOURCE describing all access methods, restrictions, fees, and search procedures on over 26,000 government and private agencies visit the Public Record Research System (PRRS-Web) . We provide the extensive details and in-depth data you will not find doing a Google search!
For more information contact Michael Sankey at mike@brbpublications.com or visit www.brbpublications.com/updates.aspx
Peopletrail TM Announces Its "Help For The Holidays" Program Providing Discounted Employee Background Check and Screening Services During The Busy Holiday Season
Peopletrail - a leading provider of employee and tenant background checks and screening solutions - announced today its "Help for the Holidays" program. The program provides new customers available resources at discounted rates to help make the right hiring decisions during the busy holiday season.
The consequences for rushing the employee screening process and making a bad hiring decision are significant. The Society For Human Resource Management reports that the average settlement of a negligent hiring lawsuit is nearly $1 million. And according to CareerBuilder.com, 43% of those surveyed reported the top reason for why bad hires happen to good people is because of the need to fill the job quickly.
The "Help for the Holidays" program provides new customers an initial free employee background check and screening with a 20% discount on all additional screening during the busy holiday season. The program will run for two months from November 12, 2013 to January 12, 2014.
Gall & Gall Acquired with help of Berg Consulting Group
| | |
| --- | --- |
| | Gall & Gall, a retail CRA for twenty six years, has been acquired, with Berg Consulting Group working for the seller to find the best buyer. The buyer wishes to remain anonymous. The buyers wishes to remain anonymous. |
SHRM Leading Indicators of National Employment® (LINE®)
EMPLOYMENT EXPECTATIONS
In November, the hiring rate will rise in manufacturing and services compared with a year ago. Manufacturing was up + 6.8 and Services was up + 0.4.
RECRUITING DIFFICULTY
In October, recruiting difficulty rose modestly in manufacturing and services compared with a year ago. Manufacturing was up + 6.1 and Services was up + 5.9.
Source: November 2013 SHRM LINE Report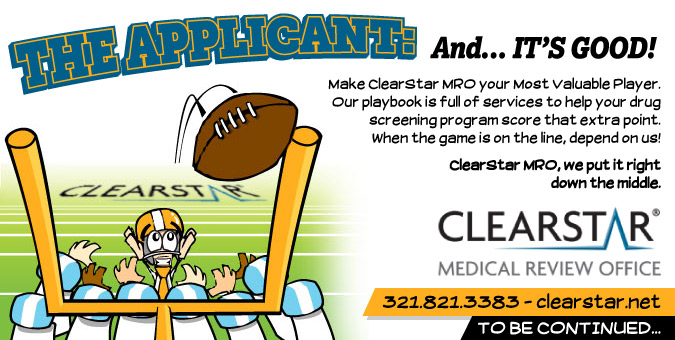 Targeted Marketing Support Services for the Background Screening Industry
Online background screening directory featuring background screening firms and suppliers to the background screening industry. Basic, Gold, Platinum and Diamond levels of advertising are available. Target audience is the Human Resources, Talent Acquisition and Recruiting community.
New Opportunities:
Annual Background Screening Industry Buyers Guide
An annual print and electronic publication featuring U.S. and international background screening firms, and timely informative articles. The Guide is launched annually in June at the SHRM Annual Conference and distributed to 20,000 plus human resources professionals.
Annual Suppliers to the Background Screening Industry Buyers Guide
An annual print and electronic publication featuring suppliers to the background screening industry. The Suppliers guide is distributed to our database of more than 1,600 background screening firms and at relevant professional trade shows.
A monthly e-newsletter distributed to the worldwide background screening industry that offers comprehensive coverage of information and news relevant to the screening industry. The e-newsletter is distributed to more than 1,600 firms in the background screening industry and accordingly, is an exceptional advertising venue to reach background screening firms.
The Special International Edition of The Background Buzz
A supplement to the regular edition of The Background Buzz that is published on a bi- monthly basis featuring global information and news on background screening around the world.
On demand e-blast service sent to our database of more than 1,600 firms in the background screening industry. Each e-blast includes your advertisement and one relevant article.
Media Releases and Announcements
On demand releases and announcements to targeted media outlets in the background screening and recruiting industry.
Private Label Newsletter Service
Custom designed e-newsletter service. We create a custom designed e-newsletter including recommending the name, designing the header, template and providing the content. Distribution frequency options include monthly, bi-monthly and quarterly.
See the Marketing Portfolio that matches your market segment :
1. U.S. Background Screening Industry Marketing Portfolio
2. International Background Screening Industry Marketing Portfolio
3. Suppliers to the Background Screening Industry Marketing Portfolio
STOP STRUGGLING WITH WRITING AND PUBLISHING YOUR NEWSLETTER:
We can help you have a high quality e-newsletter to help nurture your relationship with your clients and attract new clients. Our customized newsletter service will take over your newsletter task or create a new one for you. We can manage the creation of your newsletter for you.
We are constantly researching information to use for The Background Buzz and you can put our research to use for you. Using the information rich content from The Background Buzz (minus the ads and competitors information) we will create a custom newsletter for you.
Use your staff's time to do more valuable work and save all the hassle of researching or writing articles, formatting and managing all the other ezine tasks with our customized ezine process.
Contact Barry Nixon at 949-770-5264 or at wbnixon@aol.com for more information.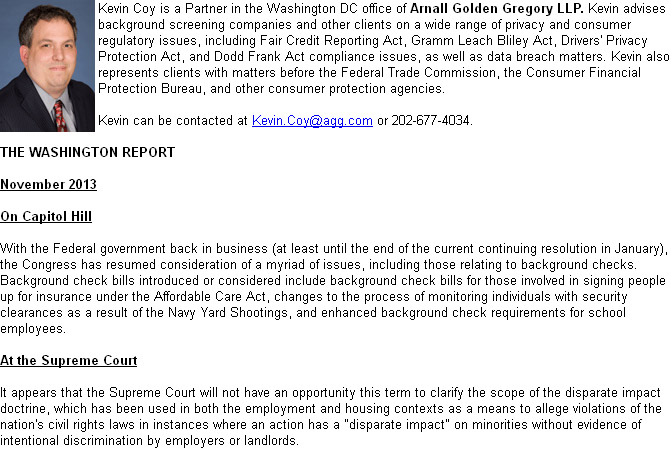 One Site! Many Suppliers!
VISIT THE NEW SUPPLIER/PROVIDER SECTION ON
Looking for the Top Suppliers in the Industry? Need to find a new Supplier?
Visit our VENDOR SHOWCASE which features suppliers to the Background Screening Industry.
Suppliers to the Background Screening industry Guide Now Available!

Click here or on image to get a copy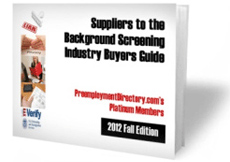 2013 - 2014 Suppliers to the Background Screening industry Guide Coming Soon!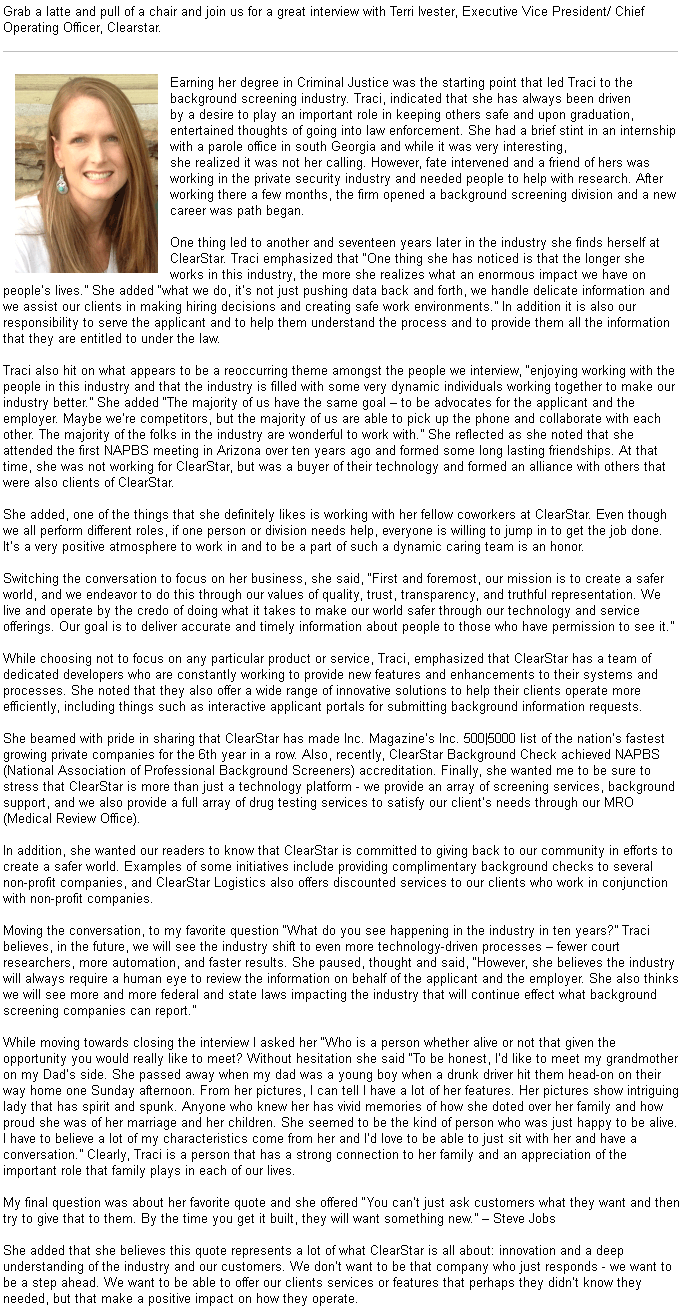 Traci Ivester can be reached at tracii@clearstar.net
BACKGROUND SCREENING INSIGHTS
Credit Bureau Audits and Accreditation
The Consumer Financial Protection Bureau issued their guidance on their audits of the credit bureaus earlier this spring. The credit bureaus, in turn, are auditing and requesting compliance information from their resellers-CRAs.
I have in front of me a request to a CRA from one of the major bureaus. It is in spreadsheet form, with numerous "discussion topics." The column next to these discussion topics is a column titled "documented evidence." Among the documented evidence requirements are:
· Information security policy

· Dispute handling Policy/procedure

· Portable media policy

· Backup Policy and Procedures

· Encryption policy/procedure

· Physical security policy and procedures

· Password policy/procedure

· Visitor logging

· Data retention policy/procedure

· Employee background check procedures

· Customer registration/credentialing
· Subscriber agreement

· Employee security awareness policies/procedures
With credit bureau audits, increasing litigation and government action regarding CRAs, it is clear that documentation is becoming the name of the game. Documentation is great, but it takes time and doesn't bring money through the door. As such it makes sense to be efficient in the process. And to that end, take note: all of the above documentation from the credit bureau is also required documentation with NAPBS Accreditation. The above is by no means all of the documentation required for NAPBS Accreditation and there are a few credit-specific items not covered by NAPBS accreditation, but there is much that is common to both.

Canadian Chapter Meets with Canadian IAPP Managing Director
Kris Klein, Managing Director, IAPP Canada met with the NAPBS Canadian Chapter to discuss the state of privacy matters in Canada. Kris said it was encouraging to see so many professionals taking privacy-related issues seriously, particularly considering the vast amounts of personal information they broker.
The group discussed the odd situation whereby some provinces do not have comprehensive privacy legislation that protects employees. (Kris subsequently posted on the Canadian IAPP Digest information indicating that Saskatchewan Commissioner Gary Dixon called on his province to "fill the gap" ( see ).
Lastly, the group discussed Commissioner Elizabeth Denham press release announcing that she will be investigating the entire process of using criminal record checks as part of the pre-employment screening process. It looks like her investigation will span both the private and public sectors.
For more information on the meeting or to join the Canadian Chapter contact Michelle Leblond at michelle.leblond@plusonesolutions.net,
Employing Foreign Workers? You Need to Be Proactive
If you currently employ, or are considering employing workers from overseas, you need to be aware of two recent legal developments: the tightening of the rules hiring foreign workers and the potential cost of underpaying workers. A recent media report suggests that there are an estimated 100,000 vacant jobs in Australian agricultural businesses. The shortage of Australian workers who are interested in agricultural work suggests that employers in the agricultural sector will continue to look to foreign labour as a means of filling the gap. While the Federal Government has tightened laws regarding the hiring of overseas labour, the Fair Work Ombudsman has stated that in the last two years it has received in excess of 200 complaints from foreign workers who claim to have been underpaid. A recent decision in the Federal Circuit Court of Australia demonstrates that the Ombudsman and the Courts will not take cases of proven underpayment of foreign workers lightly. Therefore, it is crucial that employers meet their workers' minimum pay and condition requirements. Employers will also need to demonstrate that they have taken reasonable steps to verify that a worker is not an unlawful non-citizen and not a lawful non-citizen in breach of a work-related visa condition. Individuals who fail to do so may be fined $15,300 or imprisoned for up to 2 years. A company may be fined up to $76,500 for a single offence.

Read more
Second Stage Australian Privacy Principle Consultation Begins
The Office of the Australian Information Commissioner (OAIC) has released the second stage of Draft Australian Privacy Principle (APP) Guidelines for public consultation. This stage includes Apps 6-11. The Australian Privacy Commissioner, Mr Timothy Pilgrim, said the second stage of these draft guidelines gives guidance about new requirements for agencies and organisations in areas such as how they use or disclose personal information, undertake direct marketing activities and send data off-shore.
A significant area of change is the off shore disclosure of data covered in app 8. New accountability requirements will apply to organisations (including australian government agencies) that send personal information to an overseas recipient. Australian organisations will generally remain accountable for the handling of the personal information by the overseas recipient.
These guidelines will outline how the office of the Australian Information Commissioner (OAIC) will interpret and apply the Apps which are central to new privacy laws that commence on 12 march 2014. The consultation on apps 6 to 11 is open until close of business Monday 21 October 2013. Please send submissions to consultation@oaic.gov.au .

The Sobering Facts About Employee Fraud
One of the topics I frequently return to is the risk assessment aspect of a recruiter's job, or the 'defensive' recruitment skills, such as background and reference checking, that are a necessary part of doing a complete job as a recruiter. Unfortunately, there is still an undesirable tendency for these skills to be deemed an 'admin' part of a recruiter's job.
Alberta Privacy Legislation Shot Down - Will Also Affect BC
The Alberta Personal Information Protection Act has been declared unconstitutional by the Supreme Court of Canada. The sweeping decision was prompted by union video surveillance of people crossing a picket line. Because PIPA does not have any exemption to allow for a union to advance its interests in a labour dispute, it was held to be an unreasonable restriction on the union's freedom of expression guaranteed by the Charter of Rights.

Alberta will have 12 months to make changes to the law before the declaration of invalidity takes effect.

Read more
B.C. Criminal Record Checks Spur Privacy Concerns
Concerns about the amount and type of personal information disclosed in police record checks have prompted an investigation by B.C.'s privacy commissioner. Elizabeth Denham says citizens and civil society groups have raised questions about the scope and sensitivity of personal information that's accessed and disclosed to police, often for employment-screening purposes. Denham says thousands of record checks are processed every year by municipal police forces and the RCMP but the relevance of the information collected in the public and private sector needs to be scrutinized. While a criminal record check is a report of someone's prior convictions, penalties or outstanding charges pulled from a national police database, such information can also reveal details that have not been proven in court. She says some of the issues include a person's mental health, investigations that did not result in charges and charges that did not end up in a conviction. Last year, the commissioner issued a report saying the B.C. government did too many criminal record checks for employment-related purposes in March 2011 and that while some were valuable for people working with children, for example, others were an invasion of privacy.


Privacy in the Workplace: A New Tort is Born
Over the last two years, courts have repeatedly addressed a new form of workplace violation. With these decisions they have begun transforming the face of privacy law in the workplace. With technology being a tool at the forefront of many workplaces, personal information has become vulnerable data requiring protection. In two recent cases, the Ontario Superior Court of Justice and the Court of Appeal for Ontario both recognized this vulnerability along with the existence of the tort of invasion of privacy in Ontario. This new tort was based upon an actionable "intrusion upon seclusion". The Court defined this intentional tort as being one where the intrusion into the seclusion of another person's "private affairs or concerns" would be found as "highly offensive to a reasonable person". In terms of changes to employment law, these decisions added the welcomed caveat to an employer's obligation to protect its employees' privacy in the workplace. For employers, this change means that a breach of this obligation could potentially expose them to punitive damages up to $20,000. For employees, it means among other things, that they can have a "reasonable expectation of privacy" in their workplace while using technological tools provided by their employers in the course of their employment.

Read more
Frequently Asked Questions About Employee Background Checks
This article covers some of the most common questions asked about employee background checks in Canada. Question topics include: Credit Checks, Drug and Alcohol Testing, Medical Examinations and Criminal Background Checks. Here are a few of the questions and answers: Is an employer allowed to perform a credit check on an employee or prospective employee? An employer may perform a credit check on an employee or prospective employee if the employer intends to use the information for employment purposes. Such purposes include considering new hires, granting promotions, reassigning employment duties or determining whether to retain someone as an employee. Who can be subjected to a drug/alcohol test? Any employee may be subjected to a drug/alcohol test, however, drug and alcohol testing that has no demonstrable relationship to job safety and performance has been found to be a violation of employee rights. Can an employer decline to hire a prospective employee or terminate an employee based on the results of the criminal background check? A decision not to hire someone based solely on the fact that he or she has a criminal record is discriminatory under the Code. However, an employer would not be discriminating if it makes the decision regarding employment based on a record of offence that closely relates to an important quality of the job. If a person has received a pardon for the crime that they committed, an employer cannot refuse to hire that person because of that crime.


Wyant Examining Privacy Gap Options: Employee Records a Key Concern

Justice Minister Gord Wyant is looking for ways to close the so-called privacy gap left by federal laws. "We, like Ontario and the eastern provinces, have relied on the federal legislation with respect to privacy matters in the private sector," said Wyant. He said there is a concern about employee records that are not covered by the federal legislation. "We've consolidated all the labour legislation into one piece, and we think that there's a possibility of perhaps bringing some regulations forward under the employment act to cover off that issue," continued Wyant. He said another possibility is to revisit the province's freedom of information and privacy laws (FOIP), which he acknowledged are outdated. Privacy Commissioner Gary Dickson said the issue of employee records is only part of the gap in the legislation related to the private sector, and he isn't confident regulatory changes could address all of his concerns. Although Wyant said he isn't sure taking legislation from other provinces is the right answer, Dickson said the other western provinces have set good precedents with their laws. "I think there's a need to overhaul FOIP; there's a need to overhaul the local authority FOIP act, there's a need to overhaul HIPA and I think we need a personal information protection law just like B.C. and Alberta have had since 2004…Why would we go a different path?" Dickson said.


Manitoba's New Privacy Law has Implications for Cross-Border Employers

The Canadian Province of Manitoba has enacted privacy legislation governing the collection, use and dissemination of personal information, including employee personal information. With the legislation, Manitoba joins the other Canadian Provinces of Quebec, Alberta, and British Columbia in providing special protection for employee personal data. Private-sector employers with operations in Manitoba should ensure their data collection and protection are in compliance with the Manitoba Personal Information Protection and Identity Theft Protection Act (PIPITPA), or risk fines of up to $100,000. Under PIPITPA, an organization must take care to ensure that "personal information," defined as information about an identifiable individual, in its custody or under its control, may only be collected, used or disclosed with the permission of that individual. This includes personal information related to employees. To that end, employers should designate a compliance officer to oversee the collection, use and dissemination of personal data, and must establish policies and procedures governing the employer's handling of employee personal data. PIPITPA is still awaiting proclamation, which sets the date the legislation will come into force. Although no effective date has been set yet, employers are advised to begin planning for PIPITA as soon as possible.

Read more
Amendments to China's Consumer Protection Law Add Compliance Obligations when Handling Personal Information
On October 25, 2013, the Standing Committee of China's National People's Congress passed anamendment to the 1993 Law of Protection of Consumer Rights and Interests, which addresses longstanding issues related to e-commerce fraud and illegal disclosures of consumers' personal information. The Amendment, which takes effect on March 15, 2014.
The passage of the Amendment comes on the heels of a flurry of legislation aimed at strengthening the protection of personal information in China, including the Decision on Strengthening Protection of Online Information , the Provisions on the Protection of the Personal Information of Telecommunications , and the Internet Users and the Provisions on Registration of the True Identity Information of Phone Users . Collectively, the new legislation related to the protection of personal information has significantly advanced and clarified China's data protection regime.
The Amendment applies to any company that provides goods or services to consumers within China. Unlike some of the recent privacy-related regulations and guidelines issued by the Chinese government, the Consumer Protection Law, as amended by the Amendment, sets forth more specific requirements related to the processing of personal information and applies broadly to all companies providing goods or services to consumers in China. Thus, it is important for companies operating in China to review their practices related to the collection, use, and disclosure of personal information in China and take the necessary steps to achieve compliance with the Amendment's privacy-related provisions by March 15, 2014.
Reshaping Global Privacy Webinar - Key Takeaways

Following the EU Parliament vote adopting the amendments to the draft EU General Data Protection Regulation, DataGuidance organised a webinar entitledReshaping Global Privacy: The EU Parliament Vote, which took place on 31 October 2013. Some of the key takeaways included: Higher sanctions are on the horizon; The role of the DPO will be key; Safe Harbor likely to stay; Framework to be revised; and Wait for trilogue to ascertain the fate of BSPRs. Christopher Wolf, Partner at Hogan Lovells, explained that while the extent of penalties has been outlined, there remains a lack of guidance as to mitigating factors or discretion for enforcement. Emmanuelle Bartoli, Group Chief Legal Counsel, Data Privacy and Security at Atos, spoke on the central role of the DPO, despite little definition in the draft Regulation. Both Bartoli and Wolf discussed the hope that Binding Safe Processor Rules, not explicitly mentioned in the Parliament's amendments, will re-emerge in the trilogue discussions with the Council and the Commission. "If the BCR for processors idea is extinguished you are losing an important mechanism for international trade and for another way to protect data as it used and shared in the information society ecosystem," said Wolf. "I hope that greater rationality will prevail in trilogue."

Read more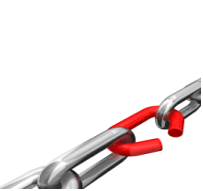 Don't Let Employment Investigations in APAC be the Weakest Link in Your Background Screening Services.

The best designed background screening program is only as good as its weakest link. With more than 11 countries represented in the APAC Chapter of NAPBS our trusted members can help you meet your employment screening needs in the APAC region. Click here to see the countries represented.

To tap into some of the best employment screening firms in APAC advertise in the APAC Background Screening Report. It's your source to access the APAC region to find a trusted employment screening partner.

Click here to see the APAC Background Screening Report Media Kit to strengthen your employment screening services today.
Personal Data Protection Act Enters into Force
The Malaysian government has the entry into force date of the Personal Data Protection Act (PDPA) 2010. The Act will enter into force on 15 November 2013 and will introduce an omnibus privacy regime in Malaysia for the first time. The publication of the PDPA is accompanied by a number of regulations and orders that clarify some of its provisions. The PDPA was passed by the Malaysian Parliament in May 2010, and received Royal Assent in June 2010, however its entry into force had been delayed. "The PDPA will apply to any person who processes or has control over the processing of any personal data, known as a data user," said Jillian Chia, Senior Associate at Skrine. "It is important to note that 'processing' is defined widely under the PDPA to cover a wide range of activities, including using, disseminating, collecting, recording and/or storing personal data. Furthermore, only individuals are referred to as 'data subjects' under the PDPA." The PDPA introduces, among other things, seven data protection principles which data users must comply with. Violation of any of these principles will result in a fine of up to 300,000 ringgit (approximately 74,485€) and/or up to three years' imprisonment. "Where a data user has collected personal data before the date of coming into operation of the PDPA, such users will have three months to comply," said Chia.

Read more



ADVERTISERS IN THIS EDITION

| | | | |
| --- | --- | --- | --- |
| | | | Background Screening Jobs |
Visit the Job Board for the Employment and Tenant Screening Industry. Here you will find resumes of people with industry experience and employers seeking applicants with experience in Employment and Tenant Screening and related businesses.
www.backgroundscreeningjobs.com

UPCOMING CONFERENCES, COURSES & EVENTS
Feature Education:
FCRA Basic Certification Webinar Series Update

The FCRA Basic Certification program series is now available for purchase.

2013 Events ( Click Here to View full list of Events ) - Updated Monthly
SHRM State Conferences, visit http://www.shrm.org/Conferences/StateAffilliateConferences/Pages/default.aspx
Drug and Alcohol Testing Industry Association (DATIA), 2013 Training Course Schedule, visit
http://datia.org
SAPAA Training Institute Learning Events, http://www.sapaa.com/
CUPA-HR Conferences: http://www.cupahr.org/
World Federation of People Management Associations, Events, http://www.wfpma.com/events/by-region#quicktabs-tab-view__events__page_3-4