Beware of the One-Two Punch Expected in the Fair Housing Law Arena
The combination of a recent unfavorable Supreme Court decision along with dramatically increased federal funding for fair housing enforcement could spell bad news. Businesses that operate in the housing industry and those businesses that provide financing and insurance coverage for the industry should be prepared for a new wave of legal challenges on the horizon. For the foreseeable future, real estate owners, brokers, developers, property managers and lenders should expect to be targeted by fair housing organizations. In response to this expected one-two punch, businesses in the industry should implement policies and practices ensuring that all housing applicants, tenants, prospective purchasers, and mortgage applicants are treated consistently, fairly, and without regard to any protected class.

Insurer Required to Defend and Indemnify FCRA Action Despite Penalty Exclusions
The New York Supreme Court has issued an opinion finding that an insurer has a duty to defend and indemnify a national background screening company in two FCRA actions despite the policy's exclusions of fines and penalties. The plaintiffs sought statutory damages and alleged that a national background screening company willfully violated the FCRA. The central issue was whether the background screening company's errors and omissions insurance policy required its insurer to defend and indemnify it. In its cross motion for summary judgment, the background screening company argued that under the policy, the insurer was required to defend and indemnify because the underlying claims constituted compensatory damages covered by the policy. This decision provides guidance on the interplay of insurance policies and claims under the FCRA.



Chuck E. Cheese Settles Background Check Lawsuit for $1.75 Million
On July 7, the United States District Court for the Southern District of California preliminarily approved a $1.75 million class action settlement under the FCRA involving Chuck E. Cheese's background check practices. This settlement serves as another reminder of the risks that employers face in conducting background checks on prospective employees. The plaintiffs alleged Chuck E. Cheese violated the FCRA by informing applicants that a background check would be obtained through a disclosure form that contained extraneous, impermissible information. This settlement is part of a growing list of multi-million dollar settlements pertaining to employers' background check practices and their disclosure forms.



Clarity From the 9th Circuit: The ADA Does Not Require Employer to Keep a Potentially Violent Employee
A recent decision by the Ninth Circuit Court of Appeals affirms our faith in the federal courts on issues of workplace violence. In the case of Mayo v. PCC Structurals, Inc., the plaintiff/employee argued that he was a victim of disability discrimination under Oregon law after he was fired for threatening his co-workers. (The court notes Oregon's disability law is similar to and similarly analyzed as the Americans with Disabilities Act.) The Ninth Circuit rejected the employee's appeal and emphasized that its decision is limited to the "extreme facts" in this case; that is, an employee who makes serious and credible threats of violence," and noted generally that employees who suffer from mental disabilities are protected under different circumstances.



Delaware Adds to Growing Patchwork of Social Media Laws
On August 7, Delaware Governor Jack Markell signed a law to prohibit employers from interfering with the personal social media accounts of their prospective and current employees. The new law defines "personal social media" to encompass any account on a social networking site created and operated by a prospective or current employee exclusively for his or her personal use. The term does not include accounts created or operated by an employer and that are operated by an employee as part of his or her employment. The new law also forbids an employer from taking adverse action against a prospective or current employee for failing to comply with any of these requests or demands. The new Delaware law continues a growing trend across the country.

Maine Enacts Social Media Protections for Applicants and Employees
Effective as of October 15, 2015, employers in Maine will be restricted in their ability to access the personal social media accounts of applicants and employees. Employers may not terminate, discipline or otherwise take adverse action against an employee, or reject an applicant, due to the employee's or applicant's refusal to cooperate with any prohibited request or demand. An employer who violates these prohibitions can be fined by Maine's Department of Labor. The law provides that such fines will be not less than $100 for the first violation, not less than $250 for the second violation and not less than $500 for each subsequent violation. Maine is the twenty-third state to place restrictions on employers' access to applicants' and employees' personal social media accounts.



Spokeo, Inc. v. Robins: Petitioner Argues if There is No Actual Injury-in-Fact, Plaintiff Lacks Standing to Sue
Following the U.S. Supreme Court's grant of certiorari on April 27, 2015 in Spokeo, Inc. v. Robins, No. 13-1339, the Petitioner has weighed in with their brief. As you may recall, the question before the Court has the potential to determine the future scope of congressional power, as well as consumer and workplace-related class actions: Does a plaintiff who suffers no concrete harm, but who instead alleges only a statutory violation, have standing to bring a claim on behalf of himself or a class of individuals? The Supreme Court's decision in Spokeo is likely to dramatically affect employers, consumer reporting agencies, and other corporate defendants as well as class actions brought under various federal statutes. As Spokeo unfolds, employers should continue to closely monitor the developments in the case in light of the potential impact on prospective and current workplace and consumer litigation across a variety of federal statutes.



The Supreme Court of New Jersey Narrows the State's Expungement Statute
N.J.S.A 2C: 52-2(a) permits the Superior Court to expunge convictions of certain classes of offenses under certain enumerated circumstances. As one example, the applicant seeking the remedy must have been "convicted of a crime," but "...not convicted of any prior or subsequent crime." The statute also bars from eligibility those who plead guilty in one proceeding to multiple offenses committed within a short period of time. But what does this last limitation mean in practice? The Supreme Court of New Jersey addressed and answered this question In the Matter of the Expungement Petition of J.S. (A-84-13) and In the Matter of the Expungement of the Criminal Records of G.P.B, (A-2-14). So now while a quantum of doubt has been eliminated (and that is always a good thing), the statute is now more restrictive (and, for defense practitioners, this is decidedly not a good thing).

As the background screening industry continues to get more competitive the firms that will ultimately succeed will be those that create competitive advantage through their people by offering continuous learning opportunities to heightened their knowledge and capabilities. We believe that having employees that are very knowledgeable about the legal landscape of background screening is essential to continued success.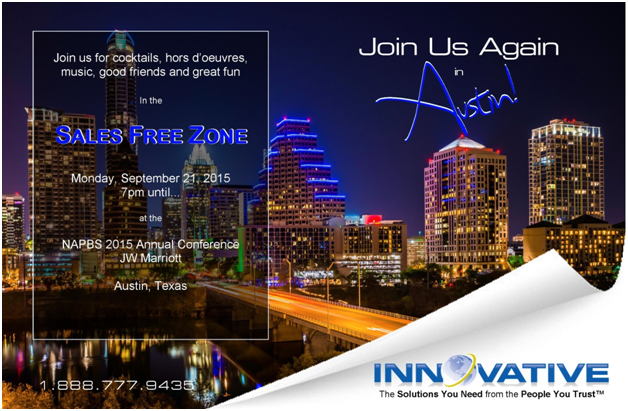 We are grateful to Larry D. Henry who began his law career with the Army JAGC where he tried over 2,000 cases. After the Army he relocated to Tulsa. In 1981, the founder of DAC Services contacted Mr. Henry's firm for assistance in creating a background screening company. Since Mr. Henry's practice was employment law, the firm believed this fell within his area and as they say: "the rest is history". His practice has kept him in continual contact with the background screening industry, and he is a nationally recognized expert in the area of background screening.

Mr. Henry's practice is concentrated on employment law and in specific, background screening of employees. He represents consumer reporting agencies throughout the United States and two national trade associations. He is the author of the Criminal Records Manual and the on line reference site:CRAHelpDesk.com, and he is a frequent presenter across the country on various topics dealing with background screening.
Employee's Positive Return-to-Duty Drug Test Result Warranted Termination Despite Employer's Use of Low Cutoff Concentrations

A Texas oil refinery whose substance abuse policy said an employee "whose drug test is positive, regardless of the reasons for the test," would be considered in violation of company policy and "will be terminated from employment" meant what it said, a labor arbitrator has concluded. The policy, along with an agreement requiring that an employee seeking assistance for a claimed drug problem abstain from drug use, justified the discharge of an employee who tested positive for marijuana on a return-to-duty drug test. "In this case," the arbitrator wrote, "the Substance Abuse Policy and the Agreement for Continued Employment leave no room for arbitral discretion." Coupled with the company's consistent enforcement of its Agreement, the arbitrator could find no basis for overturning the discharge.



Large Employers Planning to Tightly Manage Employee Use of Expensive Drugs

More than half of large employers in 2016 will aim to more tightly manage employees' use of high-priced specialty drugs, one of the fastest-growing expenses in their health plans. Despite those efforts, companies still expect the cost of specialty drugs that are carefully administered to treat conditions such as cancer, HIV and hepatitis C to continue rising at a double-digit annual rate — well ahead of the pace for traditional pharmacy drugs or companies' overall spending on health benefits, according to the National Business Group on Health. The group released a survey that found 55% of employers next year plan to direct employees to specialty pharmacies if they need drugs that can cost thousands of dollars for a single treatment. That share was up from a third in the group's survey a year ago on companies' plans for 2015 health plans.



Minnesota Court of Appeals Provides Helpful Roadmap for Employers Who Conduct Drug Testing

The Minnesota Court of Appeals handed employers a rare win under the Minnesota Drug and Alcohol Testing in the Workplace Act, upholding dismissal of a wrongful discharge case after an employee who tested positive for drugs did not comply with the recommended treatment because he wanted to choose a different treatment program. The decision highlights how critical employer engagement is when complying with this statute, including after an employee tests positive. Even if an employer has a compliant policy and conducts testing in a compliant manner, it must still interact with the employee who tests positive to work out and agree on a treatment program, and then continue to monitor the status and ultimate completion of the program. Allowing the employee free reign to choose his or her own program can be problematic.




ALCOHOL & DRUG SCREENING - Continued
New Hawaii Medical Marijuana Law Bars Use in Workplace; Zero Tolerance Policies Still Enforceable

Closing a gap in Hawaii's medical marijuana law, a new law sets up a regime of vertically integrated grow facilities and retail dispensing licenses for the delivery of medical marijuana to "cardholders" in Hawaii. The stated intent of the new law, signed by Governor David Ige, is to ensure a commercialized system for the delivery of marijuana to "seriously ill" individuals in Hawaii. The new law amends an existing 15-year-old law that allowed the use of medical marijuana, but provided no legal way to obtain the drug. The new law, however, did not modify existing Hawaii law on workplace use of marijuana, continuing to recognize the right of employers to maintain "zero tolerance" policies regarding drug use. Further, even in its medicinal form, marijuana remains a Schedule I drug (similar to heroin) under both Hawaii and federal law.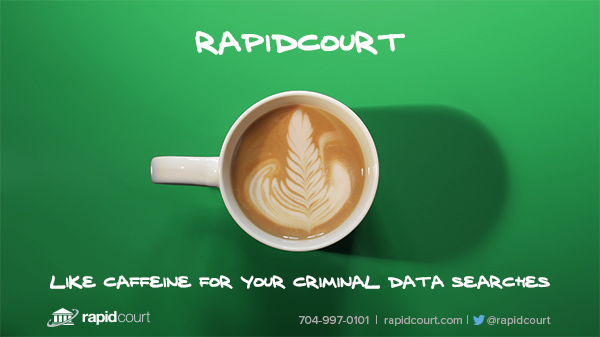 Public Record Update
By Mike Sankey, PRRN
New Online System to Courts Records In Idaho

The state judiciary is in transition to a new case management system which includes an upgrade to public access online. Twins Falls County is the only county on the new system - which is in a pilot phase. This means that two systems must now be accessed to do a complete statewide search for court records, including either a criminal or civil record search.
View the new system at http://icourt.idaho.gov
View the existing system at https://www.idcourts.us/repository/start.do

New Federal Sanctions & Watch Lists

This section examines public record databases of individuals and companies that have sanctions, violations, enforcement actions, or warnings initiated against them by one of these federal government departments—
Consolidated Export Screening List with Export Specific Lists From:

Department of Commerce Department
Department of State
Department of the Treasury • FDA - Food & Drug Administration

GSA – Government Services • Human Health Care Services Department
Justice Department
Labor Department
Occupational Safety & Health Administration (OSHA)
State Department • Treasury Department

Public Record Retriever Network - www.PRRN.us
The CRA Help Desk - www.CRAHelpDesk.com
Motor Vehicle Record Decoder - www.MVRDecoder.com
BRB's Public Record Blog - www.publicrecordsblog.net
BRB's Bookstore - www.brbpublications.com/books/
DATA PROTECTION & PRIVACY
Start with Security: A Guide for Business, 10 Practical Lessons Businesses Can Learn from the FTC's 50+ Data Security Settlements
Effectively managing security is no accident. Smart companies consider security upfront, assess their options and make good business choices based on the nature of their business and the sensitivity of the information involved. It is essential to focus on the fundamentals of sound security as the FTC outlined in Protecting Personal Information: A Guide for Business. It is important to know the personal information you have in your files and on your computers, and you only store what you need for your business. You should have a plan for how you will protect your information stored, how to properly dispose of information and have a incident response plan in the event of a breach. The FTC has resources including an online tutorial to help you think through how those principles apply to your business.


Innovative Enterprises Expands Solution Set to Include Military Court Martial Records
Innovative Enterprises, Inc., a strategic partner to the background screening industry and expert provider of court research information products, smart data solutions and ancillary services, announced the addition of select military court martial records to a number of its existing services. The industry's leading professional background screening firms will see these expanded data sets included in a number of the Innovative Data SolutionsTM products they're already utilizing with no changes required on their end and at no additional charge.
Military judicial proceedings lie outside of the state and federal court systems accessed during a traditional search for criminal records. As a result, records that would otherwise be of interest to those making important risk-based decisions may be overlooked or even missed altogether. Innovative's newest data points provide expanded insight into military criminal convictions which may otherwise go undiscovered for matters ranging from child pornography and indecent acts to false official statements and controlled substance violations.
"Obtaining criminal record information from the armed forces can be tough," stated Timothy Z. Brothers, Innovative's Vice President of Sales and Technology. "These new sources contain records of some fairly serious matters that traditional screening methodologies are likely to miss, and our decision to include them at no additional charge underscores our commitment to positioning our trusted partners to be able to provide the best available information to their customers."

ONE SITE! MANY SUPPLIERS!
The 2015-16 SUPPLIERS TO THE BACKGROUND
SCREENING INDUSTRY BUYERS GUIDE IS HERE!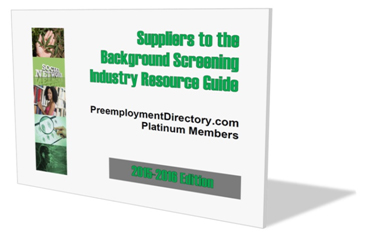 DOWNLOAD YOUR COPY OF THE 2015-16 BUYERS GUIDE NOW!

Kevin Coy is a Partner in the Washington DC office of Arnall Golden Gregory LLP. Kevin
advises background screening companies and other clients on a wide range of privacy and consumer regulatory issues, including Fair Credit Reporting Act, Gramm Leach Bliley Act,
Drivers' Privacy Protection Act, and Dodd Frank Act compliance issues, as well as data breach matters. Kevin also represents clients with matters before the Federal Trade Commission, the Consumer Financial Protection Bureau, and other consumer protection agencies.
Kevin can be contacted at Kevin.Coy@agg.com or 202-677-4034.
THE WASHINGTON REPORT
August 2015
On Capitol Hill
On August 19th, House Oversight and Government Reform Committee Chairman Jason Chaffetz (R-UT) sent a letter to the Office of Personnel Management (OPM) requesting the agency to turn over documents related to its recently reported data breaches affecting up to 22 million current and former federal employees' personal information.
On August 5th, Senator Elizabeth Warren (D-MA) introduced S. 1981, the Equal Employment for All Act of 2015. The bill would amend the Fair Credit Reporting Act (FCRA) to restrict the use of information bearing on creditworthiness, credit standing, or credit capacity for employment purposes or employment adverse actions.
On July 30th, the Senate Appropriations Committee reported out a bill (S. 1910), the Financial Services and General Government Appropriations Act of 2016, which includes a provision (Section 999F(p)) which would make a series of technical amendments to the FCRA. The bill awaits action by the full Senate.
At the EEOC
On August 24th, the Equal Employment Opportunity Commission (EEOC) announced that Target agreed to pay $2.8 million dollars to settle EEOC allegations that three employment assessments formerly used by Target "disproportionately screened out applicants for exempt-level professional positions based on race and sex."
On July 28th, President Obama nominated Victoria Lipnic, a former Seyfarth Shaw LLP attorney and former assistant secretary of labor, to serve another term as a commissioner at the EEOC. Lipnic has served as commissioner at the EEOC since December 2010, when she was confirmed by the Senate after receiving a recess appointment from President Obama in March 2010.
At the Office of Personnel Management
On August 19th, the Justice Department announced that U.S. Investigations Services (USIS) and its parent company, Altegrity, had agreed to settle allegations that USIS had violated the False Claims Act (FCA) in connection with conduct involving USIS's former background screening contract with the Office of Personnel Management (OPM). According to the Justice Department, the companies agreed to forego the right to collect at least $30 million in payments that USIS claimed it was owed by OPM in exchange for a release from FCA liability. In the settlement announcement, the head of the Justice Department's Civil Division is quoted as saying "Shortcuts taken by any company that we have entrusted to conduct background investigations of future and current federal employees are unacceptable."
At the FTC
On August 17th, FTC Commissioner Joshua Wright announced his resignation as FTC Commissioner, effective August 24th.
On August 24th, the Third Circuit upheld a federal district court's decision allowing the FTC to pursue its case against Wyndham Worldwide Corp. (Wyndham) over the company's data security practices, ruling that the FTC has authority to regulate cybersecurity.
On August 17th, the FTC announced that thirteen companies agreed to settle FTC charges alleging that they falsely claimed to comply with the U.S.-EU or U.S.-Swiss Safe Harbor Frameworks.
On August 14th, the FTC denied LabMD, Inc.'s (LabMD) second attempt to disqualify FTC Chairwoman Edith Ramirez from handling the agency's data security action against LabMD.
On August 3rd, the Federal Trade Commission (FTC) published a blog post entitled, "How to Dispute Credit Report Information That Can't Be Confirmed. While the blog post focuses on a credit-related example involving a debt collector, the underlying FCRA Section 611 obligation of a consumer reporting agency to delete disputed information if it cannot be verified during the reinvestigation applies to all consumer reporting agencies, including employment and tenant screeners.
Welcome to the eVerify Challenge Question!
SPONSORED BY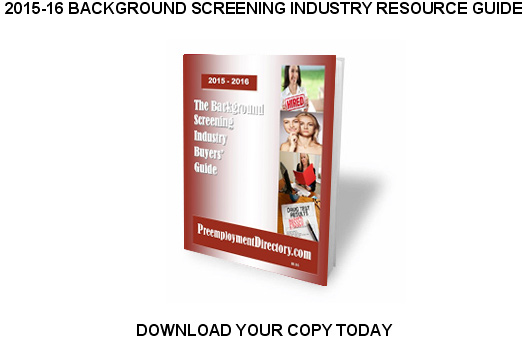 Welcome to the eVerify Challenge Question!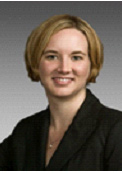 Nicole A. Kersey
Managing Director, Kersey Immigration Compliance, LLC

nkersey@kerseyimmigration.com
Nicole A. ("Nici") Kersey is an attorney whose practice is dedicated to employment-based immigration, with a focus on the Form I-9, E-Verify, and related immigration compliance issues. Nici represents employers before, during, and after Form I-9 inspections by Immigration and Customs Enforcement (ICE), providing practical advice to and serving as an advocate for employers during negotiations and litigation relating to fines for I-9 violations. She is a frequent trainer and speaker on I-9 and E-Verify issues. Nici is a graduate of the University of Virginia School of Law and provides pro bono representation to the spouses of U.S. soldiers and to arts organizations.
The Challenge Question:
When an employee comes forward with a new Social Security number and indicates that he was previously not authorized to work but has since obtained valid work authorization, what should an employer do?
a. Terminate employment (or take other adverse action) based on prior dishonesty;
b. Terminate employment based on the lack of work authorization;
c. Complete a new I-9, allow the employee to continue to work, and, if the employer uses E-Verify, run an E-Verify query; or
d. Complete a new I-9 and allow the employee to continue to work, but not run an E-Verify query (because you cannot run an E-Verify query for an existing employee).
Company Fined $600,000 for I-9 Violations
The Office of the Chief Administrative Hearing Officer (OCAHO) has ordered Hartmann Studio, Inc. to pay a fine of over $600,000, which is one of the largest fines that it has ever assessed for I-9 form violations not involving the knowing employment of undocumented workers. The violations were all substantive paperwork violations – the employer failing to sign Section 2 of the I-9 form, failing to timely prepare or present I-9 forms, failing to ensure employees properly completed Section 1 of the I-9 form, and failing to properly complete Section 3 of the I-9 form. ICE sought over $800,000 in penalties based upon an error rate of approximately 90%. However, OCAHO determined Hartmann's conduct was not as bad as employers in three other recent cases and lowered the amount.



Employers Might Want to Rethink the I-9 Review Process
A large clothing retailer recently entered into a settlement agreement with the Department of Justice (DOJ) following an allegation that the company discriminated against a non-US citizen in violation of federal immigration laws, including the Immigration and Nationality Act. The employer required the employee to produce a green card as part of the I-9 process. As a reminder, employers are not permitted to ask for a specific form of identification when collecting I-9's. Employees can choose from the available options on the form, and employers must take what they get. The DOJ settlement includes a hefty back-pay award and DOJ monitoring of the company's employment verification practices for the next two years. Companies should reevaluate and monitor their I-9 verification and re-verification practices.



E-Verify Program Set to Expire
The E-Verify program is set to expire 9/30/15 unless it is reauthorized by Congress. So what does that mean for employers who use E-Verify? The program is administered by U.S. Citizenship and Immigration Services (USCIS). It was created as the Basic Pilot program back in 1996, and over time it has been renamed E-Verify. Over the years it has been reauthorized by Congress for a set amount of time, usually at the last minute. Last time it was reauthorized (in 2012) it was reauthorized for a period of 3 years, until September 30, 2015. Congress is currently in recess until September 8, although discussions are on going about reauthorization for this program and three other programs set to expire at the same time (EB-5 visa program, Conrad 30 and religious worker visas).



Intellicheck Launches Law ID With Enhanced Functionality
IntellicheckMobilisa, Inc., the industry leader in identity authentication, verification and validation solutions, announced the launch of Law ID®, the industry's most accurate and customizable solution for immediately authenticating the identification and determining the status of an unknown and potentially dangerous contact. The product is ideal for assisting in traffic stops, detective and undercover operations, security at outdoor events and everywhere law enforcement is on duty and immediately needs to know a contacts threat status. Law ID can be used on mobile devices at the point of contact to instantaneously access Department of Motor Vehicles, State and Federal law enforcement data sources to deliver real-time status on the contact. "Law ID increases officer and citizen safety," said Intellicheck CEO Dr. William Roof. "It can help quickly de-escalate a potentially tense situation by providing rapid data access and a quick and intuitive summary of critical law enforcement information."

STOP STRUGGLING WITH WRITING AND PUBLISHING YOUR NEWSLETTER:
We can help you have a high quality e-newsletter to help nurture your relationship with your clients and attract new clients. Our customized newsletter service will take over your newsletter task or create a new one for you. We can manage the creation of your newsletter for you.
We are constantly researching information to use for The Background Buzz and you can put our research to use for you. Using the information rich content from The Background Buzz (minus the ads and competitors information) we will create a custom newsletter for you.
Use your staff's time to do more valuable work and save all the hassle of researching or writing articles, formatting and managing all the other ezine tasks with our customized ezine process.
Contact Barry Nixon at 949-770-5264 or at wbnixon@PreemploymentDirectory.com for more information.
There are six states and 12 cities that 'ban the box' for both public and private employers:
States

Cities

Hawaii
Illinois
Massachusetts
Minnesota
New Jersey
Rhode Island

Baltimore, Md
Buffalo, N.Y.
Chicago, Ill
Columbia, Mo
Montgomery Counter, Md
Newark, N.J.
Philadelphia, Pa
Prince George County, Md
Rochester, N.Y.
San Francisco, Ca
Seattle, Wa
Washington, D.C.

Overall seventeen states and 100 cities and counties have passed 'ban the box' laws.


Grab a latte and pull up a chair and join us for a great interview with Sherri Ervin, Owner, The Public Record Source LLC.
Sherri, got involved in court research for over 20 years ago. At the time, it was a relatively new and rapidly growing industry. Having an investigative nature she enjoyed legal work, however, she noted that she's not really wired to work for a boss so she took the risk to venture out on her own. She started Public Record Source (TPRS) to provide court research services throughout Arizona.
With somewhat of a smile on her face she said "Unfortunately, the decision to start her own company was not particularly well received by many of her friends and family." They said "Why take such a risk when you have kids. Working for a big company has security, but where's the security in the company you are starting?" Well, Sherri, got the best of them on this one, because here she is, over 20 years later, and her company has seen more success than she ever dreamed. She proudly, exclaimed. "her staff and her work extremely hard, and there's no better feeling than seeing that hard work turn into success."
In responding to the question about what she did before you started her company, Sherri shared that she was adopted, and because of this she always has been interested in adoption investigations and helping parties of adoption find birth parents or biological siblings. In the early 1990's, she worked with the Arizona Supreme Court to develop the Confidential Intermediary Program. The Confidential Intermediary Program certifies Confidential Intermediaries (CIs) to help facilitate contact between parties of an adoption and siblings separated as a result of adoption. These CIs are provided access to court records in order to obtain information necessary to locate the sought after party. It was very rewarding to see the project enacted into law and even expanded over the years.
One of the things she really likes about the industry is that despite times changing and companies changing the same cast of characters always seem to be involved in the industry. She added, " There have been times that I've gone a decade without speaking to a particular person (maybe they changed companies, tried out a different industry, or no longer interacted with vendors) only to run into that person at an industry event. Because of this, there's a community that simply doesn't exist in many, if not most, other industries."
Turning the dialogue to her company she share that the mission of her company: "The mission of TPRS is to set a standard of quality and reliability that regardless of the circumstances or difficulty we do not waver from. We strive to remind our researchers and other staff what the point of our job is. Quite literally, a person's job depends on the quality and accuracy of our work. We do not take that responsibility lightly. In this same vein, our vision is to ultimately grow as the most trusted source of hands-on court research in the State of Arizona."
With regards to announcements noted that "At TPRS, we love to embrace technology and stay on the cutting edge to help deliver better products to our customers. For example, while there are several industry-standard background-screening platforms on the market, we decided to go in a different direction and develop our own proprietary system. Because our in-house system is XML based, it is still fully capable of integrating with all other XML platforms used by our clients, however, we've added additional functionality to help set us apart. For instance, we've integrated cloud technology so that within seconds of a researcher completing a search or reviewing a record at the court, we have all the information available back at our office so that it can be quickly reviewed and returned to the client. This cloud-based system has greatly cut down on our turnaround time."
Talking further about the company she said, " Although it may be becoming a lost art, all of our searches are performed in court by extensively trained court researchers. More and more, there seems to be a reliance on online-based court indexes, and while these may be perfectly accurate in other states, we know that is not the case in Arizona. In-person court research is the only effective way to perform court research in Arizona, and that's all we provide. Because we've had researchers physically present at the courts for so many years, we are able to get certain information regarding records that may have errors or other abnormalities because we have established a rapport with court staff throughout the valley."
She added that "Client satisfaction is always the company's priority. We pride ourselves on our flexibility to satisfy our clients' needs – whether this means providing document retrieval services for pre-screened searches, expanding our search scope, retrieving municipal and civil records, providing expedited searches, etc. – we're always there to answer the bell."

Turning her attention to my favorite question about what she sees the industry facing down the road she noted that the answer goes beyond just the background screening industry with the "Big Data" revolution becoming more and more a part of everyday life, and it's hard to see how it won't ultimately envelope the background screening industry entirely. Corporations have a clear incentive to use whatever means possible to best select candidates for open positions, and before long the big data analytic tools will likely utilize real-time access to court information as just another element of this analysis. The only question will be whether these well-funded Big Data companies will be able to convince enough states, counties, or other municipalities to provide real-time case information. With enough money, she says she wouldn't bet against it.
Moving the conversation to her personally she shared that Atticus Finch was always a hero of hers; so hearing that Harper Lee's family was releasing 'Go Set A Watchman' had her thrilled. She of course bought it immediately and dove in. She share that "While she can understand some of the criticisms it has received, she thoroughly enjoyed the novel, noting that sometimes our heroes need to be humanized. They need to be given flaws and shortcomings. Even the great Atticus Finch has these. And sometimes we need a thing as jarring as a hero's fall from grace to wake us and cause us to start asking tough questions that we otherwise try to ignore. For her the Watchman does this quite well."
The person she would like to meet Bob Dylan and took the liberty of adding she would like to meet him now as 1965 Bob Dylan. She chuckles saying" I mean, the voice of a generation must have at least a few stories to tell..."
Finally, when asked about her favorite quote she said 'I have never had much interest in doing things the way that we're told that they're supposed to be done, Robert Frost famous quote has always been special to me: "Two roads diverged in a wood and I – I took the one less traveled by, and that has made all the difference."
Thank you to Sherri for a very personal, insightful and provocative interview.
Sherri can be contacted at sherri@thepublicrecordsource.com or visit www.thepublicrecordsource.com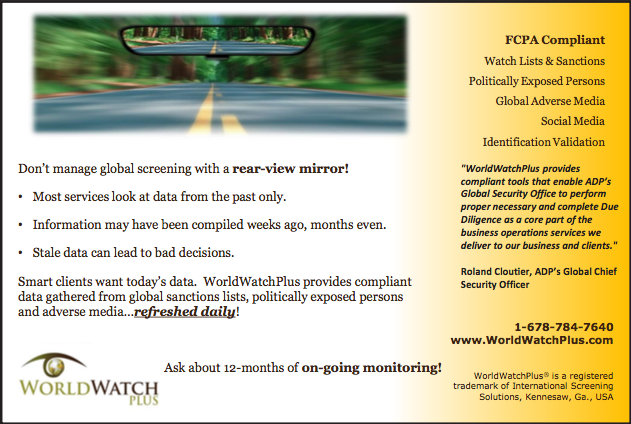 The Times They are a-Changin' for Criminal Record Checks in Canada
Big changes are on the way for criminal record checks in Canada.The Royal Canadian Mounted Police (RCMP) has proposed that all future criminal record checks be processed using an individual's fingerprints rather than the current name-based system.The current roadmap for implementation is mid 2017 which isapproximately two years out.If implemented as proposed, this will have significant ramifications for job seekers, volunteers and the organizations they work with.
There is widespread concern about the impact these changes will have on candidates, companies, volunteer organizations and the RCMP itself. Opponents to the proposal include the Professional Institute of the Public Service of Canada (PIPSC) and the Canada Chapter of the National Association of Professional Background Screeners (NAPBS) is also strongly opposed for a variety of reasons, as expressed in their whitepaper: Mandating Fingerprint Criminal Record Checks in Canada: Time for An Informed Dialogue.
The NAPBS' position is that the current name-based process is working well, the proposed mandatory fingerprint process is significantly flawed and that employers and volunteer organizations are being denied an informed choice as to what type of criminal record checks they use. The RCMP's proposal, they argue, does not provide a solution to an existing problem nor does is it bring any public safety benefits beyond what is provided by the existing system.




"Zero Tolerance" Policy on Drugs in Workplace Upheld by Human Rights Tribunal Where Employee Did Not Have "Marijuana Card"
An employee who smoked marijuana on the job without legal and medical authorization was not discriminated against when dismissed under his employer's "zero tolerance" policy, the British Columbia Human Rights Tribunal has held. The employer had a policy of "zero tolerance for drugs on the work site" and gave the employee a letter stating that "if you can't stop taking drugs on the work site" and don't attend at work, then the employee would be considered to have quit. In summary, the Human Rights Code did not require the employer to accommodate the employee by permitting him to smoke marijuana in the workplace without legal and medical authorization. The employee's human rights complaint was therefore dismissed.




Drug and Alcohol Policies in Alberta
In Stewart v Elk Valley Coal Corporation, 2015 ABCA 225, the Alberta Court of Appeal upheld the decision of the Human Rights Tribunal that the termination of a safety sensitive employee involved in a workplace incident while under the influence of cocaine did not constitute discrimination. This decision remains good news for employers. Unlike most Canadian jurisdictions, Alberta employers can still rely on provisions in an alcohol and drug policy that require safety sensitive employees to stop drug use or disclose dependencies in advance of a workplace incident. Employers should carefully examine their alcohol and drug policies to assess whether there are remedial steps to accommodate those with dependency issues before termination becomes the only option.



Almost 1 in 3 Lawyers in India Are 'Fake,' Claims Top Bar Official
Nearly a third of all lawyers in India are "fake," the head of the country's legal regulator has said. Manan Kumar Mishra, the chairman of the Bar Council of India (BCI), made the startling revelation during a recent speech. "Thirty percent of all lawyers are fake, who either hold fraudulent degrees or are nonpracticing persons and 20% of those who sport lawyers' robes do not have proper degrees," Mishra said. "Fake lawyers and nonpracticing law graduates are degrading the standards of the profession." The spread of "fake" lawyers, Mishra added, was also causing disruptions in the legal system. "Strikes on petty issues have become a regular phenomenon due to such persons," he said, "We are serious about this and will take stiff action."



False Claims By Candidates High in Telecom, Hospitality & Retail Sectors
Out of the total occurrences of discrepancies, a huge chunk of them have occurred in the employment component, followed by the address and education components. Background screening of prospective employees has been the usual practice in sectors, such as IT, ITES, BFSI, manufacturing and FMCG. However, lately, even sectors such as retail, petroleum, travel & hospitality, healthcare, telecom, education and entertainment have woken up to the need to verify the claims made by job applicants before making the final offer. As background screening becomes more frequent in these new sectors, discrepancy in claims by candidates are also on the rise.As per a report released by First Advantage, the share of discrepant cases is highest in sectors, such as telecom, travel & hospitality and retail.



A Primer on Russia's New Data Localization Law
Russia's new data localization law, Federal Law No. 242-FZ, an amendment to Russia's On Personal Data Law goes into effect on September 1, 2015and it may have wide reaching implications on firms that collect personal information from Russian citizens, even if those companies are not located in Russia.
The law requires "operators" to collect, store, and process Russian citizens' personal data using databases located within Russia. Since the law does not explicitly exempt foreign companies from its requirements, companies outside of Russia should assume that Russia's Roskomnadzor, the state body that oversees telecommunications, information technology, and mass communicationwill interpret the law to apply equally to foreign companies that collect, store, and/or process the personal data of Russian citizens.

ADVERTISERS IN THIS EDITION

| | | | |
| --- | --- | --- | --- |
| | | | Background Screening Jobs |
Visit the Job Board for the Employment and Tenant Screening Industry. Here you will find resumes of people with industry experience and employers seeking applicants with experience in Employment and Tenant Screening and related businesses.
www.backgroundscreeningjobs.com

Feature Education:
FCRA Basic Certification Webinar Series Update

The FCRA Basic Certification program series is now available for purchase.

2015 Events ( Click Here to View full list of Events ) - Updated Monthly
SHRM State Conferences, visit http://www.shrm.org/Conferences/StateAffilliateConferences/Pages/default.aspx
Drug and Alcohol Testing Industry Association (DATIA), 2013 Training Course Schedule, visit
http://datia.org
SAPAA Training Institute Learning Events, http://www.sapaa.com/
CUPA-HR Conferences: http://www.cupahr.org/
World Federation of People Management Associations, Events, http://www.wfpma.com/events/by-region#quicktabs-tab-view__events__page_3-4