EMPLOYMENT SCREENING NEWS
Workforce's Special Report: More 'Background' Noise and 2014 Hot List
The trend is upward for background checks. According to an April 2014 report published by IBISWorld, the expected annual growth is 3.5 percent for the industry from 2014 to 2019.

Advancements in technology have made it easier for small- to midsize companies to conduct background investigations on job applicants, while at the same time allowing large employers the ability to expand the scope of their background checking process.

Globalization is also a growth factor for checks as more companies expand their international operations and are looking for ways to ensure their hiring practices are consistent worldwide.

One leading expert in background screening indicated that "Employers are choosing to cast a wider net in an effort to be more diligent in protecting their organization and to avoid negligent hiring suits."

Read more

Bills Seek To Blunt EEOC Activities
Rep. Tim Walberg (R-MI), Chairman of the House Subcommittee on Workforce Protections, introduced two bills on September 10 aimed at curbing the Equal Employment Opportunity Commission's authority.
The first measure, the Litigation Oversight Act of 2014 ( H.R. 5422), would require the EEOC to approve, by majority vote, all lawsuits or interventions in lawsuits involving multiple plaintiffs or an allegation of systemic discrimination or a pattern or practice of discrimination. The new legislation would make it more difficult for the EEOC to pursue this initiative, although it is not expected to advance.
The second measure, the Certainty in Enforcement Act of 2014 ( H.R. 5423), takes aim at the EEOC's updated 2012 enforcement guidance on criminal background checks. Many in the business community have faulted the EEOC's stance regarding an employer's consideration of an applicant's criminal record in making hiring decisions.
Both bills have been referred to committee.

Read more
Why Colleges Should Run Background Checks on Student Athletes
For college athletes, especially football players, getting in trouble with the law is nothing new, but many people may be surprised at just how common this is. One out of every fourteen players from the preseason Top 25 NCAA football teams in 2010 were found to have been charged with or cited for a crime according to the recently released results of a special investigation conducted by Sports Illustrated and CBS News.
A large number, nearly forty percent, of these charges were for serious offenses including assault and battery, domestic violence, robbery and sex offenses. In most cases the player had been found or pled guilty or faced some penalty as a result.
Despite this all being public information, in most cases the team coaches or their schools hadn't seen it because criminal background checks weren't done. In fact only two of the twenty-five schools routinely performed any kind of criminal background check.


Survey Shines Light On Background Screening Priorities In Higher Education
Given the emphasis that's placed on security at colleges and universities across the U.S., one of the simplest and most important aspects of safeguarding a campus begins with performing background checks.
Employment screening services firm HireRight recently released the results of its "Employment Background Checks in Education" report, which surveyed personnel with knowledge of HR policies and procedures at 197 schools. The report, which is the company's first on employment screening practices in the higher education market, found that 96 percent of the schools surveyed conducted criminal background checks, while 73 percent indicated that they performed identity verifications. Other background checks performed by schools in the study included education (54 percent), previous employment/references (51 percent), motor vehicle records (47 percent), credit history (38 percent), professional license verifications (30 percent), fingerprints (16 percent), and re-verifying current employees (14 percent).
More than three-quarters of respondents (77 percent) said that the screening process had uncovered a person who lied on their resume or application. Another 63 percent of schools said that background screening uncovered issues that would not have otherwise been found about an applicant.
Based on the results of the survey, many schools are planning to beef up their screening procedures.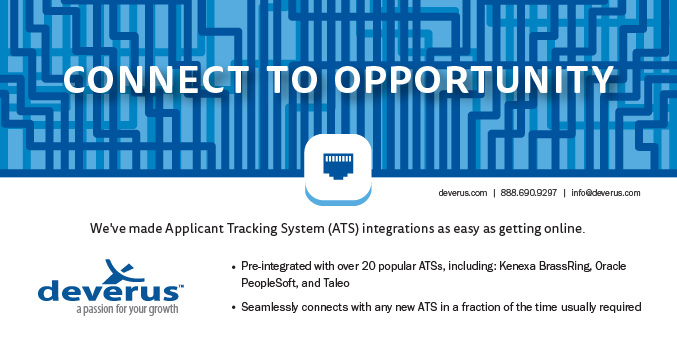 EMPLOYMENT SCREENING NEWS - continued
Major Background Check Contractor Furloughs Thousands of Employees
Background checking firm USIS conducts the lion's share of federal background checks is now losing work and furloughing employees because of the two stop-work orders issued after an Aug. 6 hacking incident.
The Office of Personnel Management, which halted USIS' security clearance work to protect federal employees, said in a statement Wednesday that while the suspension remains in effect, the agency is "continuing to process background investigations using other available assets."
OPM said the investigations assigned USIS when the stop-work order was issued are still pending completion. "We are shifting the fieldwork previously done by USIS to other contractors and federal staff as appropriate," OPM said. "While this may cause a delay for some investigations as we make the adjustments, we are working to minimize any delays and we remain committed, first and foremost, to the security and quality of our background investigations."
Probe Finds Fakery at Nine New York City Child Care Centers

Six child care centers of nine investigate have already been closed and the others are on track to be shuttered after investigators found one served no children yet got almost $60,000 in city money, another had rat droppings on the floor and spoiled milk in the fridge, and others had filed phony background checks, teachers' credentials and other important documents.
At one center, a staffer even bolted out the door when confronted about using fake credentials, city Department of Investigations Commissioner Mark Peters, Brooklyn District Attorney Kenneth Thompson and Staten Island District Attorney Daniel Donovan said while announcing the probe Friday. The centers' owners have pleaded not guilty to various charges involving false documents.
FTC Action Halts Online High School Diploma Mill That Made $11 Million Selling Worthless Diplomas to Students
At the Federal Trade Commission's request, a U.S. district court in Florida has temporarily halted a diploma mill that allegedly grossed more than $11 million from marketing and selling fake high school diplomas online to consumers nationwide. The FTC's lawsuit seeks a permanent injunction to stop the deceptive practices and to return ill-gotten gains to consumers.
The complaint alleges that the defendants violated the FTC Act by misrepresenting that the diplomas were valid high school equivalency credentials and that the online schools were accredited. The FTC says the defendants actually fabricated an accrediting body to give legitimacy to the diploma mill operation.
Recent Legislation Affecting the Screening of Tenants
The consumer reporting industry, despite what critics, media and the general population may believe, is a highly regulated business. Although this article should not be perceived as legal advice and is intended to only highlight bills, ordinances and mandates across the U.S. that have recently come to our attention.
The United States of America has 50 states; 3,077 counties (including "parishes" & "boroughs"); and roughly 19,355 incorporated cities. If we temporarily set aside the notions of hamlets, villages, towns and other "unincorporated" municipalities, that is a lot of politicians helping us to know what is best for our safety, our ethical fortitude and our businesses.
When a "business" offers a single product from one location, keeping up with the rules and regulations is not a daunting task. However, when your business deals with information garnered from a multitude of sources across any of these thousands of lines, in addition to a customer base that is potentially global, keeping up with the ever evolving legislation enacted to protect us, can seem like an insurmountable obstacle.
THE HEALTHCARE MARKETPLACE
Estimates of Largest State Healthcare Staffing Markets ($ million)
CA

$926

NY

$652

TX

$753

FL

$525

ILL

$476

PA

$468

OH

$418

MI

$378

NC

$330

GA

$285
Source: Staffing Industry Review, September 2014
Welcome to the U.S. Legal Challenge Question!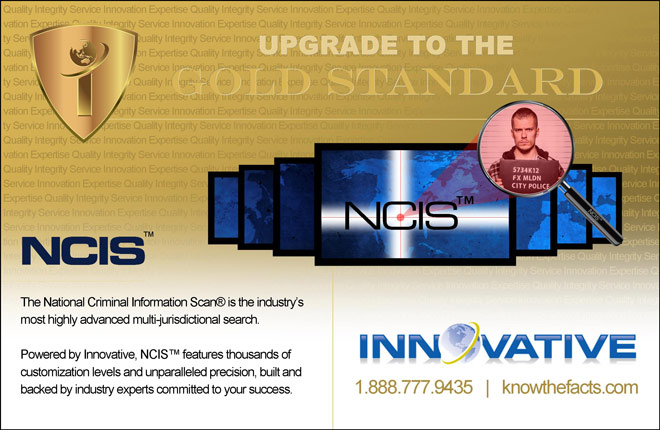 As the background screening industry continues to get more competitive the firms that will ultimately succeed will be those that create competitive advantage through their people by offering continuous learning opportunities to heightened their knowledge and capabilities. We believe that having employees that are very knowledgeable about the legal landscape of background screening is essential to continued success.
We are grateful to Larry D. Henry who began his law career with the Army JAGC where he tried over 2,000 cases. After the Army he relocated to Tulsa. In 1981, the founder of DAC Services contacted Mr. Henry's firm for assistance in creating a background screening company. Since Mr. Henry's practice was employment law, the firm believed this fell within his area and as they say: "the rest is history". His practice has kept him in continual contact with the background screening industry, and he is a nationally recognized expert in the area of background screening.
Mr. Henry's practice is concentrated on employment law and in specific, background screening of employees. He represents consumer reporting agencies throughout the United States and two national trade associations. He is the author of the Criminal Records Manual and the on line reference site:CRAHelpDesk.com, and he is a frequent presenter across the country on various topics dealing with background screening.
Please choose your answer by clicking on it:

A Third of All CV Inaccuracies are Considered to be 'Major' Discrepancies
A new report from pre-employment screening company, First Advantage reveals over a quarter (27.2%) of all verification checks on CVs between January 2011 and June 2014 uncovered inaccuracies. Just under a third of these inaccuracies (32%) are considered "major" discrepancies; meaning they raise significant cause for concern for an employer.
Traci Canning, senior Vice President and Managing Director of First Advantage in EMEA, comments: "Many of the discrepancies we've found relate to dates of employment, education and professional achievements, and raise concerns about candidates stretching periods of employment and training to cover periods of inactivity or unsuccessful employment. Honesty really is the best policy - candidates would be better served by accurately stating their skills and experience because any accuracies will be uncovered during the screening process."
She added: "There is a growing appreciation for the value of screening, the potential risk to their business of not screening and the need to tackle the "culture of overstatement" head on to ensure their employees are qualified and safe for the job and that they truly have the experience stated on their CVs".
Sponsored by:
Public Record Update
By Mike Sankey, PRRN
LOS ANGELES SUPERIOR COURT
Over the next several months, the Los Angeles Superior Court is installing a new telephone system. As a result, the telephone numbers will change for 35 courthouses (except numbers for Juror Services and traffic inquiry). The first change is scheduled September 16th for the Inglewood Courthouse and Inglewood Juvenile Courthouse. To track the changes as they occur, refer to this web page: www.lasuperiorcourt.org/locations/ui/listbyname.aspx
MAINE IS MAKING CRITICAL CHANGES TO COURT RECORD ACCESS
The Maine Judicial Branch is in the process of implementing a new procedure for Civil and Criminal record requests. Walk-in requests for these searches at the individual courts eventually will no longer be available. The process for record searches at all courts/counties is being moved to the Judicial Branch Service Center in Lewiston, Maine . At this time, the York County Superior Court and the Springvale District Court are participating in a Pilot Program. All courts will be incrementally brought into the program by the end of this year.
Here is a link to a detailed explanation and the new request form which must be used: www.courts.maine.gov/fees_forms/forms/pdf_forms/misc/records.shtml
Some Questions and Answers
The data on the link above refers anyone with questions to Ms. Kimberly Mitchell (Senior Service Center Associate at the Maine Judicial Branch). The page includes her phone number and email address.
PRRN Member Nils Nelson (Maine Public Record Services) was able to obtain some detailed information from Ms. Mitchell. Mr. Nelson is graciously sharing this information - below.
Public Record Retriever Network - www.PRRN.us
The CRA Help Desk - www.CRAHelpDesk.com
BRB's Free Public Record Center - www.brbpublications.com/PubRecSites.aspx
Motor Vehicle Record Decoder - www.MVRDecoder.com
BRB's Public Record Blog - www.publicrecordsblog.net
BRB's Bookstore - www.brbpublications.com/books/
OCCUPATIONAL FRAUD - continued
State of Texas Shuts Down Houston-area Diploma Mill
Texas Attorney General Greg Abbott resolved the State's enforcement action against a purported "academy" that falsely claimed to be an accredited educational institution. The agreement requires the operators of Houston-based Lincoln Academy to permanently shut down the so-called academy and pay all costs associated with the shutdown. The defendants' court-restricted assets will provide more than $1.4 million in compensation to deceived customers. The Texas Attorney General's Office urges all educational institutions - especially community colleges and universities - to be diligent in reviewing purported high school transcripts issued by entities that may be more interested in amassing profits than preparing students for higher education.

Read more

5 Big-Shots Who Lied On Their Resumes 56 180
Wal-Mart's top spokesman has resigned over a two-decade-old resume lie. David Tovar claimed he had a bachelor's degree from the University of Delaware, when in fact he never finished the required coursework to get a diploma, Bloomberg reported this week.
Tovar's case is just the latest in a string of high-profile cases in which prominent figures in business and education got caught in an embarrassing resume lie -- often years later. The background check company HireRight says it finds discrepancies in 35% of screenings that include college education."
It's not just the big-shots who lie, of course: 88% of employers who use the company's screening services said they discovered job candidates who had lied on their applications and resumes. But here are five particularly memorable examples of lying leaders:
"Ban the Box:" A Discussion of State and Local Laws Restricting Inquiries into an Applicant's Criminal History

According to the National Employment Law Project, 67 cities and counties and 13 states have adopted such provisions. [1] More cities and states are expected to follow suit. This Commentary discusses the current state of the ban the box laws, the risks that these laws pose to employers, and strategies for compliance. It also contains a chart with highlights of key provisions from the jurisdictions that have enacted such laws as of the time this Commentary is published.

Thirteen states have passed ban the box statutes: California, Colorado, Connecticut, Delaware, Hawaii, Illinois, Maryland, Massachusetts, Minnesota, Nebraska, New Mexico, New Jersey, and Rhode Island. [3] Of these states, only six-Hawaii, Illinois, Massachusetts, Minnesota, New Jersey, and Rhode Island-regulate private employers' use of criminal records. [4] In addition to these statewide regulations, 67 cities and counties throughout the country have adopted ban the box ordinances, including New York, San Francisco, Austin, Seattle, the District of Columbia, Boston, Chicago, Atlanta, Tampa, and New Orleans. [5] While not every city and county ordinance applies to private employers, a growing number do: San Francisco, Seattle, Boston, New Haven, Indianapolis, Detroit, and Baltimore. [6]

Read more
Arizona Lawmakers Want Background Checks For Hotel Workers
Two Arizona lawmakers have pledged to push for legislation that would prohibit registered sex offenders from having unfettered access to hotel guest rooms, an effort hospitality officials say they would welcome for discussion. The announcement comes in the wake of allegations that two hotel chains with Mesa franchisees failed to properly screen an employee who was a high-level sex offender, enabling him to sexually assault at least two women in their locked hotel rooms.
An official of the Arizona Lodging & Tourism Association said the association would definitely be amenable to discussions about the idea, and guest safety is a critical issue for the industry - "So anything that we can do to assist in that process is definitely a goal."

Udall Co-Sponsors Bill To Provide Background Checks To Organizations That Serve Children
U.S. Senator Tom Udall announced that he is cosponsoring the Child Protection Improvements and Electronic Life and Safety Security Systems Act , that would enable children's groups, summer camps, and other youth-serving non-profit associations to gain access to federal criminal background checks on new employees and volunteers.
"We need to do everything we can to keep our sons and daughters safe from violent predators, and organizations like the Girls Scouts should be able to access this federal background check data to fully screen applicants for jobs that serve our children," said Udall. "

District of Columbia Enacts Ban-the-Box Legislation Limiting Employers' Criminal Background Inquiries on Applicants
A new District of Columbia law, Fair Criminal Record Screening Amendment Act of 2014 (Act Number A20-0422), prohibits employers from inquiring into a prospective employee's criminal conviction background on its application and before making a conditional offer of employment. Under the new law an employer may withdraw a conditional offer of employment to an applicant based on criminal conviction information only for a "legitimate business reason."
The reason must be reasonable in light of the six factors listed in the Act, including: 1) the specific duties and responsibilities related to the job sought, 2) the bearing the crime will have on the applicant's ability to perform his or her job duties, 3) the time elapsed since the occurrence of the criminal offense, 4) the age of the applicant at the time of the crime, 5) the frequency and seriousness of the crime, and 6) information produced by the applicant establishing rehabilitation or good conduct.
The new law likely will become effective in early October, after a 30-day period of Congressional review and publication in the District of Columbia Register.
Madison Joins Chorus To Ban The Box
The City Council of Madison, Wisconsin has the joined numerous municipalities across the country by passing a legislation to ban the box - except for police and firefighter applicants - officials are now considering whether to force city vendors and contractors to do the same.
Past practice was to include the question on city applications, then do criminal background checks on finalists for a job. If a check returned something serious, human resources would tell the candidate thanks, but no thanks, according to city human resources director Brad Wirtz. The new law will remove that box from applications for city employment that asks job-seekers whether they've been convicted of a crime.
A Three Pronged Strategy To Stay Ahead Of Drug Test Cheaters (Second of two parts)

The first part of this article examined the creative ways in which some individuals try to beat a drug test. In order to beat cheaters at their own game, it is important to know what you're looking for in terms of a urine sample that is not right. Labs primarily look at two things when confirming the validity of a urine specimen: creatinine, which is present in all urine; and specific gravity, the urine's density.
There are three main categories of actions designed to defeat the cheater: precautions, validity testing, and consequences.
Precautions can take place before, during and even after the donor voids a sample. The test administrator plays a key role in this process. This person's job is to ensure the dignity of the donor during the testing process, but also to guarantee the integrity of the sample that will be tested. This includes making it as difficult as possible for would-be cheaters to get away with cheating.
Worker Drug Test Positives Rise for First Time Since 2003
A new study published by Quest Diagnostics reported an increase in the workforce drug test positivity rate for the first time in ten years, fueled primarily by marijuana and amphetamines. The Quest Drug Testing Index (DTI) released on September 11, 2014 also showed a large increase in positive marijuana test results in Colorado and Washington, where "recreational" marijuana now is permitted.

The DTI involved the analysis of de-identified results from urine, oral fluid and hair drug tests performed by Quest Diagnostics workplace drug testing laboratories across the country. The results were analyzed by three categories of workers: (1) employees with private companies (U.S. general workforce), (2) employees subject to federal drug testing rules (safety-sensitive workforce) and (3) a combination of both groups (combined U.S. workforce).
The DTI found a positivity rate of 3.7 percent for the 7.6 million urine drug tests in the combined U.S. workforce, an increase from 3.5 percent in 2012. According to Quest, the relative increase of 5.7 percent is the first time the positivity rate for combined national workplace urine drug tests has increased since 2003.
Quest's study also showed that amphetamine use (and methamphetamine use in particular) is on the rise with amphetamine positivity results reaching their highest levels on record and methamphetamine positive rates at their highest levels since 2007 (across all specimen types).
Putting the Quest data into perspective, positive drug tests are at historic lows and well of the 13.6 percent of 1988. And the actual number of positive results is 281,200 out of the 7.6 million urine tests Quest conducted last year.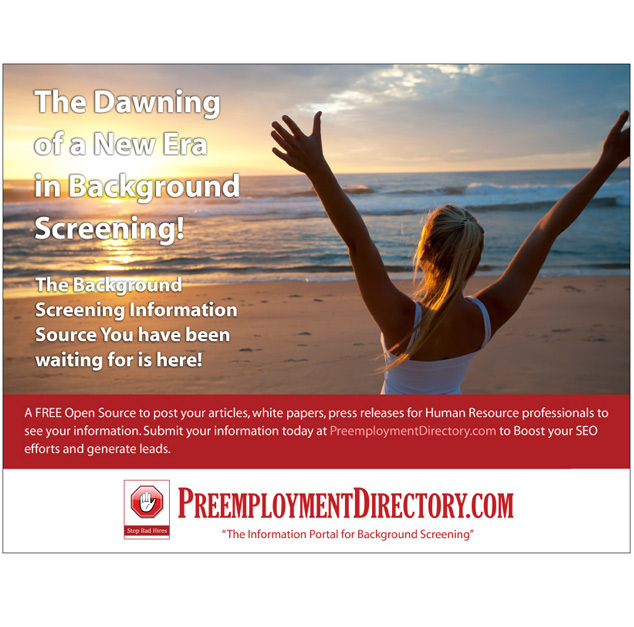 ALCOHOL & DRUG SCREENING - continued
Federal Court of Appeals Addresses Testing Employees for Lawful Prescription Drug Use
The Americans with Disabilities Act ("ADA") makes it unlawful for an employer to either require its employees to undergo medical examinations or make disability-related inquiries that cannot be justified as "job related and consistent with business necessity." The statute, however, expressly provides that testing an employee for illegal drug use is not a "medical examination" that must be justified under this standard. But what about an employer, who, because of safety concerns, requires employees to be tested for substances for which the employee has a valid prescription? Does such a test constitute a medical examination or a disability-related inquiry? In Bates v. Dura Automotive Systems, Inc. , the United States Court of Appeals for the Sixth Circuit the Court concluded that whether testing for prescription drugs constitutes a medical examination or a disability-related inquiry for ADA purposes depends on the specific facts of the case at hand and, ultimately, may be an issue for a jury to resolve. It is clear that this is an area where employers must tread carefully.
Changing Trends in Criminal Verifications - India
As global firms continue to expand their operation and background checks worldwide, the need to be highly tuned to nuances of local laws, practices, and availability (or lack of it) of databases is critical. This is particularly true in India where there is no overarching law governing background checks similar to the Fair Credit Report Act in the USA.
At the same time, the need for conducting criminal checks is growing exponentially in India. A recent incident of child abuse in one of the most sought-after private schools in the city of Bangalore (the largest IT hub in India) hardened regulatory stances regarding background checks of employees. The State government is now working on making criminal checks mandatory for all employees of schools. The same will probably soon be made applicable to various other industries with potential incidents of criminal activities.
One area of on-going challenge for background screening in India has been the Police verification process which has always been a grey area in India and a recent incident involving one of India's leading background screening firms illustrated a clear issue with this process. This incident has served as a wake up call to the background screening industry in India and a renewed focused on the need to build standards and best practices.
Congratulations to our Platinum Members for making the 2014 Workforce Hot List:
1. Accurate Background
2. EBI
3. Employee Screening IQ
4. First Advantage
5. HireRight
6. InforMart
7. Orange Tree
Edge Appoints Jo Bowen as National Account Executive
Edge Information Management, Inc., announced the appointment of Jo Bowen as National Account Executive to help oversee its expanding presence in the Southeastern United States. Jo began in the pre-employment screening industry in 1994, and her experience has encompassed roles in operations, management and sales - with a focus on client service. Jo is FCRA certified and committed to providing resources and educating her clients about compliance and best practices.
Jo is excited to be joining the Edge family and to be representing an NAPBS accredited company that continues to expand, thanks to an ongoing commitment to innovation in technology and large scale ATS integrations.

Read More

Finance Veteran Michael S. Duffey Appointed First Advantage Chief Financial Officer

First Advantage, a Symphony Technology Group (STG) company announced that 30-year finance veteran Michael S. Duffey has joined as Chief Financial Officer (CFO). In addition to having financial oversight for the company and its 26 global offices, Duffey will partner closely with First Advantage's executive team to drive the company's worldwide strategic growth plan.

Previously, Duffey spent 10 years as CFO at market information firm Symphony IRI, another STG business, where he helped navigate the business through its successful transformation and subsequent equity sale in 2011. Duffey has also held executive finance positions at a broad range of public and private banking, manufacturing and professional service companies, including Covansys Corporation, APW and M.A. Hanna Company.

PreCheck, Inc. Makes Inc. 5000 For Second Consecutive Year
PreCheck, Inc., a background screening and credentialing firm specializing in the healthcare industry, earns the
position of 4390 on the 2014 Inc. 5000, a prestigious list of the fastest-growing private companies in America. The list represents the most comprehensive look at the most important segment of the economy, America's independent entrepreneurs. This represents PreCheck's second consecutive entry on the exclusive list, which ranks companies based on their percentage of revenue growth over the past three years.

PreCheck has exclusively served the healthcare industry's background screening and employment qualification needs since 1993. The company's full suite of screening solutions is tailored to support healthcare human resources, medical staff services, and healthcare compliance job functions.

Read more
Innovative Enterprises Announces the Availability of Bulk Criminal Record Data for All 50 States
Innovative Enterprises, Inc., a strategic partner to the background screening industry and expert provider of court research information products, smart data solutions and ancillary services, today announced the official launch of DataDirect™ Enterprise Solutions, a unique blend of data aggregation, cleansing, intelligence and delivery solutions designed to provide bulk criminal, sex offender, government watch list, sanctions and exclusions records to select entities that maintain their own national criminal records database.
Designed and developed exclusively by Innovative, DataDirect™ Enterprise Solutions represents the fastest growing compilation of its kind, delivering hundreds of millions of unique records obtained directly from local, state and federal government agencies, including a number of sources not currently available from legacy providers of similar data. Industry professionals who offer products and services built from their own national criminal records databases can now choose DataDirect™ Enterprise Solutions as their one-stop provider of superior aggregated source data and gain a significant competitive advantage over their peers.

"Innovative has built an industry-leading data acquisition and aggregation division around its flagship product, the National Criminal Information Scan®," stated Timothy Z. Brothers, Innovative's Vice President of Sales and Technology. "DataDirect™ Enterprise Solutions is the logical extension of that expertise, enabling us to provide our enterprise level partners with a robust and vastly superior bulk criminal data solution which exceeds the capabilities of existing market-based alternatives."

Wholesale Screening Solutions Ranks No. 1116 on the 2014 Inc. 5000
Inc. magazine ranked Wholesale Screening Solutions No. 1116 on its 33rd annual Inc. 500|5000, an exclusive ranking of the nation's fastest-growing private companies. "We are extremely honored to join the elite group of companies represented in the Inc. 5000," remarks company founder and President, Matthew Lowers. "I am pleased to attribute our growth to the relentless efforts of our management team and staff to provide a high level of service to our customers."
Wholesale Screening Solutions provides criminal records to employment screening, tenant screening, and risk mitigation providers nationwide. The company manages an extensive and tightly-controlled network of nationwide researchers who obtain criminal records directly from the authoritative source. CRAs working with Wholesale Screening benefit from quality, timeliness, and accuracy - all delivered with a human touch, at affordable wholesale prices.
BackChecked Integrates with Adobe EchoSign's Electronic Signatures


BackChecked, a leading platform provider to background screening agencies, announced an integration with the Adobe EchoSign electronic signature solution. The BackChecked integration with Adobe EchoSign allows a background screening agency to create any number of unique, actionable, online forms, then assign them to specific employers. Depending on the need, job applicants can authorize forms when notified by email or sign the documents as they enter their own background data. Adobe EchoSign manages the secure signature process, stores the document and forwards a signed copy to all parties. A comprehensive audit trail, listing all events and actions taken by the participants is stored together with the document.
As part of the process, documents are immediately and permanently attached to the order in the BackChecked system, allowing the background screening agency to monitor compliance and present the document when required. Both participants in the production test reported excellent acceptance of the documents by previous employers, schools and professional licensing agencies, all of which require proof of authorization.
According to Kloos, "It didn't take long for us to realize how much value Adobe EchoSign brings to the table, in terms of both name recognition and the actual solution. Of course, the real gem is an API that allows us to incorporate so many of their standard options. It's exactly what our customers need right now and we're confident
it will remain so in the future."
A recent infographic that appeared in Fast Company, reveals disturbing statistics about how big a problem employee turnover is.
· 25 percent of Fortune 500 managers change jobs each year.
· 22 percent of turnover occurs in the first 45 days of employment.
· 46 percent of new employees washout in the first 18 month.
· The cost of losing an employee in the first year is estimated to be at least three times the salary.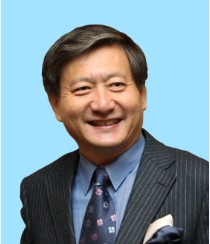 Grab a latte and pull up a chair and join us for a great interview with Xiaoning Cao, Chairman of the Board, Huaxia Credit and Chairman of Huaxia D&B China.'

Before joining the background screening industry, Xiaoning was a member of the "China Think Tank" during the time period in the early 80's when Mr. Deng Xiaoping was directing China through structural reform. Xiaoning successively served at the Rural Policy Research Office of the Secretariat of CPC, State Committee for Economic Structure Reform and Ministry of Commerce. His positions included serving as the Vice Division Head, Division Head and Deputy Bureau Director from 1982 to 1993. In 1988 and 1989 he had the privilege of becoming a visiting scholar with the University of Chicago.
In 1993, after resigning form the government, during the time when China's economic regime was gradually transforming from centrally planned to free market economy. He recognized that there was an urgent market need for a credit reporting agency and then established Huaxia Credit.
In conversations with the former president of CDIA, Mr. Barry Connelly, Xiaoning was
convinced of the need for a background screening firm in China. On the infamous day of Sep.11 of 2001, he was on route to the U.S. to learn more about the background screening business and the terrorist attack occurred. This horrific event strengthened his determination to start the background check business. Huaxia Credit became the first background check company in China. ChoicePoint was their first partner.
Speaking about something he really enjoys about working in the background screening industry he note that he particularly enjoys providing advice to the Chinese government regarding setting up a fair and legally binding business environment, which is essential for the CRA industry to operate and develop.
Huaxia Credit is currently the largest credit information provider in China, owning five business lines: business and consumer Credit Reporting, Collection, Direct Marketing and Education. In 2006,Huaxia Credit and Dun & Bradstreet jointly established Huaxia D&B China, and the following year, Huaxia Credit formed a joint venture, HUAXIACRIF with CRIF.
Xiaoning stated a primary focus of firm is to continue to provide leadership in China's Information Industry. Future plans include inserting Huaxia D&B information into their background check report. He explained that adding this information to the report will aid U.S. firms that may have little knowledge of Chinese companies. For example, If a Chinese applicant applies for job in the US and indicates that he was the CEO of a Chinese company, the American employer may not be familiar with the company, thus the ability to provide information such as the company size, location, year established will be important.
He also added that as China's premier background checking provider, Huaxia Credit will continue to provide superb products and service to their domestic and global clients.
Xiaoning shared that Huaxia Credit is a Chinese company that has joint venture companies with both American and Italy companies. He emphasized that the company not only respects Chinese regulations, but also the American and the Italian Law as it serves its multinational and global clients. He referenced the new Regulation on the Administration of Credit Reporting Industry (Abbr. Regulation) which includes new rules governing consumer credit reporting agencies and strictly protects privacy.
He pondered when asked about the future he sees for the background screening industry and said, "I don't need to look into a crystal ball to see it, since I open my eyes every morning and finding the world rapidly transforming." He added that he believes the background screening industry will need to use more business credit information.
Xiaoning added that he is an avid reader and reads at least two books per month. A recent book he read is Liar's Poker. He has a keen interest in economic, management and history. Speaking of history, the person he would most like to meet is President George Washington. Xiaoning noted that he admired that after serving as the nation's first President and creating the United State, Washington returned to the country side to work as a peasant. He really respects his view of life.
Closing a very successful interview Xiaoning share his favor quote, "If you can do today, please do not put it into tomorrow."
Thank you Xiaoning for a very insightful and informative interview. To find out more about Huaxia Credit, Xiaoning can be reached at xiaoning_cao@huaxiacredit.com.

One Site! Many Suppliers!
2013-2014 SUPPLIERS TO THE BACKGROUND SCREENING
INDUSTRY BUYERS GUIDE NOW AVAILABLE!
Looking for the Top Suppliers in the Industry? Need to find a new Supplier?
Visit our VENDOR SHOWCASE which features suppliers to the Background Screening Industry.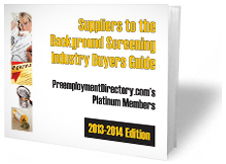 Click here or on image to get a copy
THE 2015-2016 GUIDE IS COMING!
RESERVE YOUR SPACE TODAY!

Kevin Coy is a Partner in the Washington DC office of Arnall Golden Gregory LLP. Kevin
advises background screening companies and other clients on a wide range of privacy and consumer regulatory issues, including Fair Credit Reporting Act, Gramm Leach Bliley Act,
Drivers' Privacy Protection Act, and Dodd Frank Act compliance issues, as well as data breach matters. Kevin also represents clients with matters before the Federal Trade Commission, the Consumer Financial Protection Bureau, and other consumer protection agencies.
Kevin can be contacted at Kevin.Coy@agg.com or 202-677-4034.
THE WASHINGTON REPORT
September 2014
Since the last edition of The Washington Report, the Congress reconvened and then left again shortly thereafter so that members could return home to campaign for the upcoming elections. In the brief time Congress was in session, however, there were several developments of interest to consumer reporting agencies, including employment and tenant screeners.
On Capitol Hill
On September 10th, the House Financial Services Committee's Subcommittee on Financial Institutions and Consumer Credit held a hearing entitled, "An Overview of the Credit Reporting System," to "provide…a better understanding of the roles and responsibilities of the consumer reporting agencies, as well as the users and furnishers of consumer credit data."
The bulk of the hearing focused on issues relating to credit scores, report accuracy and reinvestigations, and alternative data as well as discussion of shortening the period for reporting adverse information.
Chi Chi Wu, Staff Attorney at the National Consumer Law Center expressed concern about the use of credit reports for employment purposes.
Congresswoman Maxine Waters announced a draft bill entitled the "Fair Credit Reporting Improvement Act of 2014," which is intended to "enhance requirements on the consumer reporting agencies (CRAs), and furnishers that provide information to these CRAs, to guarantee consumers have the capacity to ensure that the information on their credit reports is accurate and complete."
On September 16th, Rep. Mike Kelly (R-PA) introduced H.R. 5482, the "Enhanced Security Clearance Act," which would expand government background checks to include an applicant's "publicly available electronic information," including but not limited to that from social media accounts.
The EEOC also received additional attention on the Hill in September. On September 9th, Rep. Tim Walberg (R-MI) introduced H.R. 5422, the "Litigation Oversight Act of 2014."
At the FTC
On September 15th, the FTC held its long-planned workshop entitled, " Big Data: A Tool for Inclusion or Exclusion?", the latest in the FTC's ongoing series of privacy workshops.
The FCRA was frequently cited as a model that has tended to work well with respect to credit, insurance, employment, and other FCRA permissible purposes. Arnall Golden Gregory Partner Montserrat Miller spoke as part of a panel "Surveying the Legal Landscape," which discussed, among other things, the protections afforded by the FCRA in the employment context and how the FCRA affects the reporting of non-traditional information, such as social media data.
At OPM
The Office of Personnel Management (OPM) announced in early September that the agency will not renew any contracts with USIS, the background screening company that currently conducts the majority of background checks for federal security clearances, when the current contracts expire on September 30th.
2013 BEST ADVERTISERS OF THE YEAR WINNERS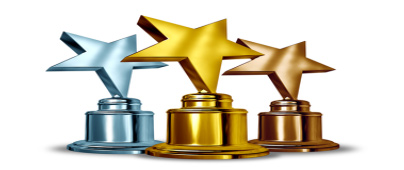 2013 Best Advertisers of the Year Awards
Suppliers to the Background Screening Industry

Congratulations to the Winners!
| | |
| --- | --- |
| Best Headline - CRI Group | Best Brand Awareness - Convergence Research |
| Most Appealing -Omni Data Retrieval | Most Effective Message - CRI Group |
Click here to see slide show of winners
EVERIFY & IMMIGRATION ISSUES
Colorado Affirmation Form Must be Used on October 1, 2014
Do you have clients that hire employees in Colorado (either now or in the foreseeable future)? The Colorado Department of Labor and Employment (CDLE) has released a new mandatory Affirmation of Legal Work Status form that must be used by employers for new hires (within the state) who are hired on or after October 1, 2014. The form (which has a revision date of 09/01/14) can be downloaded here.
For those HR and hiring managers who may be new to the wonderful world of employment eligibility verification, let's take a quick trip down memory lane and revisit Colorado's rather unique employment verification law. We'll also explore some recent FAQs and audit statistics.


New York Restaurant begins 2014 with a Large Form I-9 Penalty

(OCAHO) issued its first decision in 2014 - U.S. v. Two for Seven LLC d/b/a Black & Blue Restaurant, which tells the story of a small New York restaurant that was assessed an I-9 penalty of $88,700 by OCAHO. The good news is the restaurant was successful in reducing the penalties from $264,605 which Immigrations and Customs Enforcement (ICE) sought. In reaching its decision, OCAHO analyzed several interesting legal issues:
is there a need to prepare I-9 forms for certain employees working three days or less
is an employee actually a partner? why does it matter?
IRCA prevails over ICE auditor memorandum
penalties were excessive in light of relevant facts
DOJ Issues Guidance on Citizenship/Immigration Status And National Origin Discrimination in Employment
The Department of Justice's Office of Special Counsel for Immigration-Related Unfair Employment Practices (OSC) is responsible for enforcing the anti-discrimination provision of the Immigration and Nationality Act. Under this law, employers discriminate when they treat workers differently in the hiring and firing process because a worker is or is not a U.S. citizen, because of a worker's particular immigration status, or because of where a worker is from or appears to be from. Additionally, employers may not treat workers differently for these reasons when completing the Form I-9 and E-Verify process.
In an effort to aid employers in complying with the Immigration and Nationality Act's anti-discrimination provision, OSC recently released an update to its "Fact Patterns Flyer" and provided guidance to employers concerning various forms of discrimination. The Flyer is based on examples from OSC's recent enforcement of the Immigration and Nationality Act's anti-discrimination provision.
STOP STRUGGLING WITH WRITING AND PUBLISHING YOUR NEWSLETTER:
We can help you have a high quality e-newsletter to help nurture your relationship with your clients and attract new clients. Our customized newsletter service will take over your newsletter task or create a new one for you. We can manage the creation of your newsletter for you.
We are constantly researching information to use for The Background Buzz and you can put our research to use for you. Using the information rich content from The Background Buzz (minus the ads and competitors information) we will create a custom newsletter for you.
Use your staff's time to do more valuable work and save all the hassle of researching or writing articles, formatting and managing all the other ezine tasks with our customized ezine process.
Contact Barry Nixon at 949-770-5264 or at wbnixon@aol.com for more information.
DID YOU KNOW?
Over the past 20 years, authorities have made more than a quarter of a billion arrests, the Federal Bureau of Investigation estimates. As a result, the FBI currently has 77.7 million individuals on file in its master criminal database-or nearly one out of every three American adults.
Robert Poëti Vows To Enforce Taxi Driver Background Checks Montreal Taxi Bureau Admits Passengers Could Be Getting Into A Cab With A Convicted Felon
Quebec law prohibits the issuing of taxi permits to anyone who has been convicted of an indictable offence in the last five years, but the law is not being routinely enforced because of a dispute over who is responsible for background checks.
The Quebec transportation ministry says enforcing criminal background checks for taxi drivers is at the top of its priority list, after several women told CBC News they've been sexually assaulted or harassed by taxi drivers. In most major cities across Canada, taxi drivers are required to pass a criminal background checks. But in Montreal and across Quebec, there are no safeguards in effect to stop passengers from hopping into a cab with a convicted felon.
Benoit Jugand, the general director of the Montreal taxi bureau said they have been waiting on a solution for years. He added that the City of Montreal had agreed several years ago to wait for Quebec to create a province-wide standard for background checks.
Police Too Prying In Volunteer Background Checks, B.C. Privacy Group Says

A privacy watchdog is calling on B.C.'s privacy commissioner to investigate whether police departments are being too intrusive in the questions posed to potential volunteers and employees. The B.C. Freedom of Information and Privacy Association said several police departments are collecting "unnecessary, inappropriate and excessive personal information" from people applying for paid and unpaid positions.
The non-profit association was approached by someone applying for a volunteer position with the Delta Police Department's community police section. They had been given a 25-page "integrity and lifestyle questionnaire" asking about sexual activity, drug use, finances and whether the applicant has ever been unemployed or on welfare.
Applicants also have to undergo a polygraph test and a background investigation and are told "deceit, dishonest or non-disclosure concerning questions in this document may result in your disqualification from current or future civilian employment opportunities."
The Victoria Police Department has stopped doing criminal record checks until the province comes up with new legislation regarding what information should be released.
Germany Bans Uber For All The Wrong Reasons
With a single court decision, Uber's low-cost car service has been banned throughout Germany. It's a familiar story: Uber faced a lawsuit by a consortium of taxi companies that sought to drive a competitor from Germany. The taxi firms say that drivers who use Uber's platform to find riders and accept payments don't have the appropriate operating licenses, background checks or insurance. One spokesperson for the taxis said the rules "also apply to neo-liberal firms like Uber."
In this case, Reuters reports that the court made the decision not out of concern for the safety of passengers, but because German law says that people without commercial drivers licenses can only charge for the operating costs of giving other people rides, not attempt to make a profit.

UBS Says Widens Background Checks for Specialist Employees
Switzerland's biggest bank UBS said it had expanded the number of employees that are subject to internal background checks to around 15% of its workforce in a move than came in the wake of numerous scandals. Under the new policy, roughly 9,000 bank employees will be subject to internal vetting, said a UBS spokesman. UBS is also beefing up policing of its employees as it grapples with a probe into potential rigging of the global foreign exchange market. The spokesman said UBS had already been vetting some current employees and that the expansion was part of the bank's operational risk strategy.
ADVERTISERS IN THIS ISSUE

| | | | |
| --- | --- | --- | --- |
| | | | Background Screening Jobs |
Visit the Job Board for the Employment and Tenant Screening Industry. Here you will find resumes of people with industry experience and employers seeking applicants with experience in Employment and Tenant Screening and related businesses.
www.backgroundscreeningjobs.com

UPCOMING CONFERENCES, COURSES & EVENTS
Feature Education:
FCRA Basic Certification Webinar Series Update

The FCRA Basic Certification program series is now available for purchase.

2014 Events ( Click Here to View full list of Events ) - Updated Monthly
SHRM State Conferences, visit http://www.shrm.org/Conferences/StateAffilliateConferences/Pages/default.aspx
Drug and Alcohol Testing Industry Association (DATIA), 2013 Training Course Schedule, visit
http://datia.org
SAPAA Training Institute Learning Events, http://www.sapaa.com/
CUPA-HR Conferences: http://www.cupahr.org/
World Federation of People Management Associations, Events, http://www.wfpma.com/events/by-region#quicktabs-tab-view__events__page_3-4