Cook County, Illinois Amends Human Rights Ordinance to Limit Credit Checks
Cook County, Illinois enacted a bill (No. 15-3088) that amends the Cook County Human Rights Ordinance to restrict employers from asking about or otherwise considering a prospective or current employee's credit history in employment decisions. The new ordinance is nearly identical to laws in Illinois and Chicago that were enacted a few years ago, and falls in line with a growing trend around the country. The new ordinance applies to private employers that have a principal place of business, or "do business," in Cook County, as well as prospective and current employees of such employers, whether for paid or unpaid employment. The new ordinance also expansively defines "credit history" as an individual's record of past borrowing and repaying, including information about late payments and bankruptcy.





Employers Can Check Applicants' LinkedIn References Without Violating the FCRA

The United States District Court for the Northern District of California recently dismissed a proposed class action alleging that LinkedIn was a Consumer Reporting Agency (CSA) under the FCRA and violated the law when it provided an online feature that allows businesses to check applicants' references on the site without the applicants' knowledge. The Plaintiffs unsuccessfully argued that the site's "Reference Search" feature produced "Consumer Reports" (CR) under the law. The Court found that LinkedIn is not a CSA, therefore it could not create a CR. Although this is an indication that Courts are not willing to expand the FCRA's application to social media, the Court's ruling is not completely determinative of the issue.



Food Lion Job Applicants Class Action Settlement
An almost $3 million class action settlement was reached with Food Lion LLC and its parent company Delhaize America LLC to resolve allegations that the company used illegal background check procedures on its job applications, in violation of federal law. The Food Lion class action lawsuit was filed by plaintiff Jeneen Brown, alleging that Delhaize violated the FCRA when Brown applied for a job at Food Lion and that the grocery store chain, "failed to disclose to her, in a document that consisted solely of the disclosure, that it would obtain a background check on her," while the FCRA requires "a clear and conspicuous disclosure" when the report is being "obtained for employment purposes." Delhaize denies the allegations in this class action lawsuit but has agreed to this settlement to avoid the cost and risk of a trial.





New York City Passes Ban-the-Box Legislation Affecting Private Employers
On June 10, 2015, the New York City Council passed the NYC Fair Chance Act (the Act) in a landslide vote. The Act amends the New York City Human Rights Law (NYCHRL) to prohibit private employers in New York City with four or more employees from inquiring into or otherwise considering an applicant's criminal background history prior to extending a conditional offer of employment to the applicant. In 2011, Mayor Michael Bloomberg signed a law that prohibits New York City government employers from asking applicants during the initial application process whether they have been convicted of a crime. The Act now extends that law to private employers with at least four employees and "bans the box" that is commonly found on job applications by which employers inquire into applicants' criminal histories.



Ohio 'Bans the Box' on State Applications
Starting June 1, criminal offenders in Ohio will no longer have to check a box requiring them to reveal past convictions on state civil service job applications. Questions regarding prior convictions will be removed from thousands of applications for state government positions, which include highway workers, prison guards, social workers and lawyers. By voluntarily removing the box from employment applications, Ohio is the 17th state to join the "ban the box" movement. But it has not yet enacted a proposal to extend the ban to all public entities. "This is a pretty significant victory for us, in that Ohio has implemented a fair hiring policy," said Stephen JohnsonGrove, the Cincinnati-based deputy director of the Ohio Justice and Policy Center.



District Court Holds that Mailing Pre-Adverse and Adverse Action Letters Five Business Days Apart is Plausible FCRA Claim When it Conflicts with Content of Pre-Adverse Action Letter
In Moore v. Rite Aid Headquarters, the District Court for the Eastern District of Pennsylvania ruled that the plaintiff had stated a plausible employment adverse action claim under the FCRA. In doing so, the Court's decision raises questions about a widely accepted safe harbor of mailing pre-adverse and adverse action notices five business days apart. Although the Court's decision in Moore was in the context of a waiting period that allegedly conflicted with the period conveyed in the pre-adverse action letter, employers should take note of the Court's focus on the time between receipt of the pre-adverse action letter and mailing of the adverse action letter when calculating the waiting period.
http://goo.gl/RQDAi8



As the background screening industry continues to get more competitive the firms that will ultimately succeed will be those that create competitive advantage through their people by offering continuous learning opportunities to heightened their knowledge and capabilities. We believe that having employees that are very knowledgeable about the legal landscape of background screening is essential to continued success.





We are grateful to Larry D. Henry who began his law career with the Army JAGC where he tried over 2,000 cases. After the Army he relocated to Tulsa. In 1981, the founder of DAC Services contacted Mr. Henry's firm for assistance in creating a background screening company. Since Mr. Henry's practice was employment law, the firm believed this fell within his area and as they say: "the rest is history". His practice has kept him in continual contact with the background screening industry, and he is a nationally recognized expert in the area of background screening.

Mr. Henry's practice is concentrated on employment law and in specific, background screening of employees. He represents consumer reporting agencies throughout the United States and two national trade associations. He is the author of the Criminal Records Manual and the on line reference site:CRAHelpDesk.com, and he is a frequent presenter across the country on various topics dealing with background screening.
Hertz Faces Lawsuit for Alleged FCRA Violations
A class action lawsuit filed in San Francisco federal court claims Hertz Corporation and the Consumer Reporting Agency (CRA) providing background check reports to the rental car giant allegedly "acted willfully in violating the requirements" of the Fair Credit Reporting Act (FCRA) when performing criminal background checks on job applicants.
Specifically, the lawsuit alleges that Hertz "systematically violates section 1681b(b)(3)(A) of the FCRA by using consumer reports to make adverse employment decisions without first providing the applicant who is the subject of the report with sufficient and timely notification of its intent to take an adverse action, a copy of the report, and a summary of the applicants' rights under the FCRA."
See Lee v. The Hertz Corporation, et al. No. 3:15-cv-02545, in the U.S. District Court for the Northern District of California..

Source: http://www.esrcheck.com/


Federal Law Trumps Colorado Medical Marijuana Protections
Colorado workers who use medical marijuana and engage in other activities permitted by state law but not federal law are not protected by the state's "lawful activities statute," the Colorado Supreme Court ruled. In Brandon Coats v. Dish Network L.L.C., Coats, a former telephone customer service representative for Dish Network, argued that he was wrongfully fired for using medical marijuana. Coats has a state-issued license to use medical marijuana to treat painful muscle spasms. Dish Network fired him after he tested positive for marijuana in violation of company policy. Coats said Dish Network violated his rights under Colorado's lawful activities statute. But in a 2-1 decision, the Colorado Court of Appeals ruled that for an activity to be considered "lawful" in the state, it must be permitted by both state and federal law.



Positive Workplace Drug Test Results on the Rise for Second Straight Year, Study Finds
For the second year in a row, the percentage of American workers testing positive for illegal drugs has increased, according to a study conducted by Quest Diagnostics. Quest Diagnostics' Drug Testing Index (DTI) - an annual analysis of workplace drug testing trends - found that the number of employees in the general workforce testing positive for illegal drug use increased in 2014 to 4.7%, up 9.3% from the year prior. Prior to 2013, DTI had shown a decade's-long decline in employees' use of illegal drugs. The increase in 2013 was driven largely by a 20% jump in the number of employees testing positive for marijuana use in Colorado and Washington. While marijuana remains the most commonly detected illegal drug, the number of employees testing positive for cocaine, methamphetamines and heroin also increased.





California Court Upholds Emotional Distress Award Due to Unannounced Random Drug Test
A California appellate court affirmed an award of emotional distress to two employees who felt pressured to submit to a random drug test. The Court reasoned that the random drug test administered in this case violated a fundamental right to privacy, which is protected by the California Constitution, and therefore the employer could not "hide behind the shield of workers' compensation." As debt collectors, Aro and O'Toole did not occupy "safety or security sensitive" positions and so the random drug test was "unreasonable and outrageous."
Aro v. Legal Recovery Law Offices, Inc. , Case No. D065422 (unpublished) (Cal. Ct. App. Apr. 8, 2015)

Positive Workplace Drug Test Results On The Rise For Second Straight Year, Study Finds
For the second year in a row, the percentage of American workers testing positive for illegal drugs has increased, according to a recent study conducted by Quest Diagnostics. Quest Diagnostics' Drug Testing Index ("DTI") - an annual analysis of workplace drug testing trends - analyzed the results of over 7.7 million urine, saliva and hair drug tests taken by employees nationwide during 2014.
The entire report may be accessed at www.QuestDiagnostics.com/DTI.

Connecticut Drug Testing Statutes Do Not Apply To Hair Tests, Court Holds
Connecticut's drug testing laws apply only to urinalysis drug tests and not to a drug test using hair specimens which led to an employee's termination, a Connecticut trial court has held. Schofield v. Loureiro Engineering Associates, Inc., 2015 Conn. Super. LEXIS 1262 (Super. Ct., D. Waterbury, Docket No. CV 146024702S, May 22, 2015).
Plaintiff Ronald Schofield began work for the Company on April 1, 2014. A little over two weeks later he was directed to take a drug test. (The decision is silent as to reason for the test.) The test relied on hair analysis. Schofield was not informed he would be subject to drug testing after he was employed. As a result of the drug testing, he was terminated.
Schofield brought suit against the Company alleging violations of the state drug testing laws. He also claimed, alternatively, that he was fired in violation of public policy.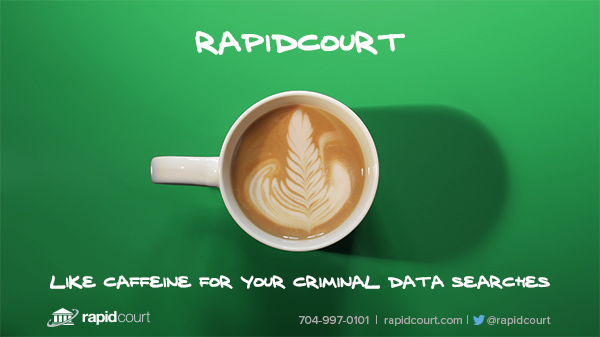 Public Record Update
By Mike Sankey, PRRN
Utah - Driver Monitoring Through the online service provider Utah.gov, a notification program is offered that enables insurance companies and insurance support firms to track activity of submitted drivers. Effective July 1, 2015 this program is now also available to employers. The subscriber submits a monthly list of drivers. If there has been activity in the preceding calendar month, a driving record is automatically issued. If there was no activity, the subscriber is also notified. The cost for the service is $.12 per driver and the driving record fee if a records is issued. Eligible organizations may subscribe by visiting www.utah.gov/registration.

LinkedIn and Fake Degrees
LinkedIn and Fake Degrees Have you ever used the Advanced Search feature on Linked to spot people touting a fake degree from a diploma mill? If not, this is how to do so: 1. After you log-in, click on the "Advanced" tab shown on the top bar. 2. The list on the left side of the next page shows Search categories. 3. Under the section labeled School, type in the name of a known diploma mill.

Public Record Retriever Network - www.PRRN.us
The CRA Help Desk - www.CRAHelpDesk.com
Motor Vehicle Record Decoder - www.MVRDecoder.com
BRB's Public Record Blog - www.publicrecordsblog.net
BRB's Bookstore - www.brbpublications.com/books/

HireRight joins REC Business Partnership Scheme
The Recruitment and Employment Confederation (REC) is pleased to announce that HireRight has joined its business partnership scheme.

A global provider of candidate due diligence services, HireRight provides background screening of employees and job applicants to help organisations mitigate employee risk, make informed hiring decisions, and meet compliance obligations.

HireRight works in more than 240 countries and has offices across the globe. More than one-third of the FTSE 100 use HireRight's services.

"We're delighted to be recognised as an REC partner. We understand the need for recruiters to provide ever more services to their clients, background screening being an important one of them.




Innovative Enterprises Launches PACERPlus™ Enhanced Federal Record Search
Innovative Enterprises, Inc., announced the official release of PACERPlus™, a robust solution which gives screening professionals expanded insight into federal criminal, civil and bankruptcy records while improving efficiency and reducing costs.

Searching the federal PACER system directly can yield unmanageable lists of possible cases, and the steps required to narrow those down can be both cumbersome and costly.

"We built PACERPlus™ to close the gaps associated with the traditional methods of searching federal court records," stated Clifford J. Williams, Innovative's President and Chief Operating Officer. "Using this exciting new solution, professional background screeners will significantly reduce the effort required to search federal court records which achieving measurable savings that will go straight to the bottom line."




Omni Data Retrieval Provides Estimated Time of Arrival Information to BackChecked Customers
Omni Data Retrieval has enhanced an existing integration with background screening system provider BackChecked to include real-time turnaround time estimates for pending searches performed by Omni Data Retrieval.
"We are excited to provide our mutual customers with this valuable addition to the criminal research offered within the BackChecked software. With this added visibility, customers will have the ability to access live status updates of public record searches within 24 hours of the order placement," said Scott Maloney, president of Omni Data Retrieval. "This will reduce the need for customers to spend additional resources to inquire into the status of searches."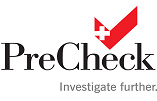 PreCheck Wins Two 2015 Crystal Awards for Educational Content
PreCheck took top honors in two categories in the Crystal Awards, recognizing marketing excellence. In the category of Blog, the PreCheck Blog was recognized for the second consecutive year; the company's recently released email newsletter PreCheck Pulse was recognized in the category of Electronic Newsletter: For Profit.
"PreCheck's Marketing department is honored to have been recognized for our educational content at this year's Crystal Awards," stated Bryan Barajas, Marketing Director at PreCheck. "In 2014, we published 131 articles for the PreCheck Blog, doubling our commitment to educating our clients and prospective customers. Not only was our blog recognized for the second consecutive year, but our email newsletter PreCheck Pulse is now also an award-winning publication. I look forward to another year of working with my talented team to create quality content and resources
for our readers."




infoZen Launches IDentrix for Continuous, Post-Hire Personnel Screening
InfoZen announced the general availability of IDentrix, a patented software that continuously evaluates personnel data and proactively alerts organizations to potential risks to organizations including such as insider threats. IDentrix extends the value of a pre-hire background check throughout the entire employment lifecycle, using sophisticated analytics to continuously assess risk factors from all relevant criminal, financial and professional data sources to keep the risk profile current.
Traditional background screening methods aren't equipped to meet the needs of today's insider threat environment. Most organizations conduct a one-time background check during the hiring process, which fails to account for constantly evolving life events that impact post-hire personnel risk. Until now, executives have been forced to make security and compliance decisions based on dated background check information that becomes less accurate by the day. IDentrix addresses this critical gap through automated, continuous identity evaluation that alerts executives to potential threats and empowers a proactive approach to ensuring employee safety, protecting intellectual capital, safeguarding assets and streamlining compliance.




Kevin Coy is a Partner in the Washington DC office of Arnall Golden Gregory LLP. Kevin
advises background screening companies and other clients on a wide range of privacy and consumer regulatory issues, including Fair Credit Reporting Act, Gramm Leach Bliley Act,
Drivers' Privacy Protection Act, and Dodd Frank Act compliance issues, as well as data breach matters. Kevin also represents clients with matters before the Federal Trade Commission, the Consumer Financial Protection Bureau, and other consumer protection agencies.
Kevin can be contacted at Kevin.Coy@agg.com or 202-677-4034.
THE WASHINGTON REPORT
June 2015
At the Supreme Court
On June 25th, in Texas Department of Housing and Community Affairs v. The Inclusive Communities Project Inc., the Supreme Court upheld the permissibility suits under the Fair Housing Act based upon a disparate impact theory of liability.
On Capitol Hill
On June 2, 2015, President Obama signed the USA Freedom Act, Public Law 114-23, which reauthorized and reformed certain government surveillance programs and authority. Among the changes made by the USA Freedom Act were amendments to FCRA Sections 626 and 627 which regulate the conditions under which the FBI and other government agencies can obtain information from consumer reporting agencies for counter-terrorism purposes.
June 1st, the House of Representatives passed by voice vote HR 1168, the Native American Children's Safety Act. The bill would require that, prior to a foster care placement or approval of a foster care license, the tribal social services agency must complete a criminal records check of each covered individual who resides in the household or is employed at the institution in which the foster care placement will be made.
At the CFPB
The Consumer Financial Protection Bureau (CFPB) has published a blog post entitled, "Consumer Advisory: Fact-check Your Specialty Consumer Report." In the post, the CFPB informs consumers that the national credit reporting systems are not the only consumer reporting agencies that "collect and sell [consumer] personal data."
At the FTC
The administrative proceeding against LabMD over the now-defunct company's alleged data security failures continued at the Federal Trade Commission (FTC).
Welcome to the eVerify Challenge Question!
SPONSORED BY


ONE SITE! MANY SUPPLIERS!

SPONSORED BY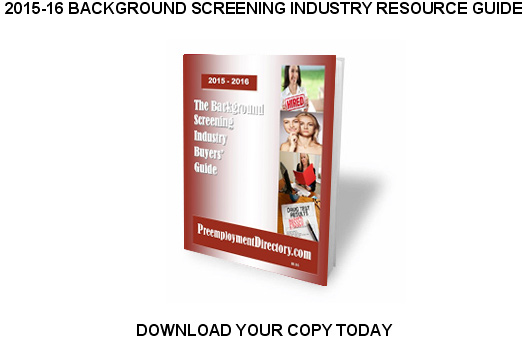 Welcome to the eVerify Challenge Question!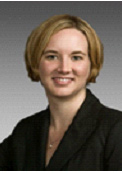 Nicole A. Kersey
Managing Director, Kersey Immigration Compliance, LLC

nkersey@kerseyimmigration.com
Nicole A. ("Nici") Kersey is an attorney whose practice is dedicated to employment-based immigration, with a focus on the Form I-9, E-Verify, and related immigration compliance issues. Nici represents employers before, during, and after Form I-9 inspections by Immigration and Customs Enforcement (ICE), providing practical advice to and serving as an advocate for employers during negotiations and litigation relating to fines for I-9 violations. She is a frequent trainer and speaker on I-9 and E-Verify issues. Nici is a graduate of the University of Virginia School of Law and provides pro bono representation to the spouses of U.S. soldiers and to arts organizations.
The Challenge Question:
What telephone number should my employee provide on the Form I-9?
The new Form I-9 has a telephone number field in Section 1. I understand that this is an optional field, but if an employee chooses to provide telephone number, which number should she provide: her home, cell, or her work number?
California Employer Agrees to Pay Largest Civil Penalty for Discrimination During the I-9 Process

The Department of Justice announced that Luis Esparza Services, Inc. (LES) had agreed to pay $320,000 to resolve allegations that the company engaged in a pattern or practice of discrimination during the I-9 process. In the case at hand, it appears that LES routinely required individuals attesting to be lawful permanent residents to present a "green card" during the I-9 process (even though other documents such as a driver's license and unrestricted social security card would also be acceptable). LES apparently did not have any such procedure for U.S. citizens - thus forming the basis for the alleged discrimination. This is the highest civil penalty paid through a settlement since the anti-discrimination provision went into effect in 1986.



I-9 and E-Verify Decisions Can Lead to Unfair Labor Practices
We've been seeing a new risk associated with I-9s, originating (ironically) from employers' often-diligent attempts to prevent mistakes in the first place. This particular threat emerges from within - from the employer's own workforce in the form of a claim of unfair labor practices before the National Labor Relations Board (NLRB). Even if your employees are not currently represented by a union, the NLRA can still impact your business operations and those crucial planning decisions with respect to I-9 and E-Verify compliance. While union participation has been declining over the years, employers may still find themselves in the crosshairs of the NLRB - particularly in relation to any kind of employer activity which may affect an employee's right to work. This is especially true in the context of I-9 and E-Verify policy decisions.





Manager Narrowly Escapes Jail Time for Making a False Statement on an I-9 Form
Human resource and hiring managers are becoming painfully aware of the potential dangers lurking behind the Form I-9 and E-Verify process. For the most part, these tales of woe stem from procedural failures such as missing or incorrectly completed I-9s, which can lead ICE to assess "paperwork" penalties and fines. The Department of Justice announced that a woman in Western New York was sentenced to one year of probation for submitting a false and fraudulent written statement on an employee's I-9 form. The case have ended very differently - especially if she had exhibited a pattern or practice of falsifying I-9s or if the record had indicated other culpable conduct.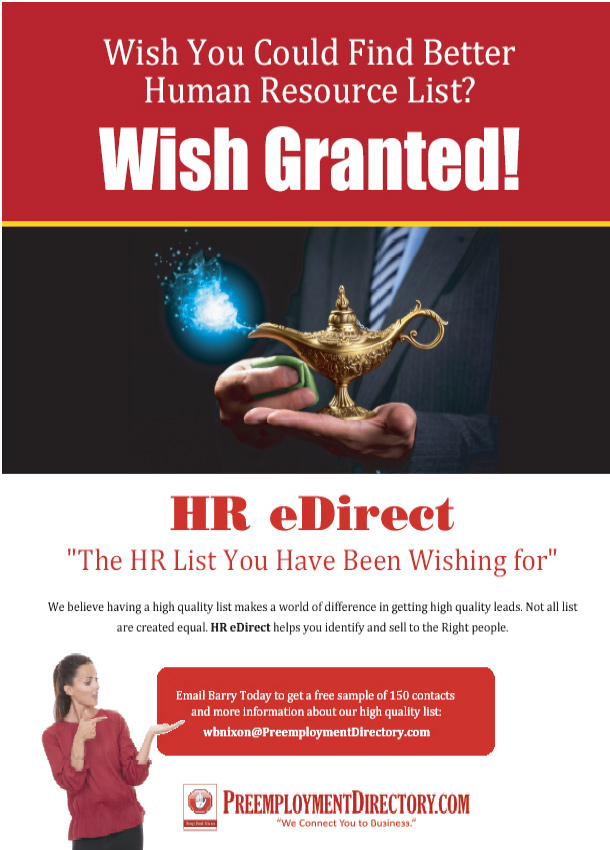 Hiring Momentum Improved In May With Gain of 280,000 Jobs
Hiring momentum continued to grow in May as employers added 280,000 new jobs, surprising economists who had been expecting far less aggressive hiring.
It was the strongest gain since December, providing evidence that the slowdown earlier this year was a weather-caused blip, rather than a sign of a weakening economy. In addition, hourly pay for private sector workers increased by .3 percent, the biggest gain in almost two years and a sign employers are beginning to respond to the tightening job market.



CareerBuilder Reveals Hot Industries for Job Growth Over the Next Five Years
Looking to find a new job, make a career change or declare a major? CareerBuilder released a new list of industries that are expected to add jobs at an accelerated pace from 2014 to 2019. The study is based on data from Economic Modeling Specialists Intl (EMSI), CareerBuilder's labor market analysis arm that pulls data from over 90 national and state employment resources.
The U.S. is projected to create roughly 8 million jobs from 2014 to 2019 - a 5 percent increase - though a significant number of industries will likely experience a greater percentage gain during this period.
"Around one third of all U.S. industries are expected to outperform the national average for employment growth over the next five years," said Matt Ferguson, CEO of CareerBuilder and co-author of The Talent Equation . "While it's not surprising that technology and health care made the list, the accumulation of new jobs will take place within a diverse mix of industries requiring a broad range of skills and experience."

STOP STRUGGLING WITH WRITING AND PUBLISHING YOUR NEWSLETTER:
We can help you have a high quality e-newsletter to help nurture your relationship with your clients and attract new clients. Our customized newsletter service will take over your newsletter task or create a new one for you. We can manage the creation of your newsletter for you.
We are constantly researching information to use for The Background Buzz and you can put our research to use for you. Using the information rich content from The Background Buzz (minus the ads and competitors information) we will create a custom newsletter for you.
Use your staff's time to do more valuable work and save all the hassle of researching or writing articles, formatting and managing all the other ezine tasks with our customized ezine process.
Contact Barry Nixon at 949-770-5264 or at wbnixon@PreemploymentDirectory.com for more information.

Grab a latte and pull up a chair and join us for a great interview with Dan Fallows, Executive Director, GARDA Background Screening Solutions.
Title: Executive Director

After graduating from Conestoga College where he studied Law and Security Administration Dan went to work as a Junior Investigator with Equifax Canada. He smiled as he reminisce for a moment, but noted that he learned all facets of investigative work from some of the very best investigators in Canada. By the time Equifax split our division off as Keyfacts Canada in 1995 he had already progressed to senior Supervisor in charge of background and financial investigations. After other acquisitions and transformations Keyfacts became part of Garda in 2006 and Dan was soon Executive Director in charge of all operations.

One of the things that he specially enjoys about the industry is the fact that his company is helping to build a stronger economic environment by assisting clients to place the right candidates in the right positions - ensuring a safer; more productive environment.

Focusing on the company, Dan shared that Garda's strives to be the preeminent background screening provider in Canada. He note that their unique blend of skills, controls, flexibility and technical expertise allow them to create solutions that fit their clients' needs. "Quality Through Consistency" that truly is the Garda difference.

He indicated that the company had some exciting announcements coming later this year, however, said it would be premature to release them at this point. I tried to persuade him to at least give us a hint, but he would not budge.

He added that "As a leading national provider of background screening services,
Garda understands the importance of providing quality information clients can trust.
By understanding the need to manage risk and avoid losses, their clients have come
to expect unique, value-added background screening services. This level of custom-ized service and operating in accordance with the highest standards of legal and
ethical behaviour has afforded us a 98% client retention rate."

Dan beamed as he said "We are a proud Canadian, wholly owned and fully bilingual company that knows the mechanics behind background screening in Canada better than anyone else in this industry. We believe Garda's background screening solutions will provide you with the peace of mind knowing that; established processes/procedures, secure data storage policies, advanced information security, and applicable legislation are always adhered to in the course of our day to day business."

He added, "Knowledge truly is power, however only when it is accurate. By putting Garda's expertise and experience to work for their organizations, our clients see the true difference. We work as an extension of their organization by establishing a true partnership model. As a partner with Garda, our clients receive the most innovative
and comprehensive solutions in the industry with an exceptional level of service and quality at all times."

Dan emphatically noted that "There is no other organization within our market that can provide the flexibility, customization, dedicated customer support and cost efficiency that Garda offers.

I turned his attention to my favourite question about 'what he sees coming down the road' for the background screening industry: He said, "The move towards technology and automation will continue and the need for information will increase. In 10 years I see the industry being even more integrated into our client's systems and the demand for quicker response times continuing. Fast, quality information will be the key to the future."

Turning the conversation back to him he shared that he was "a bit of a science fiction "geek" and really enjoy the works of Robert Heinlein. "

He also shared that the person(s) he would most like to meet were his Grandfathers because he never had the pleasure of meeting either of them since they had both passed by the time he was born.

Finally, in drawing the interview to a close he shared his favourite quote, " Our greatest weakness lies in giving up. The most certain way to succeed is always to try just one more time."
-- Thomas Edison

Thanks to Dan for a great interview.

Dan can be contacted at dfallows@gardape.com.

Company Profile:


Company Name:
Garda Background Screening Solutions

Year Founded: Roots dating back to 1922

Headquarter Location:

Montreal, Canada

Geographies Served: Canada



Entertainment Interest:


Favorite Musical Group or Artist: Jon Anderson

Favorite Sport Team(s): Toronto Blue Jays

New Police Record Checks Reforms Introduced
On June 3, 2015, the Ontario government introduced Bill 113, the Police Record Checks Reform Act, 2015, legislation that would, if passed, implement a new process governing requests for searches of the Canadian Police Information Centre databases, or other police databases, in connection with screening an individual for certain purposes. Among other things, the Bill would: authorize Ontario police services to offer three types of records checks: criminal record checks, criminal record and judicial matters checks and vulnerable sector checks and limit and standardize the types of information that are authorized for disclosure in respect of each type of check. Persons or organizations that willfully contravene certain provisions of the Act would be guilty of an offence and liable to a fine of not more than $5,000.





Random Drug and Alcohol Policy Struck Down
An Alberta arbitration board allowed the union's policy grievance and struck down the employer's random drug and alcohol testing policy in Unifor, Local 707A v Suncor Energy Inc, 2014 CanLII 23034. The policy was part of an array of measures adopted by Suncor to ensure the safety of its workforce in an admittedly hazardous workplace. A majority of the board held that Suncor had failed to show an existing problem at the worksite and in the bargaining unit that would justify the intrusive nature of the random testing.
The policy was held to be unreasonable.



Highlights of the Canada Digital Privacy Act 2015
On June 18, 2015, the Canadian Parliament passed the Digital Privacy Act (DPA), Senate Bill S-4, into law. The DPA amends Canada's federal data protection statute, the Personal Information Protection and Electronic Documents Act (PIPEDA) in important respects, including introducing a new data breach notification requirement (which is not yet in force) and making other material changes to PIPEDA. This post summarizes key changes to PIPEDA brought about by the DPA.

ONE SITE! MANY SUPPLIERS!
The 2015-16 SUPPLIERS TO THE BACKGROUND
SCREENING INDUSTRY BUYERS GUIDE IS HERE!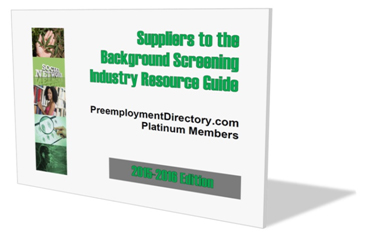 DOWNLOAD YOUR COPY OF THE 2015-16 BUYERS GUIDE NOW!
The Biggest Liars Revealed
According to Ina van der Merwe, Director and CEO, Managed Integrity Evaluation (MIE), qualification fraud is fast becoming a significant problem in South Africa - increasing by 200% over the last five years (2009 – 2014) and impacting even the highest executive levels. "The massive increase in the last five years refers to qualifications we have found to be falsified, invalid or inconsistent. This includes those which have been purchased from a 'degree mill, altered or simply included on a CV with no physical or recorded evidence," van der Merwe explains. "Unfortunately, as these fraudsters enter the workforce, a number of honest and legitimately qualified individuals are side-lined for the respective position," she adds. The biggest culprits? Van der Merwe shares that the sector recording the highest percentage of qualification fraud is the trade industry.

HR's Checklist for Dealing With Substance Misuse in a Workforce

An employee's use of illegal drugs, whether at work or at home, can affect relationships with colleagues, increase absence, reduce productivity and cause an unsafe working environment. The possession of illegal drugs, and buying or selling them, also exposes employees to the risk of criminal charges.
Employers have a legal duty to ensure, as far as reasonably practicable, the health, safety and welfare of all their employees. This involves providing a safe place (and systems) of work. What this requires of the employer will depend on the nature of the business and the particular role of the employee concerned.
The Information Commissioner's Office has issued good practice guidance which contains some recommendations for situations where drug testing will or will not be acceptable.
Read the checklist to see a number of practical steps employers can take.

New drug driving law explained… the essential info
Since March, it has become an offence to drive while over a specified limit of drug use. This is similar to the drink driving laws and means police no longer need to show an impairment to driving due to drugs, simply that the driver is over the limit. Employers should ensure that any drivers who use a vehicle for work purposes are aware of this change to the law, and understand its implications. The offence carries a mandatory disqualification from driving and a maximum of six months' imprisonment. Such a controversial issue needs to be handled sensitively and many employers find it difficult to know what they can or should do when faced with an employee with a substance misuse problem.




The Government's Anti-corruption Plan
On December 18 2014 the UK government published its Anti-corruption Plan. The plan recognises that bribery and corruption are major issues across the public and private sectors and seeks to make the United Kingdom a leader in the global effort to combat them. The plan gives the National Crime Agency (NCA) the lead role in the fight against corruption and promises the creation of a new central bribery and corruption unit under the aegis of the NCA that will be tasked with boosting the UK response to cases of international corruption and acting as a centre for excellence. Some have read into this an indication of the future of the Serious Fraud Office (SFO) and have used it to consider whether the SFO should continue in its existing form, or alternatively be remodelled to meet envisaged changes to the investigation and prosecution of economic crime.



ADVERTISERS IN THIS EDITION

| | | | |
| --- | --- | --- | --- |
| | | | Background Screening Jobs |
Visit the Job Board for the Employment and Tenant Screening Industry. Here you will find resumes of people with industry experience and employers seeking applicants with experience in Employment and Tenant Screening and related businesses.
www.backgroundscreeningjobs.com

Feature Education:
FCRA Basic Certification Webinar Series Update

The FCRA Basic Certification program series is now available for purchase.

2015 Events ( Click Here to View full list of Events ) - Updated Monthly
SHRM State Conferences, visit http://www.shrm.org/Conferences/StateAffilliateConferences/Pages/default.aspx
Drug and Alcohol Testing Industry Association (DATIA), 2013 Training Course Schedule, visit
http://datia.org
SAPAA Training Institute Learning Events, http://www.sapaa.com/
CUPA-HR Conferences: http://www.cupahr.org/
World Federation of People Management Associations, Events, http://www.wfpma.com/events/by-region#quicktabs-tab-view__events__page_3-4