EMPLOYMENT SCREENING NEWS
Number of Employers Passing on Applicants Due to Social Media Posts Continues to Rise, According to New CareerBuilder Survey

More employers are turning to social networking sites to find additional information on potential candidates – and they're not entirely impressed with what they're seeing. A new survey from CareerBuilder found that 51% of employers who research job candidates on social media said they've found content that caused them to not hire the candidate, up from 43% last year and 34% in 2012. Forty-three percent of employers use social networking sites to research job candidates, up from 39% last year and 36% in 2012. Additionally, 12% of employers don't currently research candidates on social media, but plan to start.

Read more


Ruling Could Scrub Quarter of Sex Offender Registry
One-fourth of the names on Maryland's sex offender registry are to be removed after the state's top court expanded on an earlier ruling that adding offenders from before the list was created violated the state constitution. The Court of Appeals declared last year that the state could not require the registration of people who committed their crimes before October 1995, when the database was established. State officials removed the one name in question in that case but maintained that federal law required them to keep older cases in the database. The judges ruled that federal law doesn't override the state constitution.

Read more


Theme Park Employees Caught in Sex Stings, Child Porn Arrests
There have been at least 35 Disney employees arrested since 2006 and accused of sex crimes involving children, trying to meet a minor for sex, or for possession of child pornography, according to a six-month CNN investigation. Five Universal Studios employees and two employees from SeaWorld have also been arrested. So far, a total of 32 have been convicted, with the remaining cases pending. "Wherever you find children, you'll find sexual predators that want to be there," said Polk County Sheriff Grady Judd. Disney and other businesses that cater to children need more leeway to use polygraph tests when hiring employees, Judd added.

Read more


SHRM Employment Verification Survey Reviews Form I-9 and E-Verify
The Society for Human Resource Management (SHRM) has released the SHRM Employment Verification Survey to capture information on the challenges associated with the Employment Eligibility Verification Form, Form I-9 and E-Verify, an Internet-based program that compares information provided on I-9 Forms with data from U.S. government databases. The SHRM Survey found almost half of organizations currently using E-Verify reported experiencing no challenges with the E-Verify process. For the rest, the most commonly identified challenges included not replacing the Form I-9 process (23%), the process for resolving tentative non-confirmations was unclear (19%), and issues with the authenticity of documents presented by employees (13%).
CIC Now Offers Fraud-Defender to Clients' Applicants: Increases Property Management Companies' Revenue Stream
CIC announced that clients may now include Fraud-Defender's industry-leading identity fraud research, remediation and recovery systems in their application process. By partnering with Fraud-Defender, property managers will automatically provide each rental applicant numerous consumer protection benefits, while increasing their revenue stream from each rental application.
Clients, who participate in the Fraud-Defender program, provide applicants and their staff with a professional recovery advocate, who will research credit reports, public records, and black market sites, among others. In the event of identity theft, the advocate handles all the work for the victim, with no time limit restrictions. They also receive the added benefit of lost document replacement, where the advocate works with the victim to cancel and replace all debit and credit cards in the event of a lost or stolen wallet. The advocate will also replace important credentials and documents, should it be necessary.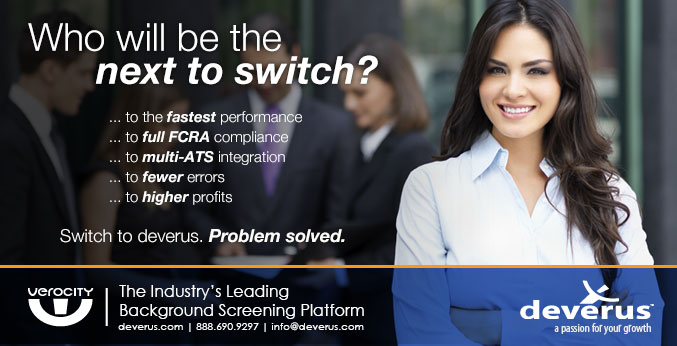 TENANT SCREENING - continued
RenterResume Launches Innovative Smart Tenant Screening Platform and Redefines the Residential Rental Market
RenterResume, one of the leading providers of a cloud-based smart tenant screening platform for small and mid-sized property management companies and independent multi-unit landlords, announced its official product launch. Known as the "Match.com" for landlords and renters, RenterResume is transforming the tedious front-end process of screening and approving renters, providing the needed credit and background data to help landlords and property management companies make informed rental decisions quickly, eliminating redundant processes needed in paper-based tenant screening.
"This has been a long-time coming, but we're excited that we have a tenant screening product that stands apart from anything else in the market," says Joshua Hines, CEO of RenterResume. "Multi-unit landlords and property managers that don't oversee thousands of properties can't justify the costs associated with many of the big software companies in the rental market now. RenterResume provides access to the same online tools used by larger companies."
Alabama Employers May No Longer Consider Certain Criminal Records for Hiring Purposes
How and when employers can request and use a person's criminal record information during the hiring process and for other employment purposes has become a hot topic over the last few years at the federal, state and local level. In the last 18 months, various states and cities have enacted legislation regulating when an employer can seek criminal record information in the hiring process, what information can be sought and how the information can be used. Effective July 6, 2014, Alabama joins the growing list of states regulating employer use of criminal record information for employment purposes.

Read more
U.S. Census Bureau Down for the Count After Certification Ruling in Criminal Background Check Case

A Magistrate Judge in the United States District Court for the Southern District of New York granted partial class certification in a case where plaintiffs allege that the United States Census Bureau used arrest records to screen out job applicants, thereby transferring disparities in arrest and conviction rates for African-Americans and Latinos into the agency's hiring practices and setting up hurdles to employment that disproportionately affected these groups in violation of Title VII. This case is a reminder that employers should periodically examine their criminal background check policies to ensure that they continue to comply with developments in the law.

Read more


International Safe Harbor Privacy Compliance: What You Need to Know
Since early 2014, the Federal Trade Commission has charged at least fourteen U.S. businesses in varying industries, from fashion to telecommunications, for falsely claiming to participate in the U.S. – EU Safe Harbor privacy. Three of the companies were also charged with similar violations of the U.S. – Swiss Safe Harbor. The Safe Harbor provisions were designed to provide U.S. and European organizations a legal, cost-effective means for transmitting consumer data outside of European countries, which maintain strict data privacy laws. On June 25, 2014, the FTC reported approval of final orders settling charges of U.S. – EU Safe Harbor violations against the fourteen entities.

Read more
New Alabama Law Allows Expungement of Certain Criminal Records
A new law in Alabama allows individuals to petition to have certain criminal records expunged upon the payment of $300 in fees, plus court costs, and following a successful petition to the court in which the relevant charge was filed. This means that a prospective employee would not be required to disclose on an employment application criminal record information that has been expunged. Offenses subject to expungement include misdemeanors and nonviolent felonies. The new law becomes effective July 6, 2014. A petition for expungement must be filed with the circuit court in the location where the charge was filed.


New Florida Data Security and Breach Law Effective July 1
Businesses that maintain individuals' confidential, personal information may need to be more alert in protecting this data under the Florida Information Protection Act of 2014, signed into law by Governor Rick Scott. The new law, which some have called one of the broadest and most encompassing data security breach laws in the nation, imposes on covered entities a statutory requirement to safeguard Floridians' personal information, to report a breach to the state attorney general, and to comply with other affirmative obligations. The new law becomes effective July 1, 2014; the previous statute (Section 817.5681, Florida Statutes) is repealed.

Read more
New Jersey Senate Bill Would Prohibit Automatic Disqualification of Applicants Based on Criminal Record

The Senate has introduced two (essentially identical) bills (S2101 and S2102) that would prohibit public and private employers from automatically rejecting current or prospective employees based on their criminal record. The bill would require employers to consider at least eight specific factors, including the specific duties and responsibilities, the bearing the crime will have on the employee's fitness for duty, the time lapse between the occurrence of the crime and the application for employment, the age of the applicant when the crime was committed, and the seriousness of the offense (among others). The bill has been referred to the Senate Law and Public Safety Committee.

Read more
Background Check Lawsuits: If It's Not One Thing, It's Another
On July 1, a federal court in New York certified a class of unsuccessful Hispanic and African-American applicants alleging the U.S. Census Bureau discriminated against them by requiring applicants to provide the Bureau with detailed information about their prior criminal records and improperly rejecting applicants on the basis of their prior criminal records. Houser v. Pritzker, Case No. 10cv3105-FM (S.D.N.Y. Jul. 1, 2014). Specifically, the plaintiffs are alleging that the Bureau's policies had a disparate impact on Hispanic and African-Americans because they tend to have higher arrest and conviction rates than whites.
In Antoine v. Aaron's Inc., Case No. 1:14-cv-02120 (N.D. Ga. filed Jul. 3, 2014), an unsuccessful applicant has filed a putative class action against Atlanta-based retailer Aaron's in Georgia federal court alleging that Aaron's violated the FCRA by rejecting applicants or terminating employees without providing them copies of background check reports prior to taking action.

Read more
Welcome to the U.S. Legal Challenge Question!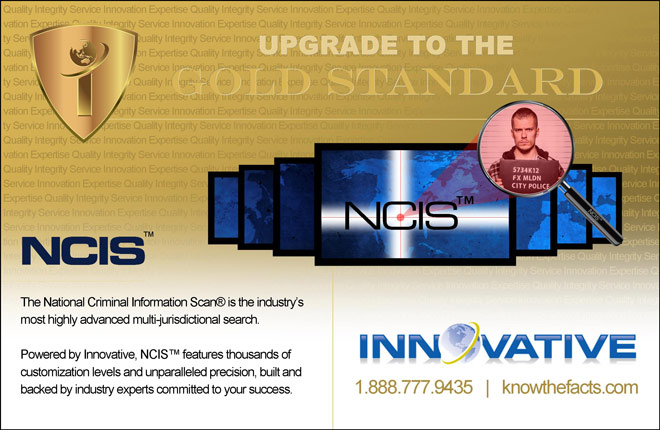 As the background screening industry continues to get more competitive the firms that will ultimately succeed will be those that create competitive advantage through their people by offering continuous learning opportunities to heightened their knowledge and capabilities. We believe that having employees that are very knowledgeable about the legal landscape of background screening is essential to continued success.
We are grateful to Larry D. Henry who began his law career with the Army JAGC where he tried over 2,000 cases. After the Army he relocated to Tulsa. In 1981, the founder of DAC Services contacted Mr. Henry's firm for assistance in creating a background screening company. Since Mr. Henry's practice was employment law, the firm believed this fell within his area and as they say: "the rest is history". His practice has kept him in continual contact with the background screening industry, and he is a nationally recognized expert in the area of background screening.
Mr. Henry's practice is concentrated on employment law and in specific, background screening of employees. He represents consumer reporting agencies throughout the United States and two national trade associations. He is the author of the Criminal Records Manual and the on line reference site:CRAHelpDesk.com, and he is a frequent presenter across the country on various topics dealing with background screening.
Please choose your answer by clicking on it:

LEGAL ISSUES – BAN THE BOX
Ban the Box in Indiana: What Employers Need to Know
Companies are rethinking the single check box on employment applications that inquire about an applicant's criminal history. Over sixty cities and counties have taken steps toward eliminating job application barriers that have traditionally disposed of candidates with a criminal history. These steps are part of a movement referred to as "Ban-the-Box," which removes the question of criminal history on job applications, and defers any criminal history inquiry until later in the hiring process. As the law evolves at different rates across the country, employers need to be aware of the applicable laws in jurisdictions where they conduct business activities because laws may vary.

Read more
Ban the Box: What's Next? Ban the Job Application?
The job application needs a fresh look. For sure, employers need to collect basic information like name, address and contact information. But like the question about convictions, the question isn't if it can be asked but when. So here's a crazy thought but one that might improve the odds of finding that needle-in-a-stack skilled worker and keep employers out of hot water. Ban-the-Box, Ban-the-Name, Ban-the-Address -- that's the way a fair, valid and job relevant screening process is supposed to work. It's also an innovative approach to help employers identify highly skilled and qualified workers who are currently sifted out of consideration for the wrong reasons.

Read more
Illinois Enacts New Law Impacting Inquiries on Criminal Background Checks
On July 19, 2014, Illinois Governor Pat Quinn signed into law the Job Opportunities for Qualified Applicants Act, which will go into effect on January 1, 2015. The new law will restrict the timing of pre-employment inquiries by Illinois employers about a job applicant's criminal past. The Act reflects the ongoing trend, at both the state and local level, toward so-called "Ban-the-Box" laws that have been enacted across the nation. The EEOC also has endorsed this limitation in its updated guidance regarding consideration of arrest and conviction records under Title VII of the Civil Rights Act of 1964
New Jersey's "Ban the Box" Bill Sent to Governor Christie's Desk; Final Version More Employer-Friendly
The New Jersey Legislature has given final approval to a slightly more employer-friendly version of the state's "ban the box" measure, which now heads to Governor Chris Christie's desk. Notably for employers, the legislation explicitly provides that employers may refuse to hire an applicant based on his or her criminal record unless the record has been expunged or erased through executive pardon. As with the previous iteration, the bill does not provide applicants with the ability to sue employers in court for a violation of the law. Instead, the applicant would have to file an administrative complaint.

Read more

Alcohol Deterrence Tactics: Current Testing Trends and Emerging Technology to Support Sobriety

Substance abuse trends are heading in the wrong direction in the U.S. And if you're in the criminal justice field you know that the number one drug of abuse in the U.S. is alcohol. Alcohol abuse is often at the heart of the problems criminals have before and after they break the law, yet alcohol testing of such individuals is not nearly as common as it should be. To effectively address substance abuse requires a balanced approach that includes both drug and alcohol testing. And while traditional alcohol testing methods involving breath can be difficult and somewhat cost prohibitive, that doesn't have to be the case.

Read more (requires registration)


Will Minnesota's New Medical Marijuana Law Leave Employers High and Dry?

Minnesota became the 22nd state to legalize medical marijuana use and, as part of the new law, to enact new potential employment protections for registered users of medical marijuana. Minnesota's new marijuana law has already gone into effect, but distribution of marijuana for medical purposes is not expected until July 1, 2015. Employers should use this extra time to familiarize themselves with the new law and its potential implications. It is currently unclear if courts will strictly enforce the new state law against employers or whether the federal law criminalizing all marijuana use will trump the new state law.

Read more


New York Becomes 23rd State to Enact Medical Marijuana Law

The Governor signed New York's Compassionate Care Act, which will permit limited use of medical marijuana by individuals suffering from covered medical conditions, making New York the 23rd state to legalize the use of medical marijuana. Of relevance to employers, New York is one of only a few states that deem covered individuals ("certified patients") to be "disabled" categorically under the state human rights laws. The law will create challenges for employers as it relates to drug testing policies since it is unclear whether an employer must excuse or accommodate a positive drug test where the employee is a certified patient taking marijuana in approved forms.


Medical Marijuana Update
A CBD cannabis oil bill becomes law in Missouri, the District of Columbia expands its medical marijuana program, Michigan prepares to improve its program, Berkeley will provide free medical marijuana for the poor and homeless, an LA medical marijuana farmers' market gets an injunction slapped on it, and more.
Sponsored by:
Public Record Update
By Mike Sankey, PRRN
Availability of Criminal Records Online
Only 65% of Criminal Records are Online

A surprising number of courts do not have computerized record keeping. Per the latest statistics taken from the Public Record Research System 68% of civil courts and 65% of criminal courts are online. There is no such thing as an instant national search of criminal records.

Taken from BRB's Public Record Research System.
Restrictions on Use of SSA Index
Effective March 26, 2014, the Social Security Administration Death Index, also known as the Death Master File (DMF), has significant restrictions to access on newer records. In a nutshell, unless the requester is certified, they cannot be provided death record information within 3 years of a subject's data of death. However, this ban does not affect death records distributed/sold/in use prior to March 26, 2014. Below are details.
Read the details in the Federal Register at: www.gpo.gov/fdsys/pkg/FR-2014-03-26/pdf/2014-06701.pdf
KYC Israel Becomes First Israeli Company to Join NAPBS
KYC Israel has become the first Israeli company to join NAPBS. By joining NAPBS, KYC Israel recognizes the mission of the association, to promote ethical business practices, compliance with the FCRA, equal employment opportunity, and state consumer protection laws relating to the background screening profession.
KYC is prepared to help firms to understand Israel's business and cultural environment which can be a challenging task. In the crossroads where East meets West, Israel stands alone as a modern day success story attracting twice as much venture capital as the USA and thirty times more than Europe. With over 125 companies listed on the NASDAQ, Israel has the highest number of listings outside of the USA and China. When dealing with your Israeli connection, accurate information retrieval is essential for your next business decision. Whether for investment, screening, or compliance with regulatory issues such as FATCA, FCPA, PATRIOT, OFAC and the Bank Secrecy ACT, KYC Israel can provide the data you require.
KYC Israel's reach extends far beyond the borders of the Mediterranean and Dead Sea. Our company has provided a gamut of research reports for companies seeking information around the Globe.
For more information, visit http://www.kycisrael.com.
Permanent and Temporary Hiring to Increase in the Back Half of 2014
CareerBuilder's Midyear Job Forecast points to sustained job growth in the second half of 2014. Nearly half of U.S. employers plan to add full-time, permanent headcount over the next six months, and one-third plan to hire temporary or contract workers – both improvements over the same period in 2013.
"The results of this year's survey are indicative of a more assured employer population compared to 2013 when companies were, to some extent, irresolute when it came to adding permanent staff," said Matt Ferguson, CEO of CareerBuilder and co-author of The Talent Equation. The 2014 midyear forecast shows employers are expecting forward movement in all categories of hiring.
The Conference Board Leading Economic Index® for the U.S. Increases
The Conference Board Leading Economic Index® (LEI) for the U.S. increased 0.3 percent in June to 102.2 (2004 = 100), following a 0.7 percent increase in May, and a 0.3 percent increase in April.
"Broad-based increases in the LEI over the last six months signal an economy that is expanding in the near term and may even somewhat accelerate in the second half," said Ataman Ozyildirim, Economist at The Conference Board. "Housing permits, the weakest indicator during this period, reflects some risk to this improving outlook. But favorable financial conditions, generally positive trends in the labor markets and the outlook for new orders in manufacturing have offset the housing market weakness over the past six months."
"Stronger consumer demand driven by sustained job gains and improving confidence remains the main source of improvement for the U.S. economy
One Site! Many Suppliers!
2013-2014 SUPPLIERS TO THE BACKGROUND SCREENING
INDUSTRY BUYERS GUIDE NOW AVAILABLE!
Looking for the Top Suppliers in the Industry? Need to find a new Supplier?
Visit our VENDOR SHOWCASE which features suppliers to the Background Screening Industry.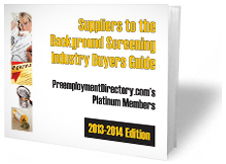 Click here or on image to get a copy

Kevin Coy is a Partner in the Washington DC office of Arnall Golden Gregory LLP. Kevin
advises background screening companies and other clients on a wide range of privacy and consumer regulatory issues, including Fair Credit Reporting Act, Gramm Leach Bliley Act,
Drivers' Privacy Protection Act, and Dodd Frank Act compliance issues, as well as data breach matters. Kevin also represents clients with matters before the Federal Trade Commission, the Consumer Financial Protection Bureau, and other consumer protection agencies.
Kevin can be contacted at Kevin.Coy@agg.com or 202-677-4034.
THE WASHINGTON REPORT
July 2014
It has been a slow month in Washington when it comes to background screening issues. As the month comes to a close, however, the Federal Trade Commission's (FTC) action against LabMD was the subject of renewed interest on Capitol Hill. The FTC alleges that LabMD violated Section 5 of the Federal Trade Commission Act as a result of lax security practices that resulted in the exposure of the patient information of more than 10,000 patients over a peer-to-peer network.
On July 25, Chairman Issa, chaired a hearing by his committee titled, "The Federal Trade Commission and its Section 5 Authority: Prosecutor, Judge and Jury." Chairman Issa was critical of the FTC, opining that the agency has not provided adequate notice of what steps a company must take to safeguard personal information.
On July 24th, the day before Chairman Issa's hearing on the matter, Senator Jay Rockefeller (D-WV), Chairman of the Senate Commerce Committee, sent a highly critical letter to Chairman Issa about what Chairman Rockefeller described as the "impropriety of [Chairman Issa's] ongoing interference with an administrative trial" and "using heavy-handed, bullying tactics to undermine due process and to inappropriately assist the Defendant, LabMD." Chairman Rockefeller defended the FTC and its authority to bring information security actions under Section 5 of the FTC Act.
EVERIFY & IMMIGRATION ISSUES
New E-Verify Feature
E-Verify will now notify you when a case you enter has the same Social Security number as another case entered in the last 30 days. This will allow E-Verify users to catch and correct duplicate cases early in the case creation process. This idea was submitted to E-Verify Listens.
STOP STRUGGLING WITH WRITING AND PUBLISHING YOUR NEWSLETTER:
We can help you have a high quality e-newsletter to help nurture your relationship with your clients and attract new clients. Our customized newsletter service will take over your newsletter task or create a new one for you. We can manage the creation of your newsletter for you.
We are constantly researching information to use for The Background Buzz and you can put our research to use for you. Using the information rich content from The Background Buzz (minus the ads and competitors information) we will create a custom newsletter for you.
Use your staff's time to do more valuable work and save all the hassle of researching or writing articles, formatting and managing all the other ezine tasks with our customized ezine process.
Contact Barry Nixon at 949-770-5264 or at wbnixon@aol.com for more information.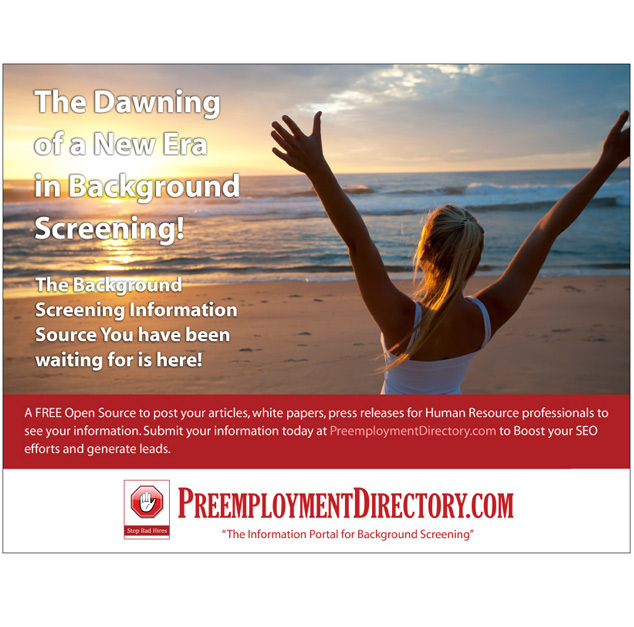 Grab a latte and pull up a chair and join us for a great interview with Kristin Stafford, COO International Screening Solutions, Inc.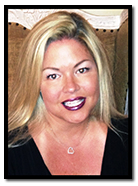 Kristin shared that her partner Chuck Papageorgiou and the CEO of ISS has been her "Mentor" for years and before joining ISS she consulted for him in a prior business venture. She had previously served as the head of Financial Operations for a multi-billion dollar credit card company and prior to that position she had spent years consulting as a Process Engineer and Business Analyst for several Fortune 500 Companies.
She indicate that he called her and told her he had invested in a Background Screening Company in Kennesaw, GA (which is close to her home) and asked me if she would be willing to join the company as a partner; I jumped at the chance to work with Chuck again and to also have the opportunity to build a successful organization around a product I knew was relevant and that I had immense respect for.
Kristin added that her favorite aspect of this industry is the strong relationships she has developed with professionals from CRAs that ISS serves; these relationships are always reciprocal with support, guidance and the mutual objective to ensure quality services to our industry at all times.
She emphasized that she also stand strong in her passion for what ISS delivers and will not compromise compliance for any reason. She beamed as she share that the ability to be proud of what you offer the world because you know it is of quality and while it is hard work it is exceedingly enjoyable.
Changing the focus of our dialogue to the business I asked her to share the mission and vision of ISS.
She shared that their mission is to provide compliant and risk adverse background screening services while exceeding our client's expectations through quality, education and unrivaled customer service.
Our vision is to be known as one of the substantial contributors of compliant background screening services that helped shape our industry and its longstanding goal to ensure ethical and legally compliant products and services are the standard at any cost, all the time.
She smiled as she happily announced (in advance to its NAPBS partners only) the official launch of WorldWatchPlus at the 2014 ASIS Conference in Atlanta, Georgia in September. WorldWatchPlus offers one of the first Global Watch List, PEP & Adverse Media "self-serve" solutions on the market today that supports FCPA principals and is 100% FCRA compliant. You could see and feel her deep felt pride in the release of this new service.
She added that it is ISS' operational emphasis and strategic focus on data security and absolute adherence of data protection laws globally that has developed the risk-aversion practices that give our clients unrivaled security and stability.
In response to my favorite question regarding looking into a crystal ball to predict what she sees happening in the industry in ten years down the road, she responded without hesitancy, "Ten years from now, I see the background screening industry as much more efficient, compliant and viewed as a global necessity in standard businesses practices."
Back on the personal side Kristin shared that she had recently read Joseph H. Ellis book, "Ahead of the Curve' and the person she indicated she would really like to meet is Ronald Reagan. As we closed the interview she shared her favorite quote, "You Only Live Once; This Is Not A Dress Rehearsal!"
Thank you Kristin for a very insightful and informative interview. To find out more about International Screening Solutions Kristin can be reached at Kristin.Stafford@intlscreening.com.

Forecasts are Broadly Improved in Year-over-Year Comparisons; Indian Employers Again Report the Most Optimistic Hiring Intentions Across the Globe
Opportunities for job seekers across global labor markets are expected to remain mostly positive with few overall signs that hiring intentions are decisively trending in one direction or another. Staffing levels are expected to increase in 37 of the 42 countries and territories, compared with 38 of 42 in the second quarter. The strongest hiring plans across the globe are reported by employers in India, Taiwan, Turkey, New Zealand and Singapore. The weakest--and only negative--third-quarter forecasts are reported by employers in Italy, Belgium, France and the Netherlands.
Overall, the forecasts are generally softer across the globe when compared to Q2 2014, but mostly stronger in year-over-year comparisons. Outlooks strengthen in only 11 of 42 countries and territories when compared quarter-over-quarter and weaken in 24. When compared to Q3 2013, hiring intentions strengthen in 32 countries and territories and decline in only six.
To view full results for each of the 42 countries and territories included in the research, plus regional and global comparisons
One in Five Workers Drunk on the Job
Workplace drug testing gets a fair amount of media coverage, but there is a potentially far larger issue that employers need to be aware of: alcohol. An Australian Drug Foundation survey found that nearly one in five employees had performed work duties while drunk or tipsy. A similar number admitted to pulling a sickie due to the effects of alcohol, while about 40% said they'd gone to work while still feeling the effects of their drinking. Alcohol and other drugs cost Australian businesses $6 billion per year in lost productivity and absenteeism, with alcohol use contributing to five percent of workplace deaths and 11 percent of accidents.

Read more
Irish High Court Refers Questions to European Court of Justice: Can National DPAs Disregard Safe Harbor?

In a new turn to the Maximilian Schrems case in Ireland, the Irish High Court decided to refer several questions to the European Court of Justice (ECJ), including whether national data protection authorities in Europe may disregard the Safe Harbor decision of the European Commission when assessing whether the U.S. recipient of data ensures an adequate level of data protection required under EU law. Depending on the outcome, European and U.S. companies may not be able to rely on Safe Harbor to legitimise cross-border data transfers in the future. It will be interesting to see if the Court provides any rulings concerning the scope of European data protection.

Read more
Russia's Internet Privacy Act Will Have Wide Implications for Foreign Companies
Russia's State Duma and Federation Council have adopted amendments to Russia's personal data protection act, which require that personal data of all Russians is stored inside the country. This "data localization" obligation will have a major impact on global social networking companies but also other companies that transmit electronic communications over the Internet. The Bill is waiting for the signature of Vladimir Putin and may become effective on September 1, 2016. It means that any foreign company using the personal data of Russian nationals outside Russia must locate its servers in Russian Federation territory. Otherwise, access to this type of information resource will be blocked.

Read more
Criminal Record Checking System Under Scrutiny by the Courts
In the case of R (on the application of T) v Secretary of State for the Home Department, the Supreme Court had to decide whether the UK's criminal records system breached the right to privacy contained in the European Convention on Human Rights (Article 8). The Court of Appeal decided that disclosing all their convictions and cautions without considering their relevance in an employment contest was disproportionate and breached Article 8. The Supreme Court upheld the Court of Appeal's decision, finding that the existing criminal records scheme provided no means of filtering information so only those convictions/cautions relevant to a particular job application were disclosed.

Read more
Dealing With Lies in Job Applications
In difficult economic times, job applicants may try to gain a competitive edge by embellishing their achievements or omitting potentially damaging information from their CVs. By inflating exam grades or fabricating work experience, applicants not only risk embarrassment but may commit a criminal offence under the Fraud Act 2006. Robust recruitment practices, such as following up references and incisive questioning at interview, have never been more important. If employers suspect an applicant has been dishonest, they should go the extra mile before making an offer and investigate that gap in employment history or request copy certificates from the candidate or their education provider.


Jobs Rise by Nine Percent in the Past Year, While Competition Remains High
The UK labour market continues to improve with the number of jobs increasing by nine percent year-on-year (YOY), according to statistics from the Q2 2014 totaljobs.com Barometer, which analyses the behaviour of 5.9 million British jobseekers and 5,000 recruiters. Competition also rose, with the number of applications for each job rising by three per cent year-on-year. The East Midlands saw the biggest increase, with a 17 percent rise in the number of job postings, followed closely by Yorkshire at 16 percent. Other big winners included jobseekers in Wales, the North West, the North East, and East Anglia, which saw job opportunities jump 12 percent YOY.


Eamon Jubbawy: The Risk of a Bad Hire
Sixty two percent of employers report having been affected by a bad hire in the past year. The impacts are in time, money and morale. According to CIFAS, the average total cost of internal fraud was £483,000 in 2013, the average cost of a redundancy settlement £12,000 and the cost of a UK Border Agency fine for an illegal worker £20,000. As a result, a bad hire can cripple an SME or an already-frail business. Comprehensive and systematic background checks of prospective employees are vital as a cornerstone in the prevention of fraud and as protection from costly mistakes.

Read more

| | | | |
| --- | --- | --- | --- |
| | | | Background Screening Jobs |
Visit the Job Board for the Employment and Tenant Screening Industry. Here you will find resumes of people with industry experience and employers seeking applicants with experience in Employment and Tenant Screening and related businesses.
www.backgroundscreeningjobs.com

UPCOMING CONFERENCES, COURSES & EVENTS
Feature Education:
FCRA Basic Certification Webinar Series Update

The FCRA Basic Certification program series is now available for purchase.

2014 Events ( Click Here to View full list of Events ) - Updated Monthly
SHRM State Conferences, visit http://www.shrm.org/Conferences/StateAffilliateConferences/Pages/default.aspx
Drug and Alcohol Testing Industry Association (DATIA), 2013 Training Course Schedule, visit
http://datia.org
SAPAA Training Institute Learning Events, http://www.sapaa.com/
CUPA-HR Conferences: http://www.cupahr.org/
World Federation of People Management Associations, Events, http://www.wfpma.com/events/by-region#quicktabs-tab-view__events__page_3-4