EMPLOYMENT SCREENING NEWS
Collateral Damage: America's Failure to Forgive or Forget in the War on Crime - A Roadmap to Restore Rights and Status After Arrest or Conviction

Collateral damage occurs in any war, including America's "War on Crime." The expansion of the nation's criminal justice system over the past 40 years has produced a corresponding increase in the number of people with a criminal record. The collateral consequences of conviction - specific legal restrictions, generalized discrimination and social stigma - have become more severe, more public and more permanent. Background checking has made it all but impossible for a person with a criminal record to leave the past behind. It is time to recognize that America's infatuation with collateral consequences has produced unprecedented and unnecessary collateral damage to society and to the justice system.

Read more

Doctor's Sex Assault Case Spurs Talk of Background Checks
Revelations that a former Catonsville doctor obtained his Maryland medical license despite having a rape conviction on his record is sparking a push for criminal background checks of physicians - a proposal that has failed and been ignored in recent years. This case has regulators and legislators talking about reforms in Maryland, one of 13 states that does not conduct background checks on physicians, according to the Federation of State Medical Boards. Now that the board has made other suggested reforms, including reducing a backlog of complaints, it plans to focus on the background check issue, said Chairwoman Dr. Andrea Mathias.

Read more


Reding says that US Safe Harbor changes nearly agreed
Viviane Reding, EU Vice President and Commissioner for Justice, said on 6 June: "I think that 95% of what could be agreed - has been. There are the last sticking 5%, which are not yet agreed, which concern the judicial redress. For example, when Americans come to Europe and they think the authorities have not handled their case correctly, they can go to a European court. However an EU citizen cannot do the same in the US and go to an American court. There is no reciprocity; we do not have the basis for judicial redress. You cannot make an agreement if you do not have judicial redress. The US has recognised the importance of this request on several occasions - but they need to have a law."

Read more


Former UC Berkeley Administrator Allegedly Stole From School
A former research administrator at UC Berkeley who had a prior conviction for embezzlement allegedly stole "tens of thousands of dollars" from the university. Alameda County prosecutors have charged Sonia Waters with nine felony counts of grand theft, attempted grand theft, embezzlement of public funds, and attempted embezzlement. "We have identified a hole in our practices that can lead to some employees hired in non-sensitive positions - not requiring criminal background checks - moving to sensitive positions without undergoing background checks," said a UC Berkeley spokeswoman. "We will certainly be looking to improve our oversight in this area and will put procedures in place to address this issue."

Read more


Fort Stewart to Run Background Checks on Visitors
Fort Stewart visitors who do not hold a valid Department of Defense identification card will now be required to submit to a background check before they enter the Army installation. The new policy brings the post in line with other U.S. military installations across the nation and overseas, said Army Maj. Ann Meredith. Visitors in the past have had to present a valid driver's license and current proof of vehicle registration and insurance. They've also been checked against a list of those barred from access to the installations. The new policy only adds the National Crime Information Center Interstate Identification Index background check.

Read more


House GOP Members Criticize the EEOC on Background Checks, Enforcement Tactics
Republicans on a House Education and the Workforce subcommittee have criticized the EEOC for discouraging employers from conducting necessary criminal background checks on job applicants and for pursuing meritless discrimination suits. Rep. Tim Walberg said the EEOC's 2012 guidance on employers' use of arrest and conviction records "has made it more difficult for employers to ensure the safety of their customers and co-workers." Rep. John Kline, said the EEOC guidance is a potential job killer as small employers in particular might choose not to hire anyone rather than deal with the agency's long, complicated guidance about what employers must do when conducting criminal checks.

Read more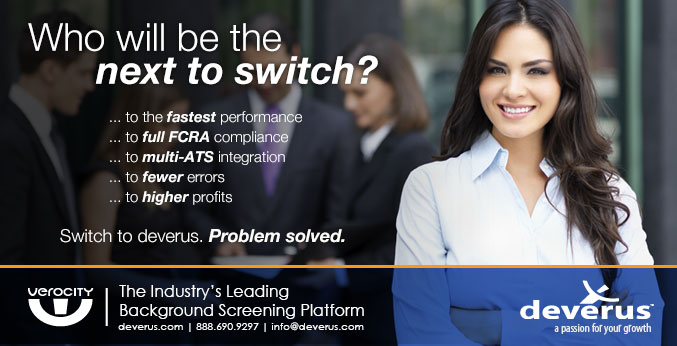 Reducing Security Threats Posed by Contract Workers

In a time of budget sensitivity, many businesses, government agencies and other types of organizations are turning to independent contractors as a more flexible and less expensive alternative to hiring regular, full-time employees. However, the cost savings of using third-party contractors can also come with certain risks, most notably in terms of security. Contractors and other third parties, including vendors, delivery people and other "outsiders," may create a breach in physical security, which compromises all other elements of a security program. Awareness of the potential risks associated with contractors and proactive steps to address those risks should be part of every security program.

Read more

Uber Driver with Felony Conviction Charged with Battery for Allegedly Hitting Passenger
Uber driver Daveea Whitmire, faces criminal charges after being accused of physically assaulting his passenger during an argument. Though drivers using Uber, Lyft and other car service apps have faced accusations ranging from creepy text stalking to raping a passenger to killing a 6-year-old girl, Whitmire is only the second driver to face criminal charges for an incident while driving for a car service company. Whitmire's alleged assault is made worse because he shouldn't have been driving for Uber at all, due to past criminal convictions. Prosecutors hope to make this case an example of a need for stronger safety regulations among car service apps.

Read more

Criminal Record Checks Draw Criticism
Though some business leaders contend that background checks protect employers from hiring potentially dangerous or untrustworthy applicants, opposition to their use in job applications has gained momentum. Employment attorney Sharon Dietrich, said that though state law only allows employers to consider felony or misdemeanor convictions, employers often reject applicants even when previous arrests and charges did not result in a conviction. They also ignore the law when they reject clients for summary offenses. "They've done everything the system has asked them to do," said Vladimir Beaufils, president of the Reentry Coalition for Central PA. "But they still keep paying, sometimes for decades after the get out."

Read more
'Ban the Box' Gets Initial D.C. Council Nod, but Further Tweaks Expected

After years of abortive efforts, the D.C. Council voted to give job applicants with criminal records new protections against discrimination from potential employers. On a 12-to-1 vote, lawmakers gave initial approval to the Fair Criminal Record Screening Act - known to its proponents as "ban the box" - which restricts when employers can check a job applicant's criminal background. The new bill, introduced by Tommy Wells (D-Ward 6), places new curbs on when during the hiring process an employer can check an applicant's criminal background, thus banning the practice of screening applicants based on their criminal records.

Read more
Illinois Moves to Ban Criminal Background Questions From Job Applications
Private employers in Illinois with 15 or more employees will have to revamp their job applications to remove questions about criminal background history and postpone such inquiries to the job interview or conditional job offer stage of the hiring process under legislation that is expected to be signed into law by the governor. The "ban the box" measure, titled the Job Opportunities for Qualified Applicants Act will take effect January 1, 2015, if, as expected, Governor Pat Quinn approves it. The governor already previously banned criminal background questions from most State of Illinois government job applications in October 2013 by an administrative order.

Read more
New Jersey Senate Budget and Appropriations Committee Approves Significantly Less Onerous Version of Ban the Box Legislation
The New Jersey Legislature has been considering "ban the box" legislation since February 2013. Amidst opposition from business groups, the proposed law underwent several changes over the last 16 months. On June 5, 2014, the Senate Budget and Appropriations Committee voted 9-1 to approve a significantly less onerous version of the bill. The current version of the bill now awaits approval from the full Senate. This version is significantly less burdensome on employers than prior versions of the bill, which outlined a lengthy process for criminal background checks and enumerated the crimes about which an employer could inquire.

Read more

Welcome to the U.S. Legal Challenge Question!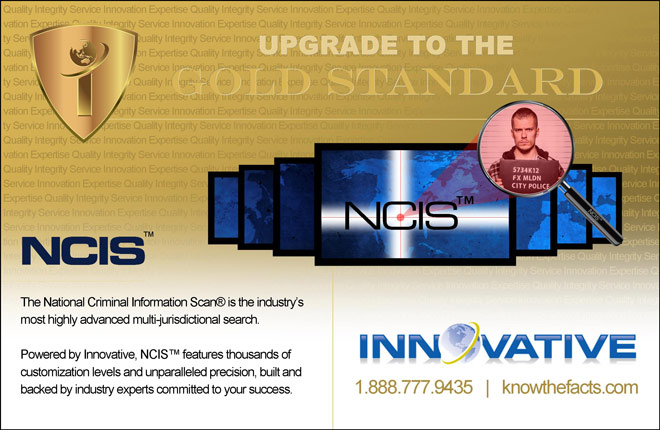 As the background screening industry continues to get more competitive the firms that will ultimately succeed will be those that create competitive advantage through their people by offering continuous learning opportunities to heightened their knowledge and capabilities. We believe that having employees that are very knowledgeable about the legal landscape of background screening is essential to continued success.
We are grateful to Larry D. Henry who began his law career with the Army JAGC where he tried over 2,000 cases. After the Army he relocated to Tulsa. In 1981, the founder of DAC Services contacted Mr. Henry's firm for assistance in creating a background screening company. Since Mr. Henry's practice was employment law, the firm believed this fell within his area and as they say: "the rest is history". His practice has kept him in continual contact with the background screening industry, and he is a nationally recognized expert in the area of background screening.
Mr. Henry's practice is concentrated on employment law and in specific, background screening of employees. He represents consumer reporting agencies throughout the United States and two national trade associations. He is the author of the Criminal Records Manual and the on line reference site:CRAHelpDesk.com, and he is a frequent presenter across the country on various topics dealing with background screening.
Please choose your answer by clicking on it:

New Orleans Tour Guide Licensing Law Upheld
New Orleans tour guides will continue to undergo criminal background checks and drug testing in order to ply their trade after a federal appeals court upheld the city's licensing system. Four tour guides sought to strike the licensing law on First Amendment grounds, arguing they were unconstitutionally prevented from talking to visitors about New Orleans history without a permit. The 5th U.S. Circuit Court of Appeals rejected those arguments. The court said the licensing requirements serve a compelling interest: to protect the city's thriving tourism industry by ensuring its tour guides are not criminals or drug addicts and that they are "knowledgeable about the city and trustworthy."

Read more
New Florida Statute Requires Schools to Provide Information About Sex Offenders
The Florida Legislature has enacted a requirement for nonpublic colleges, universities and schools. All such institutions are required to inform employees and students at orientation and on the school's website of the existence of the Florida Department of Law Enforcement sexual-predator-registry website and the toll-free telephone number that gives access to sexual predator and sexual offender public information. There is an increased presence of sexual offenders or sexual predators who are often under the radar for most institutions: parents, grandparents, or individuals on the authorized pickup lists. Many schools do not perform criminal-background checks on these individuals.

Read more


Oklahoma and Louisiana Become the Latest States to Enact Social Media Password Protection Laws
Oklahoma and Louisiana have enacted their own legislation aimed at restricting access by employers to applicants' and
employees' personal online content, further complicating the patchwork of state password protection laws already in place. To ensure compliance, employers with operations in Oklahoma or Louisiana should understand the requirements of each law. Oklahoma's new law becomes effective on November 1, 2014. Louisiana's new law becomes effective on August 1, 2014. In general, the best practice is not to seek access to personal online content except where there is a strong business interest for doing so that is recognized in the applicable password protection law.


Some Employers Likely to See Increased Litigation Costs in EEOC Cases

Employers in Indiana, Illinois, and Wisconsin are likely to see their legal fees increase as a result of a Seventh Circuit decision that allows the EEOC to file suit immediately instead of first trying to negotiate a settlement with the employer. The court held that Title VII of the Civil Rights Act of 1964 does not contain an affirmative defense for employers to use against the EEOC during litigation. As a result, the EEOC does not have to concern itself with good-faith conciliation. It can go to the negotiation table with take-it-or-leave-it settlement offers, and employers have no recourse.

Read more
More States Restrict Employers' Access To Employees' Social Media Accounts
State legislatures are enacting laws limiting employers' ability to access the social media accounts of their employees. Thus far in 2014, four more states - Louisiana , Oklahoma , Tennessee and Wisconsin - have enacted social media legislation, bringing the total number of states with such legislation to 16.
Generally, state social media laws bar employers from requiring or requesting that an employee or applicant provide log-in credentials for his/her personal social media account. Some of these state social media laws also prohibit an employer from requiring an employee to add another employee or supervisor to a social media account "friends" or contacts list or to access personal social media accounts in the employer's presence. Many of the state social media laws also prohibit employers from basing adverse employment action on an employee's refusal to comply with an employer's request for social media account access.
Notably, all four of the recently-enacted laws allow employers to monitor the social media activity of employees when employees access their social media accounts through employer-provided IT systems.
Five Things Every Arizona Employer Should Know About Medical Marijuana

1. Employers are prohibited from disciplining an employee or refusing to hire a job applicant as a result of authorized medical marijuana use. 2. Employers cannot discipline or refuse to hire an authorized medical marijuana user because the individual tests positive for marijuana use. 3. An employer can discipline an employee who tests positive for marijuana use, even if the employee is authorized to use medical marijuana. 4. Employers are not required to permit their employees to use or possess marijuana for any purpose during working hours. 5. The impairing effects of marijuana have been shown to last for up to 48 hours after ingestion.

Read more


Drug Tests Beyond Urinalysis

Did you know that drug tests aren't one size fits all? Well, you probably did, but we are just now coming to this realization. The eCup is a fantastic solution for on-location collection and testing, but we owe you an apology for thinking that the eCup and a selection of expanded lab-based panels would fulfill the needs of all of our clients at all times. They always say that the best way to address a problem is to apologize and to offer a solution. Our solution is simple: improve our offerings and make sure that we can offer a full drug testing and wellness services solution to each of our clients.

Read more


Legalized Marijuana and Workplace Testing

With increasingly relaxed attitudes toward marijuana legalization in the United States, some employers are evaluating their drug screening protocols and wondering if it is time for a change. While most employers in the state agree they do not want to create work environments full of perceived "stoners," many are questioning whether to allow some reasonable amounts of THC to be present in an employee's system. The costs of allowing THC in employees' systems must be measured against the benefits. But it really comes down to this question: What is safe? The answer is that no one really knows. There exists no standard by which to measure.

Read more


New Minnesota Medical Cannabis Law Protects Employees From Discrimination for Medical Marijuana Use

Minnesota's new Medical Cannabis Act differs from many other state medical marijuana laws in that it narrows the kind of medical cannabis permitted. It also offers considerable protections to applicants and employees in the workplace. The law does not cover marijuana that can be smoked. Therefore, a person using a marijuana cigarette is not protected by this law. Employers who drug test in Minnesota should take the opportunity to review and revise their policies to ensure compliance. It will take time for a system to be created to allow the use of medical cannabis.

Read more
Sponsored by:
Public Record Update
By Mike Sankey, PRRN
Changes to Online Access To Oklahoma Court Records
For years there have been two primary online access systems covering all but one of the OK counties; OSCN (Oklahoma State Courts Network) with 13 counties and ODCR(On Demand Court Records, from KellPro) with 63 counties. Cimarron County is not online. Then Noble County became part of a Pilot Program for a new Unified case management System and was segregated on its own.

Recently, the ODCR system implemented a combined search which now includes their 63 counties plus the 13 OSCN counties. In addition Noble County will also be included as of July 1, 2014. So record searching for 76 of the 77 counties will be available at one site. See the details and full explanation below:

About the ODCR Search
As mentioned, as of July 1, 2014, ODCR will provides online access for all county trial courts except Cimarron. The 13 counties (see next section) previously accessible only from OSCN are now accessible, plus Noble County will also be available on July 1st. Note the ODCR site has a disclaimer stating that data for the ODCR counties was aggregated from ODCR and may not be complete or reliable.

One of the benefits of using ODCR is a choice of three different levels of service. Below is the description of these three levels:

1) Free: This search shows docket information. Search by partial name or case number of filed date range. The web page also gives the throughput date for each county. Most counties update within 24 hours or less.

2) Advanced Subscription: For $5.00 per month, enhanced searching procedures and results are porvided. Advanced search options include using the DOB, address, offense, and closed date range among others. There is also a case and party monitoring system.

3) Image Access Subscription for Attorneys: For $50.00 per month, attorneys have unlimited access to court images with the ability to download and print full case filings,
Sign-up for either subscription at https://www1.odcr.com/register . Note that access to Nolan and Shelby Texas courts are also provided on this system.
The Counties on the OSCN
Web access to dockets is available for District Courts for Adair, Canadian, Cleveland, Comanche, Ellis, Garfield, Logan, Oklahoma, Payne, Pushmataha, Roger Mills, Rogers, and Tulsa at http://www.oscn.net/applications/oscn/start.asp?viewType=DOCKETS . Currently, Noble County is searchable as a separate link on this page. Also one may search the Oklahoma Supreme Court data from this website.
SterlingBackcheck Partners with the National Association of Mortgage Field Services (NAMFS) and Aspen Grove Solutions to Offer Industry-Wide Background Screening Solution Through Aspen iRecord™
Aspen Grove Solutions and the National Association of Mortgage Field Services (NAMFS) are pleased to announce the addition of SterlingBackcheck to the industrywide background screening solution Aspen iRecord™.
NAMFS is the industry trade association that promotes education, industry standards, political awareness, and professional development within the Mortgage Field Service Industry. NAMFS members and other contractors are increasingly required by major lending institutions, national property preservation companies, law firms and regulatory agencies to provide a background check as part of their professional profile. In addition, a new background check is required each time they engage with a new organization, creating a burden of multiple background checks on contractors who work with many organizations.
The partnership between Aspen Grove Solutions, NAMFS and SterlingBackcheck allows Mortgage Field Servicers to use and re-use a single annual background check, eliminating the needless cost and wasted time of repeated background checks for multiple clients while still meeting the highest consumer protection standards.
To learn more about SterlingBackcheck, please visit: www.sterlingbackcheck.com .


InfoMart President Honored with Eclipse Award for Corporate Culture
Tammy Cohen, founder and president of InfoMart, one of the nation's largest background screening company, has received a gold-level Eclipse Award for Corporate Culture from The National Women Business Owners Corporation (NWBOC).

Cohen was honored at a ceremony held May 8 at the PGA National Resort & Spa in Palm Beach, FL. According to the organization, the award "Recognizes a woman business owner that has established a culture at her company that provides an ideal work environment, values employees, encourages open communication and participates in the community in which it is based."

"I am especially grateful to be honored for InfoMart's corporate culture," said Cohen. "I founded the company with the mission to create a unique work environment that promotes life-work balance and affords employees the opportunity to contribute in ways beyond their daily jobs. We seek to embrace not just our employees, but their families as well. When we grow as a family, we grow as a company."

Read more


Precheck Gets Top Honors From The American Marketing Association.

PreCheck, an employment and background screening firm specializing in the healthcare industry, received a Crystal Award by the American Marketing Association (AMA) during the 28th annual ceremony held at Houston's Hyatt Regency Hotel on Thursday, May 29, 2014. For the category of Online Blog, the PreCheck Blog was recognized as this year's winning entry based on its increased traffic and engagement during 2013.

Each year, the Houston Chapter of the AMA sponsors the Crystal Awards in recognition of the most notable marketing initiatives. A select panel of national marketing professionals traveled to Houston to judge over 300 entries in the competition from companies, organizations and institutions. Unlike other awards programs, the Crystal Awards are based on results and winners are selected based on the effectiveness of their marketing campaigns.

Read more

TazWorks Announces Oracle Validated Integration with Oracle Taleo Enterprise Cloud Service
TazWorks, LLC, Gold level member of Oracle PartnerNetwork (OPN), today announced it has achieved Oracle Validated Integration of InstaScreen™ with Oracle Taleo Enterprise Cloud Service, a component of Oracle Talent Management Cloud. To achieve Oracle Validated Integration, Oracle partners are required to meet a stringent set of requirements that are based on the needs and priorities of the customers. In addition, TazWorks' screening agency clients can leverage the integration for timelier ordering and processing due to real-time data transitions.
Peopletrail, a TazWorks technology partner, has taken the lead to incorporate this integration into its expanding service offerings.

"Peopletrail has been on a significant journey over the last year to expand our product offerings and increase the value we provide to each of our clients," said President and CEO of Peopletrail Wallace T. Davis. "This integration marks a milestone in our efforts of being a leading provider in the background check and screening services industry. We had a client with urgent demands for full integration with the Oracle Taleo Enterprise Cloud Service. TazWorks, pulled through and helped us meet those demands. We are thrilled to have met the needs of our valued client and happy that we are equipped to provide valued services to our clients with similar integration needs."
AnythingIT/WeedHire Helps Avoid a Bad Hire with InterQuest Information Services
Weed Out Bad Candidates with Pre-Screening to Allow Your Growing Businesses to Flourish
AnythingIT announced it has finalized a partnership with InterQuest Information Services, a rapidly growing pre-employment screening reporting platform. Through its new partnership, WeedHire will integrate InterQuest Information Services's pre-employment background checking application into the Weedhire.com job site, providing customers with an essential solution for all their hiring needs. InterQuest's self-service, web-based model allows companies to quickly and easily conduct legally-compliant employment screening.
"For customers in the legal cannabis industry, doing employment screening can be extremely important in Colorado," stated Vlad Stelmak, COO of AnythingIT. "Further, to work in Colorado's legal marijuana industry, employees must get fingerprinted and clear criminal and financial background checks." With the addition of InterQuest Information Services' employment screening tools, WeedHire customers are going to be able to order screening reports that verify numerous aspects of a candidate's application, including criminal history, educational background and past employment.


Field Services Move One Step Closer to Industry-wide Background Checks
For field servicers, being able to provide a clean background check is becoming significantly more important to maintain a successful business. According to the National Association of Mortgage Field Services, its members and other contractors are "increasingly required by major lending institutions, national property preservation companies, law firms and regulatory agencies to provide a background check as part of their professional profile." To that end, the NAMFS has partnered with Aspen Grove Solutions and SterlingBackcheck to offer SterlingBackcheck's background check services as part of Aspen's industry wide background screening solution iRecord.

Read more

New From RCXpress

RapidCourt is excited to announce a new source for RCXpress county searches: Waller County, Texas. The Waller County search is a full data extraction retrieving the complete record detail with Match/No Match result configuration available.
Should you have any questions, please contact us at info@rapidcourt.com
The Conference Board Employment Trends Index Increased in May
The Conference Board Employment Trends Index™ (ETI) increased in May. The index now stands at 118.58, up from 117.32 (a downward revision) in April. This represents a 5.4 percent gain in the ETI compared to a year ago.
"The Employment Trends Index continues to signal solid job growth with an improvement in each of its eight components in the first five months of 2014," said Gad Levanon, Director of Macroeconomic Research at The Conference Board. "The need for employers to rapidly expand their payroll in light of strengthening economic activity is a major factor in the rapid decline in the unemployment rate."
One Site! Many Suppliers!
2013-2014 SUPPLIERS TO THE BACKGROUND SCREENING
INDUSTRY BUYERS GUIDE NOW AVAILABLE!
Looking for the Top Suppliers in the Industry? Need to find a new Supplier?
Visit our VENDOR SHOWCASE which features suppliers to the Background Screening Industry.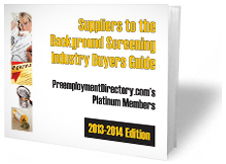 Click here or on image to get a copy

Kevin Coy is a Partner in the Washington DC office of Arnall Golden Gregory LLP. Kevin
advises background screening companies and other clients on a wide range of privacy and consumer regulatory issues, including Fair Credit Reporting Act, Gramm Leach Bliley Act,
Drivers' Privacy Protection Act, and Dodd Frank Act compliance issues, as well as data breach matters. Kevin also represents clients with matters before the Federal Trade Commission, the Consumer Financial Protection Bureau, and other consumer protection agencies.
Kevin can be contacted at Kevin.Coy@agg.com or 202-677-4034.
THE WASHINGTON REPORT
June 2014
On the Hill
On June 10th, the House Education and Workforce Committee's Subcommittee on Workforce Protections held a hearing about the conduct of the Equal Employment Opportunity Commission (EEOC) entitled "The Regulatory Enforcement Priorities of the EEOC: Examining the Concerns of Stakeholders." Subcommittee Chairman Tim Walberg (R-MI) delivered an opening statement critical of the EEOC and its 2012 criminal background check guidance.
At the FTC
Safe Harbor . On June 25th, the Federal Trade Commission (FTC) announced that it had given final approval to 14 previously announced proposed settlements with companies for alleged violations of the EU/US Safe Harbor Framework arising from allegations that the companies represented that they participated in Safe Harbor without having renewed their required Safe Harbor certifications with the Department of Commerce in a timely manner.
The FTC's enforcement actions come as the EU and the US continue to work on revisions to Safe Harbor to meet concerns raised by EU officials. Reports are that the two sides have made significant progress in their discussions.
Wyndham and LabMD. The past month has produced further developments in the Wyndham and LabMD information security cases. In the Wyndham case, Wyndham's challenge to the FTC's authority in information security matters appears on its way to the Third Circuit Court of Appeals for review.
At OPM
On June 4th, the Office of Personnel Management's (OPM) Office of the Inspector General Office of Audits issued a final audit report on OPM's Federal Investigative Services review process for background investigations. The audit report found that OPM needed to "strengthen its control over its Contractors and the background investigation review process."
EVERIFY & IMMIGRATION ISSUES
EVERIFY & IMMIGRATION ISSUES
Department of Justice Settlements a Good Reminder of Employer Obligations under Employment Verification Laws

Employers work hard to make sure they comply with federal immigration law, but they must remember not to take their efforts too far. Employers should remember that while they must verify the ability of their potential hires to work, they cannot ask for specific documents, or have separate requirements for those individuals based on their national origin or citizenship status. Federal law prohibits: 1) citizenship status discrimination in hiring, firing, or recruitment or referral for a fee, 2) national origin discrimination in hiring, firing, or recruitment or referral for a fee, 3) document abuse (unfair documentary practices), and 4) retaliation or intimidation.

Read more


A Reminder that E-Verify Participation Does Not Offer Blanket Protection to Employers

E-Verify offers a tool to assist employers in verifying employment/immigration status for prospective employees, but it should not be mistaken for protection during an I-9 audit. On March 26, 2014, the Office of the Chief Administrative Hearing Officer (OCAHO) granted partial summary judgment finding the employer liable for numerous I-9 preparation and retention violations in U.S. v. Golf Int'l d/b/a Desert Canyon Golf. Despite the employer's contentions that its participation in E-Verify entitled it to a presumption that it had not violated the law, OCAHO cited the clear language in the E-Verify Memorandum of Understanding signed by all participating employers: "The Employer understands that participation in E-Verify does not exempt the Employer from the responsibility to complete, retain, and make available for inspection Forms I-9 that relate to its employees." The E-Verify Program for Employment Verification Memorandum of Understanding , USCIS (last revised Sept. 1, 2009).
The full decision U.S. v. Golf International, 8 U.S.C. 1324a Proceeding; OCAHO Case No. 13A00074, March 26, 2014 is available here .
STOP STRUGGLING WITH WRITING AND PUBLISHING YOUR NEWSLETTER:
We can help you have a high quality e-newsletter to help nurture your relationship with your clients and attract new clients. Our customized newsletter service will take over your newsletter task or create a new one for you. We can manage the creation of your newsletter for you.
We are constantly researching information to use for The Background Buzz and you can put our research to use for you. Using the information rich content from The Background Buzz (minus the ads and competitors information) we will create a custom newsletter for you.
Use your staff's time to do more valuable work and save all the hassle of researching or writing articles, formatting and managing all the other ezine tasks with our customized ezine process.
Contact Barry Nixon at 949-770-5264 or at wbnixon@aol.com for more information.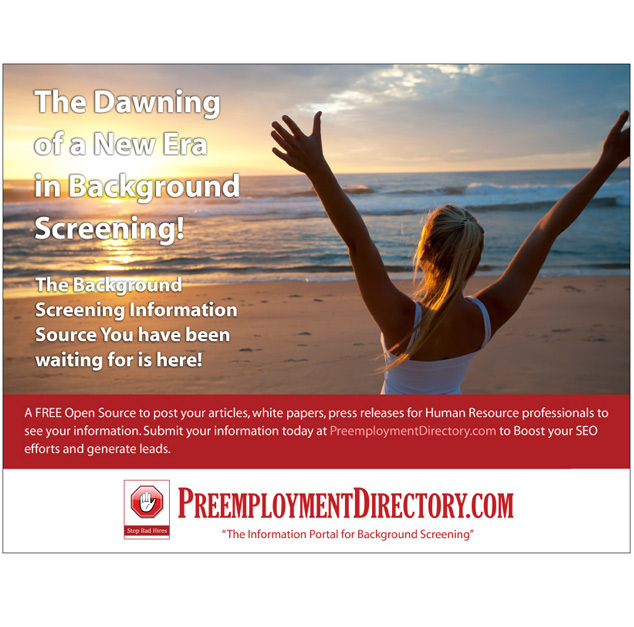 Grab a latte and pull up a chair and join us for a great interview with Derek Hinton.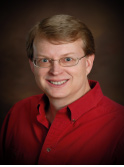 In 1984 I graduated college, went to Tulsa to visit my Grandparents before getting a "real job." I saw an ad in the Tulsa paper for a "DAC Services" (later USIS and HireRight) responded using a manual typewriter and was the 10th person to work there.
The background screening industry was my first full time job. Prior to that, my longest employment was delivering oxygen to home patients for two years in high school and college. The two main benefits of this job was that it kept me from taking up smoking and made me a better driver. There can be a foot of snow or ice on the ground, but people still breathe. And sliding down a hill while hauling bottles of highly compressed oxygen around will wipe the smile off even a high school senior's face. Interesting enough I stayed with the background screening company 20 years, but it was not a result of careful planning.
Regarding something he particularly likes about the industry, Derek shared several point, "For one, we're the good guys. Our goal is to help businesses protect their employees, clients and hard work they've done to build their business. And while doing that, we also offer the consumer more protections than the consumer would get absent the CRA." He added that he also likes working with entrepreneurs and there are a lot of them in our business.
Changing the conversation to his business Derek indicated that the mission of CRAzoom is to allow companies of all sizes to obtain NAPBS accreditation by providing them with the entire package to quickly, efficiently and confidently achieve the accreditation.
Derek further explained that CRAzoom was a result of several NAPBS members at a show I did not attend discussing NAPBS Accreditation and why more companies were not getting accredited. The upshot was they came home and called me to suggest I travel to CRAs offices and get them accredited. That was a non-starter, and I put them off for months, but after awhile, another way occurred to me and I spent four months creating the NAPBS Accreditation package. Within a few months, my first client got accredited in 6 weeks, so my friends at the show who called me occasionally rib me for being a little slow on the uptake.
His other business, CrimApollo was started last year because employers needed help with the EEOC guidance on criminal records. They can read the 52 pages of examples, caveats, footnotes and warnings, but they still need help. CrimApollo gives them this help and CRAs that white label the program to their clients are able to provide another service to their clients.
The mission of CrimApollo is to allow CRAs to provide employers a criminal record assessment and EEOC compliance program that helps the CRA, the employer and consumer.
Regarding the future, Derek believe that "accreditation will become more important and CRAs should put accreditation on their strategic priority list." He added, "If you are going to get accredited, it makes sense to reap as much benefit from as possible from being one of the first rather than playing catch-up with others. And regardless of your size, from the big ship that's hard to turn, to the small agency with 4 employees, accreditation is achievable." Continuing the discussion about what he sees happening in the future Derek said, he sees more regulation and scrutiny of business practices. This will take the form of state and local initiatives (ban the box is an example), FTC enforcement of FCRA regulations and the EEOC guidance enforcement and he sees fewer potential "home run" data sources being developed with the possible exception of more vertical products versus those with mass application.
Picking up on his point about more regulation coming Derek note that "If regulation and compliance become more important, and competition gets crowded when comparing pricing, turnaround and product availability, CRAs may expand into new areas such as recruiting services or employee management and review services. It is also his belief that "NAPBS Accreditation will also start to look more like a floor than a ceiling for CRAs."
His final comment on what he sees coming in the future was that he believe with the recent wave of FCRA lawsuits that HR managers at employers will become more aware of their responsibilities and look for employment screening partners rather than employment screening data dumps.
Turning the conversation back to him personally he share that his hobby is certain aspects of World War II, and he enjoys first person accounts from the US Submarine campaign and the British and American POW camps. He noted a book he recently read, "Stolen Journey" by one of three British POWs who escaped from the famous "Great Escape" camp before the more famous escape, and made it home by train and ship. They tunneled from beneath a wooden gymnastic vaulting horse over the course of months. It's one of these occurrences that you would disbelieve if you didn't know it to be true.

Finally he shared that one of the people he would really like to meet would be Chuck Yeager. He commented that Yeager has lived a full life: from becoming an ace in one day in World War II to getting shot down and escaping with help from the French Resistance to breaking the sound barrier after the war.
His favorite quote is "The only thing for sure in life is change," and with his quick with added "But that could change."
For more information on CRAZoom or CrimApollo Derek can be reached at DerekH@crazoom.com

Forecasts are Broadly Improved in Year-over-Year Comparisons; Indian Employers Again Report the Most Optimistic Hiring Intentions Across the Globe
Opportunities for job seekers across global labor markets are expected to remain mostly positive with few overall signs that hiring intentions are decisively trending in one direction or another. Staffing levels are expected to increase in 37 of the 42 countries and territories, compared with 38 of 42 in the second quarter. The strongest hiring plans across the globe are reported by employers in India, Taiwan, Turkey, New Zealand and Singapore. The weakest--and only negative--third-quarter forecasts are reported by employers in Italy, Belgium, France and the Netherlands.
Overall, the forecasts are generally softer across the globe when compared to Q2 2014, but mostly stronger in year-over-year comparisons. Outlooks strengthen in only 11 of 42 countries and territories when compared quarter-over-quarter and weaken in 24. When compared to Q3 2013, hiring intentions strengthen in 32 countries and territories and decline in only six.
To view full results for each of the 42 countries and territories included in the research, plus regional and global comparisons
Myer Liar Found Out: Why Background Checks Matter
Embellished CVs are nothing new to HR professionals, but one executive appears to have taken it to another level. Retail giant Myer sacked Andrew Flanagan on his first day, after having supposedly poached him from global fashion brand Zara, when it was revealed that he'd never worked for the company.

Hiring company Quest Personnel told the Sydney Morning Herald that it had been duped by Flanagan and he had provided "incorrect and misleading information" before being hired by Myer as the organisation's group general manager of strategy and business development. Myer discovered the truth when Zara contacted the company to say that Flanagan had never worked there.

Read more
EU Privacy Laws Will Apply to U.S. Companies Who Do Business in Europe
EU justice ministers have reached a partial agreement on planned new data privacy laws, but they still disagree about how to implement them. Ministers agreed on the rules that govern international data transfers and on the territorial scope of the data protection regulation. In short, EU data protection laws will apply to non-European companies if they do business in the EU. The proposal for a Data Protection Regulation to update the old 1995 privacy directive was first put forward by EU Justice Commissioner, Viviane Reding. She said she was pleased the council of justice ministers had managed to make some headway.

Read more
International Data Transfers - The Challenge Continues
The discussion at the Council of the EU in the context of the European data protection legislative reform is by no means the end of a process which is likely to carry on for at least a year, but it provided a helpful pointer as to where the policy making thinking is. One of the biggest challenges that organisations operating in the EU have faced since the 1990s is the prohibition on transfers of data to jurisdictions outside the EU without equivalent standards of data protection. The ongoing legislative reform is an opportunity to review the existing regime and bring it into line with today's data globalisation.

Read more
Free Police Background Checks to be Scrapped

Police will soon make a step towards "user pays" by charging for criminal checks for the first time. Police Minister Anne Tolley has introduced a bill which would allow police to begin recovering costs for their services. The fee for getting security clearance was expected to be low - $5 to $7. At present, police are not able to charge for their services, except for firearm licensing, and the costs of vetting came out of the department's baseline funding. New Zealand was one of the few countries in which police did not charge for security screening.

Read more
PDPC clarifies data transfers under upcoming July 2014 law
The Singapore Personal Data Protection Commission (PDPC) updated - on 16 May 2014 - its Advisory Guidelines on Key Concepts in the Personal Data Protection Act (PDPA) ('the Guidelines'), ahead of the entry into force of the Act on 2 July 2014. The Guidelines add three new chapters - Applicability to Inbound Data Transfers, The Access and Correction Obligation, and The Transfer Limitation Obligation. The Personal Data Protection Regulations 2014 ('the Regulations') were also gazetted on 19 May 2014.
ADVERTISERS IN THIS EDITION

| | | | |
| --- | --- | --- | --- |
| | | | Background Screening Jobs |
Visit the Job Board for the Employment and Tenant Screening Industry. Here you will find resumes of people with industry experience and employers seeking applicants with experience in Employment and Tenant Screening and related businesses.
www.backgroundscreeningjobs.com

UPCOMING CONFERENCES, COURSES & EVENTS
Feature Education:
FCRA Basic Certification Webinar Series Update

The FCRA Basic Certification program series is now available for purchase.
2014 Events ( Click Here to View full list of Events ) - Updated Monthly
SHRM State Conferences, visit http://www.shrm.org/Conferences/StateAffilliateConferences/Pages/default.aspx
Drug and Alcohol Testing Industry Association (DATIA), 2013 Training Course Schedule, visit
http://datia.org
SAPAA Training Institute Learning Events, http://www.sapaa.com/
CUPA-HR Conferences: http://www.cupahr.org/
World Federation of People Management Associations, Events, http://www.wfpma.com/events/by-region#quicktabs-tab-view__events__page_3-4