Update on Certainty in Enforcement Act of 2015; H.R.548 - 114th Congress (2015-2016)
All Bill Information (Except Text)
Amends equal employment opportunity requirements under the Civil Rights Act of 1964 to deem an employer's, labor organization's, employment agency's, or joint labor management committee's consideration or use of credit or criminal records or information, as mandated by federal, state, or local law, to be job related and consistent with business necessity.
Declares that such use of credit or criminal records shall not be the basis of liability under any theory of disparate impact. (Currently, an unlawful employment practice based on disparate impact is established if a complaining party demonstrates that a respondent uses a particular employment practice that causes a disparate impact on the basis of race, color, religion, sex, or national origin and the respondent fails to demonstrate that the challenged practice is job related for the position in question and consistent with business necessity.)
Latest Action: 03/24/2015 Subcommittee Hearings Held.





Georgia Enacts "Mini"-FCRA
For more than four decades, the FCRA has regulated CRAs that furnish consumer reports (i.e., background checks) to third parties such as employers. Over the years, several states have adopted so-called "mini"-FCRAs, including Arizona, California, Maine, Massachusetts, Minnesota, New Jersey, New York, Oklahoma, and Washington. Georgia has now followed suit. The new Georgia law, which took effect on July 1, applies to CRAs that "conduct business" in Georgia. The new law affords consumers with protections that are very similar to those provided under the federal FCRA. Despite the close parallels between the federal and Georgia FCRAs, the new Georgia law is yet another example of the heightened regulation of CRAs and the entities that utilize them.



Liability for Data Breach Involving Employee Information: Even the Federal Government and Third Party Vendors Are Not Immune
Another class action has been filed alleging the disclosure of employee personally identifiable information due to a cyber attack. This time, the employer is the federal government, and another target in the lawsuit is the third party vendor allegedly used by the federal government to conduct its background checks during the time of the breach. On June 29, 2015, the American Federation of Government Employees filed suit against the U.S. Office of Personnel Management, as well as its Director and Chief Information Officer and KeyPoint Government Solutions, on behalf of two named plaintiffs and a putative class of 18 million current and former employees and prospective employees of the federal government whose personally identifiable information was put at risk by a massive data breach suffered by OPM.



One to Watch: The House Judiciary Committee Signs Off On Fairness in Class Action Litigation Act
On June 24, 2015, the House Judiciary Committee voted to send H.R. 1927, the Fairness in Class Action Litigation Act, to the full House. The substance of the Act prohibits any federal court from certifying a class action unless the party seeking certification "affirmatively demonstrates through admissible evidentiary proof that each proposed class member suffered an injury of the same type and extent as the injury of the named class representative or representatives." According to House Judiciary Committee Chairman, Bob Goodlatte, the bill is intended to counteract the "proliferation of class actions filed by lawyers on behalf of classes including members who have not suffered any actual injury." If it becomes law, there is little doubt that it will have a substantial impact on class action litigation.

Oregon Governor Signs 'Ban the Box' Legislation
Legislation restricting employers from inquiring about an applicant's criminal background during the initial stages of the application process has been signed into law by Governor Kate Brown on June 26, 2015. The "Ban the Box" law, H.B. 3025, will take effect on January 1, 2016. The legislation does not prohibit employers from notifying applicants that they will later be required to disclose convictions or that a criminal background check will be performed as part of the hiring process. The legislation expressly states that it does not foreclose an employer from considering convictions when making hiring decisions. Oregon employers should review their employment applications and their application processes to ensure compliance with the legislation's requirements. Further, employers should plan new processes for conducting criminal background procedures.





U.S. Lawsuit Claims Companies Illegally Refused to Hire Ex-Cons

In a state court in Manhattan, the National Association for the Advancement of Colored People (NAACP) sued a class of companies it said were breaking city and state laws that bar businesses from refusing to consider former convicts for jobs. Since New York's prison population was more than half black, the suit said, such policies had served to keep many black people out of the workforce. Laws prohibiting employment discrimination on the basis of criminal histories vary by city and state, with New York City's law providing particularly strong protections to job applicants. The number of lawsuits claiming employers have violated those laws has risen dramatically in recent years, according to the U.S. Equal Employment Opportunity Commission.
http://www.businessinsider.com/r-us-lawsuit-claims-companies-illegally-refused-to-hire-ex-cons-2015-6



U.S. Law to Create ID Card for Veterans
Congress has approved the creation of a veterans' identification card, making it easier for veterans to prove military service without having to produce a military service record or some other valuable document. "This bill is a prime example of what we can accomplish when we put partisanship aside and the needs of the country first," said bill sponsor Rep. Vern Buchanan, R-Fla. Both House votes and the Senate vote were unanimous. The bill now heads to the White House, where President Barack Obama is expected to sign it. However, a top VA official, Rajiv Jain, said that veterans in most U.S. states can get veteran status noted on their drivers' licenses and that such options "can meet the intent of the legislation without creating within VA a new program that may not be cost-efficient."

Utah Legislature Blazes a Trail By Passing "White Collar Crime Registry"
Moving to Utah's White Collar Crime Offender Registry itself (Utah H.B. 378), offenses under the Utah Code that are considered "registerable" include: money laundering; mortgage fraud; securities fraud; unlawful dealing of property by a fiduciary; fraudulent insurance; theft by deception; and communications fraud. Notably, the Utah attorney general is authorized to develop, operate, and maintain the Utah White Collar Crime Offender Registry website and to provide the manner and process by which information is disseminated to the public, including the type of information that will be provided. Moreover, the Utah attorney general has rulemaking authority to implement the Registry.

As the background screening industry continues to get more competitive the firms that will ultimately succeed will be those that create competitive advantage through their people by offering continuous learning opportunities to heightened their knowledge and capabilities. We believe that having employees that are very knowledgeable about the legal landscape of background screening is essential to continued success.





We are grateful to Larry D. Henry who began his law career with the Army JAGC where he tried over 2,000 cases. After the Army he relocated to Tulsa. In 1981, the founder of DAC Services contacted Mr. Henry's firm for assistance in creating a background screening company. Since Mr. Henry's practice was employment law, the firm believed this fell within his area and as they say: "the rest is history". His practice has kept him in continual contact with the background screening industry, and he is a nationally recognized expert in the area of background screening.

Mr. Henry's practice is concentrated on employment law and in specific, background screening of employees. He represents consumer reporting agencies throughout the United States and two national trade associations. He is the author of the Criminal Records Manual and the on line reference site:CRAHelpDesk.com, and he is a frequent presenter across the country on various topics dealing with background screening.
14% of Americans Have Alcohol Use Disorder

A new study finds 14% of American adults currently have an alcohol use disorder (AUD). Many have never been treated. Thirty percent of those interviewed said they had an alcohol-related problem at some time in their lives. Researchers from the National Institute on Alcohol Abuse and Alcoholism (NIAAA) looked at drinking problems based on a new definition for alcohol use disorders in the DSM-5. The handbook defines an alcohol use disorder as having two of 11 symptoms, including continuing to drink even if it harms relationships, drinking that harms performance at work or school, or the inability to quit. Researchers noted they saw large increases in alcohol use disorder rates over the past decade.



Marijuana in the Workplace

The states of Colorado and Washington, as well as the District of Columbia, have enacted laws legalizing the recreational use of marijuana. Those jurisdictions and twenty-one other states have also legalized the use of medical marijuana. Meanwhile, U.S. Code still outlaws the use of marijuana, and programs funded by or under the direction of the federal government mandate drug testing that includes testing for marijuana. The Journal of Occupational and Environmental Medicine published an article on the use of marijuana in the workplace in the April 2015 issue of the journal. Given the complex environment surrounding marijuana use, legal and illegal, employers need to assess the risks associated with the use of marijuana and other impairment-causing substances, create policies and develop plans accordingly.




ALCOHOL & DRUG SCREENING - Continued
Synthetic Pot Poisonings Triple in a Year, CDC Finds

Deaths from synthetic marijuana have tripled over the past year, as have calls about poisonings and other adverse events, the Centers for Disease Control and Prevention reported. The drugs are sold under names such as "spice," "K2," "black mamba" and "crazy clown," but they are all synthetic versions of cannabinoids, the active ingredient in marijuana. Although buyers may think they are more natural or legal than marijuana, they are illegal in all states and they are more dangerous. "Between January and May 2015, U.S. poison centers in 48 states reported receiving 3,572 calls related to synthetic cannabinoid use, a 229% increase from the 1,085 calls received during the same period in 2014," Royal Law and colleagues at the CDC report.



An Employer's Guide to Marijuana in the Workplace

​Last November, two-thirds of Washington, D.C., residents voted to pass Initiative 71, which decriminalizes the possession of marijuana in the district. The sale and use of medical marijuana became legal in Washington, D.C., in 2010, but Initiative 71 allows for residents 21 and older to grow and consume small amounts of pot at home. Despite congressional resistance, the D.C. Council took up an emergency measure to prohibit companies from drug testing during pre-employment screening. However, companies can still test their existing employees, and fire them if they test positive, because marijuana is still illegal under federal law. It's a confusing situation for companies, employees, and job applicants, and it is becoming even more complicated in light of lawsuits, federal contracts, contradictory laws, and the evolving perception of marijuana in society at large.





Heroin Use Spikes Among Women, Higher-Income Groups
A federal study of substance use trends revealed that women, people age 18 to 25, and those with higher incomes and private insurance have been increasingly falling victim to heroin. The report from the US Centers for Disease Control and Prevention and the Food and Drug Administration, found heroin use soaring among all groups. Heroin overdose deaths nearly quadrupled during that period, with most of the increase since 2011. Those most likely to turn to heroin still tend to be men, people with an annual household income less than $20,000, Medicaid recipients, and the uninsured. But the gap is narrowing between those groups and people who historically were less likely to use the drug. Heroin use doubled among women and more than doubled among non-Hispanic whites.





Marijuana is Now Legal in Oregon
The Measure 91 marijuana legalization initiative approved by Oregon voters is now in effect. That means that people 21 and over can now legally possess up to eight ounces of weed at home and grow up to four plants. Public consumption remains illegal. But you won't be able to go to the marijuana store just yet. Sales are currently set to begin next year, although there is a chance the legislature could act to move up that date. "Oregon still has more to do to ensure marijuana legalization is done properly; lawmakers and regulators are currently working to expunge the records of many non-violent marijuana offenders as well as develop proper regulations for taxes, concentrates, and labeling for consumer and child protection," said former prosecutor Inge Fryklund, an Oregon resident, and board member of LEAP.


Medical Marijuana and Employment Discrimination in New Mexico
Although medical marijuana is now legal in twenty-three states, including New Mexico, it remains illegal under federal law. This creates a challenging legal landscape for employers who want or need to drug test employees, but do not want to expose themselves to potential liability for disability discrimination. The Lynn and Erin Compassionate Use Act, § 26-2B-1 NMSA et seq. legalizes the appropriate use of medical marijuana in New Mexico. Employers can rest assured that the law is clear on one thing: Employers may take action against employees for using medical marijuana in the workplace or for being impaired on the job. So far, it is clear that employers do not violate the federal ADA by prohibiting even off-site medical marijuana use because marijuana remains illegal under federal law; however, New Mexico courts may find that such prohibitions violate the NMHRA.


Medical Marijuana Update
With state legislative sessions winding down, it's been pretty quiet on the medical marijuana front, except for California, where both localities and the legislature continue to grapple with the issue. Gov. Jerry Brown (D) signed Assembly Bill 258, which will bar doctors and hospitals from denying organ transplants to medical marijuana patients solely because they use it. Some patients have been denied life-saving organ transplants in the past. The new law goes into effect January 1. In addition, Senator Feinstein was delivered petitions demanding she get on board with medical marijuana. Marijuana reform advocates delivered the petition with 10,000 signatures from people "fed up with Feinstein's well-documented opposition to medical marijuana" to her San Francisco office.


National Safety Council Urges Employers to Take Steps to Address Employee Addiction to Opioid Pain Medications
The National Safety Council (NSC) has published a report urging employers to educate employees about the dangers of using opioid pain medications - such as addiction and death - while also taking steps to avoid potential liability in workers' compensation and personal injury litigation. The NSC report states that overdose deaths from prescription opioids now exceed deaths from both heroin and cocaine combined. Additionally, the NSC report lists fifteen court cases in the last six years in which an injured employee died of an opioid-related drug overdose. In some of these cases, the courts held that when injured workers fatally overdose on medications prescribed to treat pain related to a compensable workplace injury, the deaths were compensable by the workers' compensation program.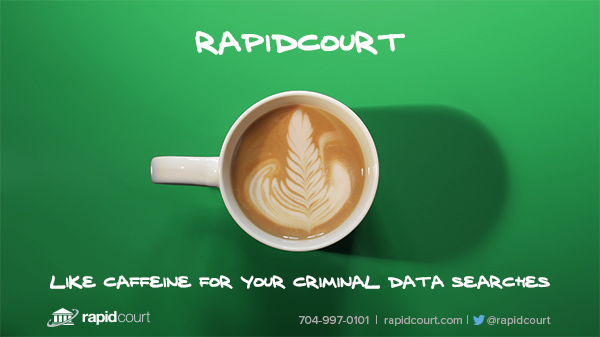 Public Record Update
By Mike Sankey, PRRN
Facts About the Accuracy and Completeness of
Criminal Records at the State Agency Criminal Record Repositories

Employers and state occupation licensing boards often depend on state criminal record repositories as a primary resource when performing a criminal record background check. What these entities do not realize is that a search of the state criminal record database may not be as accurate and complete as assumed, regardless if fingerprints are submitted.

There are three key reasons why the completeness, consistency, and accuracy of state criminal record repositories could be suspect-
1. Timeliness of Receiving Arrest and Disposition Data
2. Timeliness of Entering Arrest and Disposition Data into the Repository
3. Inability to Match Dispositions with Existing Arrest Records
The basis for these concerns is actually supported by facts provided by the U.S. Department of Justice (DOJ)'s Survey of State Criminal Record Repositories. The twelfth survey was released on January 2014.
Some eye-catching facts reflected from the Survey:
─ 13 states report 20% or more of all dispositions received could NOT be linked to the arrest/charge information in the state criminal record database. 14 states don't know how many dispositions they have that cannot be linked.
─ 17 states have over 1.8 million unprocessed or partially processed court dispositions, ranging from 200 in Wyoming to 633,100 in Utah.
─ 17 state reports there is at least a 60 day backlog between the time of a felony case is decided and when the record is entered in the criminal history database. 12 states do not know how long the delay is.

For more information go to www.CriminalRecordSources.com. (Click on the Free In-depth Reference Material button and then on Shocking Facts About Accuracy at State Repositories.)
.

Public Record Retriever Network - www.PRRN.us
The CRA Help Desk - www.CRAHelpDesk.com
Motor Vehicle Record Decoder - www.MVRDecoder.com
BRB's Public Record Blog - www.publicrecordsblog.net
BRB's Bookstore - www.brbpublications.com/books/

Heidi Pattie Named Vice President at Convergence Research
Convergence Research, Inc., is welcoming Heidi Pattie to their management team, where she will serve as vice president for business development and sales, operations management and strategy.
Mrs. Pattie joins Convergence after working for nine years at Core Logic Safe Rent in Ocala, Fla. She served as director of operations until 2014 and was promoted to national sales director, Core Logic National Background Data in early 2015. With her knowledge of the industry and operational experience, Mrs. Pattie led Core Logic to company-wide savings of over $10 million dollars.
"To put it simply - adding Heidi to our staff is invaluable," said Drew Wildner, co-founder at Convergence Research, Inc. "Heidi's reputation and leadership in our industry is unparalleled. We are excited to add her fresh and innovative perspective to our team."
Visit www.convergenceresearch.com for more information

AmericanChecked Inc. Awarded Native-Owned/Preferred Vendor Status

On July 1, 2015, AmericanChecked Inc. was officially certified for membership in the Chickasaw Nation Preferred Vendor Program. The Chickasaw Nation Preferred Vendor Program was established in November, 2008. It has been and is currently the policy of the Nation to continue increasing business opportunities for qualified Chickasaw and other Native American owned businesses as well as other federally recognized minorities.

This recognized program reflects the Chickasaw Nation's mission statement: "To enhance the overall quality of life of the Chickasaw people."

Julie Hakman, President of AmericanChecked, commented, "We are thrilled and humbled to have been certified to participate in the Chickasaw Nation Preferred Vendor Program. For decades, we have been partnering with Tribes all over our great nation helping to meet the screening needs of Commissions, Human Resources and Native business enterprises encompassing both for and non-profit. This special Certification will help to open additional doors so that AmericanChecked can continue to be a part of the economic, social and cultural prosperity found throughout Indian Country."
In addition to offering a robust menu of background screening services, AmericanChecked, in partnership with Indian Country, has developed TribalTRAC, a one-of-a-kind shared database of employment, vendor and license history records for Gaming Regulators to efficiently license applicants and fulfill NIGC requirements.

USAFact Supplies Background Screening With New IDChecker Product
USAFact, has announced another new background screening product release within their RapidFACT ordering platform. "IDChecker" is the newest tool to be added to the new RapidFACT suite of employer solutions. USAFact's various platforms are known for providing screening services for a variety of employers, banking institutions, and property managers.
IDChecker works by scanning identification cards or passports and uploading the collected data for meticulous identity verification and facial recognition comparison, allowing employers to avoid taking on this requirement manually, themselves. The product is marketed for use within the Human Resources field, and works well for recruiting agents and other professionals acting within the hiring process. As stated by Senior Vice President of Business Operations, Cheryl Franklin, "With the growing preference to utilize mobile devices in all aspects of business, IDChecker is another product USAFact brings to the table in our commitment to deliver solutions that allow employers to maximize efficiency."

The 4 Questions An ATS RFP Should be Asking
Applicant Tracking Systems (ATS) were designed to do just that - track applicants. For years, recruiting technology has been falling behind the evolving needs of recruiters, and has reached a state of disconnectedness that is not remotely aligned with what a company needs to achieve hiring success.

As a result, companies providing these solutions have failed miserably in helping companies engage and hire the best talent in a meaningful way that makes a true impact on a business.

The primary reason for this failure is that enterprise applicant tracking systems were designed over 15 years ago to automate the application process by replacing the process of managing a large number of paper resumes with a computer filing and tracking system. While this made a lot of sense and was even considered vastly more efficient at that time, recruiting technology hasn't evolved at the pace required to keep up with today's quickly changing business environment. And more importantly, it just doesn't work in a competitive marketplace for hiring great talent.

A company's true value rests almost entirely in its talent, so your ATS can and should be how you find, assess, and hire talent as efficiently and effectively as possible. It is an invaluable asset to an organization of any size. So, ask the tough questions and demand honest answers.



ONE SITE! MANY SUPPLIERS!
The 2015-16 SUPPLIERS TO THE BACKGROUND
SCREENING INDUSTRY BUYERS GUIDE IS HERE!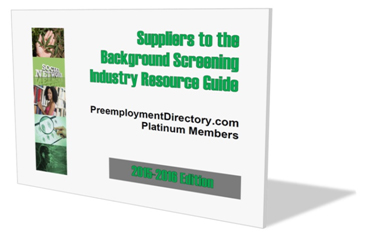 DOWNLOAD YOUR COPY OF THE 2015-16 BUYERS GUIDE NOW!

Kevin Coy is a Partner in the Washington DC office of Arnall Golden Gregory LLP. Kevin
advises background screening companies and other clients on a wide range of privacy and consumer regulatory issues, including Fair Credit Reporting Act, Gramm Leach Bliley Act,
Drivers' Privacy Protection Act, and Dodd Frank Act compliance issues, as well as data breach matters. Kevin also represents clients with matters before the Federal Trade Commission, the Consumer Financial Protection Bureau, and other consumer protection agencies.
Kevin can be contacted at Kevin.Coy@agg.com or 202-677-4034.
THE WASHINGTON REPORT
July 2015
On Capitol Hill
On July 23rd, Senator Brian Schatz (D-HI) introduced a bill, S. 1847, which would amend the Fair Credit Reporting Act (FCRA). This bill is co-sponsored by Senator Elizabeth Warren (D-MA) and a number of other Democratic Senators. The bill would amend FCRA sections 616, 617 and 611. The bill also would require consumer reporting agencies to register with the CFPB and for the CFPB to publish registries of each type of consumer reporting agency. The bill has been referred to the Senate Banking Committee.
On July 15, Senator Sherrod Brown (D-OH) and several co-sponsors introduced a bill, S. 1773, which would amend the Bankruptcy Code.
On July 13th, Representative Keith Ellison (D-MN) and several co-sponsors introduced a bill, HR 3035, which would amend FCRA section 623.
On July 7th, the Senate Intelligence Committee reported out S. 1705, the Intelligence Authorization Act of 2016, which would require the Director of National Intelligence (DNI) to require federal agencies to implement "enhanced personnel security programs" for individuals eligible for access to classified information or eligible to hold a sensitive position.
At the Supreme Court
As the Supreme Court prepares to hear Spokeo v. Robins (previously reported),likely this Fall, regarding whether individuals can recover damages under the FCRA in cases where there is no concrete harm to the individual, interested parties have begun filing briefs in the case for the Court's consideration. The Court's decision in this case could have far reaching implications for FCRA liability as well as the ability of plaintiffs to recover in a host of other privacy and consumer protection cases.
At the EEOC
On July 10th, the Equal Employment Opportunity Commission (EEOC) filed a lawsuit against Crothall Services Group, Inc. (Crothall), a nationwide provider of janitorial and facilities management services, for allegedly violating Title VII of the Civil Rights Act of 1964 by "fail[ing] to make and keep required records…that will disclose the impact that its criminal history assessments have on persons identifiable by race, sex or ethnic group."
At the Office of Personnel Management
The data breach at the Office of Personnel Management continued to reverberate through Washington in July. The number of individuals potentially affected by the breach increased dramatically from approximately 4 million to over 21 million individuals, including prospective, current, and former Federal employees and contractors as well as family members, friends, and references about whom information was collected during the background check process. On July 10th, OPM Director Katherine Archeleta resigned her position as a result of the breach. The dramatic increase in the size of the breach appears to be the result of the discovery that OPM background check databases were compromised. It is not entirely clear at this point the extent to which the private firms OPM has used to assist it in the conduct of background checks played a role in the breach.
At the FTC
On June 30, the FTC issued a guide for businesses, "Start with Security: A Guide for Businesses" highlighting lessons learned from the over 50 FTC data security enforcement actions taken to date.
Welcome to the eVerify Challenge Question!
SPONSORED BY


ONE SITE! MANY SUPPLIERS!

SPONSORED BY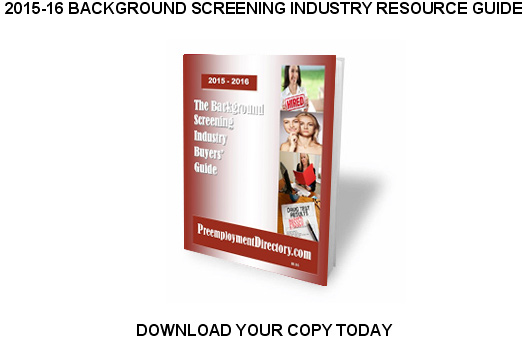 Welcome to the eVerify Challenge Question!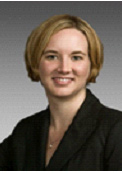 Nicole A. Kersey
Managing Director, Kersey Immigration Compliance, LLC

nkersey@kerseyimmigration.com
Nicole A. ("Nici") Kersey is an attorney whose practice is dedicated to employment-based immigration, with a focus on the Form I-9, E-Verify, and related immigration compliance issues. Nici represents employers before, during, and after Form I-9 inspections by Immigration and Customs Enforcement (ICE), providing practical advice to and serving as an advocate for employers during negotiations and litigation relating to fines for I-9 violations. She is a frequent trainer and speaker on I-9 and E-Verify issues. Nici is a graduate of the University of Virginia School of Law and provides pro bono representation to the spouses of U.S. soldiers and to arts organizations.
The Challenge Question:
Can I require that my employees provide telephone numbers in Section 1 of the Form I-9?
The new Form I-9 has telephone number field in Section 1, and I understand that it is "optional." Can I "opt" to require that my employees complete this field?
a. Yes. I-9 regulations state that all employers must require employees to complete this field.
b. Yes. The field is optional, but it is up to the employer to decide whether employees must provide a phone number.
c. No. It is an optional field, and it is up to the employee whether to provide a phone number.
d. No. Only E-Verify users may require phone numbers.
Immigration Corner: Major E-Verify Changes Proposed
USCIS released the details of proposed major changes to the E-Verify program. The notice proposes several major changes to the E-Verify program and seeks public comments until August 7, 2015. These changes will affect all employer users, including Federal Acquisition Regulation (FAR) contractors. The main three main changes are: 1. Requirement that employers re-verify the continuing work authorization of employees within three "Employer" days of the expiration of the employee's "last" grant of work authorization. 2. Requirement that employers print the re-verification confirmation page and retain it along with an employee's I-9 records or record the re-verification case number on the employee's I-9 Form. 3. Provides a mechanism for employees to seek review of Final-Nonconfirmations issued by E-Verify.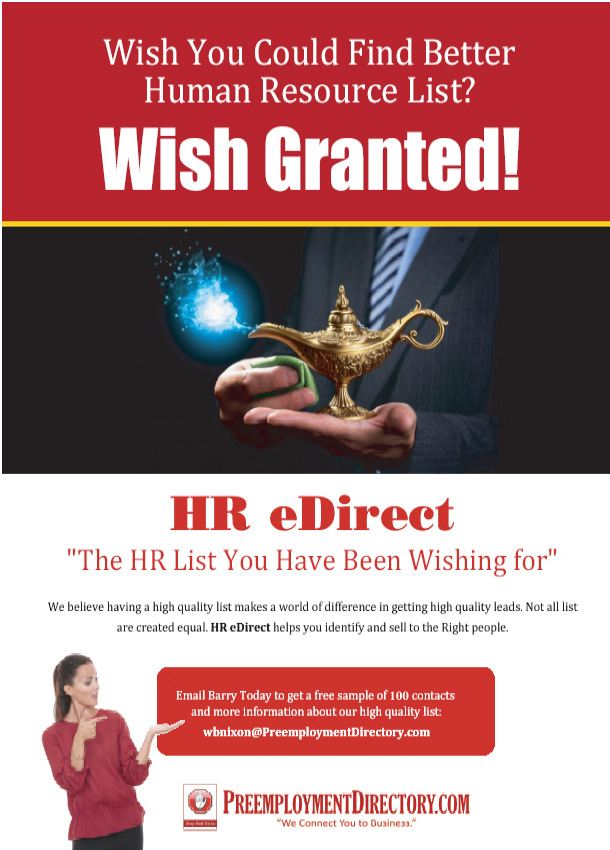 Forecasts All Agree: More Hiring Ahead
With the economy continuing to improve, more employers now say they plan to add headcount than said that last year or even as recently as six months ago.
CareerBuilder's mid-year job forecast says 49 percent of surveyed employers report they expect to add full-time, permanent staff before the end of the year. That's two percentage points than said that a year ago, and well-ahead of the 36 percent who planned to add staff at the beginning of this year. Just over a third plan to add temporary or contract workers in the second half.
A second forecast, Manpower's Employment Survey for the third quarter, found that 24 percent of employers planning to add staff between now and the end of September. That's the highest quarterly percentage since the recession, and two points higher than last year. When adjusted for seasonal variations, Manpower says third quarter hiring will look a lot like the just-ended second quarter.



STOP STRUGGLING WITH WRITING AND PUBLISHING YOUR NEWSLETTER:
We can help you have a high quality e-newsletter to help nurture your relationship with your clients and attract new clients. Our customized newsletter service will take over your newsletter task or create a new one for you. We can manage the creation of your newsletter for you.
We are constantly researching information to use for The Background Buzz and you can put our research to use for you. Using the information rich content from The Background Buzz (minus the ads and competitors information) we will create a custom newsletter for you.
Use your staff's time to do more valuable work and save all the hassle of researching or writing articles, formatting and managing all the other ezine tasks with our customized ezine process.
Contact Barry Nixon at 949-770-5264 or at wbnixon@PreemploymentDirectory.com for more information.


Grab a latte and pull up a chair and join us for a great interview with Ilya Krifman, Project Manager, NIC Federal, Pre-Employment Screening Program (PSP)
Ilya entered the background screening industry when he joined NIC Federal. NIC Federal which manages the Pre-Employment Screening Program (PSP) (www.psp.fmcsa.dot.gov) on behalf of the agency responsible for large truck and bus safety within the Department of Transportation (DOT). PSP provides a commercial driver DOT safety record that background screeners can provide to truck and bus companies who are hiring new drivers. As the Project Manager for the program he focuses on enhancing PSP by continually implementing new features and technology.
Ilya shared an important historic perspective about the company. In 2012, FMCSA completed a safety impact analysis study on PSP that compared the crash and driver out-of-service rates for several motor carrier groups. FMCSA collected data from motor carriers who had used PSP at least monthly between 2010 and 2012. Next, they reviewed the crash and out-of-service rates for motor carriers who had not used PSP as part of the hiring process.
With this perspective he shared that the mission of NIC, Inc.,(NIC Federal is a subsidiary) who works with federal and state governments across the country to enhance the connection between government and the public through technology. The goal of the overall company is to provide seamless, efficient access to government via online and mobile services.
He noted that a recent example of NIC fulfilling its goal was the company refreshing their Pre-Employment Screening Program (PSP) iOS mobile application and making it available for download in the iTunes store.
Ilya added that his team is happy to provide in-depth PSP overviews to background screeners and/or their clients-all at no cost! They have team members who are specifically focused on assisting in marketing PSP to educate motor carrier clients about the program. This complimentary marketing assistance includes creating related collateral for distribution!
When asked what he thought the future held for the background screening industry his response was: "Man, I wish I had that insight! The future of the industry will depend on the legislation that sets the laws and regulatory outlook for it-if anyone knows what will be happening 10 years down the road, please contact me!"
On the personal side Ilya said he really likes the people in the background screening industry he has met at industry conferences and events because they like to have fun and are easy-going.
He shared that he had recently read the first book in the Game of Thrones series and exclaimed, "He is really hooked on the show and the first book was even better!"

The person he would like to most meet is George Washington.
In closing the interview he shared his favorite quote, "When you come to a fork in the road, take it." - Yogi Berra
Thanks to Ilya for an insightful interview.
He can be reached at 703-841-6376 or ilya.krifman@egov.com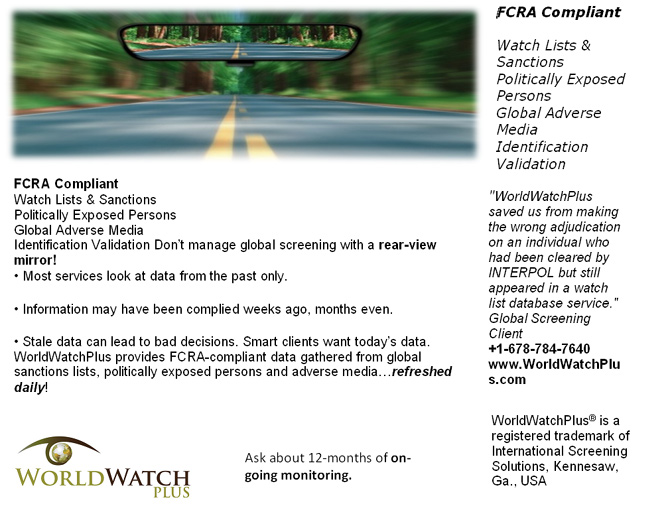 More Australian 'White-Collar' Workplaces Drug Testing
Workplace drug testing is on the rise among Australia's white-collar workforces. The workplace drug testing industry - which is valued at around $80 million - sees an average annual growth of up to 20%. While the testing of mine site, transport and logistics workers remain the pillars in the Australian industry, experts are reportedly noticing an increase in demand from white-collar sectors. Much of this stems from companies attempting to prevent problems, which have in recent years been uncovered by rising incidences of random drug testing being carried out on drivers by police around the country. Andrew Liebie, national marketing director of Safe Work Laboratories said Australia still has a way to go before catching up with the U.S., where an estimated 70% of workers have to partake in drug testing.



Indonesia Publishes Proposed Data Protection Rule
On July 14, 2015, pursuant to an implementation requirement of Government Regulation 82 of 2012, the Indonesian government published the Draft Regulation of the Minister of Communication and Information (RPM) of the Protection of Personal Data in Electronic Systems (Proposed Regulation). The Proposed Regulation addresses the protection of personal data collected by a variety of government agencies, enumerates the rights of those whose personal data is collected and the obligations of users of Information Communication Technology. The government provided a 10-day comment period for the proposal and issued proposed guidelines for the registration of software to be used in "public services."



"Extraordinary" Lapses in Checks On Locum NHS Doctors Exposed

A "fake doctor" was able to treat more than 3,000 patients thanks to "extraordinary" lapses in checks on locum medics working in the NHS, an investigation reveals. When the man, who had some medical training, but was not allowed to work unsupervised, was struck off by the General Medical Council (GMC), he stole the identity of a real medic, and obtained work at another NHS trust. The head of the Commons Health Select Committee called for action to better safeguard the public and ensure that failing doctors are not able to ply their trade by simply moving from place to place. Patient safety experts said the case demonstrated that checks on locums are not robust enough to protect the public. The banned medic has pleaded guilty to 22 offences of deception, fraud and visa offences.



What You Need to Know About the Latest Regulation Changes to Data Protection
The Data Protection Act 1998 was enacted to bring British law into line with the EU data protection directive of 1995. Since then, the rate at which technology has advanced has been astronomical, resulting in a surge of innovative ways in which businesses can commercially exploit personal data. The right to be forgotten is one of the latest changes that businesses need to contend with. What's more, the world has become increasingly interconnected, the nature of data exchanges has become more globalised and the legislative approach across EU member states is widely acknowledged as being disjointed. In response to these changes, the European Commission has published proposals for the reform and harmonisation of EU data protection law. The regulation, a supposedly single comprehensive legal framework governing data protection, is expected to overhaul and replace existing legislation.

ADVERTISERS IN THIS EDITION

| | | | |
| --- | --- | --- | --- |
| | | | Background Screening Jobs |
Visit the Job Board for the Employment and Tenant Screening Industry. Here you will find resumes of people with industry experience and employers seeking applicants with experience in Employment and Tenant Screening and related businesses.
www.backgroundscreeningjobs.com

Feature Education:
FCRA Basic Certification Webinar Series Update

The FCRA Basic Certification program series is now available for purchase.

2015 Events ( Click Here to View full list of Events ) - Updated Monthly
SHRM State Conferences, visit http://www.shrm.org/Conferences/StateAffilliateConferences/Pages/default.aspx
Drug and Alcohol Testing Industry Association (DATIA), 2013 Training Course Schedule, visit
http://datia.org
SAPAA Training Institute Learning Events, http://www.sapaa.com/
CUPA-HR Conferences: http://www.cupahr.org/
World Federation of People Management Associations, Events, http://www.wfpma.com/events/by-region#quicktabs-tab-view__events__page_3-4