The Background Buzz Insider
June 23, 2014
NEWS RELEASE
23rd June 2014
For Immediate Release
CRI Group has been announced as finalists in the 2013 Best Advertisers of the
Year Awards as Suppliers to the Background Screening Industry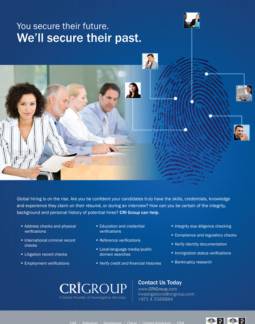 The voting process commenced June 11th 2014 for the selection of the winners in the 'Best Ads Awards' competition in the Background Screening Industry and CRI Group (Corporate Research & Investigations LLC) have produced advertisements worthy of being finalists in two categories - 'Most Effective Message' and 'Best Headline'.
The 'Most Effective Message' is for the advert that will most likely produce the intended or expected result it was designed to produce and/or will stimulate readers to take a desired action. The 'Best Headline' - ' You Secure their Future. We'll Secure their Past' is for the headline that grabs the most attention and is found to be most compelling.
CRI Group offers clients and partners user-friendly, web-based background screening services with flexible, bespoke employment solutions for a range of various industry sectors with clients utilising this service across the globe. The latest online portal is the industry's most highly developed and internationally customized software platform - providing the CRI Group Background Screening Division an enterprise-level solution.
Winners will be announced in July and voters can be in with the chance to win a gift. To vote follow the link - http://preemploymentdirectory.com/2013-best-advertisers-of-the-year-awards-voting-process/#axzz34JPcZpX4 .
********END********
About CRI Group
Corporate Research and Investigations LLC "CRI Group" is a global supplier of investigative research, forensic accounting, integrity due diligence and employee background screening
services for some of the world's leading business organizations. Incorporated and Licensed by the Dubai International Financial Centre-DIFC, United Arab Emirates; CRI safeguards businesses by establishing the legal compliance, financial viability, and integrity levels of outside partners, suppliers, potential employees and customers seeking to affiliate with your business. CRI Group recommends pre-employment screenings as a key, proactive part of keeping a business safe. CRI Group maintains offices in UAE, Bahrain, Pakistan, Philippines, Kingdom of Saudi Arabia, Qatar, Singapore and the United Kingdom.
Press Contact - Lara Jezeph, Marketing & PR Manager - EMEA
Add: Level 33, 25 Canada Sq, London, E14 5LQ
Tel: 020 7038 8023
Email: ljezeph@crigroup.com
Web: www.crigroup.com