EMPLOYMENT SCREENING NEWS
Credit Checks Pose Hurdle for Job Seekers
Employers are permitted by law to run credit checks on employees or prospective employees, and nearly half do, according to a 2012 study by SHRM. But there are limits to how these checks can be ordered and used, and the FTC and the EEOC want employers and employees to be aware of them by jointly issuing two guides explaining how the Fair Credit Reporting Act and antidiscrimination law restrict the practice. The guides point out legal safeguards such as the requirement for written permission from the employee or applicant before a credit check is run, the employee or applicant's right to review and resolve any negative finding in the credit report before the employer acts on that information, and prohibitions in the law against using credit checks in a discriminatory manner. According to fair credit attorney Jim Francis, employer compliance with the law is a problem. Francis says he sees "widespread violation" of the pre-adverse action notification. "The employer just moves on to the next candidate. That is not what the law provides," Francis said. "At a minimum, the law requires five days to dispute and resolve" the negative information on the report.

Read more


Running Criminal Background Checks? Be Careful, at Least in the Big Apple
While criminal background checks are a common part of the hiring process for many companies, there has been legal pushback lately with federal and state authorities both launching cases against employers they say are using the checks unfairly. The thrust of complaints by both the U.S. Equal Employment Opportunity Commission and New York State has been that blanket rejection of all applicants with a criminal background is not OK - especially if it can be proven that such a practice has a disproportionate impact on black or other minority applicants. While the federal EEOC's complaint against BMW and Dollar General's background check practices is ongoing, New York authorities have reached an agreement with a national home goods retailer to end its policy of disqualifying job seekers who have a felony record. Attorney General Eric Schneiderman said that Bed Bath & Beyond has promised to comply with laws prohibiting employers from automatically rejecting applicants with criminal convictions. As part of a settlement, the company agreed to pay $125,000. Most of the money will go to people denied employment and to organizations that help former offenders find jobs. Schneiderman's office investigated the company following a complaint from a job fair.

Read more
Protect Our Kids From Predators
One-hundred thirty. That is the number of teachers across America who have been arrested for sexual misconduct since Jan. 1. That is more than one teacher for each day of the year so far.
The stories are heartbreaking. A 13-year-old girl raped 30 times by her teacher, young boys lured in by teachers over Facebook or text messages, a special-needs kindergarten girl forced to go shirtless in class, and numerous teachers arrested for possessing child pornography. The list goes on and on. And these are just the predators who have been caught.
Pat Toomey and Joe Manchin, U.S. Senators from West Virginia have introduced the Protecting Students from Sexual and Violent Predators Act. The bill requires any state education agency receiving federal funds to perform background checks on all employees and contractors - new hires and existing employees - who have access to children. Amazingly, as the Government Accountability Office recently reported, five states do not mandate background checks for school employees and 12 states do not require background checks for contractors who work at schools. Our bill requires that these checks be repeated regularly, to prevent anyone from slipping through the cracks.
Efforts to Close Loophole that Kept Sex Offender Working at School
Background checks are supposed to weed out the questionable employees, and, in most cases, they do.
Still, it doesn't catch crimes committed after they're hired. This loophole allowed a sex offender to be employed around children. Seattle Public Schools was shocked to learn a sex offender was working as a high school janitor. He went undetected for nearly a decade. It was only found through a state audit.

It's why the Washington State Auditor wants the "rap back" system in place. Rap back would provide ongoing monitoring for school employees, foster parents, many licensed health care workers - and even police. As it stands, periodic checks are mostly required only on the state level.


Put 'Trust, But Verify' to Work in Employment Relationships
Employers should ensure all job applicants are fully (and lawfully) vetted and job applicants should ensure their resumes are accurate. Recent events in college basketball underscore the importance of the "trust, but verify" course.
Steve Masiello was an assistant coach at the University of Louisville under head coach and mentor Rick Pitino until he was hired as the head coach at Manhattan College on April 11, 2011. In just three seasons, the 36-year-old Masiello established himself as a rising star in the college coaching ranks. After his team was narrowly defeated by Pitino's defending national champion Louisville Cardinals in the first (full) round of the 2014 NCAA college basketball tournament, Pitino touted his protégé to be the next head coach for the University of South Florida men's basketball team. Masiello and USF agreed in principle to a multi-year contract reportedly worth $5 million. Like so many employment offers, though, the agreement was contingent on USF's verification of Masiello's credentials. Now, amid a discrepancy discovered during a routine background check, not only has USF decided not to hire Masiello, but it appears his current job may be in jeopardy.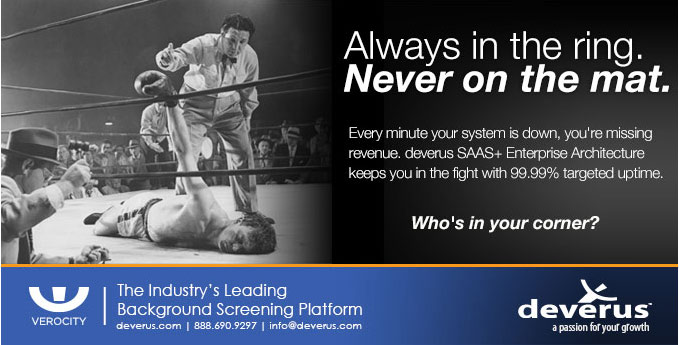 Illinois HB 4778 Threatens Property Managers with Additional Restrictions

Rep. Chris Welch, introduced Illinois House Bill 4778 back in February of 2014, in an attempt to amend the Landlord and Tenant Act, which would mean big changes for property managers and the tenant screening community. If the legislation passes, additional restrictions will be enforced on property managers throughout the state. The Chicago land Apartment Association (CAA) is in strong opposition of the bill, which if passed, would mandate that landlords could not charge more for an application fee that exceeds the property manager's actual out-of-pocket costs to enter into a lease. Nor could property managers who collect application fees make any misrepresentation to the applicant about current or future availability of the unit the lessee is attempting to rent. Additionally, HB 4778 would require the property manager to disclose in writing, specific grounds that led to the denial and provide a copy of any information obtained from a third party that contributed to the decision of denying the applicant tenancy. Should a property manager violate any of the provisions introduced in HB 4778, they become liable to the lessee for the application fee, a civil penalty of up to $200 and reasonable attorney's fees and costs.
Landlords: Always Conduct a Background Check on your Tenants
No landlord would ever want to deal with tenants who don't pay their rent. But with the global economic meltdown, as well as, a general increase in the tendency to default on rent payment, it has become more important than ever to make a background check on renters. Based on a recent survey, the number of extreme cases of rent arrears in 2013 alone reached over 94,000 which was 5% more compared to the figures in 2012.
Property owners have to be more careful than ever to ensure that they will not fall prey to potential bad paying tenants. Owners need to ask all the necessary details about their potential clients, before they allow them to use their property. Here are some tips for property owners to ensure that their client's background is checked:
Welcome to the U.S. Legal Challenge Question!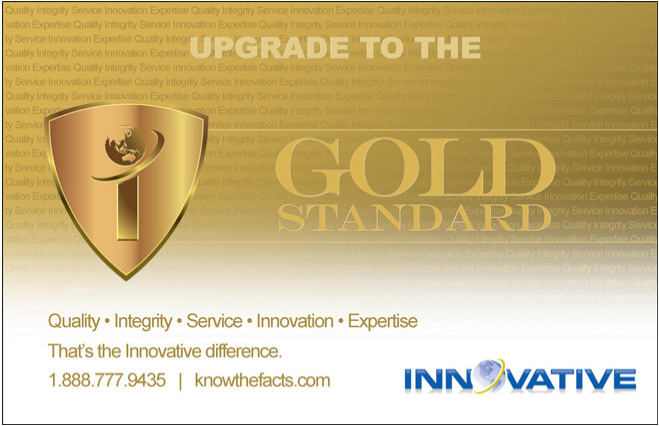 As the background screening industry continues to get more competitive the firms that will ultimately succeed will be those that create competitive advantage through their people by offering continuous learning opportunities to heightened their knowledge and capabilities. We believe that having employees that are very knowledgeable about the legal landscape of background screening is essential to continued success.
We are grateful to Larry D. Henry who began his law career with the Army JAGC where he tried over 2,000 cases. After the Army he relocated to Tulsa. In 1981, the founder of DAC Services contacted Mr. Henry's firm for assistance in creating a background screening company. Since Mr. Henry's practice was employment law, the firm believed this fell within his area and as they say: "the rest is history". His practice has kept him in continual contact with the background screening industry, and he is a nationally recognized expert in the area of background screening.
Mr. Henry's practice is concentrated on employment law and in specific, background screening of employees. He represents consumer reporting agencies throughout the United States and two national trade associations. He is the author of the Criminal Records Manual and the on line reference site:CRAHelpDesk.com, and he is a frequent presenter across the country on various topics dealing with background screening.
Please choose your answer by clicking on it:

TENANT SCREENING NEWS - continued
Background Check Firm's Slipup Could Cost It
A company that provides background checks must face claims from a man whom it allegedly incorrectly described as a sex offender, costing him work, a federal judge ruled. Harold Charles Meyer claims that National Tenant Network (NTN) sent an inaccurate consumer report to Meyer's prospective employer and landlord, Shorewood RV Park, claiming he had "three criminal sex offense record, which were listed as 'violent sex offender, fail to register,' 'sexual battery' and 'aggravated oral sexual battery.'" Both Harold and Phyllis Meyer, who had applied with him for the assistant resident manager position, were then denied employment and residence at Shorewood. The couple contacted the NTN for copies of Harold's file but the defendant allegedly never responded to their requests. They blamed the inaccurate sex-offender designation on NTN having mistakenly relied on the consumer reports of several other individuals with similar names. One surviving count alleges that NTN improperly bars those whom it provides with consumer reports, like Shorewood, from disclosing the contents of those reports to the subjects, like the Meyers. However, the Meyers failed to allege that "NTN either knew or should have known that the report it furnished to Shorewood was for employment purposes," according to the ruling.

Read more
BACKGROUND SCREENING INSIGHTS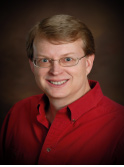 Banning the Box: What's the effect on CRAs?
By Derek Hinton
There is an increasing trend for cities and states to prohibit this practice, known in the industry as "Ban the Box." These initiatives typically remove the question on the job application about an individual's conviction history and delay the background check inquiry until later in the hiring process."
Is ban the box good or bad for CRAs? At first blush, it seems that any screen that is pushed further to the end of the process, when presumably there are fewer qualified applicants, would reduce a CRA's business. On the other hand, I have read an article from the owner of a CRA that states "The HR guy in me hates this trend [ban the box] and recognizes that it will waste employers' and applicants' time and effort. The owner of a background screening company in me recognizes that this trend means more background checks from our customers." Whether ban the box increases or decreases a CRA's business may depend on several varying factors that differ from employer to employer. A couple of these factors could be the prevalence of criminal activity in the employer's pool of applicants and, the nature of the position/hiring standard for which the applicants are applying. But, if you have any thoughts, or experience in this area, I would like to hear it.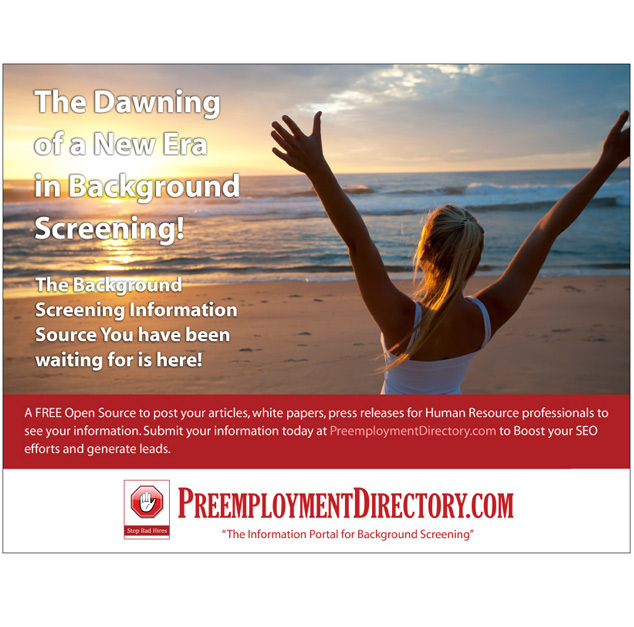 Two Data Brokers Settle FTC Charges That They Sold Consumer Data Without Complying With Protections Required Under the FCRA
Two data brokers have agreed to settle FTC charges that they violated the FCRA by providing reports about consumers to users such as prospective employers and landlords without taking reasonable steps to make sure that they were accurate, or without making sure their users had a permissible reason to have them. The two companies - Instant Checkmate, Inc., and InfoTrack Information Services - have agreed to pay civil penalties and will be prohibited from continuing their alleged illegal practices. According to the FTC's complaints, both companies operated as consumer reporting agencies under the law but failed to abide by the FCRA. The FTC charged, among other things, that in many instances InfoTrack provided inaccurate information suggesting that job applicants potentially were registered sex offenders, possibly causing employers to reject their job application. According to the complaint against Instant Checkmate, the company failed to require that users of its reports identify themselves or certify the purpose for which they were seeking consumers' information. "Consumers shouldn't have to worry that they'll be turned down for a job or an apartment because of false information in a consumer report," said Jessica Rich, Director of the FTC's Bureau of Consumer Protection.

Read more


Beyond Credit Reporting: The Extension of Potential Class Action Liability to Employers under the Fair Credit Reporting Act
The provisions of FCRA apply to any business entity that seeks to use a "consumer report" - which broadly includes anything from a credit report to a criminal or even motor vehicle background check - for any "employment purposes." The consequences of a FCRA violation can be substantial; the statute provides for a civil private right of action and permits recovery of actual damages, statutory damages, punitive damages, and attorneys' fees and costs. As with many federal consumer protection statutes, the stakes are even higher in a putative class action. This risk includes potential class liability for damages, which could include up to $1,000 in statutory damages per class member for "willful" violations, in addition to potential punitive damages. And, unlike other federal consumer protection statutes, there is no cap on the recovery of statutory damages in a FCRA class action. Not surprisingly, there has been an increase in the number of FCRA putative class actions filed against employers for their purported use of consumer reports. For these reasons, any business entity that collects background information for prospective or current employees must be aware of the requirements of FCRA and should design its employment practices in compliance with those requirements.

Read more


FCRA Class Action USB Financial Services
This is a consumer class action based upon Defendant UBS Financial Services, Inc.'s (UBS) violations of the Fair Credit Reporting Act, 15 U.S.C. §§ 1681 et seq. (FCRA). UBS systematically violates at least two sections of the FCRA: section 1681b(b)(2), by procuring consumer reports about current or prospective employees and deceptively embedding improper release language, as well as other extraneous language, in the consumer consent and disclosure document that UBS requires prospective and current employees to sign prior to ordering a background check; and, section 1681b(b)(3), by using employment background checks to make adverse employment decisions without providing the consumer job applicants who are the subjects of the background checks a copy of the report used, along with a summary of his or her rights under the FCRA, and a sufficient amount of time to contest and/or correct any errors in the reports before the adverse action is taken. The Plaintiff in this case seeks relief against the Defendant including: That judgment be entered against the Defendant for statutory damages in the amount of not less than $100 and not more than $1,000 per violation per Class member; That judgment be entered against the Defendant for punitive damages, etc.
DID YOU KNOW?
Nationwide Litigation Score Card
| | | |
| --- | --- | --- |
| Discrimination & Harassment (total 61 cases January to March 2014) | EMPLOYEE WINS | Median Win |
| Age Discrimination | 38% | $117,821 |
| Disability Discrimination | 63% | $112,400 |
| Race/National Origin Discrimination | 29% | $175,000 |
| Religion Discrimination | 29% | $825,000 |
| Sex Discrimination | 67% | $67,900 |
| Sexual Harassment | 80% | $205,000 |
Source: Litigation ScoreBoard, volume 10, Numbe1, January to March 2014
Sponsored by:
Public Record Update
By Mike Sankey, PRRN
BRB's FREE RESOURCE CENTER
For the MOST COMPREHENSIVE RESOURCE describing all access methods, restrictions, fees, and search procedures on over 26,000 government and private agencies visit the Public Record Research System (PRRS-Web) . We provide the extensive details and in-depth data you will not find doing a Google search!
Other items available at this site that you can download include:
PRRN Logos - For Both Web and Print
Compliant Form
Model Agreement Between a Researcher and a Background Screening Firm (CRA)
Researcher Client Forms
Public Record Retrieval Industry Standards Manual
For more information contact Michael Sankey at mike@brbpublications.com or visit www.brbpublications.com/updates.aspx
2014 PRRN MEMBERSHIP DIRECTORY

The PRRN Membership Directory is Your Guide to Finding a Professional On-Site Researcher Who Can:
Search Court Dockets in Person
View and Copy Pages From Case Files
Obtain Probate Documents
Obtain Copies of Liens and Judgments
Search Real Estate Records
Search All Local Recorded Documents
The Directory is conveniently organized into two sections. The first allows you to search for a retriever by state and county, indicating the types of records these on-site retrievers search. The second section provides a full profile of each member including contact information, local retrieval areas, types of records retrieved, billing terms, turnaround times and additional information.

Public Record Retriever Network (PRRN) is the organization that has set the industry standards for the retrieval of public record documents and with a Code of Professional Conduct.

Please call or email Mike Sankey if you have any questions at 800-929-3811 or mike@brbpublications.com
Joining Other States and Localities, Indianapolis "Bans the Box" for City Vendors and Further Restricts Criminal Background Inquiries
Mayor Gregory A. Ballard recently signed an ordinance that generally prohibits the Consolidated City of Indianapolis and Marion County (hereinafter, "City") and its vendors from inquiring into an applicant's criminal history until after the applicant's first interview. In addition to "banning the box," the Ordinance further restricts the types of arrest and conviction records the City or its vendors may ask about or otherwise consider following the first interview. The Ordinance joins an ever-growing patchwork of laws that curbs inquiries into or the use of an applicant and/or employee's criminal history in employment decisions. Indeed, approximately 10 states and 50 localities have "banned the box" and, although many of these laws only apply to public employers, several local ordinances cover government contractors. And, many more jurisdictions have imposed other limitations on criminal background checks for private and public employers, as well as for city vendors. When vendors violate the Ordinance, the City may deny awards of contracts. Vendors also may incur a fine of no more than $2,500 for a first violation and $7,500 for a second or subsequent violation. Unless otherwise exempted, vendors should refrain from asking questions relating to arrests and/or convictions until after the applicant's first interview.

Read more


Sixth Circuit Affirms Dismissal of EEOC Credit Check Case and Rejects "Homemade" Method of Determining Race by "Eye-Balling" Photos
The Sixth Circuit affirmed a lower court order granting summary judgment in favor of Kaplan in a high-profile credit check lawsuit that the EEOC brought against the education company. The EEOC alleged that Kaplan's use of credit checks causes it to screen out more African-American applicants than white applicants, creating a disparate impact in violation of Title VII of the Civil Rights Act of 1964. In support of its allegations, the EEOC relied on statistical data compiled by its expert witness. The expert witness assembled a team of "race raters" and directed them to review the photos and classify them by race. Based on the results of this "race rating," in a sample of 1,090 (out of 4,670 applicants), the percentage of black applicants who were flagged for review based upon their credit histories was higher than the percentage of white applicants who were flagged. The lower district court excluded the EEOC's expert's testimony as unreliable. The EEOC's "homemade" methodology for determining race was, "crafted by a witness with no particular expertise to craft it, administered by persons with no particular expertise to administer it, tested by no one, and accepted only by the witness himself."



TransUnion Legislative Update

On February 26, the National Technical Information Service (NTIS) issued a Request for Information (RFI) in order to solicit public comment regarding access to the Death Master File (DMF). As required by budget bill passed by Congress, NTIS was required to establish a certification program by which entities may gain access to the DMF. The RFI sought input on how companies use the DMF for legitimate fraud purposes and how companies would provide assurances the DMF data would be safe against unauthorized access. On February 27, the CFPB's Consumer Advisory Board conducted a public hearing on the consumer experience with the credit reporting system. Stuart Pratt, President & CEO of CDIA, represented the industry before the CAB. On the same day, CFPB released a report entitled, "Credit Reporting Complaint Snapshot." The report found that accuracy issues in credit reporting were the most common complaints the CFPB received from consumers. In Puerto Rico, HB 1354 passed the House on Feb. 13 and is on its way for consideration in the Senate. The bill conflicts with existing requirements under the FCRA, which requires CRAs to include notices of direct furnisher disputes in each consumer report that contains the disputed information.

Read more
Wisconsin Adopts Password Protection Law

Wisconsin has become the thirteenth state to enact a law limiting the circumstances under which employers may request or require access to the personal internet accounts of applicants and employees. The 2013 Wisconsin Act 208,which amends the Wisconsin Fair Employment Act (WFEA) and will be enforced by the Department of Workforce Development (DWD), prohibits employers from "requesting or requiring" employees and applicants to provide "access information" for their "personal Internet account" or "to otherwise grant access to or allow observation of that account." In addition to prohibiting these requests for access information and access, the new law, as a general rule, prohibits employers from discriminating or retaliating against (e.g., discharging or refusing to hire) an employee or applicant who exercises their rights under the law. While the law primarily protects the privacy of employees and applicants, it also offers employers a limited degree of protection. Because the meaning and impact of the law's requirements and exceptions will evolve over time, employers should approach access issues with care and on a case-by-case basis. Employers should also keep in mind other risks associated with monitoring the social media activity of employees and applicants.

Read more


Statewide Ban the Box Reducing Unfair Barriers to Employment of People With Criminal Records

Nationwide, over 50 cities and counties have now taken the critical step of removing unfair barriers to employment in their hiring policies. Widely known as "ban the box," these initiatives remove the question on the job application about an individual's conviction history and delay the background check inquiry until later in the hiring process. Momentum for the policy has grown exponentially, particularly in recent years. Today there are a total of ten states representing nearly every region of the country that have adopted ban-the-box policies-California (2013, 2010), Colorado (2012), Connecticut (2010), Hawaii (1998), Illinois (2013), Maryland (2013), Massachusetts (2010), Minnesota (2013, 2009), New Mexico (2010), and Rhode Island (2013). Hawaii, Massachusetts, Minnesota, and Rhode Island have banned the box for private employers, which many advocates embrace as the next step in the evolution of these policies. Federally, the EEOC has endorsed ban-the-box as a best practice in its guidance for employment decisions considering arrests and convictions. In an era of extreme mass incarceration, ban-the-box campaigns provide a platform to educate the public about the stigma of a criminal record and the real consequences to our society of depriving millions of Americans with past convictions of economic stability.

Read more


5 Ways to Prevent Negligent Hiring Claims

With the ever-growing driver shortage looming, many motor carriers are lowering their hiring standards to fill their empty trucks. No company wants to turn down a job because they don't have drivers to service the account. But while companies to some extent are at the mercy of supply and demand, carriers have to keep the potential for negligent hiring lawsuits top of mind. Negligent hiring is based on the principle that companies have a responsibility to protect their clients and the public from injury at the hands of their employees. Companies can be held liable for property damages, deaths and physical injuries, and other errors caused by their employees within the scope of their employment. If you don't establish driver hiring standards, you will have a hard time defending your recruiting processes in court if they were ever challenged in a negligent hiring suit. Negligence can be alleged in all aspects of managing your employees: in hiring, retention, and when changing job responsibilities. It is important that you: Do your homework before hiring drivers; Put driver hiring policies in writing; Train drivers for success; Keep your ear to the ground; and Re-evaluate if you change the job duties.

Read more
Fingerprints and Photos Could be Part of Background Check Record
Many jobs require background checks on applicants, including for those who would have direct contact with vulnerable adults. However, as more data on the individual is required and as technology advances, state agency policies regarding secure storage and data destruction need revision.
Rep. Tina Liebling (DFL-Rochester, pictured) sponsors HF2467 that would allow the Department of Human Services to fully automate and expand the electronic background study system, and collect fingerprints as a requirement to fill certain jobs where a person would have direct contact with a vulnerable adult. It would also provide for the length of time the information would be retained and a procedure for the subject of the background check to access it.
After hearing the bill on Tuesday, the House Civil Law Committee moved it to the House Judiciary Finance and Policy Committee.
No Need For Businesses To Fear 'Ban The Box' Measure, Employment Attorney Says
Louisville has joined the ranks of cities to enact an ordinance prohibiting employers from asking job applicants about their criminal backgrounds. The bill applies only to the city and its private vendors.
According to Tom Birchfield, a managing partner at Louisville-based Fisher and Phillips LLP law firm said, "I don't think it is that big of a deal because it says you can't have a box on the application." Ban the Box supporters say the measure simply prevents businesses from summarily dismissing job applicants who admit they've been convicted of a crime. In most cases the city or its vendors now can't ask about conviction history until after they have determined that applicants otherwise are qualified for positions.
Rhode Island Bill Expands Background Checks for Third-party School Employees

Scott Sanford worked closely enough with East Greenwich schoolchildren to give them treats on the school bus. But the friendly bus monitor was not a "school employee." This meant he was not legally required to pass a national criminal background check before he started working with East Greenwich schoolchildren, including the son of a state lawmaker. Sanford's employment with a third-party contractor drew attention in November when the 35-year-old town resident was arrested by state police on child pornography charges. The father of the 11-year-old boy who rode on the bus with Sanford, testified before state lawmakers in a bid to expand the state law on criminal background checks. "What this bill does is it simply tightens up the existing law that we have," Rep. Antonio Giarrusso, R-East Greenwich, told the House Committee on Health Education and Welfare. The bill adds employees of third-party vendors and contract employees who work at schools to the list of individuals who must pass a national criminal background check under state law, said Special Assistant Attorney General Joee M. Lindbeck. That new language and other changes would give greater protection to children, Lindbeck said.

Read more

State Bill Would Regulate Health Care Navigators

Arizona has joined several other states considering measures that would require extra licensing and background checks for health exchange navigators who help people buy coverage. The state House approved a bill that would require navigators to get a license through the state Department of Insurance and to pass a criminal background check. Proponents say the requirements protect consumers who share private information such as Social Security numbers from identity theft. But Democrats say the bill is an attempt to slow down enrollment and that it's unnecessary because navigators already have contracts with the federal government. "What we're doing here is we're just handling the background checks and licensing to make sure we're protecting our consumers," Arizona Rep. Paul Boyer, R-Phoenix, said. Debbie McCune Davis, D-Phoenix, said Arizona gave up its right to license navigators when it failed to adopt its own state insurance exchange program. She said the Centers for Medicare & Medicaid Services has already established guidelines that regulate navigators, and that a judge struck down a similar law in Missouri. The Arizona bill would not impose a fee or extra training but it would bar anyone convicted of a misdemeanor involving fraud or dishonesty from becoming a navigator.

Read more
Nebraska Joins Growing Number of States to Pass "Ban the Box"
Nebraska recently became the 11th state to pass "Ban the Box," a law that removes questions about criminal records on state job applications. Enacted on April 17th, the law requires that questions regarding criminal records be postponed until after an applicant's qualifications are first screened. The purpose of this measure is to give individuals with criminal records a fair chance in the job application process.

Read more

New Georgia Law Limits Employer Liability for Hiring Workers with Criminal Background
A new law in Georgia protects employers from negligent hiring and retention claims by creating a presumption of "due care" for hiring and employing individuals with criminal backgrounds who have received a "Program and Treatment Completion Certificate" from the Department of Corrections or a grant of pardon from the State Board of Pardons and Parole. Governor Nathan Deal signed Senate Bill 365 on April 13, 2014. The law is due to take effect on July 1, 2014; however, no timeline has been released for the Department of Corrections to implement the new certificate program.
An employer's presumption of "due care" may be rebutted by evidence demonstrating the employer knew or should have known relevant information that extended beyond the scope of the certificate or pardon. Because of this exception, employers should continue to assess applicants carefully.

Oklahoma Law Requiring Fingerprint-Based Background Checks for Nursing Home Employees in Effect
Elderly persons are among the most vulnerable citizens and often face abuse and neglect while living in a nursing home. The Centers for Disease Control estimates that approximately 22 percent of nursing home residents are subjected to abuse and 21 percent are neglected. But The Oklahoma Long Term Care Security Act, which took effect at the beginning of March, aims to protect the elderly from facing harm at the hands of the caregiver. Under state and federal regulations, nursing homes are required to conduct background checks on the staff members they hire. The purpose is to weed out any staff members who have abused or financially exploited a patient in the past. But these background checks are often not comprehensive enough to determine if a potential new employee has a propensity towards abuse or violence.
The new law requires that nursing homes in Oklahoma to conduct finger-print based background checks before they hire a new employee that will have direct contact with a resident or patient. This applies to all institutions that provide healthcare, according to KOCO-TV.
Nevada's Medical Marijuana Law Takes Effect April 1, 2014
Nevada's medical marijuana law, Nevada SB 374, explicitly states that it does not "require any employer to allow the medical use of marijuana in the workplace." However, the law further states that it does not "require an employer to modify the job or working conditions of a person who engages in the medical use of marijuana that are based upon the reasonable business purposes of the employer but the employer must attempt to make reasonable accommodations for the medical needs of an employee who engages in the medical use of marijuana if the employee holds a valid registry identification card, provided that such reasonable accommodation would not: (a) Pose a threat of harm or danger to persons or property or impose an undue hardship on the employer; or (b) Prohibit the employee from fulfilling any and all of his or her job responsibilities." There have been a handful of legal challenges to medical marijuana laws in other states and thus far, the outcomes have been favorable for employers. Employers should be cognizant of the laws in the states in which they operate before deciding on a course of action with respect to medical marijuana users.

Read more


'Ready to Work' Bill Introduced
Congressman Kevin Brady (R-TX), a senior member of the House Ways and Means Committee, today introduced the Ready to Work Act, a two-page bill designed to force the Department of Labor to carry out a key provision of the Middle Class Tax Relief and Job Creation Act. Signed over two years ago by President Obama, this law allows states to drug test unemployment insurance recipients seeking jobs that regularly require drug testing.
"In order to be job ready for industries where drug testing is the norm, potential employees need to be able to pass a drug test," noted Brady. "Unemployment insurance is for those who are actively looking for work and are job ready. If a potential employee cannot pass a drug test, they are not job ready."

US Supreme Court Rejects Florida Drug Testing Appeal
The decision by the nation's highest court means that the ruling by the 11th US Circuit Court of Appeals finding the plan unconstitutional stands.
The governor had issued an executive order in March 2011 directing all state agencies to drug test new hires and randomly test current employees. But that order was challenged by the American Federation of State, County, and Municipal Employees Council 79, representing state workers.
The union argued that random drug testing was a violation of the Fourth Amendment's proscription against unreasonable searches and seizures. In its decision, the 11th Circuit generally agreed with the union, finding the suspicionless drug tests unconstitutional, but also ordered the state and the union to determine which state employees could be subjected to such testing.

CoreLogic Expands Tenant Screening Services
CoreLogic, a global property information, analytics and data-enabled services provider, today announced the expansion of its tenant screening services to deliver enhanced data for rental applicant screenings for single-family rentals and the "small-landlord" market. The expansion of services, offered through myrental.com, leverages the vast CoreLogic public record and proprietary databases to provide unique applicant data for landlords to assess applicant risk and identify those renters who are most likely to fulfill their lease obligations.
Infomart Named Current CEO Charles Esposito As Its New Chairman.

On April 1, 2014, InfoMart, a national background check company, has named current CEO Charles Esposito as its new chairman. "Chip is an extraordinary leader at InfoMart and a preeminent expert in the security industry. As InfoMart celebrates its 25th anniversary, we are fortunate to have him continue his legacy of excellence," said Tammy Cohen, founder and president of InfoMart.

Esposito has more than 30 years' experience in the security industry, and an extensive background in sales, marketing, management, strategic alliances and acquisitions. During his 20-year tenure at ADT, Esposito was responsible for business development and management of several national accounts.

At InfoMart, Esposito has served as general manager, chief operating officer, and was most recently seated as CEO. In his role as CEO, he utilized his extensive industry knowledge and sales expertise to help InfoMart further position itself as a leader in the background screening industry. He is responsible for bringing several national accounts to InfoMart, developing strategic alliances, as well as nurturing relationships with key clients.

For more information please visit www.infomart-usa.com


RISQ Group Announces the Launch Of RISQ China
SYDNEY - RISQ Group, the leading Asia focused pre employment screening company, has expanded by establishing a new sales and operations center in Beijing, China. Ficoal Dong, a pioneer of the pre employment screening market in China, has been appointed as Managing Director of RISQ China.
"Ficoal's knowledge and understanding of the local and international employment screening markets makes him uniquely qualified for this opportunity," explained Nick Roberts, CEO of the RISQ Group.
According to Mr Roberts, the establishment of RISQ China is the latest step in RISQ Group's strategy of cementing its position as the experts in delivering robust, risk-based screening programs to clients in Asia and around the globe. This strategy has seen the company develop the most extensive network of in-house operations centers in Asia and allows it to continue to build on its position as the premium provider in the market. This is thanks to its unique operating model, which delivers superior client and candidate experience with faster turnaround and higher verified rates.
"The market for pre employment screening services in China is growing and offers significant opportunity. We look forward to bringing the RISQ Group expertise to the broader market of companies who require these services," said Ficoal Dong, Managing Director of RISQ China.
For more information visit www.risqgroup.com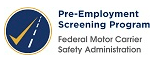 Pre-Employment Screening Program Debuts Full Redesign


The NIC Technologies team, in partnership with the Federal Motor Carrier Safety Administration (FMCSA) released an enhanced version of the Pre-Employment Screening Program (PSP), available at www.psp.fmcsa.dot.gov. The site offers the same features and functionalities that users have come to expect, all with an exciting refreshed user interface based on the FMCSA's new web standards. The PSP relaunch also features responsive design, meaning the site is optimized for a user-friendly display from any desktop or mobile device.
"FMCSA has worked hard on the relaunch of their agency site, and we are pleased to follow their lead with PSP," said Elizabeth Pemmerl, NIC Technologies' General Manager. "Site visitors can enjoy a consistent experience on the FMCSA and PSP sites, as well as access PSP quickly and securely from their preferred device."
NIC and FMCSA have partnered since 2010 to deliver the Pre-Employment Screening Program via a no-cost contract. NIC provides all development, hosting and maintenance of the PSP service - as well as customer service, education and outreach - at no cost to the agency; the system is supported through the user fees paid by carriers and drivers requesting PSP records.
For more information visit http://www.egov.com/
Help Wanted Signs Are Popping Up in U.S. Cities
To hire 10 to 15 project coordinators this year, Texas builder Sabre Commercial has boosted pay 10 percent and added a 401(k) retirement plan. "It is an employee's market," says John Cyrier, co-founder and president of the 48-employee Austin-based company. "We are definitely seeing a labor shortage in Austin and central Texas. I see it only getting worse."
Companies in cities across the U.S. are struggling to fill positions, with jobless rates in some metropolitan areas below the 5.2 percent to 5.6 percent level the Federal Reserve regards as full employment nationally. Competition for workers is prompting businesses to raise wages, increase hours for current employees, add benefits, and recruit from other regions.
Four years ago, during the worst of the labor market slump, only two cities-Iowa City, Iowa, and Lincoln, Neb.-had jobless rates below 5 percent. "That says the economy is getting better in a lot of places," says David Wiczer, labor market economist at the Federal Reserve Bank of St. Louis. Although national unemployment is a closely watched indicator, "it is difficult to average things. This does have implications for wage pressure at the local level."

Read more
EVERIFY & IMMIGRATION ISSUES
Georgia Construction Company Hit with $228,000 I-9 Penalty
The Department of Justice, Office of the Chief Administrative Hearing Officer (OCAHO) has assessed an I-9 related penalty of over $228,000 to M&D Masonry, a Georgia construction contractor, based on an audit conducted in May 2010. While the fine is one of the higher amounts we've seen from OCAHO during the past few years, it actually represents a considerable improvement over the assessment by ICE of over $332,000. Based upon an 84% error rate on the I-9 forms, ICE assessed a baseline penalty of $935 for each violation. It enhanced the penalty by 5% each for seriousness of the violations and large size of the company but mitigated by 5% for good faith. One defense used by M&D was that ICE failed to fully identify 52 employees in Count II, some of which were only identified by three capital letters. Interestingly, OCAHO found ICE was "unduly generous" in treating good faith as a mitigating circumstance. OCAHO concluded "the principle of proportionality" should apply and lowered the penalties to $650 each for Count I violations and $750 each for Count II violations - failure to prepare I-9 forms. Overall, M&D was assessed $228,300 in penalties.

Read more


Homeland Security Targets Employers' Immigration Compliance
Investigations and audits of Form I-9 documents by ICE agents are on the rise, and the Obama administration is promising to keep the heat on employers in the coming year. A report by the Inspector General of the Department of Homeland Security issued in February found that ICE had fined employers from across the country a total of $31.2 million for Form I-9 violations between 2009 and 2012. Those fines were the result of audits conducted at 9,140 employers. But the fines tell only part of the story: ICE has also criminally charged employers for violations. There was some good news in the Inspector General's report. It found that ICE's negotiation of fines with employers led, in some cases, to substantial reductions in the fine amount. Overall, negotiations and settlements with employers reduced initial Notices of Intent to Fine from $52.7 million to $31.2 million in final orders, an average reduction of 40%. Employers can prepare for a potential ICE audit by conducting a thorough self-audit of their existing Forms I-9, their current processes and their past practices. Employers can use this self-audit to develop new policies and training exercises to standardize the company's I-9 practices.

Read more

STOP STRUGGLING WITH WRITING AND PUBLISHING YOUR NEWSLETTER:
We can help you have a high quality e-newsletter to help nurture your relationship with your clients and attract new clients. Our customized newsletter service will take over your newsletter task or create a new one for you. We can manage the creation of your newsletter for you.
We are constantly researching information to use for The Background Buzz and you can put our research to use for you. Using the information rich content from The Background Buzz (minus the ads and competitors information) we will create a custom newsletter for you.
Use your staff's time to do more valuable work and save all the hassle of researching or writing articles, formatting and managing all the other ezine tasks with our customized ezine process.
Contact Barry Nixon at 949-770-5264 or at wbnixon@aol.com for more information.

Kevin Coy is a Partner in the Washington DC office of Arnall Golden Gregory LLP. Kevin
advises background screening companies and other clients on a wide range of privacy and consumer regulatory issues, including Fair Credit Reporting Act, Gramm Leach Bliley Act,
Drivers' Privacy Protection Act, and Dodd Frank Act compliance issues, as well as data breach matters. Kevin also represents clients with matters before the Federal Trade Commission, the Consumer Financial Protection Bureau, and other consumer protection agencies.
Kevin can be contacted at Kevin.Coy@agg.com or 202-677-4034.
THE WASHINGTON REPORT - APRIL 2014
At the FTC
It has been a busy month for the Federal Trade Commission (FTC).
On April 9th, FTC announced another pair of Fair Credit Reporting Act (FCRA) settlements with two screening companies, Instant Checkmate and InfoTrack, which allegedly provided reports for employment and tenant screening purposes without complying with FCRA requirements.
The court orders settling the cases imposed a fine of $525,000 against Instant Checkmate and $1 million against InfoTrack and its owner (with all but $60,000 being suspended based on an inability to pay).
While The Washington Report does not usually focus on court decisions, we must also note that on April 7, the FTC scored an initial win in its data security litigation against Wyndham hotels. The court rejected Wyndham's arguments that the FTC lacked authority under Section 5 of the FTC Act to bring the suit.
One Site! Many Suppliers!
2013-2014 SUPPLIERS TO THE BACKGROUND SCREENING
INDUSTRY BUYERS GUIDE NOW AVAILABLE!
Looking for the Top Suppliers in the Industry? Need to find a new Supplier?
Visit our VENDOR SHOWCASE which features suppliers to the Background Screening Industry.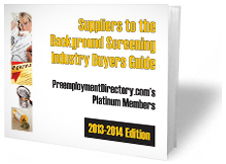 Click here or on image to get a copy

Grab a latte, pull up a chair and join us for a great interview with Nathaniel T. Borsh
Senior Account Executive, SJV & Associates, LLC.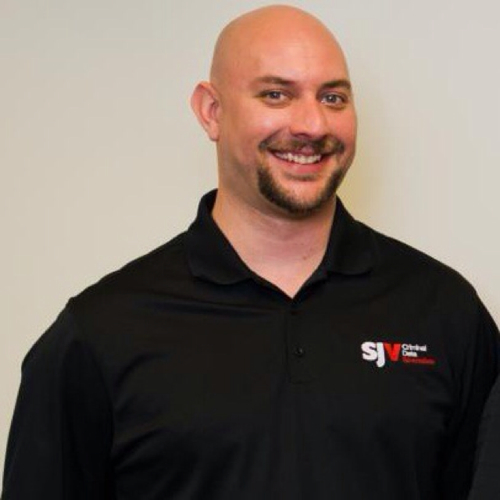 Prior to coming into the background screening industry Nate was an Insurance Claim Representative for a global insurance firm. Let's just say, you were in good hands if you talk to him. Nate noted that this was challenging work dealing with catastrophes all the time. Unfortunately, whenever he spoke to a client, it was about the worst day of their life. They had just had an accident, a fire, a theft. He reflected with a sigh, that he burned out pretty quickly.
With this experience and his desire to advance his career he pursued an opportunity available in the background screening industry that would utilize his substantial experience in client facing roles.
When asked about one thing he particularly likes about the background industry he paused, smiled and said "Just one thing? That's tough." He then added, "I believe that I have truly come to appreciate what a pivotal role our industry plays in the economy overall. Through our efforts to help guide legislation on the federal and state level to the bare-bones fact that employers look to us for expertise and direction in recruiting, screening, hiring, and maintaining their workforces; the background screening industry is the backbone of safety, compliance, and fair employment practices. That is really something that I am proud to be a part of at this time."
Turning the discussion to SJV & Associates, Nate shared that "their mission is to be the premier global Research Provider to the Pre-Employment and Tenant Screening industries. By combining innovative technology with human expertise, we aim to deliver timely, high-quality, and complete background screening solutions, helping our clients make the best hiring decisions and tenant placements possible with the goal of ensuring a safer home and work environment."
Nate added as a part of SJV commitment to stay on the cutting edge to expand their position as a single source solution provider he is very happy to announce that coming in May of 2014, SJV & Associates will launch a new 'MedEx' product. This product line will focus primarily on the needs of Healthcare Vertical compliance needs and will provide OIG, SAM.Gov, State Board Actions reports to assist in maintaining conformity with the requirements of the Affordable Care Act.
In response to my probing to see if there were any additional information he wanted to share about the company he said, "there is a lot more." He noted that SJV & Associates is one of the longest tenured providers in the industry. He said some people may think that we are still just a regional provider of criminal records in Georgia, however, while this is a great part of our business, it is only a fraction of what we do. Nate beamed as he shared that SJV's Global Reach provides county, state, civil, and federal level services nationwide as well as in 185+ nations around the world. He added that they offer a suite of education and verifications services on the international side of the business. In addition, he note that their Web-Extraction Automation is second-to-none and that they have more than 5 years of experience in the industry compared to some of the newer, off the shelf solutions that are available.
Smiling, as if to say, want some more, Nate extended the following offer to our readers: If you have not had a chance to meet us at one of the NAPBS conferences shows, SJV is just a great group of people who take our business very seriously; but enjoy sharing in an enjoyable and customer-centric work environment where our clients are King! Be sure to visit with us at the next show.

Moving to my favorite question about the future, Nate pondered and then said: "I believe that we will see more and more digitalization of information. It has taken nearly 30 years with electronic filing systems to get us to the point we are currently. Another 10 years will see some great progress, but information is still going to require a human element to find, investigate, and disseminate to be in compliance with our federal and state laws. I firmly believe that fingerprinting and even retinal scanning are going to become more and more common place as gateways to storing, filing, and retrieving information. He chuckled and said, "Hey, I can't even open my iPhone now without a fingerprint scan. Technology will dictate the movement of our business in the next decade."
As I moved to close the interview Nate shared that he had just finished reading, "The Improbability Principal: Why Coincidences, Miracles, and Rare Events Happen Every Day."
He shared that the person he would really like to meet was Ralph Waldo Emerson. He believes that his endeavors to explore and define the inherent goodness within the human experience would be enlightening.
And, finally, his favorite quote is ""Sometimes you have to run before you can walk." -Tony Stark a.k.a. Ironman.(Now we know what kind of movies he likes too)
Thanks Nate for a very informative interview. To contact Nate you can email him at nathaniel@sjvassoc.com or call him at (800) 203-0582 ext 293.
Brazil to Drop Local Data Storage Rule in Internet Bill
Brazil will drop a controversial provision that would have forced global Internet companies to store data on Brazilian users inside the country to shield them from U.S. spying. The rule was added last year to proposed Internet governance legislation after revelations that the U.S. National Security Agency had spied on the digital communications of Brazilians, including those of their President Dilma Rousseff and the country's biggest company Petroleo Brasileiro SA. Instead, the legislation will say that companies such as Google Inc and Facebook Inc are subject to Brazilian laws in cases involving information on Brazilians even if the data is stored abroad, said congressional relations minister Ideli Salvatti. She said the bill, which is opposed by Rousseff allies in the lower chamber of Congress, has enough support to be put to the vote. Salvatti said the government will not negotiate a key provision in the bill on net neutrality, which has faced strong opposition from telecom companies in Brazil because it would bar them from introducing differential pricing according to Internet usage and speeds. The legislation dubbed Brazil's "Internet Constitution" protects freedom of expression, safeguards privacy and sets limits to the gathering and use of metadata on Internet users.

Read more

Random Alcohol & Drug Testing Struck Down, Again

An Alberta Board of Arbitration has concluded that an employer's random alcohol and drug testing policy does not stand up to the legal test set by the Supreme Court of Canada in last year's Irving decision. This is a significant early use of the Irving decision and provides insight into the problems an employer must face - and prove - before justifying random testing. In 2012, the Union filed a grievance objecting to Suncor's proposed random alcohol and drug testing policy on the basis that it is "unjustifiable, unreasonable, and violates employees' privacy rights, human dignity, and human rights." The arbitration board considered the decision in Communications, Energy and Paperworkers Union, Local 30 v. Irving Pulp and Paper, relating to random testing which held that there must be "evidence of a problem with alcohol and drugs" in the workplace in order for random testing to be warranted. This is the first arbitral decision in Alberta to consider Irving. It demonstrates that employers must offer powerful and compelling evidence of a problem with alcohol and drugs at the particular worksite in order to meet the burden of proof placed upon them and successfully implement random testing in the workplace.

Read more


New Fingerprint Technology Being Purchased

The Chatham-Kent Police Service is going high-tech when it comes to fingerprint records. As with most things in policing, keeping up with technology is not an option, it's mandated. July 1 is the target date for police agencies to submit fingerprint forms electronically and as of July 1, 2015, the RCMP will be requiring all police services to submit electronic fingerprints for civil matters, including applications for police clearance checks. The police service board has approved purchasing two Livescan Cabinet systems for $85,993 and a Livescan Applicant Processing system for $11,413 to meet this requirement. However, the cost has not caught the police service by surprise and won't be impacting the current budget. According to the report to the board, one workstation will be housed at Chatham-Kent Police headquarters to take fingerprints for criminal matters that will be submitted electronically to the National Criminal Records database. Another workstation will be located in the DNA room at the Chatham-Kent Courthouse to be used by court services staff. Having a Livescan workstation at the courthouse will avoid having to transport accused persons back to police headquarters if it is deemed fingerprinting needs to take place if additional charges are laid.

Read more
ECJ Declares Data Retention Directive Invalid

The European Court of Justice (ECJ) has declared the Data Retention Directive invalid. The Court's decision was grounded on its conclusion that, by requiring the retention of the data falling within the scope of the Directive, and by allowing the competent national authorities to access those data, the Directive interferes in a particularly serious manner with the fundamental rights to respect for private life and to the protection of personal data. The judgment was rendered in response to questions posed to the ECJ by the national courts of two EU Member States. The Irish High Court posed questions regarding the legality of national legislative and administrative measures concerning the retention of data relating to electronic communications. The Austrian Constitutional Court posed questions arising from an action by 11,130 individuals in Austria questioning the compatibility with the Federal Constitutional Law of the Austrian provisions transposing the Data Retention Directive into Austrian national law. The ECJ's decision will trigger a rethink of both EU and EU Member States' laws on government surveillance.

Read more

Common Lies Found in CVs in Mexico
By David Robillard
Fudging the truth on a CV is done by job applicants around the world. According to CareerBuilder.com 38% of CVs in the US contain lies, call them errors, mistakes, or exaggerations.
An analyis, by MultiLatin, of candidate-supplied data in Mexico during the twelve months of 2013, revealed that twenty seven percent (27%) had lied about their academic and professional histories while six percent had criminal records or were defendants in criminal litigation which they conveniently didn't bother to mention. A noteworthy example involved a case where the concept of a sabbatical was taken to new height. A job applicant disguised an obvious gap in time between jobs by described a professional sabbatical they took although a criminal litigation search revealed the applicant actually spent the time in a state prison for drug related charges.

Whitewash on the Blacklist

The new regulations to the National Credit Act will keep companies in the dark about certain information pertaining to employee applicants and potential vendors. This is according to Jenny Reid, CEO of iFacts, a company that takes care of corporate security and seeks to remove people risk in business through pre-employment screening, background checks, and individual risk assessments. In late February, Dr Rob Davies, Minister of Trade and Industry, gave notice of new regulations to the National Credit Act, 2005. The change came into effect 1 April 2014 and the Department of Trade and Industry (DTI) has given Credit Bureaus in South Africa approximately two months to remove adverse consumer credit information from, and information relating to paid-up judgments. In other words, 6.5 million status updates relating to 4.2 million credit profiles will soon be deleted. "As it allows for the once-off removal of negative credit information, plus the continuous removal of paid-up judgment, it means that there will be no track record of bad payment, no spoor to follow to identify a trend of reckless or unscrupulous credit behaviour," said Reid. "In effect, it will increase security risks around new people coming into a company."

Read more

Only 8% of Generation X Ever Have the Education on Their CV's Checked Out
Qualifications are less likely to be checked the further away from graduation day a candidate gets, but the Higher Education Degree Datacheck (HEDD) warns of temptation to embellish on CVs due to pressure from the new '2.1' wave of graduates. Of the 20,288 enquiries received since HEDD - the government-backed degree verification service - 76% have been to check qualifications of those who graduated after 2000 and almost half are to verify graduates who left university within the last four years. Just 16% of enquiries were to undertake checks on those who graduated in the 1990s, and the number was halved (8%) for those leaving university before the '90s. Eight per cent of HEDD enquiries have been classified as 'unverified'. While reasons for this include incomplete or incorrect information supplied by candidates, such as married names instead of maiden names, there is also evidence of subject changes, grade inflation, fake certificates and bogus institutions. "Graduates who are further on in their career have more opportunity to blatantly lie, exaggerate or bend the truth a little more than their more recent counterparts simply because they are not being checked out," said Jayne Rowley leader of the HEDD initiative at Graduate Prospects.

Read more


Fake Job Applications Most Common Entry Point for Fraudsters, Says CIFAS
Organisations are most vulnerable to employee fraudsters at the recruitment stage, according to a report from the UK's Fraud Prevention Service, CIFAS. It said that deceitful attempts to gain access to sensitive data via the recruitment process accounted for more than 50% of all subsequent internal fraud cases in 2013. Overall employee fraud rose by 18% in 2013 compared to 2012, but this is the first time since the founding of the Internal Fraud Database in 2006 that dishonest attempts to gain employment accounted for the majority of insider fraud cases. Figures show that the most common reason for application fraud (40%) was because potential employees had concealed unspent criminal convictions. The number of fake job applications that are discovered at the hiring stage had increased by 70% increase in 2013. Despite this, Mike Emmott, CIPD employment relations adviser, said it was even more important for employers to invest in comprehensive pre-employment checks now that competition for jobs had increased. However, the report noted that it isn't always possible to detect a potential fraudster at the recruitment stage, because the average length of service an individual spent with a company before committing fraud was six and a half years.

Read more


Higher Penalties for Employing Migrant Workers Illegally
Professional HR managers are unlikely to make an adverse assumption about a job candidate's immigration status on the basis of a name, accent or appearance. By the same token, these employers will know how to stay compliant with both immigration and discrimination law, and are not likely to be affected by the doubling of the maximum civil penalty for employing a worker illegally (the penalty rises from £10,000 to £20,000 on 1 May 2014). However, organisations may derive some benefit from a revised version of the statutory code of practice for employers on 'Avoiding unlawful discrimination while preventing illegal working', which has been released in draft form to coincide with the increased penalties. There is little new in the code but its central point is a solid one. It advises employers not to make assumptions about immigration status and to ask all job candidates to prove their right to work in the UK by producing specified documents before starting work. It also says that job applicants can be asked to provide documents at any stage before they start work.

Read more
ADVERTISERS IN THIS EDITION

| | | | |
| --- | --- | --- | --- |
| | | | Background Screening Jobs |
Visit the Job Board for the Employment and Tenant Screening Industry. Here you will find resumes of people with industry experience and employers seeking applicants with experience in Employment and Tenant Screening and related businesses.
www.backgroundscreeningjobs.com

UPCOMING CONFERENCES, COURSES & EVENTS
Feature Education:
FCRA Basic Certification Webinar Series Update

The FCRA Basic Certification program series is now available for purchase.

2014 Events ( Click Here to View full list of Events ) - Updated Monthly
SHRM State Conferences, visit http://www.shrm.org/Conferences/StateAffilliateConferences/Pages/default.aspx
Drug and Alcohol Testing Industry Association (DATIA), 2013 Training Course Schedule, visit
http://datia.org
SAPAA Training Institute Learning Events, http://www.sapaa.com/
CUPA-HR Conferences: http://www.cupahr.org/
World Federation of People Management Associations, Events, http://www.wfpma.com/events/by-region#quicktabs-tab-view__events__page_3-4